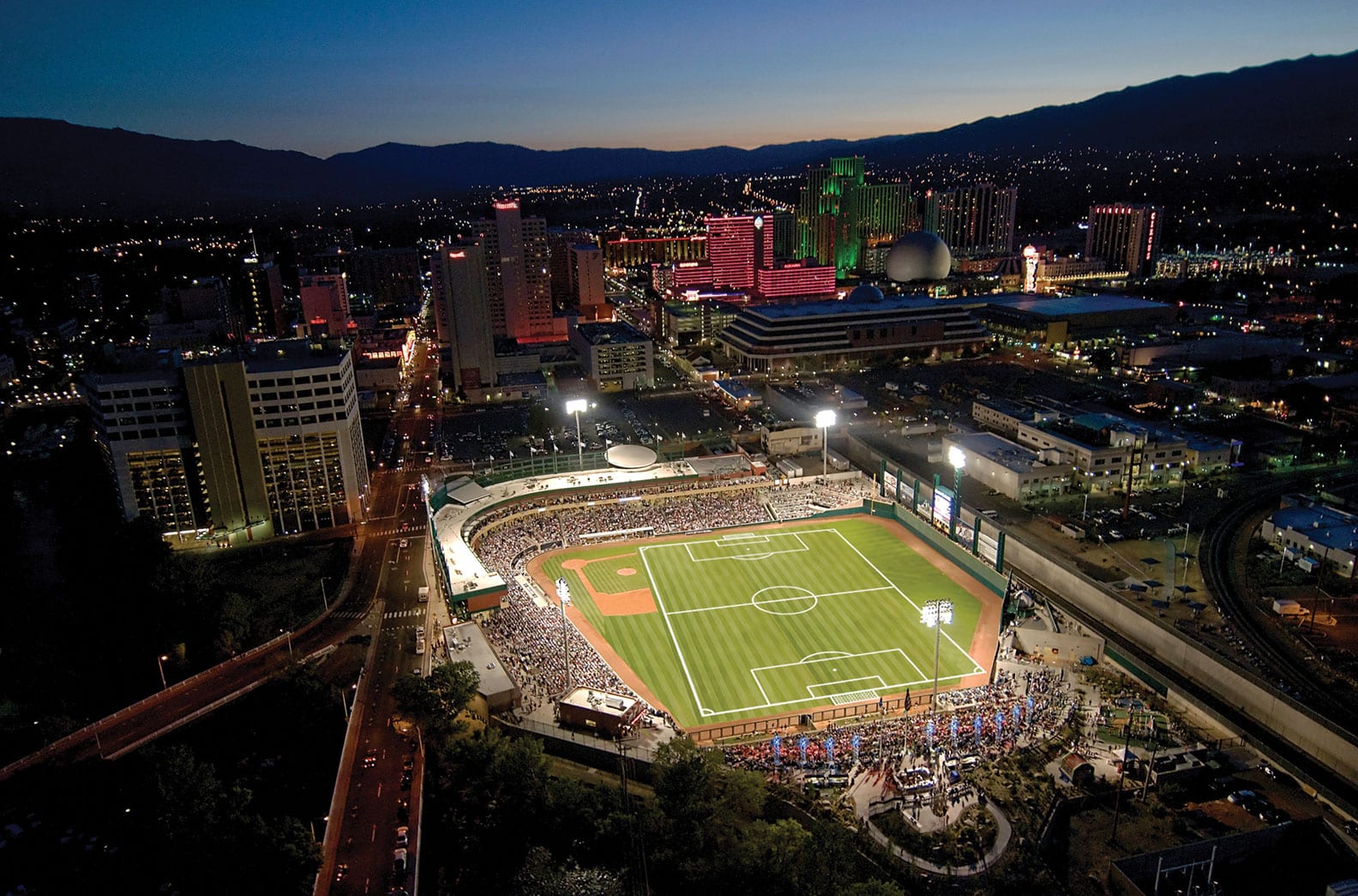 Greater Nevada Field is situated next to the Truckee River in the heart of downtown Reno, photo courtesy Reno 1868 FC
26 Apr

Reno's Greater Nevada Field a Versatile Gem
Prized downtown ballpark and the pro teams that share it bolster the city's rising status
When an afternoon thunderstorm pounded Greater Nevada Field this past summer, a shoeless Reno Aces President Eric Edelstein joined Director of Field Operations Joe Hill and his crew, wielding rakes and bags of sand in a frantic effort to right the field in time for the first pitch.
They were not alone. Moving tarps and slopping around in the mud with them were the Aces' head of ticket sales, catering directors and marketing people.
In the world of small city Minor League Baseball, it's all hands on deck.


Reno Aces staff work to prepare Greater Nevada Field for a game after a thunderstorm, photo by Joyce Chambers
Dual-Sport Challenge
In 2009 Reno scored a Triple-A baseball team and a new $50 million ballpark in the heart of downtown. An affiliate of the Arizona Diamondbacks, the Reno Aces were a hit from the start, drawing large crowds to the scenic 7,500-seat stadium along the Truckee River.
The Aces organization grew in 2016 when it purchased a United Soccer League (USL) club, which began playing in the park the following season as the Reno 1868 FC. The team is the Triple-A affiliate of the San Jose Earthquakes of Major League Soccer.
Formerly Aces Ballpark, Greater Nevada Field is among only a handful of venues in the country that is shared by a professional baseball and soccer team—with the Aces playing 70 home games a season and the 1868 playing 18. While Hill certainly found getting a game up and running after a torrential rain a challenge, quickly changing a field from a baseball diamond to a rectangular soccer field is an equally Herculean task.
This past year three 1868 games preceded baseball season and three were after, which meant the grounds crews had to quickly change the park from baseball to soccer and then back again on a dozen occasions. Edelstein says those quick changes are the crux of the dilemma of having two teams share a stadium. One time this past season, they had just 24 hours to make the change.
The process begins with the grounds crew shaving the edge of the infield to create a flat surface. Then two huge truckloads of sod from Western Turf add 9,500 square feet of grass to the baseball infield. The crew fine tunes from there, looking for low spots, wetting the new field with a specially designed watering device and lining the newly created soccer field with removable paint.
After the game, they rip out and dispose of all the sod and recreate a baseball field with a fresh new batch.
Both Edelstein and Hill laud the partnership with Western Turf, which grows a particular type of grass just for Greater Nevada Field. Hill, a former groundskeeper with the New York Mets, Boston Red Sox and Seattle Mariners, says his goal is to give "major league field results with a minor league staff, budget and time."

Fans watch a Reno 1868 FC soccer game from a grassy section at Greater Nevada Field. With two teams sharing the stadium, grounds crews are tasked with changing the surface from soccer to baseball and then back again on 12 occasions, 
photo by 
David Calvert
Coexisting Clubs
The combination of baseball and soccer has been a good one for the Aces organization. During the 2017 season, the Aces drew an average of 5,000 fans while the 1868 averaged 5,400.
"Baseball is pretty steady. We had some weather challenges with rain in August last year, but the average is right around 350,000 to 380,000 people per year over the last six years," says Edelstein, noting that the 1868 has nearly 2,000 season-ticket holders and the Aces about 1,000.

Since its opening in 2009, Greater Nevada Field has been a boon to downtown Reno, drawing thousands of fans to each home game, photo by David Calvert
While the two teams share the same ballpark and ownership, their respective sports attract distinctly different demographics.
"Soccer fans are 10 years younger than baseball fans on average, and are slightly more male than we see at baseball games, which is about fifty-fifty between men and women. And the diversity of soccer fans is off the charts," says Edelstein, adding that, while there are fewer soccer fans than baseball, "It is a small but mighty base that will change how they live their lives to be a part of a soccer game."
The experience between watching live soccer and baseball is also night and day. The stadium is louder and more intense when the 1868 are in town, with an atmosphere akin to a college football game, with fervent fans painted in 1868 colors and chanting. At Aces games, "the venue is the experience and the sport is the backdrop," says Edelstein, whose organization filled a gap that Northern Nevada was missing when it brought professional soccer to Reno.
"When I was kid there was nowhere to see soccer. This now gives people something to aspire to," Edelstein says. "There is no college soccer in Northern Nevada. For a high school player, you now can grow up and have an opportunity to play on this team. There is more of an open market for talent in soccer than baseball, and a priority placed on homegrown talent."

The Reno 1868 FC soccer team draws an enthusiastic crowd to its 18 home games at Greater Nevada Field, photo by David Calvert
Community-Minded
A key part of the Aces organizational structure is to combine filling seats with aiding community organizations. Groups can sell tickets for events with a portion of the money going to their nonprofit. Last year local organizations raised over $300,000 through their affiliation with the Aces, who also give away game tickets to groups to help with fundraising efforts.
"We let them set up a table, throw a first pitch, host a number of nonprofit events. We will work with you to see what we can do," says Edelstein. "We are here to be a cheerleader for everything that happens in this community. It's a core part of our values to give back as much as we can."
The Aces also support local high school baseball, and a number of Tahoe-area schools have taken advantage. Teams from Incline, Whittell, Truckee, North Tahoe and South Tahoe have all received the unique opportunity to play at Greater Nevada Field in recent years in exchange for selling an allotted number of Aces tickets.
Now, with the addition of a professional soccer club, fans have another reason to enjoy Reno's prized sports venue. And the city has another claim to its rising social status.
"Soccer is a different fan base—younger and more passionate—and it has an economic impact," says Reno City Council member David Bobzien. "Just up the street from the stadium, a bar leads a march to the stadium before each game. The soccer games lead to a cool vibe downtown. We really appreciate working with the ownership of the teams; they are doing wonderful things with the stadium."
---
Tim Hauserman is a freelance writer based in Tahoe City. After attending both an Aces and 1868 FC game last year, he discovered that, while the experiences were totally different, any time spent in Greater Nevada Field is a good time.