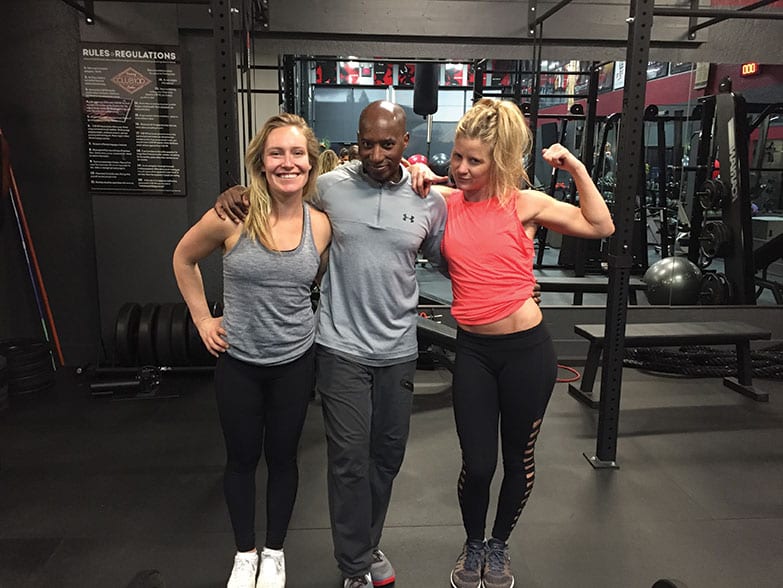 Eufay Wood with Olympic gold medalists Jamie Anderson, left, and Hannah Teter, photo by Susan Farnsworth
26 Apr

Training Tahoe's Top Talent
South Tahoe trainer unlocks the athletic potential of Olympians and weekend warriors
Eufay Wood isn't your average personal trainer. In his 30-plus years of working with clients—ranging from average Joes to Olympic gold medalists like Jamie Anderson—he's earned a reputation as one of the best in the business, with an uncanny ability to transform aspiring young athletes into world-class competitors.
"He's a trainer extraordinaire," says Susan Farnsworth, owner of Club 100 in South Lake Tahoe, where Wood is general manager and runs his highly successful brand of fitness, High Octane Training. "He's been training athletes throughout the years, and all of his clients are fiercely dedicated to him."
With Wood at the helm, Club 100 has become a premier training ground for many of Tahoe's finest athletes. Wood teaches them to perform at a higher level. Every sport requires a different set of strengths, and Wood fine-tunes his sessions for each client, adjusting the workout to meet the demands of individual sports. Beyond the physical workouts, he also trains their minds to excel in competition.
"I love watching people develop physically and mentally, because when their body changes, they change, and it feels like I'm making a difference," says Wood, who radiates positivity when he talks about his clients.


Eufay Wood, photo by Jaime Emery
Top-Tier Training
Over the years, Wood has built an impressive résumé and a diverse array of clients. That list includes Olympic gold medalist snowboarders Jamie Anderson and Hannah Teter, snowboarding pioneer Shaun Palmer, alpine ski racer Maia Bickert, former Fresno State football player Justin McIntyre, and triathletes Heather Lyman and Stefan Laursen, to name a few.
Anderson, currently Tahoe's most celebrated snowboarder after winning her second consecutive Olympic gold medal in women's slopestyle, has worked with Wood since she was 16. Her older sister Joanie Anderson, who was the first Tahoe athlete to win the Winter X Games boardercross event, introduced Jamie to Wood in 2006. The following year, Anderson became the youngest female to win a gold medal in the X Games slopestyle.
"Joanie told Jamie that if she wanted to win anything, she better get over to me," Wood says. "Since Jamie started training with me, she has changed tremendously. Her body is much stronger now and her mindset is more focused."
In the PyeongChang Winter Olympics in February, Anderson defended her gold medal in blustery conditions that resulted in only five of the 25 riders completing their first runs. Wood, who maintains that he is Anderson's biggest fan despite their professional relationship, set his alarm so he wouldn't miss his protégé's winning run.
"I thought the wind would blow her clear to Ecuador," he says. "But Jamie just works so hard that when she won, it brought tears to my eyes."


Eufay Wood and Jamie Anderson, photo by Susan Farnsworth
Each of the workouts Wood designs for Anderson specifically targets the muscles she needs to execute the high-flying, technical tricks she performs in competition. Through exercises like one-legged squats and box jumps, Wood helps her develop balance, leg muscles, core strength and agility.
Teter, the 2006 gold medalist in women's halfpipe, says in trying to qualify for a fourth Winter Olympics this past offseason, Wood helped her get into top physical shape through an intense regimen that involved cross-training.
"We set up different stations and just go round and round and round, nonstop. He doesn't let me take breaks, so it's always just hammer time to get that endurance up, because that's one thing that is easy to slack off on," says Teter, adding that she enjoys working out to Club 100's booming sound system.
And because the pressure to perform can be daunting in professional sports, Wood teaches his clients visualization techniques to improve their mental strength.
"The mental part is tough, because if they don't have the mental strength, the body doesn't matter," Wood says. "But I get inside their heads and tell them to visualize all of their runs and visualize themselves on top of the podium."
Athletic Background
Wood has first-hand experience with athletic success.
Originally from England, Wood moved to the United States with his family when he was 11 years old and settled in Northern California. As an aspiring professional athlete at Chico State University—where he studied physical education and psychology—he excelled in football and wrestling and went on to become a student assistant coach for the football program.
Wood also was a nationally ranked power lifter from 1974 to 1989, winning the California State Powerlifting Championship and setting the Nevada state deadlift record in the 165-pound class, lifting 551 pounds.
However, it wasn't until Wood moved to South Lake Tahoe in 1978 to work as an unpaid intern for John Atkins, a strength coach and physiologist who has since been inducted into the Colorado Skiing Hall of Fame, that he found his true calling: training athletes. Wood interned with Atkins for six months as an assistant strength coordinator and then worked at Harrah's Lake Tahoe Casino before opening Lake Tahoe Muscle Company, a health and nutrition store, in 1988.
Wood says he enjoyed being a business owner but missed helping people. So in 1991 he started training at Sierra Athletic Club and developed High Octane Fitness, his high-intensity personal training business. In 2016, Wood partnered with Randy and Susan Farnsworth to open Club 100, where he has brought High Octane Fitness to the forefront of athletic training in South Lake Tahoe.
"When he's training, it's the only thing that matters; he gives 100 percent of his attention to the client," Farnsworth says. "He knows their body, their injuries, and he treats them with utmost respect."
Grooming Talent
Given Wood's sterling reputation, Tahoe's up-and-coming athletes know to seek out his expert training for their respective sports.
One of South Lake Tahoe's brightest young talents, 17-year-old moguls skier Gabbi Fisher, trains two to three times a week with Wood. Between those sessions and the coaching she receives as a member of the U.S. Freestyle Ski Team's Young Guns program, she hopes to compete in the next Winter Olympics.
"Strength plays a huge role with this level of skiing, and I train with Wood to get stronger and prevent injuries," Fisher says. "He knows my limits and pushes me past what I think I can do; it makes me believe in myself."


Wood trains moguls skier Gabbi Fisher, photo by Susan Farnsworth
Wood also works with athletes in sports he's not as familiar with—like ice hockey.
A natural athlete, 17-year-old Leah Marino has played hockey since she was young. But when she set her sights on becoming a member of the women's U.S. Olympic hockey team, Marino's coach advised her to get stronger. She's now pursuing her Olympic dream with Wood's help.
"My speed and strength has grown immensely since I started training," Marino says. "Wood had never trained a hockey player before and did a lot of research when I started working with him."
Marino currently trains six months a year at the National American Hockey Academy in Vermont and the rest of the year with Wood in South Lake Tahoe. Marino says as long as she lives at Tahoe, she'll train with Wood.
"He is more than a trainer, he's a friend," Marino says. "He always tells me to visualize where I want to be with hockey and when I don't think I can do it, he calls it 'child's play' and keeps me focused. Having so much support is huge. I have the confidence to know I can get to the Olympics."
Although Wood is known for training Tahoe's elite athletes, he works with people from throughout the Tahoe Basin, regardless of their talent or fitness level. Whether the client is a local lawyer, accountant or professional athlete, Wood says he enjoys training people from all walks of life.
"I appreciate each and every one of my clients. They're all stars in my eyes," he says. "I like seeing people reinvent themselves. When they develop physically and mentally, their psyche becomes better and they have a sense of purpose and more positive energy, even in the way they walk."
---
Terra Breeden is a South Lake Tahoe–based writer and teacher at Sierra Nevada College in Incline Village. Becky Wright contributed to this article.