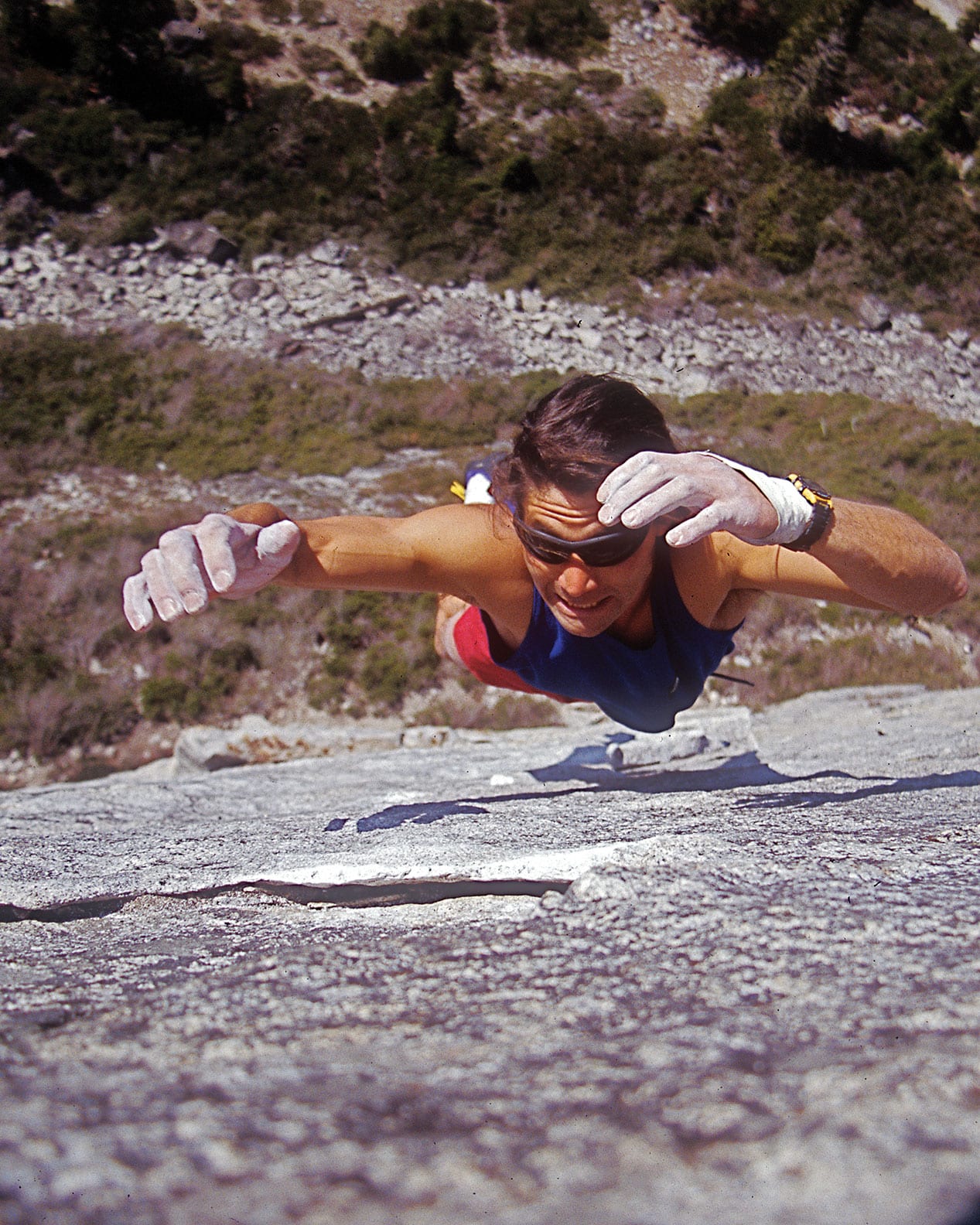 Dan Osman launches a free solo double dyno—completely airborne, no hands or feet touching rock—at Lover's Leap, photo by Eric Perlman Productions
30 Apr

The Wizardry of Dan Osman
Tracing the rise and fall of one of Tahoe's most talented and charismatic athletes
Dan Osman attacks Slayer with meticulous fluidity.
Slayer is the hardest rock climbing route at Cave Rock, the once-thriving climbing destination teeming with some of the most difficult sport routes in California, let alone Tahoe. It remains synonymous with Dan Osman—or Dano, as his friends called him—who developed four of the seven hardest-rated routes at the distinctive feature that looms above Lake Tahoe's southeastern shore.
Slayer begins at the base of the inner cave, requiring Osman to ascend the cave's rim to reach the apex. But the climb is barely half over at that point. He still must navigate layers of overhanging headwall, over the lip of the cave and head straight up a steep stretch to close it out.
"The moves are really hard. I mean, right off the start you got a rude awakening," Osman says in Masters of Stone I, the legendary rock climbing film series that began in 1991. "This thing is like the giant belly of a whale and you're just hugging it, slapping it the whole way."
The movie depicts Osman pivoting directions on his way up, swinging his hips back and forth, employing heel hooks, toe hooks and all the rest of the moves in the climbers' tool kit—all the while pinching slender holds as he emerges from the cave and clambers onto the formation's pinnacle.
"I was there many days as Dan was working it, as Metallica's Black Album blasted from his boom box," says Todd Graham, a Tahoe climber. "Dan was the study of determination in trying to make this improbable line go."
While Osman eventually captures the much-coveted first ascent—a worthy crown of laurel in the community of cutting-edge climbers—he does not succeed in Masters of Stone. Osman reaches the steep final stretch, leaps for a hold, slips and comes off. He falls a clean 60 feet. At the bottom of the fall, as the rope catches, he flails his legs and arms outwards as though he'd just splashed into the clear waters of Lake Tahoe shimmering below.
It's a shot that encapsulates the life and work of Osman.
The flair, the athleticism, the courage, the truculent disregard for danger, the talent and determination, all taking place in the spectacular setting that would define him.
One of the great Tahoe climbers, one of the best climbers of his generation, period, and a pillar of extreme sports—all of it is embedded in that shot.
The tragedy is there, too—the untimely end, the hint that this man might push the limits too far.
It was Oscar Wilde who wrote that each man must kill the thing he loves. But he may have gotten it backwards, at least in the case of Osman.
Born to Climb
Osman was Japanese-American, born in Orange County in 1963. He spent most of his adult life in South Lake Tahoe, plying his trade as a carpenter and construction worker so he could pursue his true passion—rock climbing.
His rugged good looks and long black hair meant he was commonly confused as Native American. He didn't brim with muscle. Instead, he was built more like a gymnast, at 5 foot 10 with a compact frame that stored power with efficiency.
"He had that perfect build," says Dave Griffith, his longtime friend and climbing partner. "He was light, but strong. Just had a perfect strength-to-weight ratio."
Griffith first met Osman in Joshua Tree National Park as they both headed toward a difficult climb called Acid Crack on a cold day with no one else around. As Griffith struggled to puzzle out the climbing problems, Osman ran up it to show him the footwork and then ran back down to coach him through the moves.
Griffith finally made it happen. 
"I'm all happy that I finally sent it and then it occurred to me, 'This guy just hucked four laps on Acid Crack,'" Griffith says. "In those days, to do laps on Acid Crack, to be that good, you had to be somebody."
Osman was a nobody in the climbing world at that point. But he wouldn't stay that way for long.

Osman prepares his equipment for a rope launch off lower Cave Rock on the East Shore of Lake Tahoe. A meticulous planner,
he spent days mapping and visualizing his jumps before rigging and attempting them, photo by Eric Perlman Productions
Cave Men
When Eric Perlman first encountered Osman, it was, fittingly enough, at Cave Rock. Perlman had teamed up with Mike Hatchett to film the first Masters of Stone video—the now iconic series that features most of the best climbers of that era and their sundry exploits.
The filmmakers, both high-level climbers in their own right, were at Cave Rock with another climber who was preparing to send a 5.12—just within the range of expert difficulty on the Yosemite Decimal System (ranging 5.0 as the easiest to 5.15 the most difficult).
"All of a sudden there's this guy up above us working on a 5.14," Perlman remembers. "He says nothing, but his body language was clear: 'Why are you filming that guy when I am climbing so much harder?'"
Hatchett says he took to Osman immediately.
"We were both metal heads—totally into Slayer, Metallica and Pantera," Hatchett says. "People would look at us and say, 'Who are these long-haired hippy dudes?' Then we'd blast Slayer and climb. One of my favorite things about those days was disrupting the Birkenstock granola paradise."
So the filmmakers put Osman in five of the six Masters of Stone films, documenting his climbing and other feats that fed the public hunger for extreme sports.
"One of the things everybody knows but is rarely articulated is that Dano was a brilliant performance artist," Perlman says. "The camera loved him because of his line and his fluidity of movement. Like all great artists, it was within him, a natural gift. How consciously and deliberately he played to the camera is uncertain, but his movements were so stylish and expressive, the dynamics just jumped out at you and shouted, 'This is what it means to be alive!'" 

Mike Hatchett films Osman at Cave Rock using a custom rig made by Craig Beck from hang glider materials, photo by Sarah Waddell
Alone and Free
It wasn't just establishing free climbs with great difficulty, either.
Osman started building a reputation in the world of free soloing, which entails climbing routes without the benefit of ropes, meaning falling has fatal consequences during all but the very beginning of the climb. It requires enormous courage, unflagging confidence and considerable technical skill.
"Soloing is just a game," Osman once said in describing his approach. "It's a serious one, but it's a game. The price of messing up is your life, so you better know what you're doing."
Osman climbed near or at his limit without ropes on several occasions, making a name for himself as one of the most audacious climbers of his era.
"He, John Bachar and Peter Croft were the top Americans in that aspect of climbing," Perlman says. "His soloing was very high end."
Osman free soloed Purple Haze—a 5.11 multi-pitch climb at Lover's Leap near Echo Pass. Another climb he free soloed, Blues Riff, is 250 feet of steep and fairly sustained 5.11 climbing in Yosemite's Tuolumne Meadows.
One of his more noteworthy free solos is Atlantis, a classic four-pitch 5.11 that ascends a precipitous granite cliff on the famous Needles rock formation in the Upper Kern River Valley in Sequoia National Park. The climb is distinctive in its technical requirements, beauty and the sheer bravado necessary to climb without ropes. Osman's seemingly effortless conquest of the route caught the attention of one of his young fans at the time. 
"That's a hard route," says Alex Honnold, a free solo climber widely regarded to be at the current apex of the sport. "I've considered soloing it, but I've never done it. It's too insecure."
Honnold is the only person to free solo the 3,000-foot face of El Capitan in Yosemite, achieving the feat in 2017 to much acclaim. He's also lauded for climbing the Regular Northwest Face of Half Dome without ropes.
He says Osman served as early inspiration for his career.
Honnold's admiration for Osman was apparent in a recent video shot by South Lake Tahoe producer Corey Rich, in which Honnold duplicates one of Osman's famous feats.
In the video, Honnold races up Bear's Reach at Lover's Leap without ropes, re-climbing the same line Osman banged out in 1997.
"It's an iconic video," Honnold says of Osman frantically tearing up the climb to an insistent heavy metal score.
At one point, Osman leaps for a hold, coming completely off the rock for one hairball split second before grabbing the ledge with both hands and racing up undaunted.
Honnold, a subdued, smooth practitioner of the rarified discipline, acknowledges this might have been a bit of showmanship by Osman on a route widely considered as beginner, but he doesn't begrudge it.
"It's totally wild," he says. "He just had a crazy style."
Honnold says he first saw Osman and the other climbers of the 1990s in a Masters of Stone film playing on a loop in a climbing gym in Sacramento, where he grew up.
"It was inspiring," he says. "Dan Osman did a lot of things like that—all those hard routes at Cave Rock. For me growing up, those represented the only sport climbs I knew anything about."
As with most things relating to Osman, it circles back to Cave Rock.

Osman was a staple in the Masters of Stone
video series, photo by Matthew Renda 
The Beginning
It doesn't suffice to say Osman learned to climb harder at Cave Rock. Rather, Cave Rock is where Osman learned to fall, which, in turn, enabled him to climb harder.
This counterintuitive progression began on a climb called Phantom Lord—located to the immediate left of Slayer.
Osman, as was his wont, painstakingly put together the first ascent of the 5.13b sport climb over the course of several months. Toward the top of the route, while searching for holds on an overhanging ledge, Osman fell repeatedly. Due to the concavity below, he could take increasingly large whippers—a climbing term for falling—without worrying about slamming into the rock face.
At first, these large falls scared Osman, but as he learned to manage his fear, he found that falling produced a thrilling rush absent from the more methodical discipline of climbing.
"He was taking gigantic whippers, falling 70 feet," Hatchett says. "It was clear he had it totally dialed and he was just doing it for fun."
By confronting and mastering his fear of falling on routes, Osman catapulted his climbing, becoming more comfortable on the rock, which in turn helped expand his free soloing capabilities.
But Osman also found artistry in falling on ropes, a new way to push his own limits as well as the limits of what is possible, all the while carving out a unique niche in an increasingly crowded field of climbers.
"Dano was a cutting-edge free soloist and a high-end free climber, but the rope jumping, people still haven't caught up with what he was doing," Perlman says. "I'm not sure if they should even try."
Because of the dynamic tension in rock climbing ropes, Osman found he could fall quite far on one without it breaking. He then increased the distance he could fall by attaching ropes together. He could make it steeper still by attaching the vertical ropes to a horizontal rope system fastened to two anchors, essentially forming a T. When the climber hits the bottom of the fall, the parabolic dip in the horizontal rope system evenly dissipates the force of the fall, sparing the vertical ropes the brunt, meaning Osman could elongate his drops.
Osman began testing his theories by rigging systems at the Foresthill Bridge, which rises 730 feet above the North Fork American River near Auburn.
His initial jumps consisted of him falling a hundred or so feet. He incrementally increased the depth of these hair-raising descents by integrating additional ropes into the system, adjusting the length of his horizontal system and changing jump angles.
At one point Osman plummeted as far as 660 feet.
He executed myriad jumps with characteristic panache, at one point riding a bicycle off one of the bridge stanchions. Another time, he crawled out on a girder, bear-hugging as he moved out to its end, where he hung upside down like a bat before letting go, plunging headfirst into the canyon.
But he was also careful, studying mid-air acrobatics. He would entwine himself with rope to practice disentanglement, knowing that if he got wrapped in the rope system when it caught, he could lose limbs or, worse, his head.
On one of his bigger jumps, he scraped the tops of trees in the American River canyon, walking away unscathed in a brush with death.
"When we did Masters of Stone III, he jumps off of lower Cave Rock—right over The Lake on a crystal blue day—and before he jumps he fills his hands with climbing chalk so it leaves these double streamers in the sky, like contrails out of a jet," Perlman says. "It's style. I mean, who has that kind of style these days?"

A brilliant performance artist, Osman jumps off of lower Cave Rock with fistfuls of climbing chalk, leaving double streamers
in the blue sky over Tahoe, photo by Eric Perlman Productions
The public took notice.
The rope jumps received heavy rotation in Masters of Stone, while MTV producers captured his daring falls for commercials. Osman took his rope jumping on the road, executing a series of stunts in Utah's canyon country, flinging through the region's characteristic arches and at one point entering a rope jump via skateboard. He also free soloed Eagle Falls above Emerald Bay in a wetsuit, as depicted in Masters of Stone IV. 
While the acclaim mounted, so too did the criticism. The naysayers were out, chirping that Osman was reckless, and the stunts were senseless and gave a bad name to rock climbing.
"I thought it was amazing," Hatchett says. "I wouldn't do it. I was scared for sure, but I trusted him, and he totally had it dialed."
Osman's increasing reputation for risk was unfair, Hatchett says, as he took an engineer-like approach to devising and implementing the safety mechanisms for his jumps.
Another misconception regarding Osman was that he was devoid of fear.
Hatchett remembers filming a famous scene where Osman took a fall and four pieces of protection came ripping out of a crack in the cliff before the rope finally caught. All told, he took about a 100-foot whipper.
"Right before we shot it, I'll never forget this, he looks up to me at the top of the cliff and he says, 'Mike, I'm scared,'" Hatchett says.
Osman, like most valiant people, wasn't without fear. He'd just learned how to master it.

Osman makes the first and only ascent of Eagle Falls above Emerald Bay—with no rope, freezing water and a thundering
force threatening to rip him off the slab and crush him on the rocks below, photo by Eric Perlman Productions
Samurai
Andrew Todhunter wrote a book about Osman called Fall of the Phantom Lord. In it, the author recounts an episode from Osman's childhood that the rock climber regarded as formative.
He is 9 or 10 years old, on a hunting trip with his father, Les Osman. They are heading toward the cabin where they will stay overnight. Dusk is falling.
Suddenly, he gets separated from his father. He circles around the cabin, but there isn't a soul in sight. He panics and begins crying out. The woods are growing dark.
Abruptly, his father steps out from behind a tree. 
He says, "The only thing you have to fear in these woods is me."
Les Osman was a police officer who at one time was a member of an elite-level SWAT team. He descended from samurai warriors from the Takeuchi clan who emigrated to Hawaii at the end of the nineteenth century. Les Osman raised his son with the samurai ethic of bushido and encouraged him to train in the martial arts disciplines of aikido and kung fu.
Dan Osman would sometimes discuss his techniques for identifying his ki, which translates roughly into spirit or energy. Using breathing techniques, he would isolate this energy and move it beneath his belly to keep it subdued while he attacked climbs.
But Osman also had a complicated relationship with the samurai legacy, often saying it was just something his father needed to justify his son's wild lifestyle.
Initially dismissive of his boy's rock climbing pursuits, Les Osman eventually came to see the daring exploits as worthy endeavors.
"In climbing he found something where he could test himself against himself," Les Osman told Todhunter. "He met the tiger and he didn't run."
Osman's mother, Sharon Burks, was a valorous athlete, competing vigorously in the barrel racing events on rodeo circuits. When he was little, she nicknamed her son "Danny I forgot." A kind of genial absent-mindedness was a characteristic that followed him into his adult life.
"The guy was not punctual," says Griffith, laughing. His buddies called it "Dano time." He was late for everything. Part of it was Osman's high regard for spontaneity.
Part of it too was that Osman would stop and talk to anybody. Unpretentious and gregarious, he had a word for everybody.
"He was the nicest guy," Hatchett says.
Griffith says Osman was generous with time and advice, always into everyone else's climbing. He wasn't focused exclusively on his own accomplishments.
Griffith tells a story of his friend at Lover's Leap, one of Osman's favorite cliffs where he would free solo laps on difficult routes all day as practice. Griffith was walking ahead as the two skirted the bottom of the cliff, when he turned around to find Osman not there. He retraced his steps to find Osman talking to a couple of guys arranging their gear at the bottom of Bear's Reach. The two looked like beginners and had a paltry quiver of equipment that seemed wrong for the route.
"Dano's giving these guys a breakdown of the route," Griffith recalls. "They're like, 'We're not sure we're experienced enough for this climb.'"
Osman had none of it. He reached into Griffith's bag, pulled out a couple of larger cams he knew they'd need and started getting them psyched. 
"You got this, you guys are going to send it," Osman told them. "You guys are rad!"
"That was Dano," says Griffith.
But Osman's forgetfulness had consequences.
He had trouble paying bills, problems with the IRS and there was a general sense he was unable to look out for his own financial interests when dealing with television producers and the like.
"He never had a lot of money; he was grossly underpaid for the risks he took," his father told Outside.
The problems persisted even after he moved into an apartment in South Lake Tahoe with his girlfriend, Nikki Warren.
An aggressive driver, Osman wracked up numerous speeding tickets and got caught driving on a suspended license.
For some, Osman's inability to function within a bureaucracy added to his mystique—a sign he lived outside or even above the ordinary and mundane concerns of the quotidian.
But, for others, these signs were troubling, hinting at a perturbing disregard, possibly a darkness.
The Leaning Tower
Now well into his 30s, Osman planned his biggest rope jumping feat of all in the Sierra's most dramatic setting—Yosemite.
"When this is all over, I am really looking forward to spending some time with my daughter and family and basically park it on the couch for a while," Osman said in an interview for the final Masters of Stone. "I've been going at mach speed for quite a while now and I think it's a matter of time before things start catching up to you, and I've got this really hardcore group of guardian angels that need a prepaid vacation."
It proved to be his last interview.
Osman's daughter, Emma, was about 7 years old at the time. She was the apple of his eye by all accounts.
When Todhunter describes Osman's apartment, he recalls pictures of Emma everywhere. Osman spent as much time with her as he could, but acknowledged that it was not enough. He frequently said that part of the reason his relationship with Emma's mother, Katherine Noyes, dissolved was because Osman's true passion was the mountains.
"Dano was always off doing things," Perlman says. "Sometimes the people who do the most, their families suffer a lot."
While barely surviving the Foresthill Bridge period of rope jumping, Osman had a new plan: to fall farther and faster.
To do it, he needed to rig a 1,200-foot horizontal rope system that spanned from the Fifi Buttress to an iconic granite cliff formation hovering above Yosemite Valley—the Leaning Tower, a hood-shaped formation rising 1,300 feet just to the west of Bridalveil Fall.
The length of the horizontal system allowed Osman to extend his jumps from 600 feet to record-setting lengths of 1,000 feet or more. 
"The Leaning Tower was genius," Griffith says. "He asked me to go up there to make sure the rigging was airtight."
Osman asked Griffith if he wanted to jump. He did not. But after watching him do it five times in a row, seeing how clean the fall was, Griffith put on the full-body harness and gave it a go.
"I didn't do any cartwheels like Dano, that's for sure," he says.
Griffith wasn't the only one. Several people jumped with Osman off of various points around the Leaning Tower in the summer of 1998. But those leaps were short compared to what Osman envisioned. Wanting to break records and test the limits, Osman kept pushing to make the rope longer and the falls farther.
"We are talking evolutionary steps. It's mind-blowing how quickly he advanced in this incredibly esoteric sport," Perlman says. "Only a handful of people were willing to try it."
One of those people was Dean Potter, the legendary climber who lived off and on in Yosemite, set a couple of speed climbing records on El Capitan and died after crashing into a cliff on a wingsuit flight from the park's Taft Point.
Potter jumped on Osman's Leaning Tower rigging but said it wasn't for him.
"My climbing has always been about control, so throwing myself off the rocks like that—thinking maybe I live, maybe I die—pretty much freaked me out," Potter told Outside in 2013. "But Dano was a master at this stuff. He had these elaborate drawings, and while we were working on Leaning Tower, he'd get up all excited in the morning, saying he hadn't slept all night thinking about the rig."
For Osman, the Leaning Tower was a scene of triumph, where he set records for rope falls. But it was also the setting for his final tragedy, the place where he pushed the limits too far.
Osman fell to his death on November 23, 1998, jumping off the tower.
Potter, who was among the first to reach the scene later that evening, camped there overnight to protect his friend's body from wildlife. The next morning, he inspected the ropes attempting to discover what went wrong.
A Darkness
The events leading up to Osman's death seemed to indicate his team of hardcore guardian angels took their vacation early.
About a month before he died he got a call from his daughter, concerned about her father and wanting to see him. So he drove from Yosemite to her home in Gardnerville. During the return trip to Yosemite, he got pulled over by a park ranger, who discovered the litany of unpaid tickets and threw Osman in the clink.
Several of Osman's friends think he was under surveillance for a while. The park service has a notorious reputation for being antagonistic toward the climbing community dating back to the Valley Uprising days in the 1970s. 
Yosemite officials were apparently not keen on Osman's rigging on the Leaning Tower.
Perlman says before Osman's arrest, he got pulled over by two rangers who tried to confiscate his camera equipment with hands on their weapons. They told Perlman they knew about the Leaning Tower setup and wanted it taken down. "We know it's legal," said one ranger, "but we just don't like it up there."
So Osman got rung up on outstanding traffic tickets and spent nearly two weeks in jail.
"It's bullshit," Hatchett says. "You look at the length of the incarceration, it definitely contributed to the whole situation."
Perlman says the jail time had a debilitating effect on Osman's mental state.
"It hurt him," he says. "It was mentally crushing. They caged the wild falcon."
One Last Fall
Perlman says Osman promised to take down the rigging on the Leaning Tower as soon as he got out of jail. But that's not what happened.
After getting bailed out, Osman was staying with his sister and brother-in-law in Reno. He also spent time with Emma.
"He told his daughter he loved her, turned around and went back to Yosemite to die," Perlman says.
Concerned the authorities were intent on dismantling his Leaning Tower rigging and confiscating his equipment, Osman asked his friend, Miles Daisher, to drive him to Yosemite.
"I think he went up intending to take it all down, saw that beautiful, intricate network of ropes manifested directly from his wildest imagination, and figured, 'Why not just jump it a few more times?'" Perlman says. 
What exactly happened is the subject of some debate, but the fundamentals are straightforward.
With an autumn dusk swiftly approaching, Osman tied in another rope, changed his entry position and went for a record jump of nearly 1,300 feet. The horizontal line never caught; the main rope was severed. Daisher heard Osman scream before he hit the valley floor.
Both Osman and Daisher jumped on the same ropes a few times earlier that day without problem, but Osman, eager to set a new record, had introduced 75 feet of additional rope into the jump line and changed his launch angle.
Perlman says he misaligned the ropes. Griffith agrees.
"Dano traded out the retrieval line and when he jumped from a slightly different spot, it caught the jump line and severed it," Griffith says.
An investigation by Chris Harmston, with Black Diamond Equipment, concluded that the change in the jump site angle caused the rope to cross itself and come apart at a knot. It probably didn't help that the entire rigging was left set up when Osman was in jail, exposed to rain, snow and freezing overnight temperatures, which could have effected the integrity of the rope.
Whatever lack of clarity lingers in the aftermath, the reign of the Phantom Lord had come to a tragic conclusion.
But there is near unanimity among Osman's friends that the fall that night was a mistake. They grant that jail and other pressures, along with whatever tormented Osman throughout his adult life, were present till the end.
But things were also going well for Osman. He'd asked Nikki Warren to marry him a week before he died and he talked of taking time off. He appeared to have stability in his life. For this and other reasons, Osman's friends caution against some trite death wish narrative.
"If you have a death wish, you just jump off El Cap," says Griffith. "You don't spend weeks and months of careful planning to set up an elaborate catch system. He made a mistake. It's like that for all of us, not just climbers. Even driving a car. Sometimes you die when you make a mistake."

Osman jumps off Leaning Tower in Yosemite. About two months later, he moved the launch point roughly 50 yards to his
right, which proved to be a fatal mistake, photo by Eric Perlman Productions
Ashes to Ashes
No one is allowed to climb Cave Rock anymore.
All those lines Osman worked so methodically to establish, drilling bolts from the ground up, are no more. The U.S. Forest Service tore out the bolts. The loss isn't just relegated to the sport routes, either.
When Osman was working on Slayer in the early '90s, he wanted to take a whipper, but his belayer was inexperienced, failed to jump at the right moment and sent Osman hurtling into the wall, breaking both his ankles.
He was laid up for months. But he still made his way to Cave Rock nearly every day. Instead of climbing, he used some recently acquired stonemason skills to fashion an elaborate stone patio.
"He's crawling on his knees hauling bags of cement up the path," Griffith says.
Osman used a winch to move boulders into positions where climbers could sit on them and take shoes on and off, eat snacks or relax. He used the rock fall, gravel and other natural features combined with mortar to build a floor that was described as having a "Zen garden effect."
He spent more than 300 hours transforming the place.
"He took Cave Rock from a litter-filled party hangout to a beautiful, amazing climbing area over Tahoe," says Todd Graham, who climbed at Cave Rock with Osman in the '90s. "He laid down patio stone over much of the floor of the cave and built stone seats for us to use. The improvements to the base of the cave showed Dan's deep artistic side."
When the Forest Service closed Cave Rock to rock climbing permanently in 2007, Osman was long dead. But he had expressed optimism that he would be able to talk to the Washoe elders—who view the volcanic formation as sacred—and reach an accord.
The fact that it was not to be is just one more heartbreak in Osman's tale. Certainly, Hatchett, Perlman, Griffith and others find it galling that succeeding generations of climbers can't attack the lines Osman worked so laboriously to imagine and create.
But on the other hand, it ensures that Cave Rock belongs more to Osman than any other climber. There are no improvements to be made. No new and ostensibly impossible lines to find and develop in an effort to surpass Osman's achievements. Everything is sealed off and somehow remains back there in the '90s with Metallica and Slayer echoing off the walls.
It belongs to Dan Osman, the Phantom Lord—the man wild enough to skateboard off sandstone cliffs in Utah, climb up Eagle Falls in a wetsuit with ice axes and cartwheel off the Foresthill Bridge.
It's why, when it came time to spread Osman's ashes with over 200 of his friends and family on November 28, 1998, they poured them over Lake Tahoe at Cave Rock.
---
Matthew Renda is a Santa Cruz–based writer and climber. He thanks Dan Osman's friends for sharing their memories of a Tahoe legend.