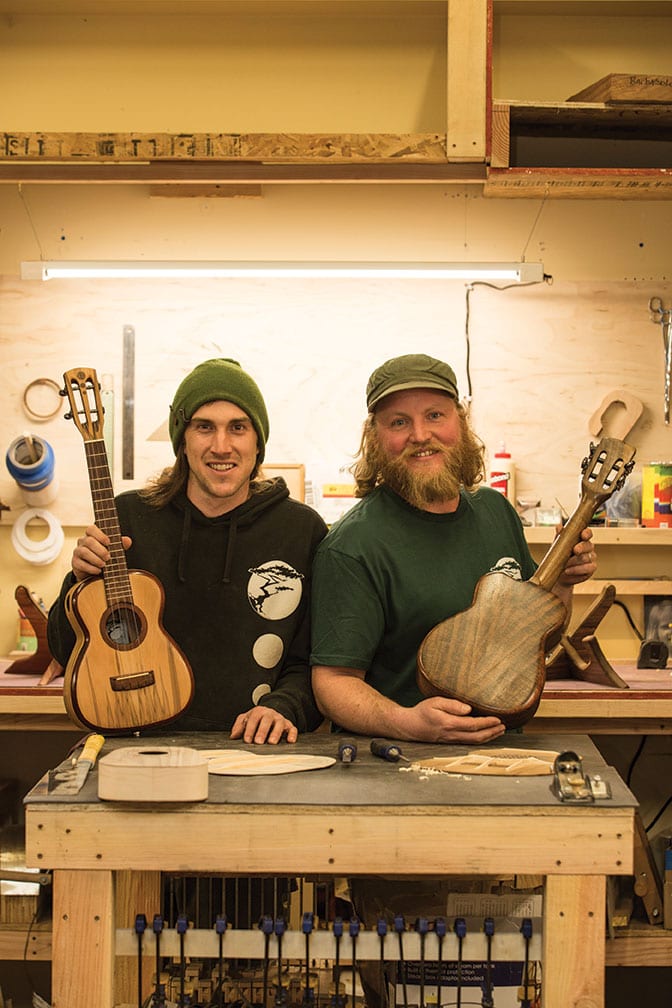 TYDE Music founders Tyler Joersz, left, and Devin Price display a couple of ukuleles at their old Kings Beach studio
01 May

A Hawaiian Tide Washes Ashore in Tahoe
Inspired by Hawaii but crafted in Tahoe, TYDE Music's hand-built ukuleles create tropical tones from alpine designs
Worn down and dotted with nail holes and blemishes, each piece of wood and instrument has a story unique to itself. The wood is marked by the elements of Tahoe—sand, snow, sun, water and wind—but the instrument is shaped by the influences of Portuguese traders and Hawaiian royalty.
This blending of reclaimed Tahoe wood and rich Polynesian traditions is the hallmark of TYDE Music—Truckee-based ukulele builders who are crafting artistic versions of this portable and popular instrument.
From Hawaii to Tahoe
First known in Hawaii as the taro patch fiddle, the ukulele has gone through a number of iterations. The instrument originated in Portugal, where it was called the machete. After making landfall in Hawaii, it caught the eye of King Kalakaua. It is said that the instrument got its name from the king's assistant, Edward Purvis, who was an accomplished machete player and gave it the name "ukulele"—a Hawaiian word that translated to jumping or dancing flea—based on its size and agility.
  In 2010, Truckee resident Devin Price traveled to Hawaii with his family. He and his dad, a longtime mandolin player, picked up a ukulele from a small beachside shop and fell in love. There were fancy ones on the wall, but Price left that day with a cheap version that sounded great. He found the uke easy to travel with and a joy to play.
At the time, he and fellow North Tahoe local Tyler Joersz worked as furniture makers with Andy Cline of Roundwood Furniture. Childhood friends from Sandpoint, Idaho, their lives have been intertwined since middle school. They had worked for the same contractor in Sandpoint at various times before Joersz moved to Tahoe. In 2006, Price was finishing college in Reno and moved to Truckee. Two years later, he and Joersz began working together at Roundwood Furniture.
Through their many projects with Roundwood, they learned that woodworking could be more than just grunt work. It could be beauty. It could be an art form.
When Price returned from Hawaii he approached Joersz, showed him his new uke, and said, "We can build these."
The two furniture-maker friends combined their skill sets and their names and formed TYDE Music in 2010. The teamwork started with the name, which they felt had the same flow as the ocean where Price first played the ukulele.
In their early days of ukulele building, the two would gather furniture scraps from Roundwood. Usually it was walnut or other hardwoods mixed with cutoffs from tabletops. They had easy access to redwood, reclaimed from old Tahoe cabins, which they could use for the instruments' soundboards. The original ukes were modest in terms of artistic features, but they produced quality sound.
"Because of their deep, hands-on training in building functional art, the ukulele quickly transformed into their version of functional art," says Cline, who founded Roundwood Furniture in 2000. "The difference was a much higher level of artist application than any other ukuleles on the market."
An Artful Craft
When making furniture, Price and Joersz would search for the perfect pieces of wood for each project, keeping in mind that, first and foremost, the finished product needed to look good. Once the wood was selected, they often joined pieces together, matching up the grains for look and flow.
When the two began honing their craft for ukulele building, they came to realize the importance of an element they'd never considered when making furniture—tone, which varies depending on the type of wood. As their skills improved, they learned how mixing woods in an instrument altered the sound. They could stack the tones in order to meet a client's needs.
"The true art of building an instrument is perfecting the creation of sound," says Price. "The hope is to combine the luthier's craft and art of woodworking with the musician's art of building sounds."
After finding perfect cuts of wood, the process of building a ukulele is both in-depth and time-consuming. The instrument includes a body, sides, neck, fretboard, nut, saddle, tuners and bridge, and each needs to be perfectly cut, sanded and bent to fit properly. From there, the top and back are braced and glued to the body before the more intricate work of building the neck and inlay begins.
TYDE recently brought another former Roundwood employee, Cat Dunleavy, onto the team to aid in this process. Dunleavy helps build the base models while also bringing graphic design skills to the table. This enables TYDE to use a laser cutter to perfect the inlays.
The nut and saddle, which support the instrument's strings, are made out of bone, the tuners are drilled on and the bridge is glued. The entire process takes anywhere from 10 to 100 hours, depending on how much detail is involved.
"Depending on how shiny we want the instrument, we add a hand-rubbed oil finish. It keeps the wood feeling like wood and is light enough to allow the ukulele to vibrate naturally," says Price. "We use anywhere from six to 12 coats, then string it up."
The Partnership
Neither Joersz nor Price has traditional luthier training. They simply learned by trial and error. Their craft grew through experimentation—discovering building plans on the Internet, watching YouTube videos and reading books—until they found success.
"When friends and family caught on to what we were doing, the support was infectious," says Joersz. 
"Personally, I just wanted to make four different ukes that I could hang on my wall and play," says Price. "Tyler wanted to make one for his girlfriend."
With support from family they started producing more and more instruments, honing their craft along the way. In 2013 they took their finished products to the Reno Ukulele Festival. The event, the largest of its kind in the U.S mainland, was a great spot to "show off" the new products. Though none were sold, the response was great, says Joersz.
"We were inspired by other makers there like David Iriguchi, out of Carmichael, California," says Joersz. Iriguchi's shapes and finishes got TYDE's creative minds rolling.
Joersz and Price constructed their early ukulele lines and one-of-a-kind pieces out of a studio in Kings Beach, but after various landlord issues, they moved the operation to Truckee.
"We work out of Devin's garage and, because rent is cheaper and less imposing, we have much more time for the instruments, our passions, skiing and travel," says Joersz. "It is reflected in the love we can now put into our instruments."
At TYDE, Joersz and Price pride themselves on their partnership. Joersz's tasks consist of assembling the body and bending and bracing the sides. He is the chief networking consultant, in charge of marketing and sales while dealing with shops and musicians. 
Price, who has become a well-rounded luthier, sculpts the necks and fretboards. He does the inlay work and installs pick-ups.
"It's a great partnership," says Price. "We can both do the various processes but over the years we have been able to see who does what better in order to make the instruments perfect. We throw ideas off one another about design and wood choices. There's lots of collaboration."
Following a Tradition
Many Hawaiian ukulele builders use koa, a Hawaiian hardwood coveted for its spectacular appearance. TYDE follows that same model but also crafts their ukes with pale moon ebony and other rustic hardwoods. They also use reclaimed wood from torn-down piers on Lake Tahoe, although those are mostly softer woods such as cedar and redwood.
"Since we only need small pieces of wood for our ukuleles, we can search through exotic woods of all types to find what intrigues us," says Joersz. "Some of these pieces have distinguishable features or shapes naturally in the wood. That oftentimes will help point us in an artistic direction."
TYDE tries not to impose strict deadlines on their creative process. Their clientele seems to understand and admires the time it takes to craft something special. These are intended to be pieces of art that can be passed down through generations.
The ukulele has a long history starting in Europe. It sailed across the seas to Hawaii, where the inhabitants blended in their island vibes and created the sounds so many have grown to know and love as the sounds of Hawaii. From there, the instrument has played itself around the world and become synonymous with sitting on a beach with a cold beer and a big smile.
Today, the history of the instrument continues as a couple of local furniture makers mix in the feeling, look and vibe of Lake Tahoe.
In the words of Devin Price: "Sitting on a beach in Lake Tahoe, strumming my ukulele, feels a lot like sitting on a beach in Hawaii, strumming my ukulele."
---
TYDE Music's ukuleles, as well as guileles, cajon drums, didgeridoos, stomp boxes and other music accessories, are available at Split Rock Music in Truckee, Hawaiian Music Supply on the island of Oahu or on TYDE Music's website.
---
Ryan Salm is a commercial, lifestyle and adventure photographer based in Tahoe City. To contact him or view his work, check out www.ryansalmphotography.com or @ryansalmphotography on Instagram.