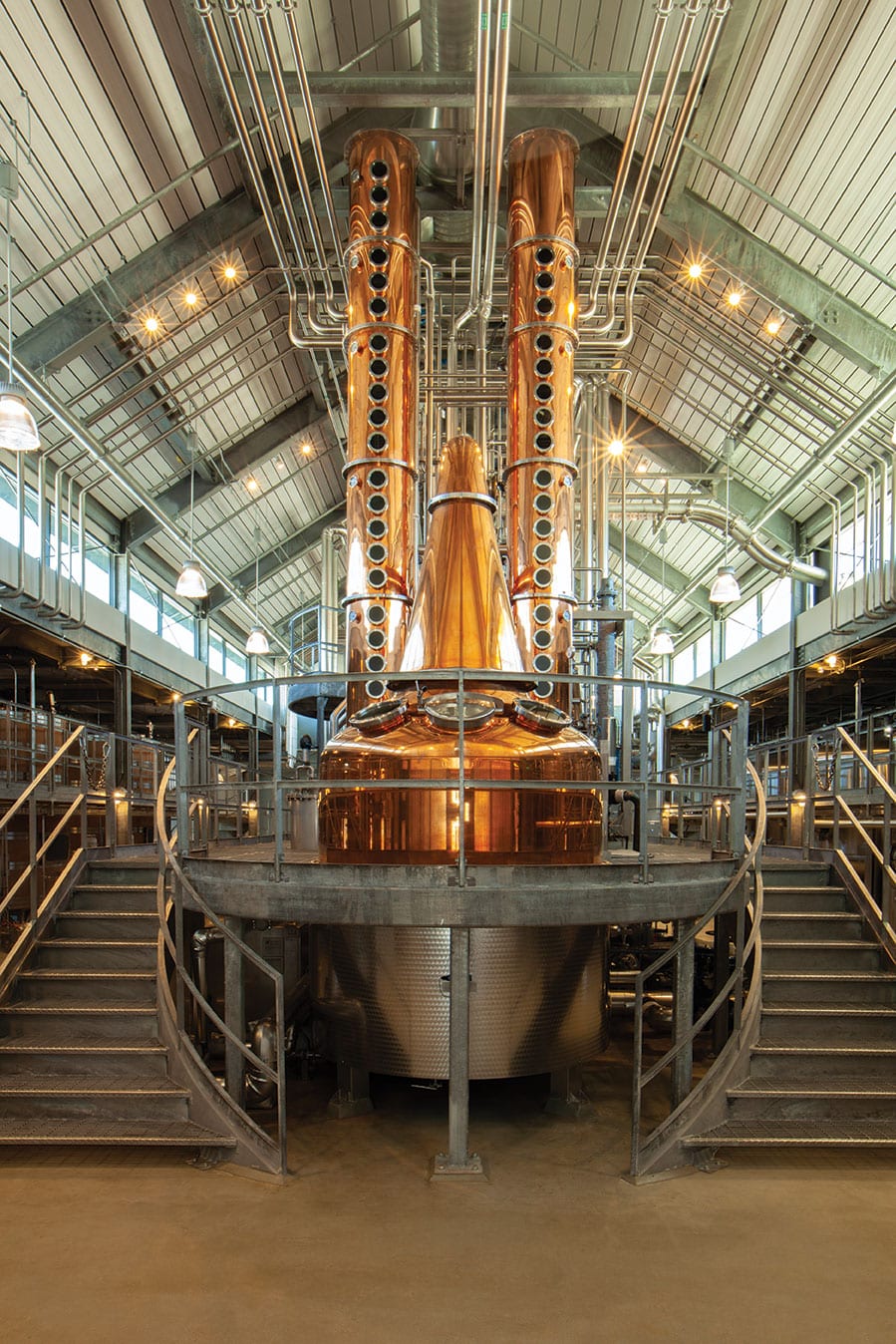 Made in Butte, Montana, this state-of-the-art Headframe still in the Creamery is used in the production of Bently's vodka, gin, liqueurs, bourbon, rye and wheat whiskies
01 May

Best Spot to Commune with Spirits
Bently Heritage Estate Distillery elevates an old craft to new heights
With craft distilleries launching faster than you can say "bespoke artisan handmade small batch spirits," Bently Heritage Estate Distillery opened its doors in Minden with a splash of something special.
Located in a pair of painstakingly repurposed and renovated red brick buildings placed on the National Register of Historic Places, owners Camille and Christopher Bently personally shepherded the project, which spent two years in design and nearly four under construction. Finally opened to the public in February, the LEED Gold property's form, function and fun factors mix nicely for an entertaining and educational outing.
Flying flags like "field to flask" and "grain to glass," estate distilleries grow the grains they use to make their spirits. The sustainably raised oats, wheat, barley and rye that go into Bently Heritage vodka, gin and whiskey come from the nearby 50,000-acre family-owned Bently Ranch, whose main stock until recently has been raising grass-fed beef. In estate production, fermenting, malting, distilling, maturing, bottling and labelling also take place on site, providing complete control over the process and end product. Fallon's Frey Ranch was Nevada's first estate distillery.
The best way to fully appreciate the full distillation process—and the labor of love that went into the launching Bently Heritage—is to take a one-hour guided tour, which starts at Well One, a remnant of Minden's first water plant and inspiration for its Source One vodka. Built over a century ago to pump water from the Sierra snowmelt-fed aquifer below the Carson Valley, it is now used exclusively for distillery operations.
Enthusiastic and informative tour guides lead groups into the so-called Creamery, the former home to the Minden Butter Manufacturing Company where Bently Heritage produces its vodka and gin, as well as bourbon, rye and wheat whiskies.
Built in 1916, and designed by one of Nevada's most prolific commercial architects, Frederic DeLongchamps, the exterior retains its rustic turn-of-the-last-century style while the interior is a dazzling display of traditional distillation techniques and modern production technology. Front and center, an elevated platform holds a towering pair of gleaming German and American copper stills flanked by oak barrels, in a steampunkish Seussian sort of altar to alcohol. Miles of precisely placed steel piping and electrical conduit radiate toward a series of climate-controlled storage rooms, whose temperature and humidity can be dialed in with such detail as to emulate the climate as specific, say, as where Speyside scotches are produced; state-of-the-art monitoring and controls can be managed with the swipe on a single iPad. This is also where bottles are filled and labelled at a rate of 44 units per minute.
Across the courtyard, the Mill building is the second of the distillery's two rehabbed structures, constructed in 1906 for the Minden Flour Milling Company. Bently Heritage worked with the state historic preservation office and a flour mill specialist to identify, catalog and preserve over two dozen pieces of original equipment within the building. Now hefty black steel beams and struts contrast with white-washed brick walls and reclaimed wood in a rustic industrial chic motif.
A lofty spiral wood and iron staircase leads to an open-layout tasting room on the top floor, with views down to the dramatically lit Scottish Forsythe stills where the single-malt whiskies are made. The large windows also allow views to the Eastern Sierra and Carson Valley fields that yielded the ingredients to make the vodka and gin placed on the table before you (the whisky and bourbon are still aging).
You may also catch a glimpse of the ever-nattily-dressed Christopher Bently, who used to pedal his bike past these buildings as a kid and was determined to preserve the past in a most thoughtful way for the future. That, summed up in a word, is neat.
---
Bently Heritage Estate Distillery is open Thursday through Sunday. 
---
Susan D. Rock is TQ's longtime Food & Wine editor.
---
Did You Know?
• The number of active craft distilleries in the United States grew by 15.5 percent over the last year to 1,835 distilleries, according to the American Craft Spirits Association.
• Bently Heritage Alpine gin is made with distillate from piñyon pine cones from forests behind Bently ranch.
• The Mill Building's pair of bars serve a menu of unique classic and crafty cocktails based on their spirits.
• Other craft distilleries in the Reno-Tahoe area include Frey Ranch, Branded Hearts Distillery, The Depot Craft Brewery Distillery, Seven Troughs Distilling, Verdi Local Distillery, Forsaken River Spirits, 10 Torr Distilling & Brewing and Truckee's Old Trestle Distillery. Tahoe Blue Vodka is headquartered in South Lake Tahoe but produced in Mountain View, California.