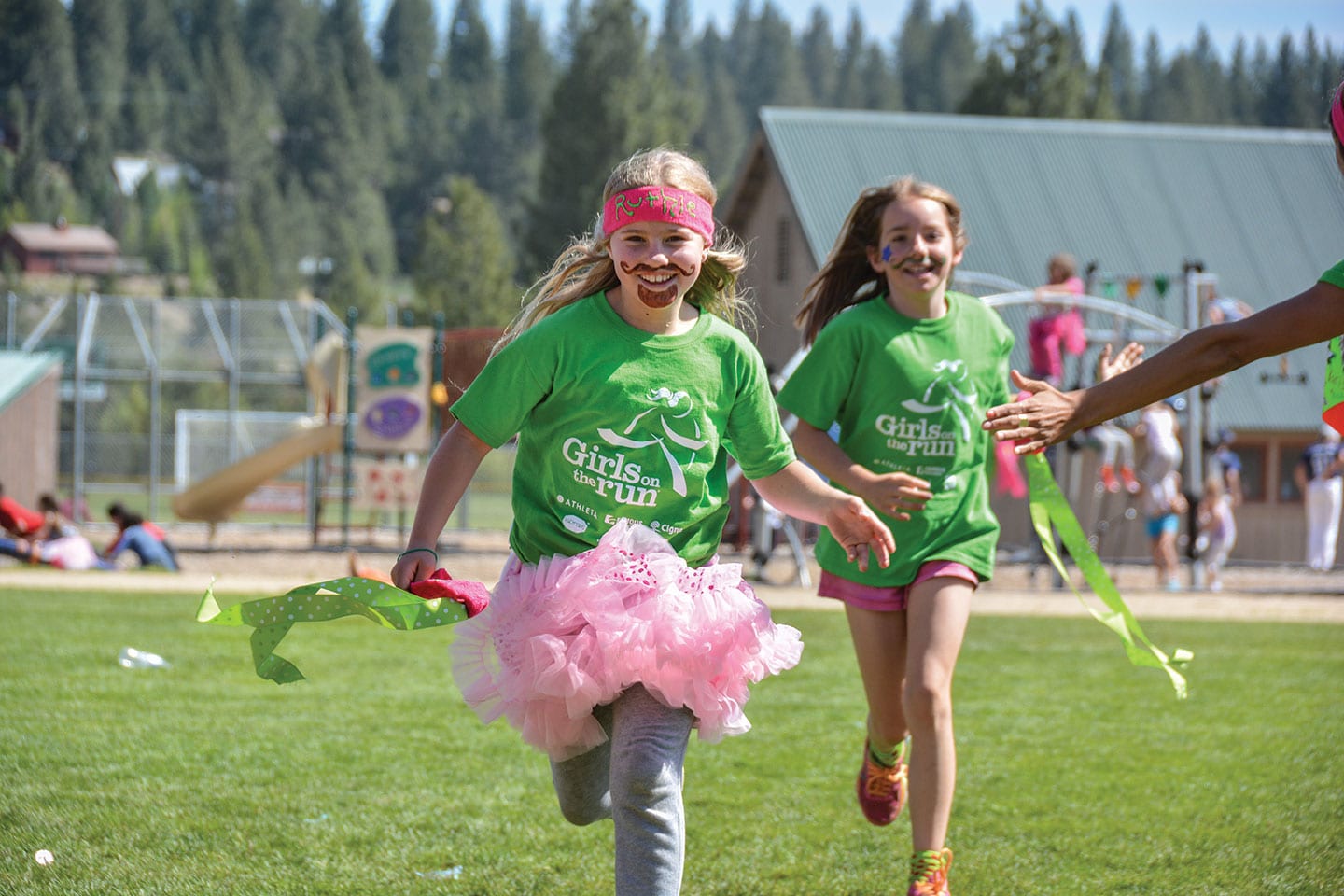 High fives and smiles are common on the final stretch of the season-ending run
01 May

Building Character One Mile at a Time
Girls on the Run uses running as a way to teach health, happiness and confidence
Joy Heuer is not one to cry. But one early-summer day each year, as young girls stream through the finish chute at Truckee Riverview Sports Park—all beaming with pride—the executive director of Girls on the Run-Sierras cannot hold back the tears.
"At the 5K you are just on a high. They did it! It's amazing," says Heuer, recalling the festive scene full of smiling faces, many of them artfully painted for the big event. "I cry every year at the 5K. It's so rewarding, inspiring and fulfilling working for Girls on the Run."
Founded in 1996 by a physical education teacher in Charlotte, North Carolina, Girls on the Run International seeks to develop life skills through physical fitness in an engaging and encouraging group setting. Its official mission is to "inspire girls to be joyful, healthy and confident using a fun, experience-based curriculum that creatively integrates running."
"The primary focus is on the Five Cs: confidence, character, competence, care and connection," says Heuer.
The nonprofit organization has blossomed over the past two-plus decades, growing from 13 original members to over 185,000 girls in more than 220 councils sprinkled across all 50 states. The program hosts more than 350 season-ending 5-kilometer events from coast to coast, making the Girls on the Run 5K series the largest in the country.
The Truckee-Tahoe area, known for its outdoor splendor and active residents, was a natural fit for such a program, and in 2007 Girls on the Run-Sierras was established at Glenshire Elementary School. The program quickly expanded throughout the Tahoe region, spreading to the North Shore, Incline Village and South Lake Tahoe, and then Northern Nevada in 2012. It now serves over 30 schools in the region, with girls from third to eighth grades meeting twice a week for 10 weeks.
"We warm up, then do a lesson," covering topics such as negative self-talk, empathy and sympathy, and how to be a good friend, says Heuer. "Then we carry that lesson into the physical activity, which is whatever they are comfortable doing. We end with a wrap-up stretch and a healthy snack."
Healthy Influence
Girls on the Run owes its success to the more than 100,000 volunteer coaches, who pass on their love for running while teaching life lessons and serving as mentors to the kids. Sara Holm is among this dedicated group of role models. A teacher and long-distance runner, Holm has coached for the program in both Incline Village and Reno, and at schools with vastly different demographics.
"It has something to offer all girls regardless of their home situation," says Holm. "Girls on the Run teaches girls how to stand up for themselves, make friends and keep friends."
The program is designed to boost girls' self-esteem in part by setting a goal—running 5 kilometers, which equates to roughly 3.1 miles—and achieving it through training in a positive and infectious group environment. There are no tryouts or cuts, and the only competition is in reaching the goal.
"We will hear from girls that they were able to not stress on a test because they learned how to mitigate stress—that they have stood up to bullies and gained confidence," says Heuer.
The program also builds character through community service projects. For example, Holm remembers girls at Smithridge Elementary School in Reno organizing a blanket drive for the Humane Society.
"They wanted to help animals," she says. "At Lake Tahoe School (in Incline Village), they raised money for a teacher with cancer and for Project MANA. It's a good way to get outside themselves, and helps their leadership skills." 
Confidence Gained
Todd Jackson became a proponent of Girls on the Run through his daughter Zoe's participation. As president and CEO of Big Blue Adventure and Seventh Wave Productions, Jackson's Tahoe-based event production company sponsors the annual Girls on the Run 5K as part of its Truckee Running Festival. The event also includes a 10K and half marathon, starting and ending on the fields of Riverview Sports Park.
Like all Big Blue Adventure races, the scene at the finish line is a jovial celebration, full of participants young and old glowing in the aftermath of their athletic feats. The young Girls on the Run participants stand out in particular with their colorful outfits, face paint and hearty smiles. Archie, the big red mascot of the Reno Aces, has been known to greet runners at the finish.
"The girls get to be part of a bigger running event, finish under a grand arch and get to watch the other racers," says Jackson. "It gives girls confidence, about body and peer pressure issues. And the girls go because it is a commitment. It gives the girls perspective on accomplishing something, and they finish it. It is an eye-opening thing for them."
"I was so proud of myself for all that hard work," says Delaney Graves, a Girls on the Run participant from North Tahoe Middle School. "I learned to love running at a young age because of the program. Now I'm inspired and I'm running in middle school."
Adds Madeline McGee, a sophomore at Truckee High School: "Girls on the Run was really inclusive and empowering. We brought each other up and supported each other. I'm still good friends with most of the girls I met there."
---
For more information about local Girls on the Run programs, go to www.girlsontherunsierras.org.
---
Tahoe City–based freelance writer Tim Hauserman is the father of two daughters and runs the Strider Gliders after-school program at Tahoe Cross Country ski area. He loves that some of his Strider Glider kids jump over to participate in Girls on the Run after the ski season.
---
Girls on the Run Celebratory 5K
What: Part of the Truckee Running Festival
When: Sunday, June 2, 7–11:30 a.m.
Where: Truckee Riverview Sports Park
Event Info: bigblueadventure.com
Contact: GOTRSierras@gmail.com