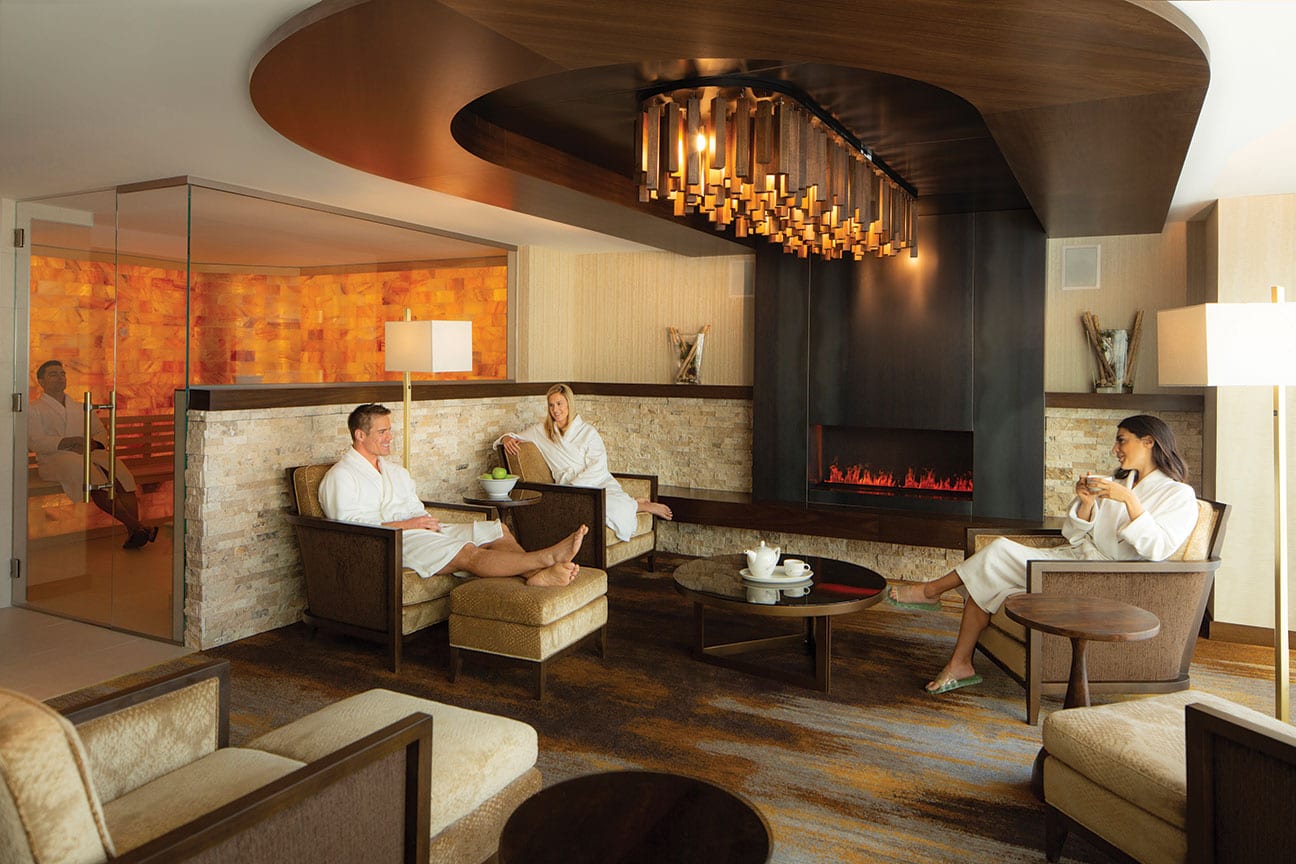 The Spa at Silver Legacy's Fire Lounge and salt inhalation chamber, which features backlit Himalayan salt bricks, courtesy photo
01 May

Settling into Serenity
The Spa at Silver Legacy brings the outdoors in
A new refuge for relaxation opened its doors in October 2018. The 21,000-square-foot Spa at Silver Legacy, where everything from the design to the spa products are inspired by natural items indigenous to the Reno and Lake Tahoe outdoors, shattered any preconceived notions about spas found in casinos.
Nary a slot machine is in sight en route to The Spa at Silver Legacy, which is accessed via an elevator adjacent to the resort's front desk. After checking in, an attendant guides guests into one of two gender-specific locker rooms and provides a tour of the facilities. Lockers are assigned, with ample space to store personal items plus a cozy, custom-made, chocolate-hued robe accurately dubbed "delicious" by team members.
In Cinderella-like fashion, attendants deliver clear slippers—made of plastic, not glass—in the appropriate size. Once finished for the day, spacious showers with custom products and stations stocked with toiletries and hairdryers await.
Lay of the Land
Shimmering iridescent tiles of mauve hues line the balmy steam rooms found in both the men's and women's locker rooms. In repose amidst the mist, one might imagine floating on Lake Tahoe at night, with the stars glimmering above and lights reflecting on the water's surface. Fragrant pine emanates from the saunas next door.
Exiting the locker room, senses are stimulated but not saturated. Earth tones and refined rustic décor bring a sense of calm. Relaxing melodies enhance the mellow vibe. Delicate aromas—not floral or fruity, but a touch musky and spicy—waft throughout.
This is no labyrinthian spa. Its straightforward navigability increases its appeal and adds to the calming effect.
Pine seating and backlit Himalayan salt bricks radiating a soft glow welcome basking and deep breathing in the salt inhalation chamber. A fitness center and full-service salon reside nearby, offering further invigorating or pampering options.
Mere steps away, a heated outdoor pool, hot tub and seating area are available year-round. A fire pit and water feature complement the space's surrounding vistas of the Sierra and downtown Reno.
Stepping back into the spa proper, tables proffer infused water, light snacks and teas. Libations and food are also available to order. Several relaxation areas are designed in an earthy palette, with features evoking a forested landscape.
In one, a fireplace features flames dancing atop what looks like molten magma. A wooden wall dotted with circular holes allows outdoor light to filter in. In another, heavy curtains darken the room while a colorful Tahoe sunset mural glows softly above. Swinging basket chairs and padded lounge chairs are topped with lavender-scented neck pillows and cozy blankets, should a nap be in order.
Local Inspiration
A spa industry veteran is the visionary behind this new haven. Director of Spa and Wellness George Powell-Lopez turned down several other opportunities to relocate to Northern Nevada after realizing it "wasn't the Reno he remembered" from decades ago. He fell in love with the outdoor-driven region and the symbiotic relationship between Reno and Lake Tahoe, also appreciating the nearly free rein he was given to develop the spa by property executives.
This is the 33rd spa project that Powell-Lopez has been integrally involved in around the globe after 25 years in the field, beginning at legendary healing institution Canyon Ranch in Tucson, Arizona.
He's driven to create a memorable experience for guests. Inspired by the surrounding mountains, woods and water, he revels in conceptualizing rituals not commonly found in other spas, like their tea service that pairs locally produced Davidson's Organics teas with guests' treatments. He engaged chemists to craft toiletries, one for men and another for women, using naturally occurring area botanicals like white peach, rosemary, sage and white pine bark. Sorella Apothecary, a local skincare company, provides facial products. A Salt of the Earth blending bar invites visitors to create their own scrubs using an array of scents, which are then used during their treatments and can also be taken home.
"I'm very passionate about making it right for the person. If you allow us the opportunity to take you on a journey, it can become something beautiful, unique and tailored to you," Powell-Lopez says. "Many can offer a spa service, but not many can offer a spa journey." 
From Concept to Calm
Dozens of different massages, facials, scrubs, wraps and packages are available at The Spa at Silver Legacy, where technicians are skilled and eager to please, asking what scents and pressures are preferred. State-of-the-art massage tables have pillow-soft face rests, built-in warming pads and the ability to get guests in all the needed positions for idyllic treatments.
Trending HydraFacial therapy is also offered, cleansing pores using an extractor pen that injects nutrients and rehydrates the skin, culminating in a derma peel.
Three signature services are worthy of note. The Tahoe Trilogy begins with a full-body salt scrub, followed by a luxurious soak in a private tub that's comfortably conformed for nearly every body. A Swedish massage completes the two-hour luxuriation.
Moved while gazing at the snow-topped mountains during a bike ride, Powell-Lopez created the exclusive Fiery Snow facial and massage. For the Fiery Snow facial, a cherry pepper peel opens pores initially, then steam and cold marble stones tighten the skin. During the massage, contrast therapy is used to both invigorate and loosen muscles by alternating hot and cold marble stones, increasing circulation and relaxation.
The More the Merrier
The Spa at Silver Legacy also caters to groups. With a minimum of eight services, the spa will send a limo to a single location in parts of Lake Tahoe or the Reno-Sparks area for pick-up.
For locals, the LAP of Luxury program provides complementary enhancements and additional treatments with any booked service, such as a free glass of champagne, collagen mask or eye and lip treatment.
With this wide menu of relaxation options at your fingertips, the biggest stress during a day at The Spa at Silver Legacy is deciding when to depart and go back to reality.
---
Natasha Bourlin is a writer who has spent much of her life on Mt. Rose and recently realized she may want to relocate to a spa.