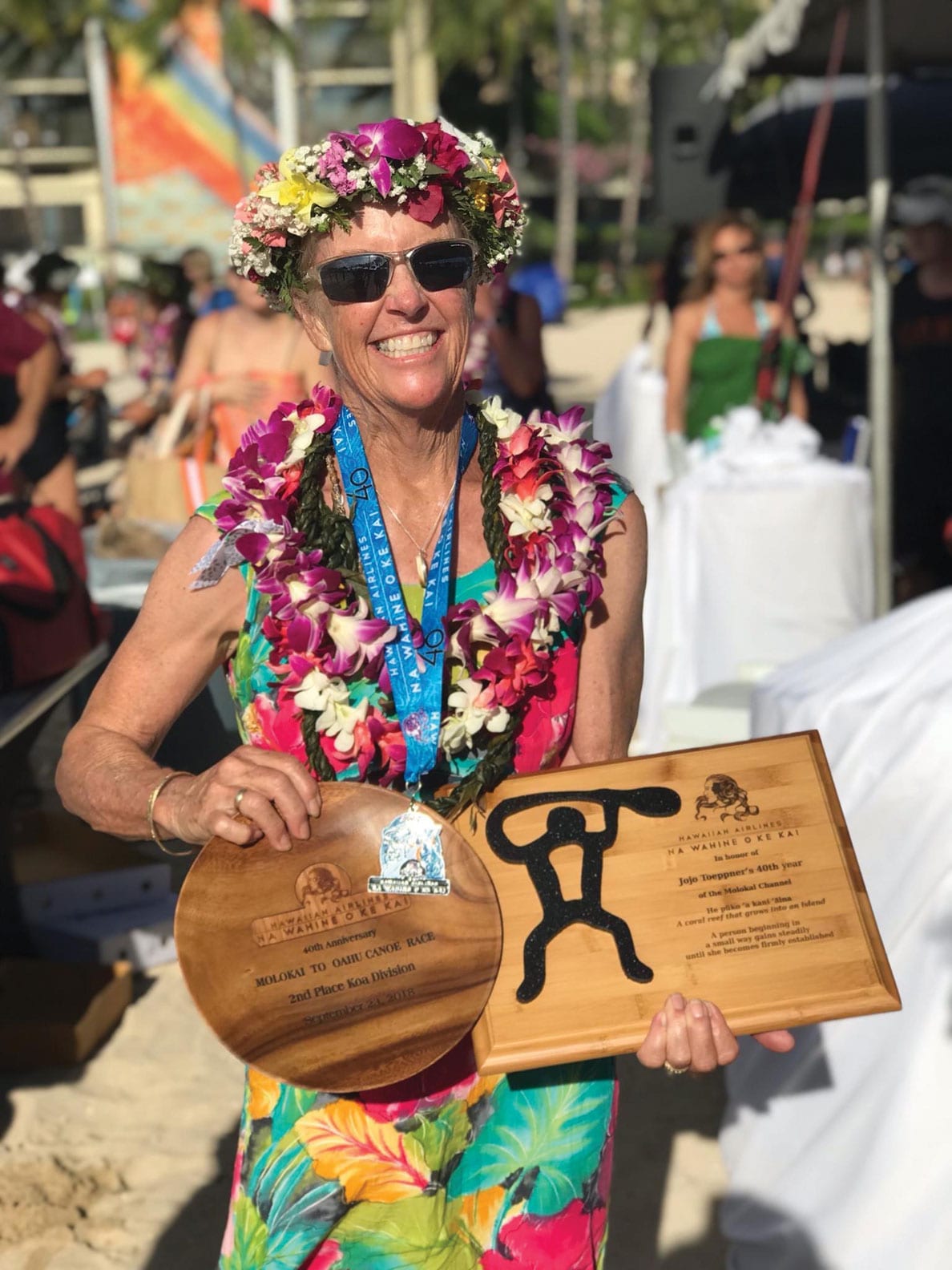 JoJo Toeppner at the Na Wahine O Ke Kai in Hawaii, courtesy photo
01 May

Tahoe's Woman of the Sea

JoJo Toeppner is known in Tahoe's cross-country skiing community for her infectiously positive attitude and dedication to the sport, whether she's donning an outrageous costume cheering on participants in the Great Ski Race or at work managing Royal Gorge Cross Country.

Outside of Tahoe, she's known for the same traits in the world of ocean paddling.

Toeppner is the driver for her team in the challenging and prestigious, 41-mile Na Wahine O Ke Kai ("Women of the Sea") outrigger canoe race from Hawaii's Molokai island to Oahu. While her team has been crowned champion 10 times in the event's 40-year history, Toeppner stands out individually as the only woman to compete in every race since its inception in 1979.
From Surf to Snow
Some may wonder how a cross-country skier ended up a world-class paddler. But the better question is how a Southern California beach kid became a cross-country skier.
"I grew up with the ocean; lived four houses from The Wedge," says Toeppner, referring to the popular Newport Beach locale known for its large wedge-shaped waves. "I always loved playing in the ocean, boogie boarding, skimboarding, body surfing."
Billy Whitford, Toeppner's paddling coach the past 40 years, attended high school with her in Newport Beach. He remembers her as an athletic tomboy who began her competitive paddling career in a whitewater kayak and then moved into a variety of other paddling disciplines.
Toeppner met her husband Carl, who is also an accomplished paddler, at the whitewater nationals in Colorado while she was still in high school, in 1970. They started dating 10 years later, and in 1980 she moved to Tahoe to be with Carl, who was a cross-country skier and one of the original members of the Tahoe Nordic Search and Rescue Team.
Influenced by her husband's passion, Toeppner fell in love with cross-country skiing as well, eventually garnering a second-place finish in the 30-kilometer Great Ski Race from Tahoe City to Truckee. She became an instructor at Tahoe Nordic Ski Area (now Tahoe Cross Country) and went on to run Tahoe Donner Cross Country before managing Royal Gorge.
Toeppner's cross-country skiing involvement—and her alpine residence hours away from the ocean—did not prevent her from pursuing paddling. She continued to race, and at the highest level of the sport.
"For the first nine years we were married, I was in Tahoe for six months each year," says Toeppner. Most of the other six months, she traveled across the United States and Europe competing in flatwater kayaking, which is racing a lightweight kayak in a 500-meter sprint. It's an event that can take less than two minutes. "If you look, you lose," says Toeppner, who was an alternate on the U.S. Olympic Team in 1984—an experience she calls "the trip to nowhere in L.A."
Although Toeppner lives a typical Tahoe lifestyle these days, gardening in the summer, riding bikes with longtime friends, and paddling kayaks, outriggers and stand-up paddleboards on Prosser Reservoir and Donner Lake, she still returns to Newport Beach to join what coach Whitford calls his "phone call crews."
"I'd call up athletes and say, 'Let's go race in Hawaii, Sweden and Hungary,' and they would say yes," says Whitford. "JoJo would be there most of the time. She has such a great vibe. Everyone loved being around her. I've seen her eyes get red and tired, but never heard her say, 'I'm tired.' JoJo is one I can depend on."
Women of the Sea
Toeppner began her long love and devotion to paddling in Hawaii on October 15, 1979. It was the inaugural Na Wahine O Ke Kai race from Molokai's Hale O Lono Harbor to Oahu.
As described in a 2017 article in Hawaii Magazine, the grueling race across the open ocean of the Kaiwi Channel "takes every muscle and fiber of the human body to complete… paddlers are required to use their full arsenal of skills, training and instinct because the only thing certain in the Kaiwi is that anything can happen here."
For Toeppner, racing a 400-pound outrigger canoe built for six across 41 miles of open ocean was quite a different experience from flatwater kayaking. Instead of one small mistake losing a race, the motto for the long ocean race is, "The team that makes the least mistakes wins," says Toeppner. And everybody makes mistakes.
During many of the races over the years, when Toeppner was in the front of the boat, Mindy Clark was in the back. Clark describes her longtime teammate and friend as a fierce competitor whose energy rubs off on those around her.
"For the first 27 years, I was in the boat with her. She drives the team and is one of the most inspirational paddlers I've met," says Clark. "She has the best attitude you can have. She has one switch, and it is on."
In long races such as the Na Wahine O Ke Kai, a six-person crew powers the canoe while an escort boat alongside carries another team of up to four. Teams switch paddlers several times during a race, a maneuver as challenging as it sounds. In the midst of heavy surf, up to three paddlers quickly flip out of the boat, and three others have to grab the boat, jump in and begin paddling right away. They need to do so without slowing down its progress or, worse, flipping the boat.
"If you don't do it right you will flip," says Toeppner. "We had one time, there were big seas, one paddler got shot up in the air, the other two were on the wrong side. But it worked. We flipped in one of the big water years with a canoe, though, and it filled with water. We broke the boat, so we didn't finish the race."
Despite the difficulties, Toeppner returns year after year because of the camaraderie with her teammates and the wonderful people of Hawaii. While other teams stay in hotels resting up before the big event, Toeppner enjoys rustic camping on the beach with good friends on the lightly populated Molokai.
"The day before the race is great," says Clark. "We have 10 girls camped out at this remote island. That is why everyone comes back to do it with her."
"I made some fantastic friends over there," says Toeppner, who, in addition to her own race, has worked as a media commentator for some of the men's races, following the action in an escort boat. She also spends her Hawaii time jet skiing, free boarding or surfing with friends on the North Shore. One of those friends is surfing legend Brian Keaulana.
While the NAC Newport Aquatic Center team includes world-class paddlers, they are also lawyers, bank managers, pilots, paramedics and, in Toeppner's case, a cross-country ski resort manager. Competing is a part-time gig, and they all pay out of their pocket to race. It's an expensive little hobby renting the boat, paying the entry fees and traveling to the race locations. But to Toeppner, it's well worth the cost to be with a group of women testing themselves against the power of the ocean.