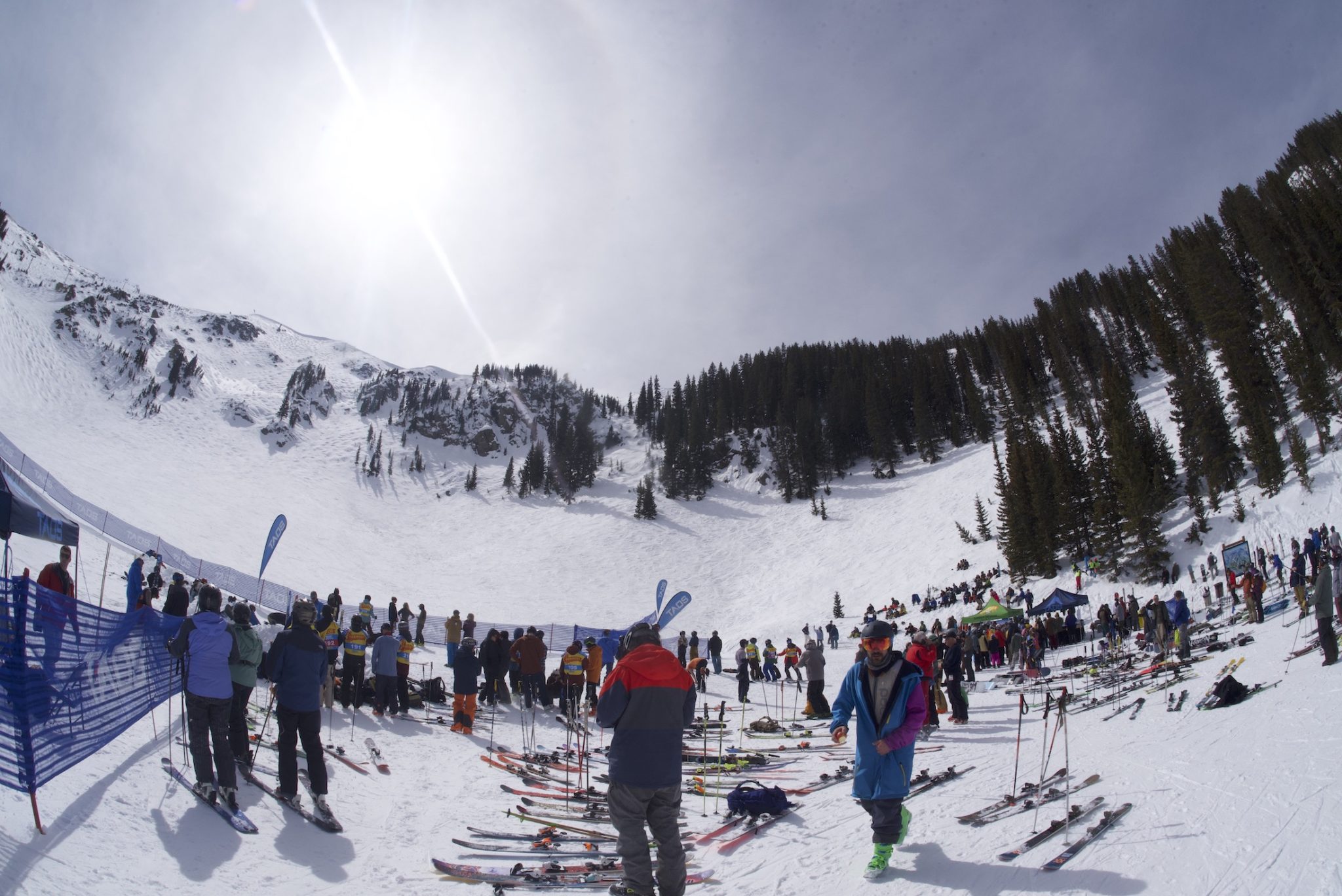 The venue and scene at Taos, New Mexico, for a Freeride World Qualifier series stop, photo by Tom Winter
26 Mar

Comps, Chaos and Covid-19
Reliving a strange, stripped-down season on the Freeride World Qualifier circuit
Concrete chalk. That was the texture of the snow on Taos' West Basin, a steep and slippery swath of terrain at New Mexico's biggest ski area. It was also the venue of the next day's big-mountain competition, which I was in. Hard as heck, but with the edge-able qualities of chalky snow. I'd rank it a 3 out of 10. Hey, at least it wasn't quite bulletproof, or frozen coral reef, or (the worst!) frozen snot, as go descriptions of the basest conditions available.
This snow wasn't completely out of the blue, however, as pretty crappy to really rough are common for these events. Others were less impressed.
"I sure wouldn't want to ride this snow with one edge," said a random skier to me, as I took my first look in from the top.
I disliked and disagreed with this opinion, trying to pin my mindset on the positive. I did want to ride this venue. It's snowboarding. The terrain was fantastic. I had multiple weeks to frolic around the West, write about these events and hang out with some stellar, ski-obsessed souls.
However, this nifty outlook would become increasingly difficult over the next few weeks, and readers can probably guess why. The event at Taos was one of six competitions on the Freeride World Qualifier series (FWQ) that I was signed up for, all within a span of one month, from early March until early April. The FWQ, largely unknown among the snow-going masses, is a series of big-mountain contests at the amateur level. Basically, it's a minor league to the big show that is the Freeride World Tour (FWT). And as the name implies, the top riders from the qualifier series are bumped up to the big leagues.
The Competition Scene
Freeride events are simplistic at the core. There is a start gate at the top, and athletes are given free rein to rip and send it just about wherever they desire. There is a rather intricate multi-criteria judging system with lots of numbers, but that's not so important here. The idea is to ride hard, cleanly and smoothly. And one should probably go in the air, maybe do some tricks—even go upside down, should a rider have the gumption. But definitely don't crash, as that will send a score into the extremes of the wrong percentile.
I love the scene, and have (on and off) spent the last 10 years competing, but at times it's a maddening game. It's a lot of time and money and effort to take one, maybe two, runs on an inbounds venue that is otherwise open to the general public. Oftentimes I feel like I underperformed, and self-flagellated thoroughly over it. In rarer cases, I have been washed over with joy after a run. It's a roller coaster, but in virtually all cases I have been blown away by the level of riding by others.
With those basics established, I'll fast forward to standing at the start gate of my first run of the year—day one at Taos.
Taos
Preparing to drop, just waiting and doing literally nothing, brings on the butterflies, flittering and flapping away with their malevolent wings. I try to mitigate this by doing rudimentary yoga, staring into the expanse of high-elevation southwest mountains, and distracting myself. "It's even drier than Tahoe here," I thought, "and a few thousand feet higher. There are zero clouds and it's hot. This sun is freakin' ruthless here, man." Then someone said it was my turn.
I rode my line, did a few airs and didn't fall, but maybe needed to chuck a little more gas on the fire. In other words, my run was kinda weak. I finished 10th out of 19. Commonly, judges advance roughly half the field to finals day, but on this day, for reasons not made clear to me, only six riders, or 32 percent of the field, advanced to the finals.
But the big-mountain game is a communal one, so it was time to live my best vicarious life. The boys I was traveling with—namely Jed Kravitz and Eric Lee O'Brien—were in the four and five spots, respectively, in the overall North American rankings going into Taos. The top three skier men get invited to the FWT at the season's conclusion, so they were both in a real position to crack that top-three spot, and I was amped to be pumped for them.
Eric, at the mature skier age of 37, put on a knee-aching display of big airs to hardpack, starting with a booster of a backflip. Jed greased his line with his trademark silky-smooth style. They both were in the top 10 after day one.
Finals day was on Taos' flagship run, Kachina Peak, a venue that hadn't been used for competition for about five years. It was another long, beautiful venue, but with about a million brick-hard moguls littered up and down the run.
Yet, as always seems to happen, people hucked. Ryan Tagawa sent a 50-foot cliff to hardpack, among dozens of other highlights.
The boys from Big Blue did swimmingly. The first through fourth spots all went to Tahoe skiers, comprising a funny demographic of two skiers under 21 (Ross Tester and Josh Gold, who placed first and third, respectively), and two over 30 (Jed and Eric, who were second and fourth, respectively).
Inherent in these events are a bit of griping about judges, logistics and more—some of it probably valid, some of it not. But generally, the complaining melts away as the collective freeride energy devolves into a celebratory mode. Which is precisely what happened after Taos. After the awards ceremony, a classic white boy reggae band played some ganja-forward grooves. When they called it quits, a smelly, motley mess of freeriders poured out of the bar and snaked around the village trying to get a table for 20 at 11:30 p.m. in a small resort village. No luck was had.
Crested Butte
The snow at Crested Butte was similar to Taos, as in hard, but the venue was steeper, and with a lot more rocks poking through a shallow continental snowpack. It had snowed a week before our arrival, so there were some scraps of leftover soft snow, which was sublime to float over when you could find it. The venue, called Staircase, was narrow at the top and trademark CB-scary steep. Linking turns looked difficult on the corrugated hardpack that went through the chutes, but again, it was compelling, challenging and exciting terrain.
Jed and Eric were now ranked second and third in North America after Taos; but Eric crashed, and Jed wasn't even in the contest. He hadn't signed up in time due to work, and the organizers wouldn't let him in from the waitlist. Snowboarder friend Brian Stenerson won his side of things, which was amazing, as he recorded back-to-back top finishes at Taos and CB, re-upping his chances for the overall title in a big way. But overall, the eclectic and electric energy didn't seem to carry though to Crested Butte, at least for me, probably due in large part to frustrations of my performance, and that nagging voice that suggests I'm just treading water at these things anyway at age 36.
I crashed trying for a bigger air (more gas, they said!), overshooting and tweaking my ankle in the process. Tenth again (but only out of 16 this time). Two events in, I wasn't remotely satisfied. But Snowbird was next, my favorite mountain in the world, and then Crystal, then home to Tahoe to close it out at Squaw and Kirkwood. These mountains were far more familiar to me, and I'd like to think better suited my style.
But, anxiety over this thing called coronavirus was certainly the undercurrent during all the snow shenanigans. On March 12, the day after the CB contest, as I was intending to leave for Snowbird we overheard rumors of Crystal being canceled due to its proximity to Seattle. At this point I still scoffed at that actually happening.
The Day That Sports Ended
Talk and fear and stress had certainly dominated the airwaves for weeks, but life carried on without impact for most, up until this point. We went in the hot tubs and didn't feel weird about it. Well, maybe a little. By the end of that day, not only had all FWQ events been canceled, but so had essentially all college and professional sports across the country. A breaking point had been reached for large gatherings. Having a beer in Fruita, Colorado (bars would be closing soon too), it was dubbed "the day that sports ended" on ESPN.
Road weary and bleary, I still had the time off and had friends to stay with in Salt Lake. It was on the way toward Tahoe anyway. But a societal change swiftly occurred from the "next big threat that may or may not fizzle" to "go inside and don't come out." Staying on couches and in guest rooms suddenly sounded icky, even dangerous, so I kept pushing west.
Along isolated Colorado corridors, open desert plains and rolling, snowy hills, I felt safe in my car, the power of the West's open lands as constant eye candy. But still, it kind of sucked too. A weak start to the season, which was then canceled. And all my pals with FWT hope—Brian, Eric and Jed—finished outside the cut, but agonizingly close.
But oh freakin' well. We in the snow world had it good still. I was not in direct danger, I wasn't in a big city and I was feeling fine. The world was anxious and mostly out of work. Time to be responsible and go home while the unknowns and fear would work themselves out over time. Plus, Tahoe was about to get whomped with a classic Sierra thumper, so I stomped the gas, dreaming of finally getting more fresh snow. There would always be next year.
---
Dave Zook first learned about the Freeride World Qualifier series via a promotional poster in the tram line at Snowbird at age 25. He has been on the hunt for glory ever since.