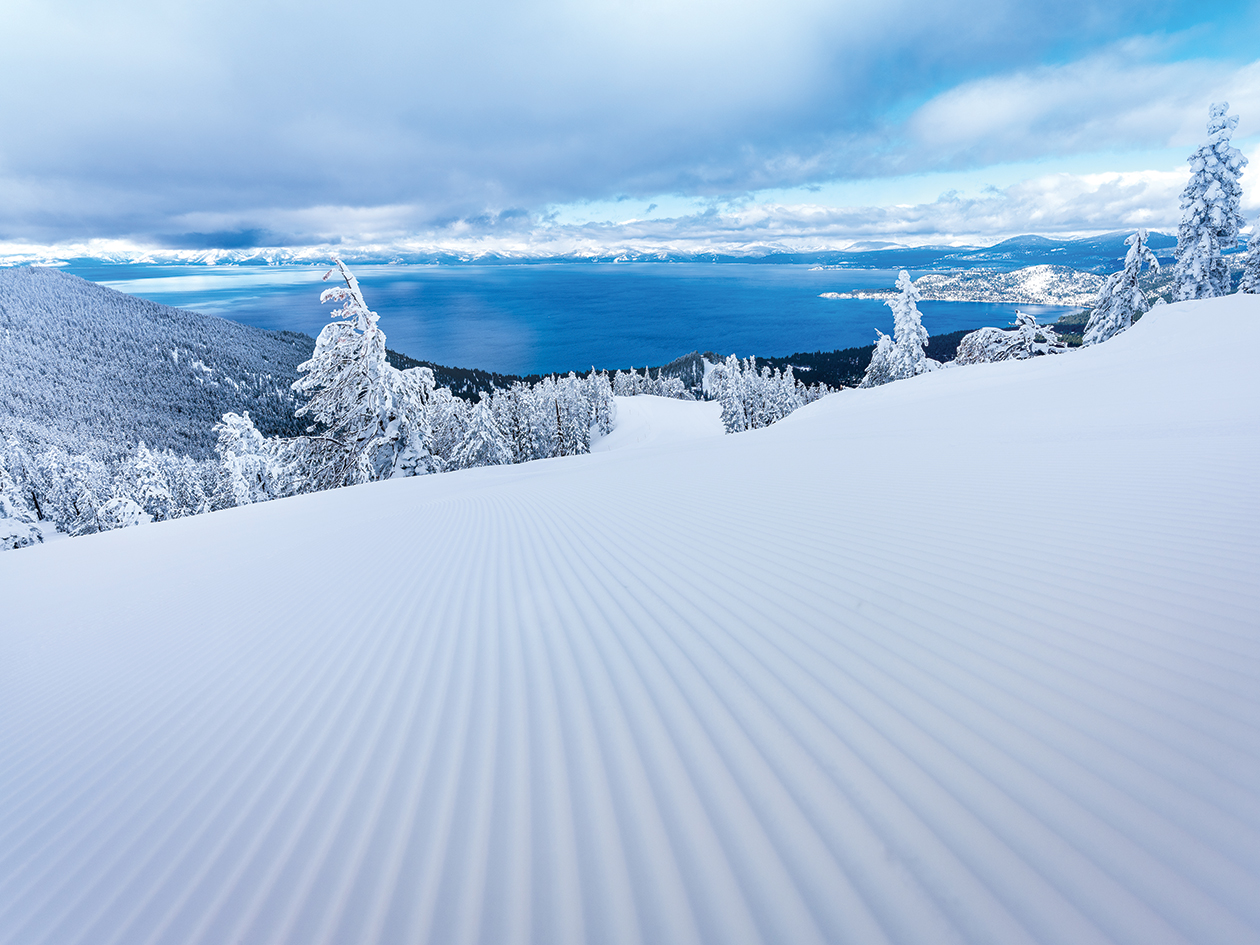 The famously blue water of Lake Tahoe from Diamond Peak, photo by Ryland West, courtesy Diamond Peak
23 Apr

Is Tahoe Better than Ever?
A love affair with a place is one of the deepest connections we experience, especially when it is undiminished by the decades
"Tahoe ain't what it used to be back in 'The Day.'" It's a refrain I've heard from longtime locals since almost the day The Day ended (sometime prior to the mid-90s if you're a Boomer; if you're under 40, maybe 2006).
But when judging whether Tahoe is better or worse than back in the hippie '70s, or the roaring '80s, I suggest we "grade on the curve."
Few great places on this earth are what they were 30 or 40 years ago. In Northern California, we have twice as many residents as in The Day, and all its special places have been impacted, some much more than Tahoe. Outside-world issues of traffic, climate change, Internet economy, invasive species and plastic pollutants all affect our mountain Shangri-La. Yet, despite current and future pressures, there are sound arguments that life in Tahoe is actually better than ever.
Locals experience Tahoe as both a natural environment and day-to-day lifestyle. The former may be easier to quantify. Throughout the '70s and '80s, Lake Tahoe water clarity declined an average of a foot a year, the result of human-caused pollution and erosion. Fast forward to 2020, Tahoe's water clarity has been stabilized for two decades. Forests littered with dying trees and fallen limbs have been thinned and streambeds restored, largely due to federal funds approved with bipartisan support in Congress. Yes, there's still plenty to do for our forests and lakes. But Tahoe remains one of the earth's most spectacular landscapes—three decades of environmental improvements have increased its chances of staying that way.
But what's it like to live and work here compared to The Day, maybe raise a family? That's more complicated. Job opportunities are greater and more varied than 30 years ago, partially due to the digital economy. But that same economy has created a plague of vacation rentals that severely limit housing options for permanent residents.
Tangible improvements are in evidence—new recreation centers, free summer music concerts! Most every community around the lake is prettier and more bike- and pedestrian-friendly than it was 30 years ago, with wide sidewalks, parks, streetlamps and summer flowers. Tahoe's schools and educational options have likewise improved by leaps and bounds. But if you don't work out, have kids, go on wine walks and hate live music crowds, do you care?
If you're like most active Tahoe residents, you've enjoyed one of countless new or improved bike paths, hiking trails and/or mountain bike singletrack built throughout the region this century. Or do you think they just contribute to making the forests too crowded?
"You can still find solitude if you know where to look," says Dick White, co-owner with his wife Ulli of Tahoma Meadows Cottage, an iconic B&B on Tahoe's West Shore. "I often fly fish without a soul for miles, or hike and enjoy wildflowers with just a few. It's a matter of not following the herd." Tahoma Meadows Cottage is now surrounded by competing vacation rental homes, filling its neighborhood Google Map like a blue invasive species. But the Whites remain bullish on Tahoe life.
"I think there is more of Tahoe life to be found than has been lost," says Dick. "It's mainly the attitude to look for it."
Tahoe is a lot of different communities, of course—roughly the scale and population of Palm Springs wrapped around 72 miles of shoreline. Most residents consider the South and North Shores to be different universes. Tahoe Regional Planning Agency (TRPA) rules both shores, but its environmental restrictions don't extend out of the Basin to Squaw Valley and Truckee.
In the '70s, Truckee was a once-and-future boom town stuck in a derelict slump, with only a handful of good restaurants/bars and occasional great live music. But when North Tahoe real estate prices headed skyward in the '90s, young families and professionals moved toward Truckee. Developers began to target the town's thousands of surrounding acres, all of it unencumbered by TRPA regulations.
Truckee's incorporation as a town in 1993 allowed its citizens some control over, and compensation from, the new luxury golf course communities that soon popped up. Fast forward 27 years and Truckee's historic downtown is packed with great restaurants, shops and, most nights, cars looking for parking spots. In the next decade, the "Truckee Railyard" project is set to double the size of downtown. Old Truck-lodytes (as former mayor Maia Schneider once lovingly labeled residents) are particularly vocal in their opinion on whether life is better or worse. Some are voting with their feet and heading for Idaho.
Likewise, some old-time Squaw residents are royally peeved by changes present or planned for their still-gorgeous valley. County zoning has long forecasted further development of the ski area base village, currently half completed. Squaw Valley Ski Corporation, now part of a large ski conglomerate, has ambitious plans to complete village construction and will soon connect its Squaw and Alpine Meadows resorts with a gondola that travels over private property. Local skiers, perhaps surprisingly, are divided on whether the gondola will be a plus or a minus to their lives.
Increasing corporate ownership of Tahoe businesses is often sighted by the "it's all gone downhill" camp. "You used to see Harvey Gross in Harveys, hanging out with the kitchen crew," says photographer Kurt Molnar, a 45-year resident of South Lake Tahoe. "You'd run into Bill Harrah or Del Webb or Brooks Park on the casino floor of their places. The pit bosses could get you into shows. Now everything's a corporate award program."
Thirty-five years ago, most of Tahoe's largest ski areas were owned and controlled by individuals—a boys' club in it for the love of the sport (and a little alpha-male competition). Now all but two of Tahoe's large ski areas are controlled by corporate ski conglomerates.
Yet, the effect for skiers and riders is largely positive. The huge drop in season pass prices that occurred near the end of The Day has now been expanded to include multiple ski resorts throughout the region and world. Due to new high-speed lifts, weekend wait lines that could run 45 minutes in the '70s now are likely less than 10 minutes, even when resort parking lots overflow. Season pass holders can now ski three to four times as many runs a day, benefit from snowmaking, terrain parks and halfpipes, and pay less than half the price of a 1984 season pass. On the other side of the scale, daily lift tickets cost four to five times as much, and you have to set the alarm earlier and hike farther for fresh powder.
Some things are worse, some are better. Maybe it comes down to gut feeling, or who you are now versus who you were back then. You might have lost touch with things that were important to you at age 20 (well, hopefully not all things). But one emotion I ran across in old-timers was telling: a sense of pride. They are proud of things their communities have accomplished, even while lamenting the loss of simpler, cut-loose times.
"Before I moved here (in 1998), I used to come up on ski trips and thought South Shore was kind of gross," says Todd Offenbacher, on-air host at Lake Tahoe Television and Tahoe Adventure Film Festival founder. "Now that's changed, or is changing, for the better." Todd and his wife are raising an 8-year-old daughter and bullish on local schools and the overall quality of the community.
Some say that Todd's generation will be the last to move here and earn enough to buy a house and raise a family. Yet a new wave of Tahoe locals are working remotely here in fulfilling careers we could never dreamed of having in The Day.
Yes, Tahoe real estate prices were a fraction back then of what they are now. Yet most of us who "came for the winter and stayed for the summer" in the 1970s and '80s found it a hard place to find a good job, even in the construction, hospitality or real estate fields. It was still a huge challenge in The Day to squirrel away a first down payment on Tahoe wages.
Challenges lie ahead for Tahoe. Our workforce struggles to find housing in communities full of VRBOs, and our local leaders struggle to create alternatives. Climate change, unchecked, promises devasting effects on the environment and all human society. Then there's the current, undeniable irritant: paid parking.
Whatever the future holds, we should draw hope from successes achieved in Tahoe to date by locals and non-locals who care deeply about this place.
Right now, the air and water are still clean, communities still feel safe, locals have strong social connections, we still have slow seasons and it still snows (we also still have drought years, unfortunately). Graded on the curve or not, Tahoe is one of the few world-class resorts, residences and natural treasures that has not only maintained its allure through the decades, but in some aspects has improved. Yes, it was amazing in The Day. But today, there's still plenty more where that came from, some of it just a little farther off the beaten path.
---
Chaco Mohler was Tahoe Quarterly's first editor-in-chief, serving in that role or as its publisher from 2000–2013.