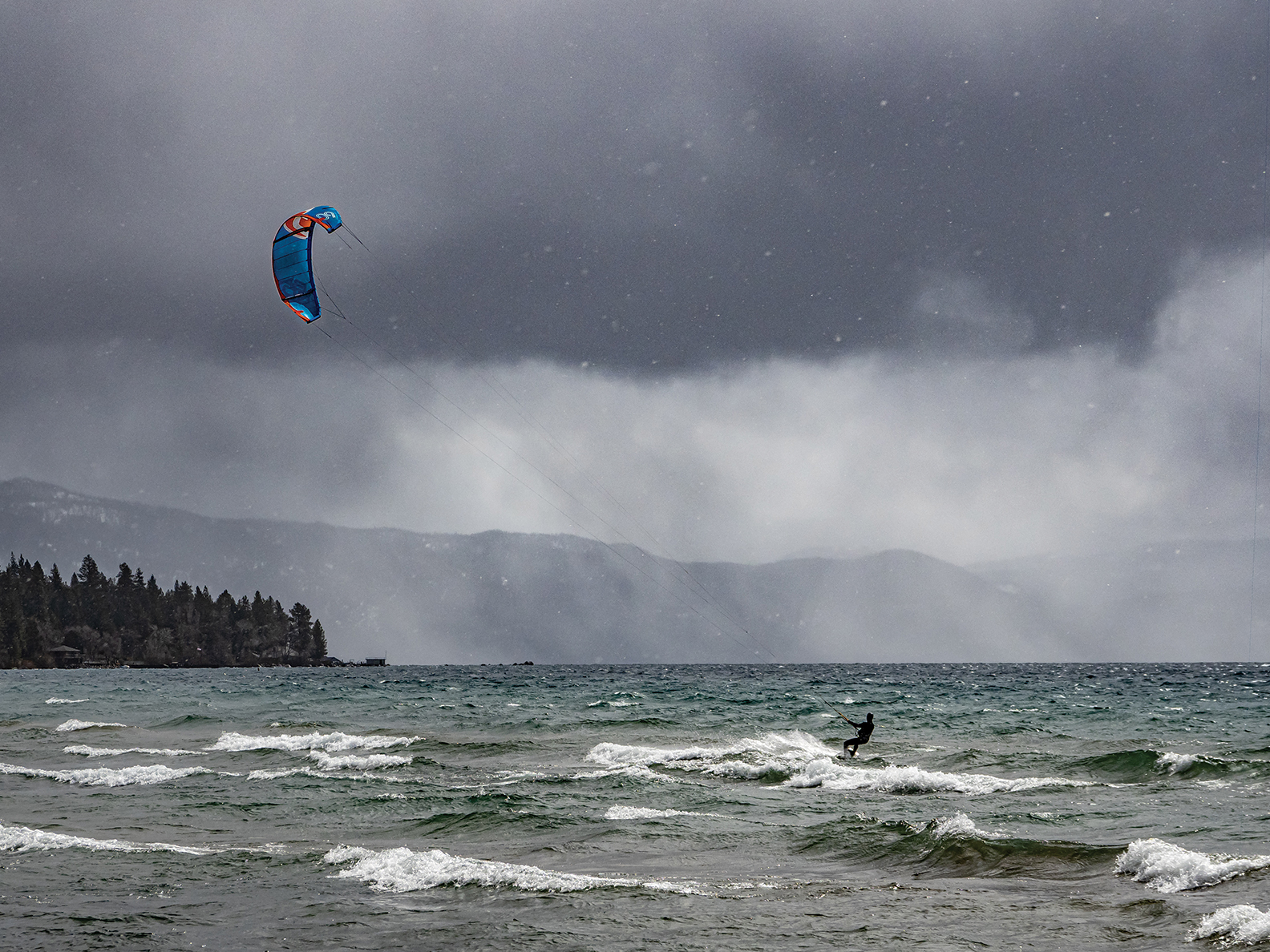 Snow blows in horizontally as a kiteboarder cuts through the wind-chopped surface of Lake Tahoe on a stormy day
23 Apr

Riders on the Wind
Powered by a force of nature, kiteboarders put on dazzling displays above Tahoe's turbulent waters
On a windy, snowy day at Lake Tahoe, most people can be found hunkered down in the cozy confines of their homes, a cup of tea or hot cocoa in hand. Others may be found standing in a lift line, waiting for a ride to the top of the mountain, or perhaps motoring upslope under their own power. But for a select few, a gusty storm day means a trip to the beach.
A man named Russ is among the last group—a diehard Tahoe kiteboarder who thrives on blustery conditions.
Wrapped in a thick neoprene drysuit, Russ (who prefers the anonymity of first name only) rolls out a large sheet of nylon attached to long spectra control strings. He uses a pump to inflate the nylon until it forms a crescent-shaped wing. He picks up a short surfboard and walks into the water, which is rough and extremely cold. The waves are above his knees and the wind blows snow into his face. A friend holds the kite at the end of the control lines until it leaps into the air.
Russ straps into his board. He is tossed around in the waves as the kite tugs on the lines and dances overhead.
Getting started is not easy, but he has been doing this for years. He takes off quickly, pulled by an invisible force past the breaking waves. Offshore in a matter of seconds, he gains speed rapidly. He treats the slope of a wave as a ramp, launching high into the turbulent air before returning to the choppy surface, drawing oohs and ahhs from the few spectators scattered along the beach.
Powered by Wind
Kiteboarding is a thrilling sport, with speeds that can easily reach 20 to 25 miles per hour on an average day. Once airborne, kiteboarders can flip or spin, tweak out a grab, or perform whatever other trick comes to mind as they soar for considerable distances above the water.
The concept is nothing new. People have combined kites over the years with everything from small boats to ice skates, snow skis, water skis, snowboards and roller skates. Kiteboarding—or kitesurfing, as it is sometimes called—dates back to the late 1970s.
The sport has developed rapidly over the past 40 years, with a number of significant innovations. The advent of inflatable kites made it easier to restart after crashing. Kevlar lines and, later, spectra, made the rigging stronger and lighter. But perhaps the most interesting innovation was the development of the foil board in the early 2000s.
The hydrofoil wing on the bottom of a kiteboard looks like a small black airplane attached about 3 feet below the board. It allows the rider to travel faster in less wind, and the ride is smoother. From a distance, Russ looks as though he is merely gliding above the rough water, soaring over the obstacles and reaching high speeds even in light winds.
Hydrofoil boards are not without their drawbacks, however. They are more difficult to both transport and ride. If a hydrofoil hits an obstacle—a submerged rock or debris that has blown into the water, for example—it can be bad. Tricks are not as easy as they are with traditional boards, although some people have mastered the art. The boards are also more expensive. Still, some riders have both a conventional board and a foil board in their quiver, allowing them to choose the most appropriate board for the conditions.
As Russ emerges from the water, observers rush to ask him if he is freezing cold. "No, just my hands a little bit," he says, crediting his drysuit for keeping him comfortable. Another kiteboarder has forgotten his gloves. Russ pulls out a spare pair and loans them to the stranger.
Kiteboarding on Lake Tahoe is a relatively small community compared to more popular sports such as skiing or wakeboarding. As a result, there is a feeling of camaraderie and people help each other out if they can. Not everyone is willing to brave the cold, and not everyone is good enough to ride in these conditions. With over a dozen years of experience under his belt, Russ is one of the best in the area.
Getting Started
Justin Spees is another avid Tahoe kiteboarder. The Incline Village resident learned the sport seven years ago from his sister, who learned to kiteboard in Spain. He also took several lessons before feeling comfortable on the water. A professor at Sierra Nevada College, the value of continuous education is not lost on Spees, who recommends that beginners also start with multiple lessons in order to stay safe and avoid harming others.
In addition to proper training, purchasing the right equipment is also important, says Spees.
The size of the kite, which can range greatly, from about 12 feet all the way up to 50-plus feet, depends on a number of factors. In general, bigger riders will want a bigger kite. At Lake Tahoe, people also use larger kites because the air is thinner. Advanced riders may have multiple kites, using smaller ones in higher winds and bigger ones in lighter winds. When using a foil board, the rider may select a smaller kite because the foil offers less resistance in the water.
Equipment varies dramatically in cost, depending on the size of the kite and quality of gear. Small beginner kites start around $500, and large high-end kites can reach up to $2,000. There is no such thing as one-size-fits-all when it comes to kite sizes, but most people start with a medium size.
Boards typically run between $500 and $1,000, with foils more than doubling that amount. A wetsuit or drysuit, booties, gloves and a hood for the head—all essential in Tahoe's chilly water—as well as a helmet, harness, bars and lines, run the total cost of the sport pretty high. But then again, kiteboarders don't have to buy a boat that must be stored every year, or a lift ticket, or those expensive ski area nachos.
Dangers on the Water
Lake Tahoe is considered an advanced place for kiteboarding because of obstacles like piers, buoys, rocks and floating logs or other debris in the water.
At nearly 200 square miles of surface area, one might think that Tahoe would never get crowded with kiteboarders, but that's not entirely accurate. With everyone heading in and out of the same beaches at high speeds and with long lines attached to kites, the potential for collisions and tangles is very real. For these reasons, Tahoe and neighboring lakes such as Donner are not the place for beginners.
As with flying a small plane, the most dangerous times are launch and landing. The wind at Tahoe tends to be gusty rather than steady, making kite selection more difficult. Wind conditions can change dramatically on the lake, as many boaters know well. Trees can be a problem when riders approach the shore with kites streaming downwind. Many kiteboarders have gotten their kites stuck in trees.
"It has happened to all of us at one time or another," says Russ.
Foils and New Frontiers
What does the future of kiteboarding hold? More efficient sails and foils, to be sure—but also offshoot sports that involve no kites at all.
The latest revolution: the e-foil board, which comes complete with a battery tucked inside the board and a propeller down by the foil. No wind needed. Despite the convenience, however, the innovative new boards could never be a substitute for kiteboarders like Russ.
"They are totally different," he says. "There is something about going under Mother Nature's power, instead of being mechanically driven. When you are kiting, you can stay out all day. On an e-foil, you have to come in and put the battery on the charger periodically."
While Tahoe presents its challenges for kiteboarders—and boarders of all stripes—North America's largest alpine lake offers an incredibly rewarding experience. The clear, clean water and incomparable scenery make for magical kiteboarding, while the big waves on windy days serve as perfect ramps for launching into the air. Meanwhile, for those on shore, the colorful kites make a beautiful contrast against the blue sky or gray clouds as the riders skim across the surface of the lake, powered not by motors or lifts, but simply by the wind.
---
Martin Gollery started taking photos in the 1970s and has published a number of books. He has hiked the entire Pacific Crest Trail, climbed two previously unclimbed peaks in China and been a resident of Lake Tahoe for over 20 years. Find more of his work at TahoePhotography.net.