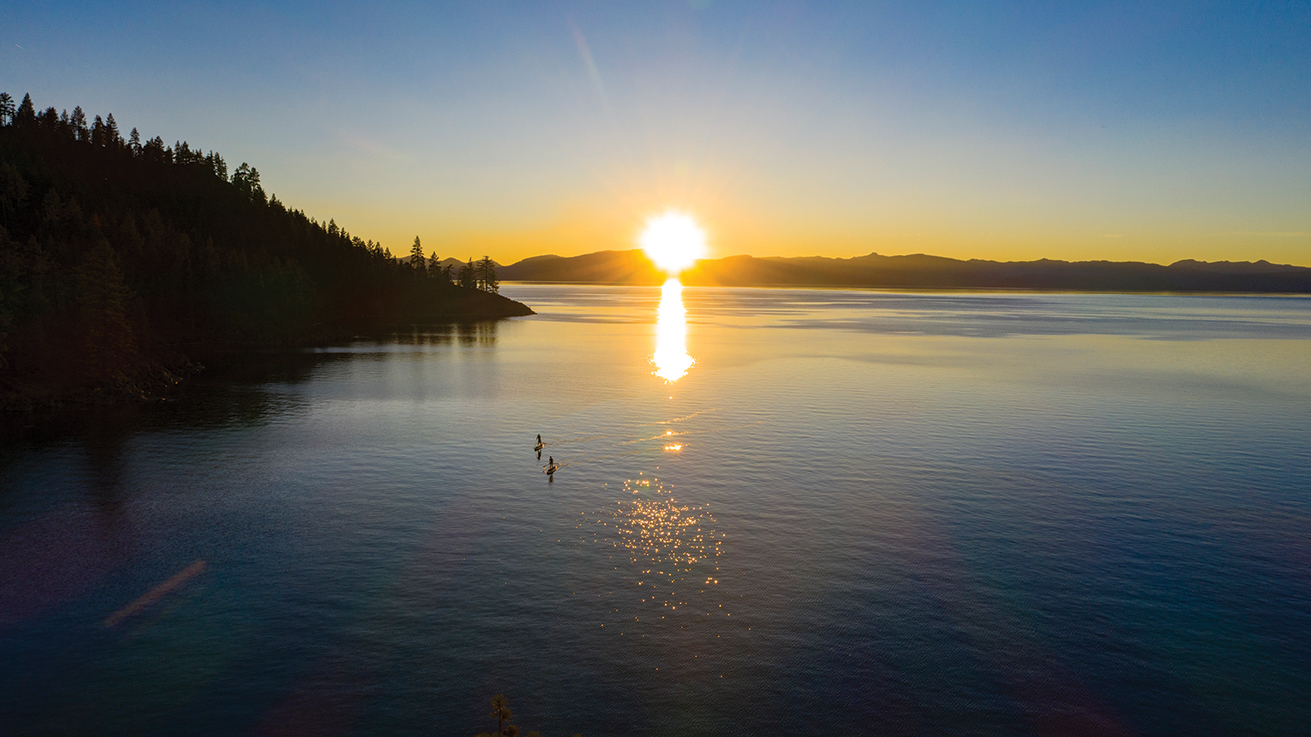 Paddling into a classic Tahoe sunset
23 Apr

Self-Propelled Around Big Blue
A long-dreamed plan to paddle around Lake Tahoe materializes in a stunning fall adventure
In September 2013, I planned to paddle around Lake Tahoe the classy way. Along with Amie Engerbretson and Lauren Bobowski, we arranged to take our time camping, staying at hotels and paddling between various lakeside eateries. We wanted to enjoy the serenity of lakeside living on a paddleboard.
Everything was planned to a T.
Day one was true bliss—a combination of sunny skies, bikinis and board shorts. As we approached the East Shore, however, a small storm we were tracking showed up a few hours early. Whitecaps began rolling in aggressively. The temperature plummeted.
Heading due south after a quick break, I attempted to turn my board to the east when a gust of wind toppled me into the chilly water. By the time I got back on my board I was freezing. The sky grew dark as I paddled feverishly back to the beach.
Lauren, who watched the incident from shore, stood in shock as I shivered my way to her in a drenched sweatshirt, T-shirt and board shorts. Because we arranged for our first night's gear to be dropped at Hidden Beach, I had no change of clothes—only a women's small fleece jacket that Lauren was kind enough to loan me. We met up at Hidden Beach to reassess.
By the time we arrived it was almost dark. It was also apparent that a significant storm was on its way. We watched the storm gather, ate dinner and decided our mission was over.
The Team Assembles
Since that first failed attempt, I had tried repeatedly to assemble a crew and give the around-the-lake paddle another try. Difficulties in scheduling and last-minute partner bailouts put the project on the back burner. Finding people who can commit to being on call for a paddle trip is no easy task. It's not only three to five days of paddling, you also need the right weather window.
Stars finally aligned this past autumn.
My wheels were turning. I had a blank space in my calendar and decided to search for a crew. With my go-to partners busy with other projects, I looked far and wide, even putting a message on Facebook. Doing it alone was a possibility. But what's the fun in that?
After yet another bailout from my partners, I ran into an old friend, Ellen Tobben, a couple evenings later at the Crystal Bay Club. Ellen had joined me to paddle the Five Boroughs of New York for a feature story in SUP Magazine. I knew she had been busy with life and work, but I asked her anyway. Did she want to paddle around the lake? Could she be ready at the drop of a hat when the perfect weather window presented itself? Would she please not bail?
She responded with a big smile: "This is exactly what I need in my life right now. I'm in!"
We waited through a mixture of individual nice days, high-wind events and even rain before spotting a three-day window of high pressure in the forecast. We were willing roll the dice on day four.
That evening I received a call from another old pal, Jimmy Levi from Alpine Meadows. He and Ellen were having dinner together, and he wanted in on the trip. Just like that, we had the perfect crew.
Day One: Fall Colors and Warm Beds
What's the point of spending four entire days on the surface of the water if you aren't going to take in every sunrise and sunset?
That was the idea behind our frigid predawn start from a frost-laden pier in Tahoma. Noting the water droplets that had frozen on our paddleboards, we ventured north just as the sun crested the East Shore.
Our goal on day one was to paddle to Mourelatos Lakeshore Resort, where we had organized our first night's lodging and stashed a car with most of our gear, including clothing for both warm and cold weather, flip-flops, hiking shoes, camping and camera gear, snacks, booties, floatation devices, a paddle and a pump.
The plan was to mirror the shoreline while attempting to stay within the buoy line for most of the journey—although we found ourselves farther offshore at times (perhaps 300 feet) for photo opportunities or scenic views. With a calm wind forecast, we were confident in our knowledge of water safety to paddle anywhere on the lake. Nevertheless, it's always important to take safety precautions and have backup plans.
For guidance around the 72 miles of shoreline, we employed the Lake Tahoe Water Trail map. The map, which is formatted for self-guided tours, provides information about launch and landing sites, campgrounds and trailheads, weather and winds, potential out-and-back routes, and good stewardship on the lake. It's a valuable resource.
As the morning sun hit the water, we entered a dreamscape of amber fog lifting off the surface. We quickly forgot about the cold morning air as we paddled toward Sunnyside, ecstatic to find beautiful fall colors scattered among the lakefront houses.
We arrived at Waterman's Landing midday with stomachs growling. The cafe made for the perfect spot to grab a panini and cold beer and take in the sunshine from Tahoe's North Shore.
The afternoon sun began to disappear earlier than expected as a north wind approached near Agate Bay. This was perplexing, as I had studied the weather intently, and a prevailing southwest wind had been present all day. Jimmy and I glanced back to find Ellen holding onto a buoy. She had been turned around by the wind and was having trouble catching up. Having witnessed teammates being blown out to sea on trips to the Arctic, I quickly paddled back to make sure she was OK.
When presented with challenges like wind, it's always important to stay calm. Paddling into strong winds can be intimidating. If conditions are bad enough, it may be essential to drop to your knees, which creates less body mass fighting the wind. In more extreme conditions, seeking shelter is the best option. 
We reunited the team and powered through to Mourelatos. Situated on a soft, sandy beach, the resort made for a luxurious stop for night one. As I checked us in, Ellen and Jimmy headed to the grocery store. We grilled salmon and veggies on one of the lakeside barbecues, soaked in the hot tub and nestled into a warm room on a chilly October night.
Day Two: North Shore to East Shore Serenity
We woke up in a toasty room, the stars still shining brightly in the sky and reflecting gently on the water. At the first light of day we set off toward Kings Beach.
The scent of wood smoke filled the air. A gentle breeze brought smells of home-cooking. Rays of light ignited the lakeside cottonwoods and willows in a yellow sunrise.
Nothing makes you feel like you're living on the water more than a paddle-up tea stop. An hour into the paddle we passed by Ellen's cabin on the water. Her side business, IntentionaliTEA, is designed to bring the ancient art of tea ceremony to the modern world. How could we pass up hand-picked Darjeeling on a Tahoe pier?
A light headwind greeted us as we passed by Speedboat Beach and Crystal Bay. The winds died down as quickly as they arrived, presenting glassy conditions as we paralleled the Incline Village shoreline. We stopped briefly at Hidden Beach to pay homage to my original failed expedition and moved on past a small cascade that trickled into the lake through colorful fall foliage.
Paddling through Sand Harbor, past Bonsai Rock to Chimney Beach was a calm, bluebird, East Shore experience— boulders, hues, patterns and flickering light. A few boaters and kayakers floated by near Sand Harbor. From there, the crowds thinned as we continued south toward Skunk Harbor, our camp spot for night two.
Day Three: Early Rising and Sore Muscles
The 4:30 a.m. alarm rattled me out of my bivy. A start that early may seem silly, but the Orionid meteor shower was peaking and we hoped to watch meteors reflect off the surface of the lake. The crew was a bit out of sorts at such an early hour. I took care not to let my booties get wet for fear of cold feet.
An owl hooted as Ellen and Jimmy pushed off first with headlamps into the darkness. It was imperative that we avoided submerged rocks. I set off alone from Skunk Harbor with not a sound but frog croaks and paddle strokes.
The cold air began to set in as we rounded Glenbrook Point.
After a glorious sunrise among old piers and pilings, we made a forced stop at a pier. Jimmy's feet were wet and freezing in his booties. He used the pier to take the booties off and walk around for a minute to warm his feet. Oftentimes, just getting the blood moving will warm your feet.
The first feeling of fatigue set in for our group as the day progressed. Eight hours of paddling a day leads to sore shoulders and fingers. Standing in one spot all day causes an all-encompassing stiffness and aching feet. We kept the pep talks flowing as we needed to keep our heads held high. The key to long-distance paddling is one stroke at a time, all day long, for multiple days.
Our stoke level fired back at Cave Rock. Alpenglow lit up the West Shore peaks as the sun hit the lake a few hundred feet from our position. Without a word, we turned west and paddled toward the world's best heating source. At 8:30 a.m., the sun finally graced our numb bodies.
Houses turned into mansions as we continued south. For the first time, we got strange looks from a couple of homeowners. We waved and paddled onward.
Unfortunately, Jimmy got called in for work around midday. Luckily, a good friend was driving to the North Shore and arranged to pick him up on a beach near Round Hill.
Ellen and I reached South Lake Tahoe midafternoon. We were back in the real world and had to make our biggest decision: Where to eat?
We pulled up near Artemis Lakefront Cafe and ate a delicious meal, then arranged a night's stay at the Lakeshore Lodge. Compared to the previous night's bivy, we were living in style, with a spiral staircase, yet another hot tub, warm beds, dinner and the World Series on television.
Day Four:
Wind
We woke the next day to a lake wind advisory, which warned of east winds blowing 15 to 20 miles per hour with gusts to 40 miles per hour. Small boats and paddleboards were prone to capsizing.
While this was not a message we wanted to hear after three glorious days, it was late October, after all. We felt lucky to get those three days in. Still, my mind was reeling. We were only a half day's paddle from the finish line. But with nasty weather on its way, the call was made to take a rest day. The decision brought a smile to Ellen's face.
Day Five:
Sunrise Tea Sessions and Island Retreats
There's a certain calm on the water—an environment devoid of sound except for the occasional chainsaw, the hum of the road, the flap of birds' wings. You can feel the pulse of the sun and the chill of the wind. Beauty abounds in the granite-strewn shoreline, the green forest and blue sky.
It was our final day on the lake. The previous day's windstorm gave way to a sunny forecast and left us well rested as we paddled pre-dawn from Kiva Beach into Emerald Bay. Our first stop was Fannette Island. Docking our SUPs, we scampered up to the Tea House for cup of Darjeeling just as the sun popped over the horizon.
While I was initially upset about taking a day off, the decision granted one of the most perfect paddling days of our lives. It was late October and 70 degrees. Jimmy even came back to meet us.
D.L. Bliss State Park appeared abandoned as we moved slowly past towering granite rocks. We stopped in on a friend's beach in Rubicon Bay, drank tea and ate lunch on our boards. Another friend met us between Rubicon and Sugar Pine State Park to help finish the journey. By the time we came full circle in Tahoma, we were stunned by how quickly the day's paddle felt.
Planning paddle trips in the offseason is a true joy of mine. Aside from cold mornings and short days, it's the perfect time to enjoy the sport. The lack of people and boats on the water lead to incredible moments of serenity. The goal of our adventure was to combine comfort with simplicity while paddling alone on one of the largest and most beautiful freshwater lakes on the planet. It was a mission well accomplished.
---
Ryan Salm is a Tahoe City–based photographer who has paddled all over the planet, including the Ganges River in India, the Lofoten Archipelago in Norway, Raja Ampat, Indonesia, the Boundary Waters of Minnesota and the Five Boroughs of New York, to name a few. The big blue lake in his backyard is the perfect laid-back training ground.
---
SAFETY FIRST
• Consider submitting a "float plan" before you go. The quick, free tool emails your itinerary to a friend or family member to let them know where you are going, when you are headed out, and when you are due back. The Lake Tahoe Water Trail website provides a printable float plan to leave in your vehicle.
• Wear a life jacket and a SUP leash, and check the wind and weather conditions.
• Carry a whistle or other sound-producing device to warn other boaters.
• If you're on the water after sunset, you need to have a flashlight, or similar lighting device, to warn other boaters. Do not use a red flashing light, which is a call of distress.
— Lake Tahoe Water Trail
PROTECT THE LAKE
Watch Your Step: Tahoe yellow cress is a small native plant that grows on the shoreline of Lake Tahoe and nowhere else in the world. Help protect the native plant and other fragile shoreline vegetation by not stepping on any shoreline vegetation or dragging your boats and boards over them. 
Respect Private Property: While many shoreline areas around Lake Tahoe are public, many areas are private property. Respect private property.
Leave No Trace: Pack it in, pack it out. Camp only in designated campgrounds. Fires are allowed only in designated areas of campgrounds.
Become a Tahoe Keeper: Stop aquatic invasive species. Learn proper boat decontamination procedures: Clean, drain and dry every time.
— Lake Tahoe Water Trail