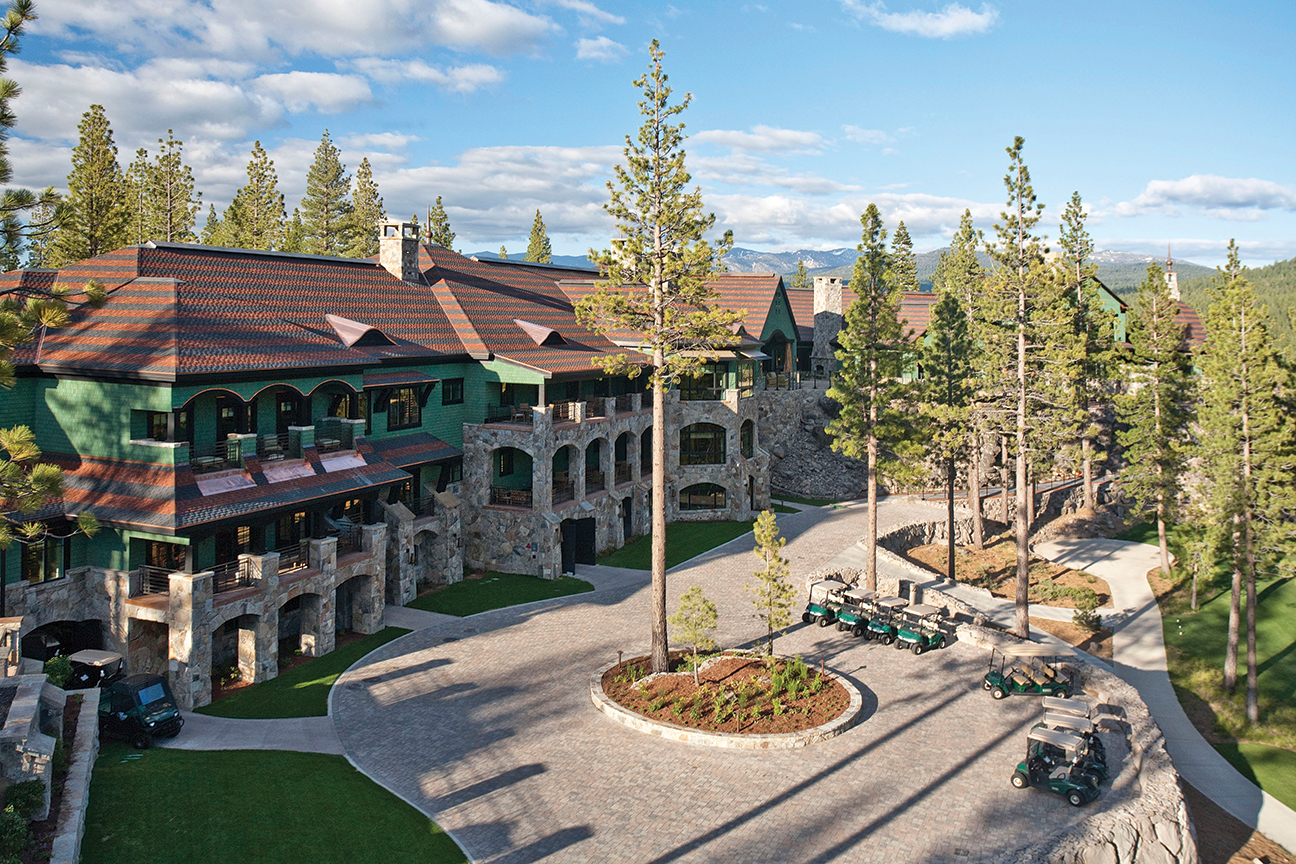 Johansen Masonry's extensive stonework is on display at the Martis Camp Lodge, photo by Kelly Heapy, courtesy Martis Camp
23 Apr

Tahoe's Masters of Stone
Paul and Leif Johansen are third-generation masons who craft stunning stone installations in Tahoe's most prized homes
Paul Johansen walks past stone of almost every conceivable shape, size and texture. Slabs of granite as heavy as compact cars, plate-like panels of quartzite and blocks of basalt—all are meticulously stacked in a yard that is the starting point for some of Tahoe's most artistic and ambitious stone installations.
In a region where stonework has become the show-stopping centerpiece of many luxury mountain retreats, this is Johansen Masonry's secret business advantage. Stone sourced from remote mountainsides in Montana, quarried from secret Donner Summit sites, pulled from locations as far away as Idaho, Washington and Canada—all in every hue, dimension and configuration imaginable.
Like Michelin star chefs who hand-select the purest ingredients for their most prized dishes, these are the raw beginnings of the astounding patios, waterfalls, floors and fireplaces that they engineer to grace lakefront Tahoe homes, sprawling resort lodges and the mountain modern homes of Martis Camp.
But this vast library of stone and the finely tuned craftsmanship to assemble it into art hasn't happened overnight. Since 1978, when Leif Johansen founded the company with his father, Al, Johansen Masonry has cultivated the craft of masonry through numerous real estate cycles and eras of Tahoe architecture.
Now, more than 40 years after the company's founding, certain jobs drive home the longevity of Johansen Masonry and the family dedication to craftsmanship that built the company into what it is today.
"There are houses in Incline Village that my dad worked on, my brother worked on and now I am working on," says Paul Johansen.
From the Ritz-Carlton, Lake Tahoe's 55-foot-tall, floor-to-ceiling fireplace to the Martis Camp Lodge—where the company craned in enough rock to re-create a natural-looking cliff alongside the building—Johansen Masonry has tackled some of Tahoe's most iconic stone challenges.
"They are true artisans," says Scott Gillespie, principal of Truckee's SANDBOX Studio, who estimates that he has worked on more than 100 projects with the brothers. "The work they do is extraordinary."
Three Generations
The Johansens' masonry roots go back generations. The mason tradition came from Leif and Paul's grandfather, Erling Johansen, a Norwegian immigrant who took up the trade upon his arrival in the United States in 1925, working mainly in the Norwich and New London areas of Connecticut.
Paul and Leif's father, also Erling Johansen but more commonly referred to as Al, was a mason in Southern California. In 1977, Leif moved up to Tahoe to ski and worked a few masonry jobs to make ends meet. He sent word back to his dad that the area had potential for a good stone masonry company. The following year, his father moved to the area and founded Al Johansen and Sons, which initially operated out of Kings Beach.
Al and Leif ran the company along with some summer help from Paul, who is 12 years younger than Leif, until 1985, when Al was forced to move down to sea level because of a blood deficiency that affected his lungs.
"He truly loved the Tahoe area and working here," says Paul of his father. "He saw the potential that a good masonry company could have in the area."
When his father moved back to Southern California, Leif took over the company, which had just moved to Truckee, and renamed it Johansen Masonry. While Al still helped some of his friends run large masonry projects in Southern California, he never worked full time in the business after leaving Tahoe due to his health issues.
In 2000, Paul became a partner in Johansen Masonry and Leif founded Sierra Stone Supply as a complementary business to their masonry work, providing rock and stone supply to the greater Tahoe region.
Both companies currently reside on Truckee's West River Street.
In the late 1970s and early '80s, the work was at the lake. Complex fireplaces, patios and interior stone flooring at lakefront homes in Incline Village and the West Shore kept the family company busy.
Even today, there are reminders of those early years, as the Johansens continue to work on the same lakefront homes through cycles of ownership. Al and Leif would run the jobs and bring 10-year-old Paul along as an extra hand.
"There are contractors I work with now who remember me being that big on the jobsite," says Paul, pointing to a photo of himself as a spindly pre-teen alongside his dad and brother from the 1980s.
In this span of time, tastes in stonework have changed. For instance, river rock, once highly popular in the 1980s, fell out of favor. And a once-coveted travertine stone mined from the Feather River near Quincy is no longer available.
Traditional natural stone shapes that dominated the early homes of Lahontan have given way to more angular cut stone installations that fit with the mountain modern architecture of Martis Camp.
"When Martis Camp came along the trend was more toward contemporary architecture—more squares and rectangles and cleaner stone," says Gillespie.
Johansen Masonry adapted, too, and even led the charge in this new application of stone. The brothers often work with architects, engineers and contractors throughout the process, even coming up with inventive ways to create one-of-a-kind stonework.
"If we want a certain color mix, they will work it in," says Gillespie. "We'll say, 'We love this but we want to work in more tan or more red,' and they will come up with a custom mix."
From Snow to Stone
Like many Tahoe transplants, Leif, and later Paul, were lured to Tahoe in pursuit of snow. And like many skilled skiers and expert craftsmen, they loved the freedom the trade affords them to work hard in the summer and still pursue skiing and snowboarding in the winter.
Leif's love for skiing drew him to North Tahoe. Paul returned to Tahoe later, first as a summer worker helping Leif at the company between 1985 and 1988, and then permanently in 1989.
He ended up riding with an elite crew of snowboarders in an era when the sport was just being accepted into Tahoe ski resorts. The riders included Shaun Palmer, Noah Salasnek, Andy Hetzel, Shawn Farmer and Nick Bancroft—the early luminaries of the budding sport. Paul's summer work was ideal for pursuing his snowboarding dream.
"That was the whole reason I moved back to Tahoe. I was able to make a decent living in the summer and play in the winter," says Paul.
Only late in the season, when his friends were heading off to film in far-flung big-mountain terrain, did he have to choose between snowboarding and stonework.
"They would go up to Alaska in the late spring, where I was going to work," says Paul.
Now, years later, the brothers still value this balance between their consuming summer schedule and the slightly less hectic winter season, when they still have the opportunity to pursue the sports that brought them here and pass them along to their children.
Landmark Projects
When people think of masonry, they think of cutting and placing stone. But often, the projects that Johansen Masonry take on are infinitely more complex. Like the Ritz-Carlton, Lake Tahoe's granite fireplace, the centerpiece of the lodge's great room—a feature that led 7X7 magazine to refer to the hotel as "the Ahwahnee's hip younger brother."
It is actually four fireplaces in one fireplace," says Leif, who worked hand-in-hand with the structural engineer to make sure the feature was constructed correctly.
The resulting fireplace, a towering column of granite that commands the room, is an example of how masonry can define the entire experience of structure.
Paul says that, because stone is often not a structural element like timber or steel, it takes on a more artistic nature.
"Stonework is not absolutely needed on a house, so it is a trade that really stands out," says Paul.
Johansen Masonry completed work on both the Lahontan and Martis Camp gatehouses, the Martis Camp Lodge and many of the area's ski resorts.
Through it all, granite, the native stone of the area, has remained a consistent crowd-pleaser.
"Granite is always going to be the classic stone for the area," says Paul. "It won't go out of style."
The company finds many different mixtures of granite—granite mixed with basalt, or granite that showcases a wide range of colors and textures.
"Mother Nature made every stone, so each one is a little bit different," says Leif.
Paul says that one of the most satisfying parts of the job is seeing the process unfold from beginning to end—seeing a large piece of granite quarried from one of their favorite sources, working it into a slab or a show-stopping mantle, and then actually placing it in its final resting place within a home.
Jordan Knighton, founder of JK Architecture Engineering, says he is consistently amazed at what the company's masons can do with seemingly stubborn rock.
"They work with stone like it is butter," says Knighton. "They carve it and lay it out and do incredible things with it."
Leif and Paul give a lot of that credit to their 50 employees. They work hard to keep them at the company for decades, not years. Meanwhile, they always have an attentive eye out for a laborer who seems to have a certain knack for working with stone, and might soon become one of the company's newest masons.
"You can sense it when a person has the eye—the creative part—to move forward," says Paul.
After nearly 40 years of seeing their handiwork represented in Tahoe's most iconic homes, lodges and commercial structures, the brothers don't seem to be slowing down any time soon. That longevity, and passion for what they do, is perhaps the defining feature of a family company three generations deep into a love affair with the beauty and elegance of stone.
"Obviously, the knowledge that you gain working over all those years is something," says Gillespie, "but the passion you have to be in the business for that long is also really unique."
---
David Bunker is a Truckee-based writer and editor.