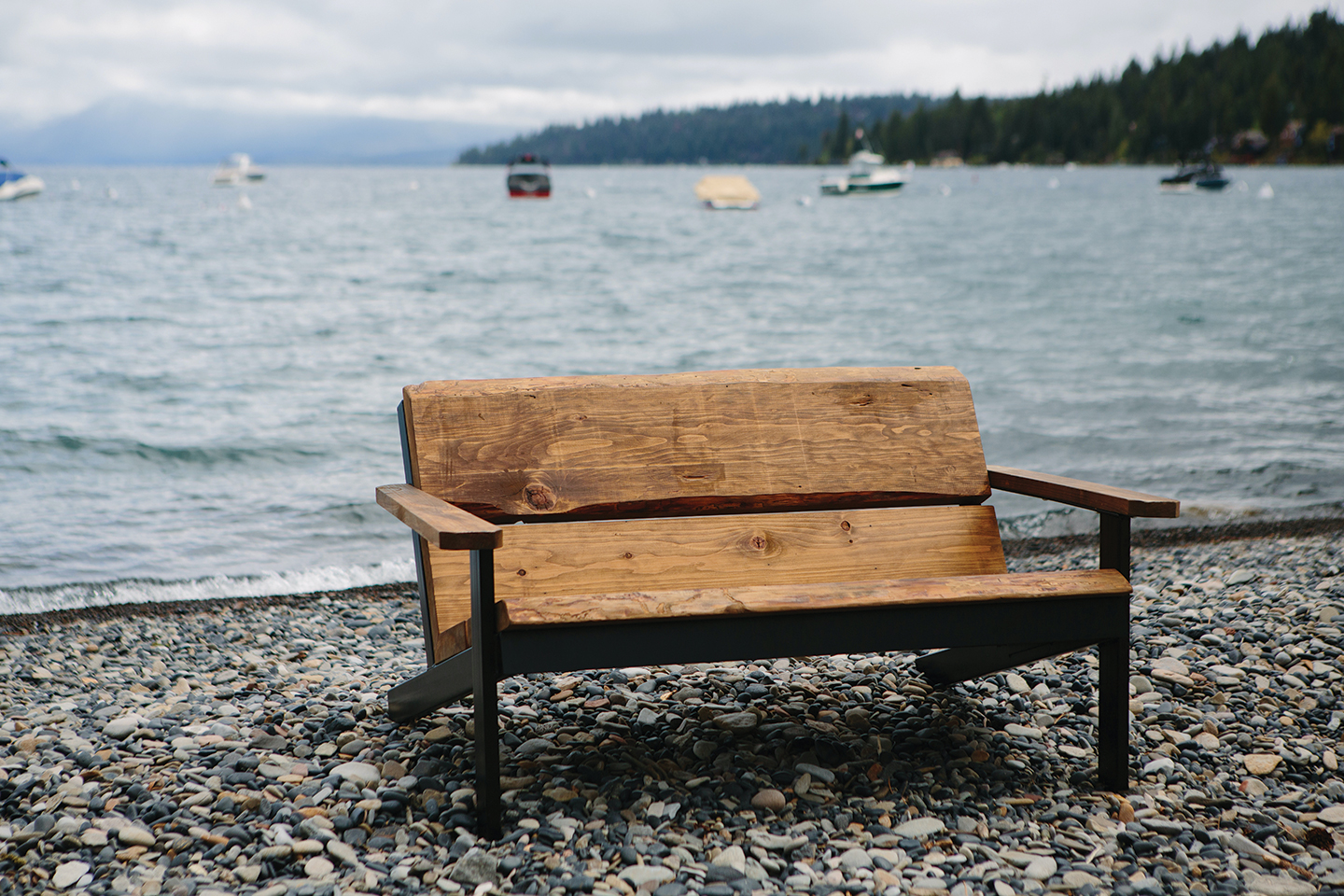 Sierra Bench by Greywood Design, courtesy photo
23 Apr

Turning Timber into Treasures
Greywood Design founder Tom Loeschner crafts beautiful custom furniture from unwanted wood
Clues inside and out of Tom Loeschner's quaint Floriston home indicate the presence of a woodworker.
Inside, intricate wood details pop throughout the rustic cabin, which Loeschner explains is one of the few original structures remaining in the historic railroad town. A patchwork wall commands attention on one side of the living room, where carefully selected pieces of reclaimed lumber fit together, each a different shade, forming a natural mosaic. A wood stove creates inviting warmth.
Outside, stacks upon stacks of boards sliced from giant logs lie tucked away behind a colorful sliding wooden door with diagonal-patterned siding. The collection is just a satellite location to Loeschner's real shop, mill and storage facility, where his massive stockpile of reclaimed timber tells the story of his love for wood.
Loeschner's affair with wood began on a whim, but looking back, perhaps it was by design all along.
Wood Roots
Growing up in Incline Village, Loeschner was an outdoorsy kid who learned to work with his hands at an early age, often helping his father with firewood.
"The day I was born my father was cutting firewood, and the day my son was born I was cutting firewood," Loeschner writes on his website, referring to his dad as "the village wood hound," always busy collecting rounds in preparation for the next Tahoe winter. "He taught me how to use a chainsaw and instilled in me a kind of reverence for wood."
Loeschner later took to climbing rock and ice, fly fishing and bow hunting. In 2007, with a thirst for adventure, he traveled to West Africa, where he volunteered to educate people on sustainable forestry for three years. Although he had little previous experience in the industry, he says his ability to read and write English helped him communicate with people and teach them how to manage the land. 
He jokes that he'd watch the locals "cut trees with these giant chainsaws and sandals on, and teach them how not to kill themselves." There, he also learned to weld while helping build irrigation systems.
Upon returning to the Tahoe area, he started working for tree-trimming businesses while attending Sierra Nevada College, where he was tempted to study art but instead chose creative writing. Meanwhile, his arborist work opened his eyes to an opportunity—one that would allow him to work with his hands and still be creative.
"Cutting down all these trees, [I realized] there's so much wood in Tahoe. There's mountains of wood and nobody even wants it," says Loeschner, adding, "We can do stuff with that."
A Sustainable Love Affair
Loeschner began dabbling in woodworking, building small furniture items and selling them to friends. After his first successful commercial contract, building benches and tables for the now-closed IV Coffee Lab in Incline Village, he started his own business, Greywood Design, in 2014.
The business allowed him to address a growing problem he'd seen in the industry: There were dead trees everywhere, and nobody to recycle them. The residential trees he'd helped arborists cut down were often hauled to the dump, while mature trees in the Tahoe Basin that had fallen prey to beetles were also treated as trash. Recycling these trees could create something new and functional, and do something good for the environment by sequestering carbon emissions.
Today, Loeschner harvests trees that arborists cut down from residences and sites in the Reno-Tahoe "urban forest" and Central Valley orchards—pine, fir, maple, elm and walnut, among other species. He mills the logs into giant slabs, which he then crafts into custom furniture.
"Everything in our society is so wasteful, but this is a real tangible way to do something good, and have a product out of the tree that was in your yard," says Loeschner, who most enjoys working with English walnut, because "it's beautiful, fits in any setting and is kinda the underdog of California hardwoods."
"You're redeeming that life through this legacy of it living on in a different form," he adds. "You plant a tree, it lives this life, shades your house and your family, and then it's dying… If you have to cut it down, why not take a piece of it and preserve it, and at the same time do for the planet something good?"
In his creations, the wood tells its own story through its live edges, cracks and knots. The colors and definition gained through aging in the elements are expressed clearly, complemented by minimal alterations and displayed cleanly alongside metal elements.
"Building with wood and metal is a really nice balance because it's always something different," says Loeschner. "They both come from the earth [and] they go together really well. And steel's such a strong material that you create an almost indestructible piece. I'm very into modern design, and I think wood and steel is a very mountain modern look."
Creative Design
While woodworking is now his livelihood, Loeschner hasn't left writing far behind. He still writes for fun when time allows and creates the content for his website and social media. For him, the creative process of the craft applies in the same way as building furniture.
"With writing, you never know where it takes you… and furniture is just like that too," he says. "Working with live-edge slabs, you grab [one] and start processing it to build a table, and you realize there's a giant warp in it and you have to cut half of it out, but you still have to build a piece out of that wood. That process leads to something different, but it's often better than what you ever imagined."
Loeschner says this process is magnified by his acute awareness of how and where his materials are sourced, making his furniture-making a holistic experience. Knowing the history behind every piece of wood also provides valuable narrative to his pieces, which range from sturdy tables to benches, chairs, shelving, mantlepieces and more.
Now that he's evolved from the learning stages of making furniture to mastering his skill, Loeschner says he's able to relax into his role as a designer.
"I think initially I was approaching my work as a craftsperson. It was focused on, 'How do I get this done, make it function and make money doing it?'" he says. "As I learned more, I could focus on, 'How do I make this look beautiful?' and move more into [being a] designer. Instead of learning how to do it, it evolves to learning how to do it well and do it beautifully. I think that's the journey of all people doing this."
But while Loeschner strives to create stunning pieces, he also places an emphasis on ergonomics, explaining that form and function are the most crucial elements of furniture-making.
There's also something special to him about creating pieces that will reside in areas where people gather and connect.
"If family meals are really important to you and that time together is something honorable, I think bespoke furniture is a reflection of that," he says. "The place where you're sitting reflects the quality of time you spend with your family. We spend a lot of time at the table. Our tables should be nice."
From Arborist to Artist
Loeschner, a self-described "bohemian," likes that an increasing number of people are creating items themselves. Across the West Coast, he says, in cities like Sacramento, programs now exist to help recycle urban timber.
"I love this renaissance lifestyle, and I love the maker revival," Loeschner says. "I like that people are getting more in touch with their hands and not their phones, and it's really cool that people respect 'craft.' The world has moved so far in terms of automation, but we have this backwards revival of people working with their own hands, and garage entrepreneurship."
Looking to the future, Loeschner's ambitions include creating sculptures. He's started looking into calls for public art in Reno and Truckee. And, he aims to sell his wood slabs to Tahoe locals at reasonable prices, hoping that he can supply them with the materials to build their own treasured heirlooms. Humbly, he jokes that he couldn't afford the furniture he builds.
His work is a backbreaking struggle at times, Loeschner admits, literally rubbing his back. But his story, which started out of a simple love for wood and climbing things, has developed into an intricate tale of creativity, determination and artistic success.
"I'm very fortunate to do what I do," Loeschner says. "I'm able to do something I love. Producing a piece that's well-designed and artistic allows me to reignite my passion for what I do. To create and sell my own designs allows me to explore my creative process. Looking back, it's encouraging to see how far I've come."
---
Loeschner's work is available at greywooddesign.com. Follow Greywood Design on Facebook or Instagram, @greywooddesign
---
Le'a Gleason hails from Hilo, Hawaii, where her father is a sustainably sourced woodworker. She lives near the beautiful forests in Tahoe City and has a soft spot for writing about craftspeople.