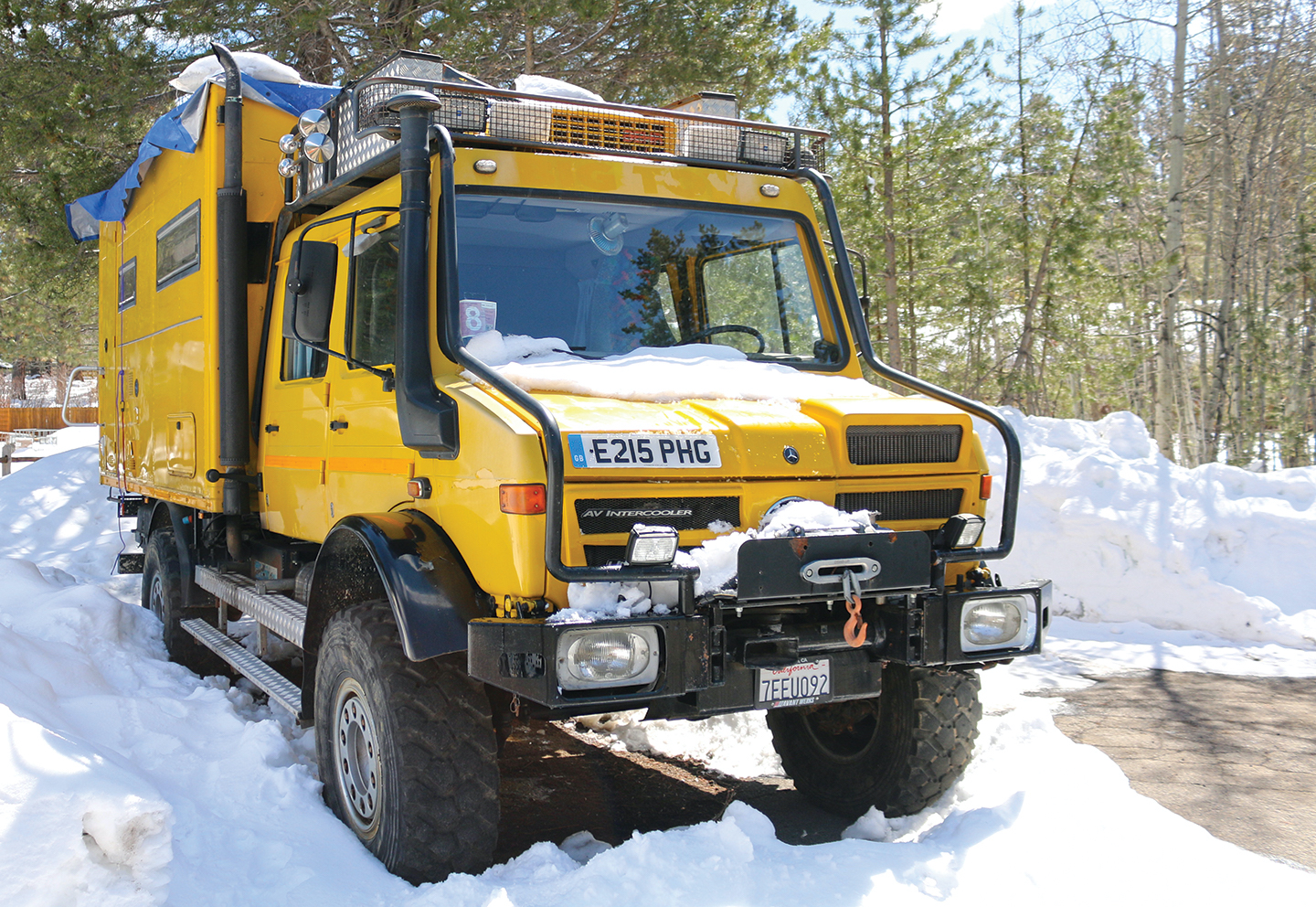 Truckee resident Keith Tatsukawa's Unimog is one of only about 10 in the United States, photo by Sylas Wright
23 Apr

Unimog or Unicorn—or Both?
Mercedes-Benz all-terrain vehicle is the ultimate off-the-grid rig
Suffering from #vanlife envy? Check.
Anxious about the raging global pandemic? Check.
Zombies afoot in the hood? Let's hope not, but you never know. 
Well then, feast your eyes on the ultimate bug-out vehicle sure to turn the heads of Sprinter van aficionados and preppers everywhere. Best of all, this rig could be yours right in time for that self-supported family road trip escape or to humblebrag your best #vanlife self on Instagram—or whichever comes first.
Uni-What?
Beauty comes in many forms. For lovers of exotic four-wheel-drive vehicles, there is little more beautifully ugly than a creation from, of all places, high-brow Mercedes-Benz. The Universal Motor Gerät, or Unimog for short, is endearing in a, well, big-boned Bavarian, farm-mädchen kind of way.
That makes sense, as the Unimog was conceived by Mercedes as a tractor for post-World War II Germany. Designed with the ability to add various implements such as plows, blades, backhoes and whatnot, the dependable, versatile, all-terrain Unimog evolved into what is now a ubiquitous utility vehicle in public works, forestry and fire departments throughout Europe.
As with its contemporary, the General Purpose vehicle, or GP (Jeep, in soldier slang), the Unimog is recognized for its go-anywhere ability. Just as Jeeps developed a loyal and loving following over the decades, so have Unimogs.
Mog-Man
Some people have a thing for 2004 Dom Pérignon, exotic locales like Timbuktu, or maybe even unicorns. Keith Tatsukawa's weakness is a combination just as intoxicatingly foreign and rare —Unimogs. Tatsukawa actually found his unicorn: a four-door 1750L38 Unimog Doka outfitted in full overland-adventure-tiny-house glory that can easily be pictured navigating over endless Saharan dunes.
"They are very rare," Tatsukawa says of his Doka. "There are maybe only ten in the U.S."
The gateway to Tatsukawa's Unimog stoke was a short-wheelbase 1969 pickup model that he owned for years and used now and then as a member of Nevada County Search and Rescue. Then the monster-Mog rolled into his life.
"That's where it started," he says. "This one is more like the big brother to that little two-door."
Mog-Mode
With an eye on a vehicle capable of long, self-supported treks packed with off-the-grid amenities, Tatsukawa, a Truckee resident for more than a decade, imported the Doka model from the United Kingdom about six years ago. The goal was to head north on an epic road trip. But even the best-laid plans get detoured.
"The thought was to revamp it and take it on a trip through Canada into Alaska, but I never did. Life happens and I've been busy," Tatsukawa says. "Basically, it's a local Tahoe-Truckee vehicle. I've never been able to do it justice."
Even with its turbo diesel and high 2-by-8 gearing, Tatsukawa's Unimog is more of a back-road rambler than an interstate flyer. But what the rig lacks in hurry, it over-delivers in homeyness.
A quick list of some of the camper's features includes two bunk beds and a dinette/double bed, gas stove, fridge/freezer, fresh-water tank with purification system, and shower/toilet room with composting loo. The amenities are powered by propane, a diesel generator and a roof-mounted solar panel system.
"It's as equipped as it can possibly get. It's van life on steroids," says Tatsukawa. "You don't drive a tractor at 55 miles per hour. It's capable of going through terrain that RVs and most trucks couldn't handle. And it's cool looking."
Mog-Life
The timing to sell his beloved-but-under-utilized Unimog isn't lost on Tatsukawa. Between the #vanlife fad and current doomsday mood, his rig is getting a lot of attention from Unimog lovers and those who are captivated by what the vehicle evokes—rugged self-sufficiency perfectly suited for outrunning an apocalyptic event.
"The people who know Unimogs, that certainly might be a bit of their thinking," he says, only half joking.
Rolling down the road in the Unimog with its beefy overland stance and electric-yellow paint job may flag someone going through a midlife crisis. But, heck, the whole world is in crisis right about now—so make Tatsukawa an offer. Plus, zombies are colorblind. 
"Any time I park the Unimog in downtown Truckee, I come out and people are taking pictures," Tatsukawa says. "It's certainly not low-profile."
---
Jamie Bate is a Tahoe-based writer. Contact him at jam.bate630@gmail.com to buy him a beer or three; he'll gladly lie to you about his misadventures from California to the Caribbean and points between.