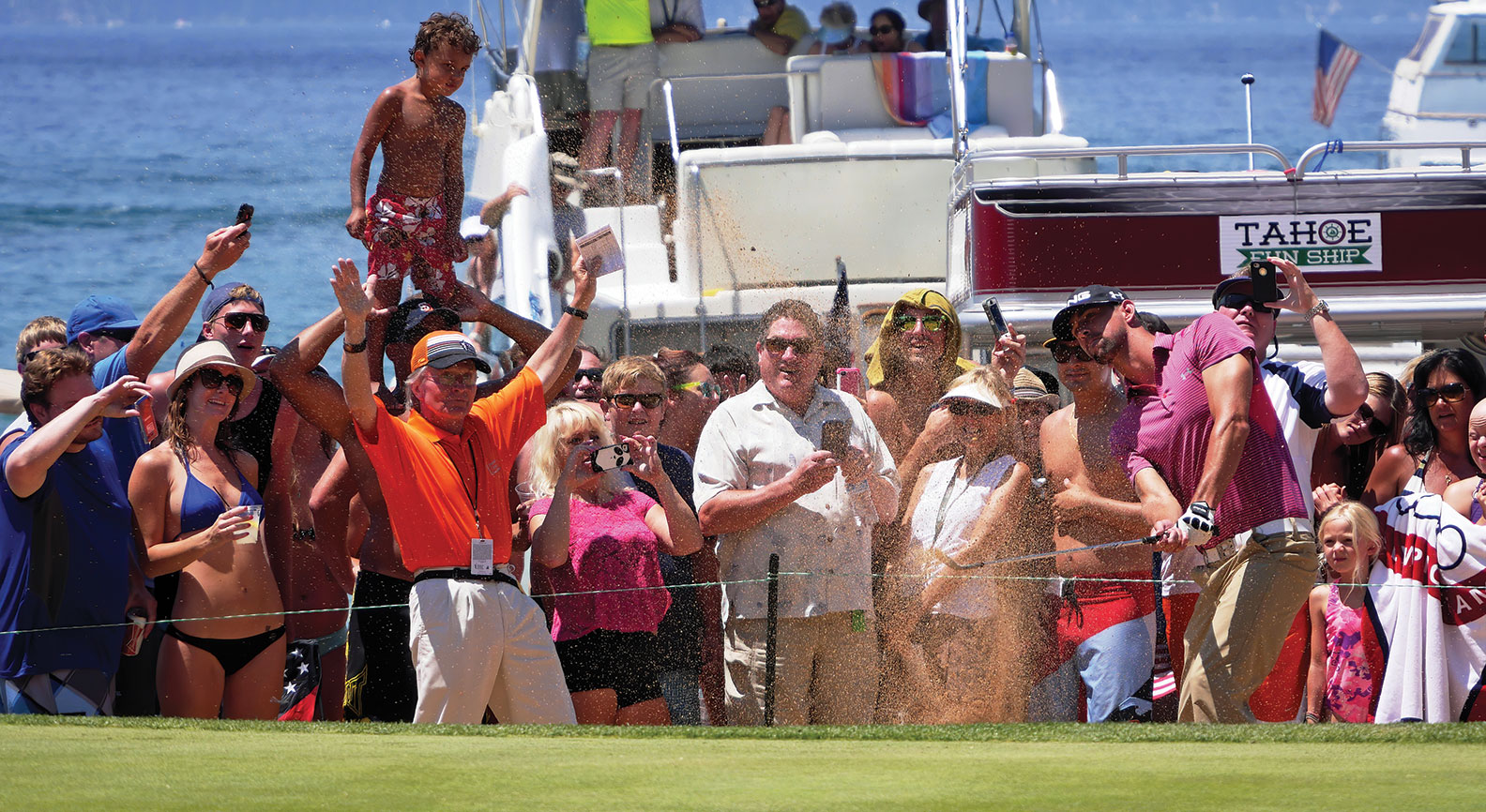 Michael Phelps hits from the sand on the 17th hole at Edgewood Tahoe Golf Course during a past American Century Championship, photo by First Tracks Productions
23 Apr

A Star-Studded Staple Endures
Edgewood Tahoe's renowned celebrity golf tournament has grown from an ambitious idea to an anticipated annual event going on 32 years
Since its inception in 1990, the American Century Championship has persisted as one of the premier summer events at Lake Tahoe, drawing big-name celebrities and fun-loving fans for a week of golf and shenanigans at one of the country's most beautiful courses.
That initial event 32 years ago remains unique in the sports world in that the idea was generated by a broadcasting network and involved contemporary luminaries such as Michael Jordan, Mario Lemieux and John Elway.
"I'm proud to say I was there at the beginning," says Jon Miller, the president of sports programming for NBC.
The Beginning
When Miller joined NBC in the early 1990s under the tutelage of legendary television executive Dick Ebersol, the broadcasting network was faced with a gutting decision. Major League Baseball, a centerpiece of the network's sports package, decided to take its talents to CBS, leaving NBC with a yawning void at a time when its parent company, General Electric, was turning the screws in its quest for better returns.
"There was not a whole lot out there," Miller says. "Baseball was a huge innings-eater; it took up a lot of time for us."
So instead of attempting to find a marginal sporting event and try to hype interest, Miller believed it would be better to create an event.
"Mike Trager, of Sport Marketing and Television International, brought me an idea to create a new golf tournament," Miller says.
Initially, the idea was to create a tour to rival the PGA's, but Miller decided instead, along with figures like Jim Karvellas, the former play-by-play broadcaster for the New York Knicks, to host "one really cool event."
So Trager, Karvellas and Miller landed on the idea for a celebrity golf tournament.
Problems remained, including location scouting and reeling in a sponsor.
"Rich Rose, an executive with Caesars Palace, asked me if I'd ever heard of Edgewood at Lake Tahoe," Miller says. "I didn't know much about Lake Tahoe other than it was a fantastic skiing destination and it was in the opening scene of Godfather Part II, but in early December 1989, I got onto a plane and flew out."
Edgewood was covered in snow at the time, so it was hard for the television executive to envision how the course would play.
"It was a cold, miserable day with snow and rain. It was not a pretty Tahoe day at all," Miller recalls.
But the proximity to the casinos and the picturesque backdrop of the crystalline Lake Tahoe made Miller think the setup was telegenic enough to succeed. 
There was still the problem of sponsorship, as any golf tournament of high repute must provide a hefty prize purse. But before the prize money came the players—another example of the unique nature of the tournament's creation.
Stars Align
As Miller and team prepared for the inaugural event, word came in that Jordan, Elway, Lemieux and Dan Marino wanted to participate. As a global star whose popularity transcended sports, Jordan's involvement almost guaranteed a certain threshold of eyeballs on the event. The network also received confirmation from Jack Wagner, one of the biggest soap opera stars of his day who is also a scratch golfer.
"When I first got out there in 1990, I was standing on the golf course and I said, 'Holy shit, that's Michael Jordan and that's John Elway,'" Wagner recalls. "And they were like, 'Holy shit, it's Jack Wagner from General Hospital.'"
But before the celebrities could hit the links, the tournament needed a sponsor.
At least for the first year, it never materialized.
"NBC put up the prize money," Miller says. "I didn't know how long it would last. I thought it would be one and done. My boss said to me, 'Let's just try and make the money we invested back.'"
But the first event in 1990 went swimmingly, mostly due to the big names attached. It generated some buzz—along with interest from auto manufacturer Isuzu, which agreed to sponsor the tournament in 1991.
"It kept it alive," says Miller, who brought in Mike Milthorpe to serve as tournament director.
The event, initially called the Celebrity Golf Championship, began to pick up steam in the early 1990s as celebrities clamored to join the field.
"It got to the point where major celebrities were reaching out to us, saying, 'How do we get in?'" says Milthorpe, who was on the golf team at Southern Mississippi University, Brett Favre's alma mater.
While the tournament itself was a major draw, the opportunity to stay in Tahoe for a week and hang out with fellow celebrities proved irresistible for some. 
"It's a great time," says Wagner, a two-time champion who has never missed a tournament. "There was always a lot of drinking, gambling and playing for money on the golf course."
Of the great anecdotes from his three decades working on the tournament, Miller says, "The best ones I can't share."
Wagner agrees: "There were more than a few times we went from partying at the casino straight to the first tee."
As the tournament grew in popularity, so too did the television audience as American Century Investments, the private investment management firm based in Kansas City, took over the title sponsorship in 1999—hence the eponymous name of the tournament to this day. 
"They've been the best partner as a title manager," Miller says.
Staples and Newcomers
As the tournament continues to evolve, one of the most difficult decisions for organizers is choosing which celebrities get to play.
"We get about 85 players a year," Miller says. "We can't really exceed that number because we don't do a cut and there's only one golf course."
Adds Milthorpe: "It's tough because you make friends over the years, but it gets to a point and time where these guys don't get the invite anymore. We're always trying to modernize and bring in new players."
Stephen Curry, Justin Timberlake and Pat Mahomes are part of a new generation of athletes who create a stir at Edgewood when they tee off.
Nevertheless, there are holdovers and mainstays.
Wagner is one of them.
"The venue has just taken on a life of its own," Wagner says. "It pulls 40,000, even 50,000, people over the weekend. All the boats lined up at 17. It just speaks to the specialness of this event."
Milthorpe says the iconic 17th green and the picturesque finish at 18 with the lake glimmering in the background are highlights for both golfers and revelers.
"The event that we have is a little more party-oriented than golf-oriented," he says. "It's a fun time."
Speaking of fun, anyone associated with the American Century Championship speaks highly of another staple of the tournament—former NBA great Charles Barkley.
While known for his ugly golf swing, Barkley is a walking attraction at the tournament, interacting with fans and the media as he walks the course.
"Charles is the most valuable person at that tournament," Miller says. "He's such a great person."
Barkley's generosity to the Lake Tahoe community is also legendary. In July 2007, only a month after the Angora Fire ripped through neighborhoods in South Lake Tahoe, destroying approximately 250 homes, Barkley threw a large party for the firefighters and donated $100,000 to the recovery efforts, followed by an additional $90,000.
"I really want to let people know that this is really unfortunate," Barkley said in 2007 while touring the aftermath. "It's going to take years for everybody to rebuild their houses here."
Miller says Barkley's involvement in the local community is a "great representative for this tournament."
A Tradition Carries On
Last year presented challenges for event organizers, but with the coronavirus pandemic on the wane, they are hoping to bring spectators back in some form or another this summer.
Whether or not fans are allowed to stalk the sides of the fairways and greens in 2021, all involved are looking forward to future events as the tournament shows no signs of losing relevance.
The celebrity names may change, but you can bet that Jack Wagner will be back—and Charles Barkley will make all of us poor duffers feel a little better as he hacks at the ball from the rough.
---
Matthew Renda is a Santa Cruz-based writer and former Tahoe resident. He fondly recalls covering the American Century Championship in 2010, when Charles Barkley told him to get a haircut in front of about 100 people, who found his verbal jab to be the high point of hilarity.