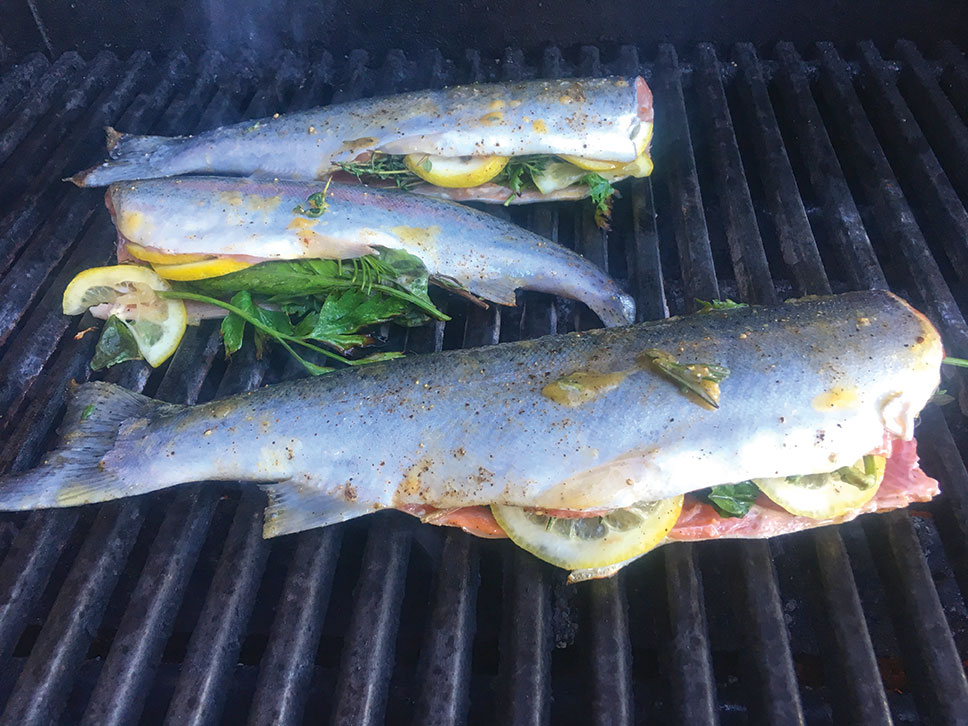 Grilled whole trout simply done with fresh herbs and lemon slices is a fast and easy way to enjoy your catch, photo by Scott Yorkey
23 Apr

Best Ways to Cook Your Fresh Tahoe Catch
Whether grilled or smoked, Lake Tahoe fish make for a tasty treat if prepared well
Rainbow, brown, Mackinaw and Kokanee. If you landed one of these fine Lake Tahoe fish, a delicious meal awaits. What's the best way to cook your flopping fresh catch?
We asked Scott Yorkey, who served as executive chef at Jake's on the Lake in Tahoe City for 10 years and now heads up the food and beverage team at Stillwater Cove in Crystal Bay and runs his own private chef and catering business.
For Yorkey, who grew up fishing from the boat docks in Discovery Bay and the California Delta, casting a line with his own family remains a favorite pastime.
"It's a great way to get outside and get the kids involved," says Yorkey, who resides in Incline Village with his wife Shelby and their three children. "It's really fun to see kids get so excited to reel in a fish."
If you catch a fish or two, Yorkey recommends grilling it whole. "This simple preparation is great for rainbow, brown or Kokanee," he says.
Drizzle the cleaned fish with a bit of oil, which will help keep it from sticking to the grill as well as adhere the seasoning to the fish. Generously season with salt, pepper and lemon pepper inside and out and stuff the fish with lemon slices and fresh herbs—parsley, thyme, dill and tarragon all work well. Place the whole fish on a medium-hot grill and cook approximately six minutes per side, depending on the size, or until just cooked through.
"If the whole family gets lucky and you have enough fish to fire up the smoker, or catch a Mackinaw, smoking is a great way to go," says Yorkey.
The mighty Mackinaw—also known as lake trout (although it is actually a char)—requires a boat, specialized gear and, ideally, a licensed captain to make the most of an outing, as these fish generally hang out far below the surface.
"Mackinaw are higher in oil content, so they have much more richness or a bolder flavor," Yorkey adds. "The others are more of a mild and delicate flavor. I like to make big batches of smoked trout when we catch enough to fire up the smoker, then vacuum-seal in smaller portions so we can pull out a little at a time. It's great on crackers with cream cheese or on top of deviled eggs."
To smoke the fish, first mix a brine of a half-gallon of water, a quarter-cup of salt and a quarter-cup of brown sugar and stir until dissolved. Soak fillets in the brine in a glass dish or nonreactive bag or container in the refrigerator for eight to 10 hours. Remove the filets from the brine and place on a rack and return to the refrigerator for 10 to 12 hours, uncovered. 
"The time in the refrigerator uncovered is an important step that gives the surface of the filet time to dry or create a tacky layer called pellicle, which will help the smoke stick to the fish," says Yorkey.
Set your smoker to low, or 175 degrees Fahrenheit, and smoke fish two to three hours, depending on the thickness of filets, using low and slow heat to avoid drying out the fish. Smoked trout will keep seven to 10 days, or about three weeks if it is vacuum-sealed. Smoked trout also freezes well; vacuum-packed fish can last for a year in the freezer.
Not feeling inspired to whip up your own fish dish? The folks at MacDuff's Public House in South Lake Tahoe have you covered. Although the menu here ranges from burgers and pizzas to pub food, the kitchen crew can cook your fish for you to enjoy in the dining room, out in the garden or to go.
"We've been offering to cook people's fresh catch since we opened in 2010," says Chrystal Kennedy, general manager and event coordinator for MacDuff's. "We have a great relationship with the fishing charters in the Basin. It makes for a wonderful experience to fish all day and then have your catch prepared here."
A reservation is required, and fish must be dropped two hours prior to that time. Chef Jose Lopez and his team prep the fish three ways—sautéed with cream sherry dill sauce, blackened with zesty remoulade and beer-battered with house-made tartar sauce. Dishes are served family-style, along with sides of mixed vegetables, hand-cut French fries and that favorite UK dish—buttered peas. Meals are priced at $21 per person for lunch or dinner; those not partaking of the fish can order off the regular menu. To-go orders are priced per fish rather than per person.
In North Lake Tahoe, Gar Woods Grill & Pier in Carnelian Bay offers a similar program by reservation only. Fish must be properly cleaned, approved by the head chef and management, and dropped off three to four hours prior to dining.
"Fish can be substituted and used in any of the fish entrees on our menu, including fish and chips, tacos, the teriyaki salad and seafood special of the day," says Ashley Anderson, marketing director for the restaurant. Price is $32 per person for either lunch or dinner.
---
TQ food & wine editor Susan D. Rock likes to pair her catch with a crisp sauvignon blanc.
---
Pan-Seared Rainbow Trout with Crab and Potato Hash
Recipe courtesy Scott Yorkey (serves four)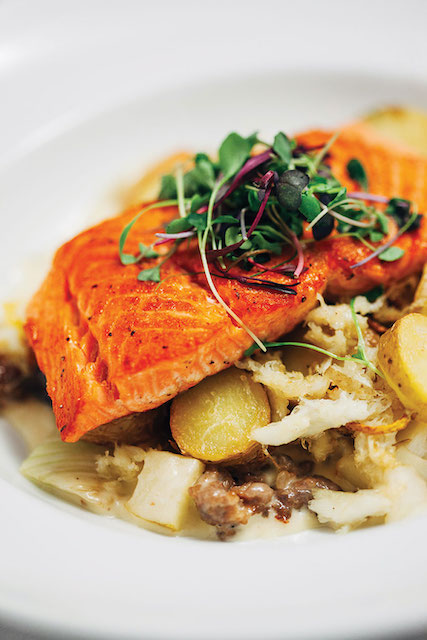 "I like to make this when we are lucky enough to catch a good-sized fish," says chef Scott Yorkey. "You can get a few nice-sized filets or steaks from each side of a large fish. This dish, which also has fennel and sausage, makes for a filling meal."
Ingredients:
Rainbow trout portioned to approximately
4 to 5 oz. each
12-16 fingerling potatoes
8 oz. pre-cooked and cleaned Dungeness crab meat
1 lemon, zest and juice
6-8 oz. of your favorite sausage (I suggest a mild Italian style)
1 apple, diced
1 fennel bulb, diced
4 oz. cream
3 oz. white wine
Salt and pepper to taste
Micro-greens or fresh herbs for garnish
Directions:
Cook the fingerling potatoes in salted simmering water. When potatoes are fork tender, drain and set aside to cool and slice into "coins" about 1/4-inch thick. Sear the potatoes in a bit of neutral-flavor, high-temperature oil (grapeseed, rice bran or avocado) until brown and crust starts to form on both sides. Add the crab, lemon zest and juice to the crab-potato hash. Season with salt and pepper, take off heat; the crab is already cooked, so just keep warm.
Heat a second pan on medium-high. Season trout with salt and pepper and cook filets, turning once (depending on thickness of the filet, approximately two to three minutes per side until cooked through). While the fish is cooking, in a third pan sauté the sausage on medium-high heat and break into crumbles. When browned and cooked through, add diced apple, fennel and white wine. Once wine has reduced by about half, add the cream. Turn heat to low to reduce cream slightly.
In four high-sided plates or wide bowls, place the sausage-fennel-apple cream sauce first, then layer with the potato-crab hash. Top with the trout and finish with micro greens or fresh herbs.
Sit back and enjoy your hard-earned catch!