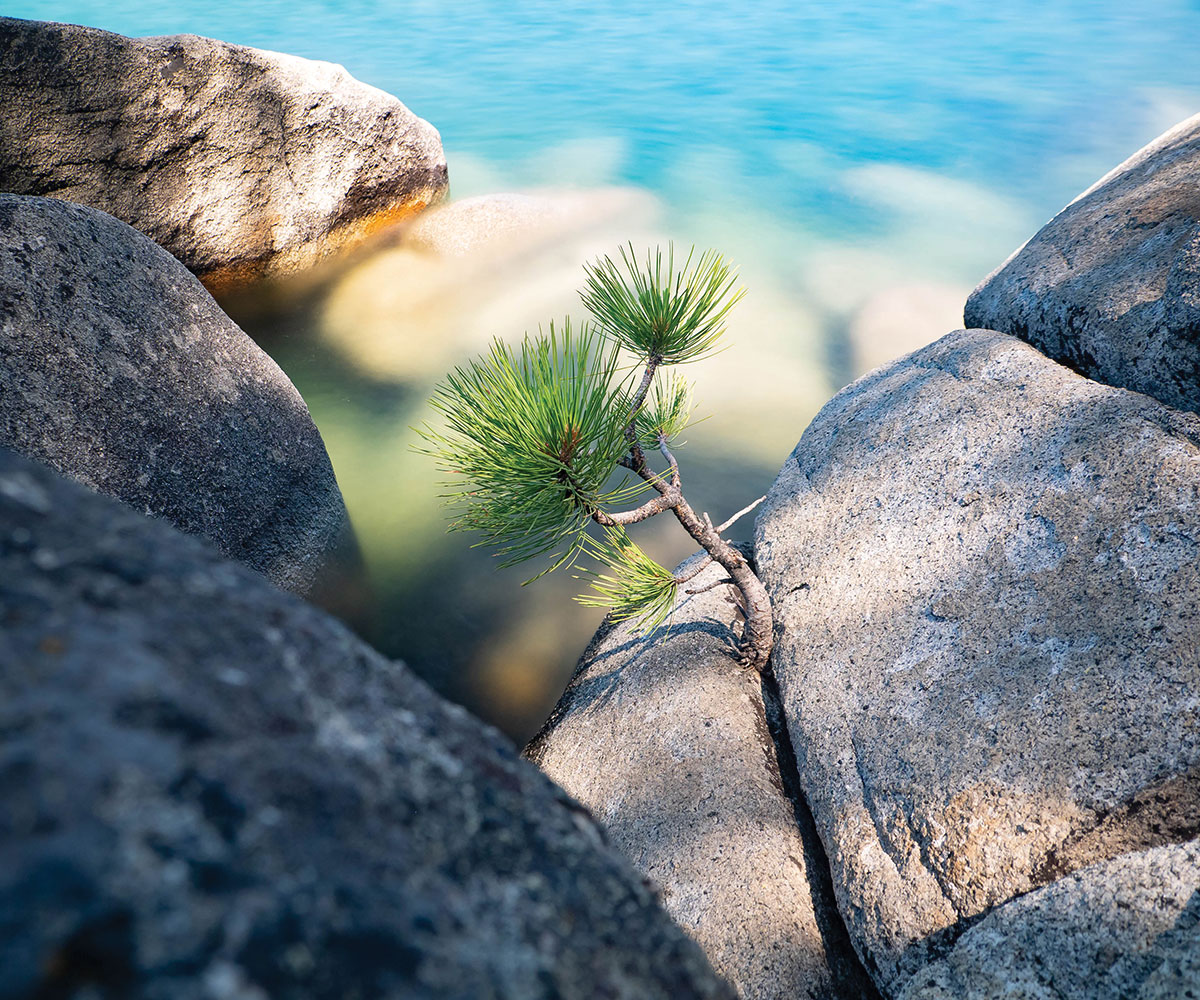 The boulder-strewn shores of Lake Tahoe are great places to find bonsai trees growing slowly from cracks in the rocks
23 Apr

Bonsais from Behind the Lens
Sculpted and stunted by nature, Tahoe's remarkably rugged bonsai trees provide some of the best photo ops the lake has to offer
I have a confession: I give names to trees around Lake Tahoe. There is The Jumping Tree, The Sergeant, The Old Friend, The Snag, Master Blaster, The Rock Tree, Island Tree and many others.
One I simply call The Little Tree. I recently looked back at a photo of this diminutive conifer from 10 years ago and was struck by how little it has changed.
Defiantly stretching skyward from a wind-battered, boulder-strewn beach, The Little Tree today stands about 3 feet tall. In the photo from a decade ago, it stood about 3 feet tall, indicating that, despite its small size, this rugged pine is far from young. To the contrary, The Little Tree is a stunted relic, a product of many years of abuse from wind and snow, surviving on the scant resources from its rocky nook.
Here in the Lake Tahoe Basin, it is a shining example of the enduring natural wonders fondly known as bonsai trees, which rank among the most intriguing photographic subjects in the region. In order to capture the sculpted brilliance of these miniature specimens, however, you must first know how and where to find them.
Locating Tahoe's Bonsai Treasures
For centuries the Japanese—along with other cultures—have carefully manipulated trees to keep them small. At Lake Tahoe, we have natural bonsai trees that grow in difficult situations, such as the side of rugged cliffs, atop a mountain or any place where the conditions do not permit them to grow rapidly.
Identifying a bonsai versus a tree that is simply young is not always straightforward. Look at the base of the tree. Bonsais are often much wider at the bottom than you would expect. Like melted ice cream, they appear to be sagging.
Also, if visible, look at the roots. The roots of a bonsai tree will often be just as thick as the trunk and extend along a crack in the rock for a greater distance than the tree is tall. In trees growing on a hillside instead of a rock crack, the roots can sometimes be spotted far from the base of the tree.
Bonsai Rock on Tahoe's East Shore is the best-known location to photograph these trees, but it's not the only spot. Bonsais exist anywhere around the lake where steep, rocky outcroppings exist, tenaciously hanging on for dear life.
Across the lake from Bonsai Rock, for example, Emerald Bay is an excellent place to photograph bonsai trees. The cliffs above the trail to Vikingsholm contain some beautiful exposed granite with trees in scenic locations. Same with the rocky shoreline of Emerald Bay below. Nearby, the trail up to Eagle Lake leads past many bonsai trees. Impressive examples also line Cascade Creek above Cascade Falls, where gnarly old junipers cling to the edges of cliffs. 
Bonsais are numerous along the hike up Shirley Canyon from Olympic Valley, as well, while the Aerial Tram to High Camp passes precipitous rocks with trees growing in some of the most improbable locations imaginable.
On the West Shore, Eagle Rock contains a couple of nice bonsai trees with one of the best backgrounds to be found anywhere.
The Pacific Crest Trail off Old Highway 40 is another good spot. From there, head north and keep your eyes open. The most interesting trees may involve some scrambling and sleuthing to get the best perspective. My favorite trees are found within the first mile, but there are good opportunities all the way to Interstate 80 and beyond.
Meanwhile, the high peaks of the Tahoe region boast entire groves of bonsai trees. Mount Rose, in particular, has a large expanse of old, twisted whitebark pines that are only 3 feet tall.
Capturing a Bonsai's Brilliance
Photos of bonsai trees are always popular because people are so shocked that a tree could be growing straight out of the rock. They also tend to live in extreme locations where the surrounding scenery is notable, making for great photos (this also means photographers may find themselves atop dangerous cliffs, so caution is warranted).
If the tree has a root that traces along the surface of the rock, try using it as a "leading line" that guides the eye to the tree. This usually works best with a wide-angle lens.
Being small, these trees can often get lost in a photograph. Holding your camera at head height is not the best way to capture them. If there are other trees in the background, your photo subject won't show up very well. Get your camera down low and capture them against the sky. If that's not possible, pick your angles so that the background is gray granite. This works well for trees that are growing right out of the rock.
Pick a time of day that will either shed light on the side of the tree or backlight it to create a silhouette. Use a reflector or flash if you want to fill in the details.
While photographic opportunities abound in the Tahoe Basin, most photographers are interested in knowing more about Bonsai Rock, which has become a bucket-list location to shoot. The iconic rock contains four bonsai trees, although one is on the lake side and is not easily spotted from shore.
For the most part, Bonsai Rock is best captured when the lake is either completely glassy, and thus providing reflections, or when waves are crashing into it. Whether the sunset is good or not, the rock—and the bonsai trees for which it is named—make wonderful silhouettes against the sky when photographed from the shore.
It is important to note that these trees, while remarkably hardy, are not indestructible. A dozen years ago when my children were young, I took photos of a tiny bonsai tree growing out of a crack at Whale Beach. That tree was later broken off by a careless visitor. Just last year another one was broken off in the same region. 
We should be careful not to damage these slow-growing works of art. The bonsai trees of Tahoe have survived for generations, and they deserve to be enjoyed for generations to come.
---
Martin Gollery is a photographer and writer who has lived at Lake Tahoe for over 20 years. Find more of his work at TahoePhotography.net.