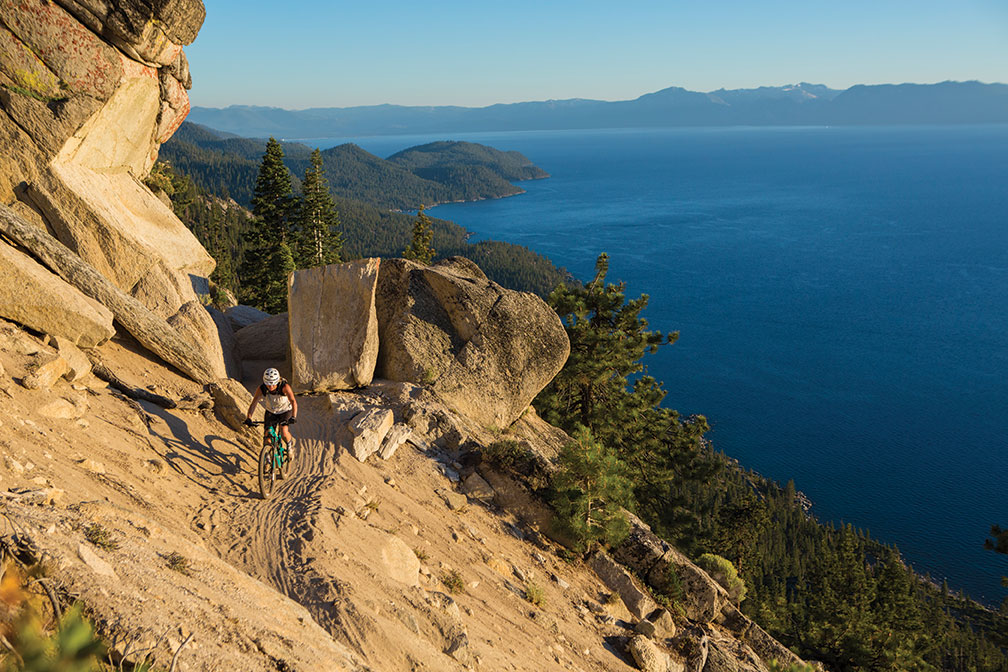 Day three of the author's dream staycation would include a ride on the famed Flume Trail above Lake Tahoe, photo by Ryan Salm
23 Apr

Staycation Dreaming
After a canceled trip to Hawaii, a Tahoe local envisions the perfect 10-day itinerary of bucket-list activities in her own backyard
We all dream about travel, global pandemic or not. Where will we go next? What unforeseen adventures await? What will we discover about the world, its people, cultures, traditions and, most importantly, ourselves?
In the spring of 2020, I had a much-anticipated two-week vacation fully booked and pre-paid to Maui and Kuai. Hawaii is by no means a foreign getaway to us mainlanders, but I'd only been once in my life after a 50-foot rogue wave struck our cruise ship in the northern Pacific, ultimately leaving us wrecked on the shores of Honolulu (long story). I'd always dreamed of going back, albeit under better circumstances.
On the cusp of departure, however, COVID-19 spoiled my plans. After my flights, car rentals and oceanfront Airbnbs were abruptly canceled, I was left grappling with a level of disappointment akin to the stages of grief. The excitement of planning my Hawaii vacation was quickly replaced with anxiety and fear—not the tropical, umbrella-clad cocktail of emotions I had been blissfully envisioning.
Meanwhile, in North Lake Tahoe, a "Miracle March" was well underway, dropping feet of snow on ski resorts that wouldn't reopen until the following season. With nowhere to go, nothing to do but shovel and all the free time in the world, a sense of helplessness and uncertainty took hold. Desperate for a coping mechanism for my growing anxieties, I began daydreaming of vacation-worthy thrills closer to home—adventures I had not felt a sense of urgency to experience until, well, the pandemic and resulting lockdown restrictions got me rethinking my priorities.
A year's worth of imagining, refining and, on occasion, putting into action resulted in the creation of my dream "staycation" right here in Tahoe. As a local of over 15 years, I tailored this 10-day itinerary of bucket-list activities toward my specific desires, knowing well that some are pure fantasy given their luxurious ticket price. But then again, isn't that half the fun in daydreaming?
Kickoff to a Dreamy Tahoe Staycation
I'd start my staycation by reserving a private lakefront villa at the Hyatt Regency in Incline Village—joined, of course, by a select number of my favorite people.
Arriving earlier than check-in, I'd rent a WaveRunner for the afternoon until my room was ready. After dropping off my luggage and soaking in the grandeur of my suite, I'd head back to the beach for a parasail ride with Action Water Sports, located at the Hyatt pier. That evening I'd take a short stroll to Le Bistro, where I'd indulge in a five-course contemporary French fusion dinner. Stumbling back to the Hyatt, I'd throw some hard-earned cash on the blackjack table in the Hyatt's Grand Lodge Casino.
On day two, I'd likely need to clock in several hours of napping on the white-sand beach in front of the Hyatt, while occasionally trotting back to my luxury villa to soak in the amenities.
I'd be ready for more thrills by day three. After breakfast in bed, I would test my fear of heights by hopping on a mountain bike and riding the renowned Flume Trail, known for its steep drops and stunning views across Lake Tahoe. I would follow the ride with a sunset kayak along the East Shore before returning to my villa for a blissful final night's rest at the Hyatt, presumably ordering room service, too exhausted to move.
Shifting South
On the fourth day of my Lake Tahoe staycation, I would seek entertainment with a hint of debauchery—two easily achievable objectives in South Lake Tahoe. I would check in to a lakeview balcony suite at Harveys Lake Tahoe, where my itinerary would include a two-night concert at Harveys Amphitheater.
Both nights would feature the legendary jam band Phish. I've seen Phish perform before at this outdoor arena and anticipated their return in the summer of 2020 until that, too, was canceled by the pandemic.
In the past, my accommodations for Phish typically featured a room off of motel row, where the amenities may have included a hairdryer and, if lucky, an in-room coffee pot. I've always dreamt of living like a queen in a king balcony suite at Harveys overlooking the venue, with jaw-dropping views of Lake Tahoe beyond.
After two days of rowdy crowds, dancing until dawn and resounding jam rock, I would need to sweat out the toxins and ideally not speak to another human for 24 hours. Luckily, such goals can be accomplished in nearby Desolation Wilderness.
Into the Wild
With 63,960 acres of spectacular alpine terrain to explore, Desolation will remain on my bucket list indefinitely as I seek out lakes I have yet to dip my toes in, views that have yet to take my breath away and stars I have yet to see shoot across the night sky. I'm admittedly somewhat of a novice when it comes to backpacking—I have most of the required equipment, but haven't developed the willpower to pack out multiple days' worth of supplies and kiss the warmth of a shower goodbye for any lengthy period.
While working my way up to a higher threshold of filth and a heavier pack, I'd conquer an overnight loop trail beginning at the Bayview trailhead, also known as the Cascade Falls Trail, near Emerald Bay. Wandering up the side of Maggie's Peak into Desolation, it's a steady climb past Cascade Falls and Granite Lake, with possible bushwhacking and down-climbing on granite boulders to make it to the craggy shoreline of Azure Lake. There may be a handful of spots to pitch a tent at Azure, but I've only ever seen one, and I'd be thrilled to revisit that site.
The next morning, after a chilly and much-needed dip in Azure, I'd head the opposite direction I came, snaking my way through subalpine forests toward Eagle Lake and Eagle Falls Trail. As I descended along the switchbacks toward Emerald Bay, I'd marvel at the spectacular views of Lake Tahoe and Fallen Leaf Lake below.
Water-Bound
Seven days into my 10-day dream staycation, and fresh off of an overnight in Desolation that left me feeling anything but fresh, it would be time to soak my weary bones in a perfect cocktail of Lake Tahoe swimming and sunshine. Since I'd already be at Emerald Bay—and with an imaginary ceiling of disposable income—I'd rent a private yacht, plus a captain, for another night under the stars. With a reservation at Emerald Bay Boat-In Campground, I'd spend the first day aboard the yacht, restaurant-hopping to the best lakefront spots on the West and North shores.
I'd start off at Chambers Landing for a nice dose of brain freeze from their Chambers Punch, along with some steamed clams to keep it classy. With a solid buzz to kick off my quest, I'd cruise over to the West Shore Café for a margarita, then Sunnyside Restaurant and Lodge for a mai tai and fish taco pairing. Keeping with the mai tai theme, I'd need to test Sunnyside's skills against Jake's on the Lake in Tahoe City, which also boasts the Hawaiian libation as one of their signatures. (Spoiler alert: They use the same recipe, so it's a tie, to be fair. But I'd also order the Dungeness crab cakes at Jake's for the win.)
The real me would probably lose my sea legs at this point, but as a Lake Tahoe staycationer with disposable income and a private captain to boot, I'd head onward to Gar Woods Grill and Pier to get a Wet Woody—because how could I not? I'd splurge on the lobster deviled eggs with white truffle aioli. Mildly drunk and explicably happy, I'd cruise back to my boat-in campsite to cook a homemade dinner on a campground charcoal grill—one of my all-time favorite camping traditions.
Come morning I'd set out to explore Emerald Bay from below, putting to use my SCUBA certification to experience the latest underwater revelation in Lake Tahoe. Officially named the Emerald Bay Maritime Heritage Trail in 2018, this aquatic museum of sorts marks the final resting place for a number of boats and barges dating back to the 1920s.
Pampering and Out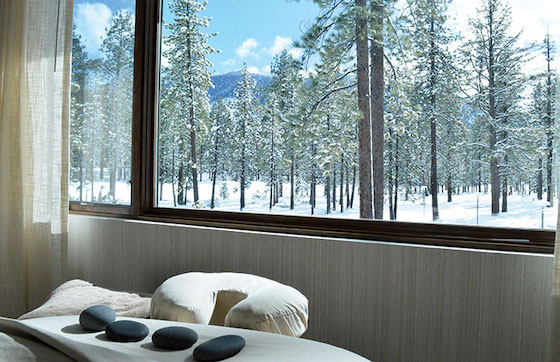 Heading into nights eight and nine—the last two of my dreamy staycation—I'd want nothing more than to wind down with some much-needed rejuvenation and self-care. Edgewood Tahoe Resort would be just the place.
The main slogan on their website boasts, "Luxury Beyond Limits." They had me at "luxury."
There are few things in life I find more extravagant, more relaxing and more therapeutic to the mind, body and soul than a trip to the spa. And if I could combine that kind of pampering with the tranquility and opulence found at Edgewood Tahoe's Emerald Suite (or any of their sophisticated resort-style rooms), I'd liken it to an oversized slice of heaven. It would be the perfect end to a perfect 10 days.
Living a Dream
As life begins to transition out of pandemic darkness and into new and partly sunny skies, I find myself diving into work, writing and other life projects that occupy my mind. I frantically cross things off of my to-do list only to replace them with more busy-bee tasks. Furthermore, I succumb to the reality that campgrounds book up months in advance (minutes after becoming available), luxury accommodations and spa packages are not within the realm of even my most frivolous expenditures and choosing to live in a seasonal economy means prioritizing the work hustle during the high season, and pinching pennies every spring and fall when things like boat camping and summer concert series are far less likely.
While I struggle to stay present, daydreaming about my ideal staycation serves as a constant reminder that a new adventure awaits in my backyard—any day, any time.
I was reminded of this recently when, on a moonless night in mid-March, I set out for a cross-country ski under a starry sky with a friend. A full moon would have been best, but this was on our winter bucket list, and we knew it was now or not until next year as the snow was rapidly melting on our backyard trail. Somewhere in the dark woods, lit only by our headlamps, I felt an unparalleled gratitude for the choice I've made to live here.
Though the past year was filled with darkness, not unlike this particular cross-country night mission, the little light we had helped me to see how sometimes the challenges can be worth it—pandemic or not.
Here in Tahoe, the seasonal fluctuations in income, extreme weather and unlikelihood that I'll ever be able to afford property are challenges I've grappled with over the years. But with a lifetime's worth of bucket-list items still left to check in my own backyard, there's no denying what a dream it is to call Lake Tahoe home.
---
Jenny Goldsmith is a North Lake Tahoe-based freelance writer and marketing manager who holds an MFA in creative nonfiction.