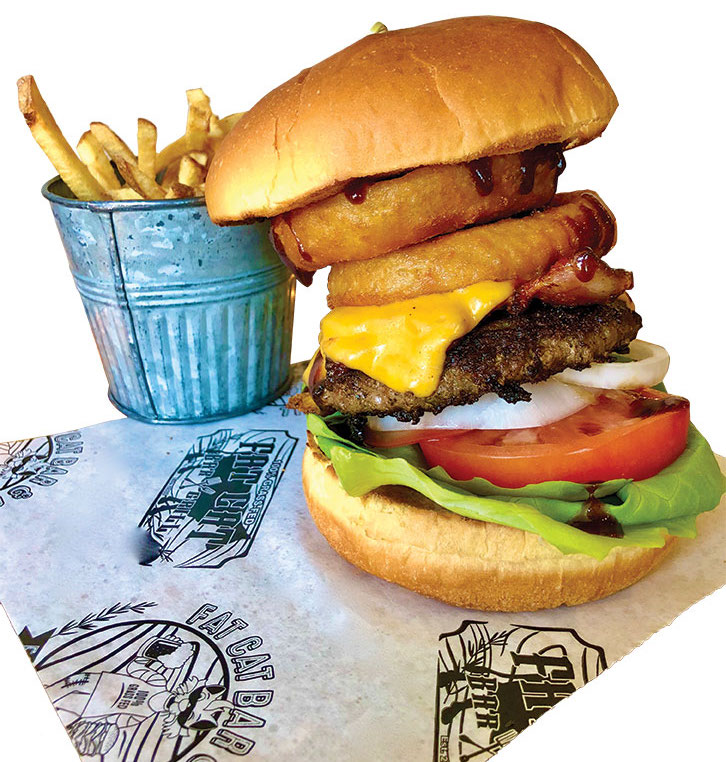 It takes two hands to handle Fat Cat Bar & Grill's popular Cowboy Burger, courtesy photo
23 Apr

Tahoe's Best Burger Menu
You'll have no beef with Fat Cat Bar & Grill's choices of yum on a bun
Editor's note: Longtime Tahoe local and area restaurateur Clint Peetz passed away unexpectedly March 5, 2021, less than two weeks after being interviewed for this article. His death is a terrible loss to the Tahoe and Reno culinary communities. Our condolences go out to Clint's wife Rachael, their children and the entire Fat Cat family.
Our national obsession with burgers continues unabated, especially this past year when we could not seem to get enough comfort food, no matter how heroically we tried. And while many area eateries are devoted to the art and science of the patty-bun combo, one local spot stands out for its particularly meaty menu.
Fat Cat Bar & Grill, with locations in Tahoe City and Reno and a TQ 2021 Best of Tahoe Readers' Poll winner, boasts some 16 handcrafted burger options on its menu. A meal here means some hard choices must be made.
"We like offering an intriguing menu and raising the bar on the traditional burger by using top-quality ingredients, including all-natural grass-grazed Niman Ranch beef, freshly baked buns from Reno's Rounds Bakery and locally sourced produce," said owner and Truckee native Clint Peetz, who honed his restaurant management chops at Gar Woods Grill & Pier and the Hyatt Regency Lake Tahoe Resort on the North Shore.
Fat Cat menu mainstays include the restaurant's most popular pick, the Cowboy Burger, which starts with a beef patty and finishes with sweet-smoky hickory barbecue sauce, applewood-smoked bacon and a crispy house-made jumbo onion ring. The Farm House Lamb Burger features meat from Gardnerville's family-run Borda Ranch, arugula, brie and roasted red pepper aioli, while the Emerald Surf & Turf is topped with lobster claw, mayonnaise, Old Bay seasoning and a squeeze of lemon. The Newport gets arugula, smoked Gouda, caramelized honeycrisp apples and balsamic glaze.
"I've always loved a great burger, ever since taking weekly dinner dates with my grandparents to Dillman's in Newport Beach," said Peetz, who was raised in the Southern California beach town. "The option to make your burger 'willson style' with the addition of Thousand Island dressing and pickles was created to honor them."
The plant-based Beyond Burger, which comes with vegan cheese, can be subbed (along with a turkey option) for any burger. Gluten-free buns are available on request, and burgers can also be served atop fresh greens.
In addition to the regular menu options, some seasonal selections rotate through, such as the summer-loving Caprese with mozzarella, tomatoes and balsamic glaze. The Feel Good Burger changes monthly, with 15 percent of proceeds benefiting a local nonprofit: The Flying Hawaiian—a beef patty with Niman Ranch pulled pork, brown sugar-glazed pineapple and house-made jalapeño coleslaw—recently backed Kid Rocker, a Reno organization that helps students achieve their musical goals through education and performance. The Crabby Patty capped with fried soft-shell crab and house-made tartar sauce helped the Lead with Horses equine therapy program.
Feeling like a Fat Cat yet? We're not done here. It definitely takes two hands and a hearty appetite to handle the hefty signature Fat Cat Burger stacked with not one, not two, but three beef patties totaling a pound of meat plus melted cheddar, onion rings, avocado and bacon.
Did we mention that you can top any burger with Fat Cat's rich mac and cheese? Just don't expect it to stay put. If you don't want to deal with the cascading cheesy noodles or co-mingle your mac and meat, order it as an appetizer rolled with Buffalo chicken, breaded and deep fried, or as a side dish Fat Cat-style, laced with bacon and sautéed mushrooms.
The menu also boasts a donut burger—a beef patty with cheddar cheese and bacon tucked between, yes, two glazed house-made donuts. The sweet-and-savory weekend indulgence is available Saturdays and Sundays only.
Even man's best friend eats well on Fat Cat's dog-friendly patios, where you can order a "pup patty" for your pooch.
All burgers are served with a side of house-made skinny Kennebec fries, which can be ordered Fat Cat-style, amped up with garlic Parmesan, Gorgonzola mushroom or chili cheese accoutrements. The sweet-tart "cat"sup here is made in-house with touches of honey, Worcestershire and white balsamic vinegar, and is for sale by the bottle.
The ultimate Fat Cat burger experience? Ask for the Ultimate Bloody Mary (it's not on the menu), which is garnished with a full bacon cheeseburger plus chicken tender tossed in for good measure. It's a meal in a glass that will definitely leave you fat and happy.
---
The Fat Cat Bar & Grill is open daily for lunch and dinner, with indoor and outdoor seating as well as curbside to-go orders. 599 North Lake Boulevard, Tahoe City, CA 96145, (530) 583-3355; 1401 South Virginia St. Reno, NV 89502, (775) 453-2223; fatcatrestaurants.com
---
Incline Village-based writer Susan D. Rock is Tahoe Quarterly's longtime Food & Wine editor.