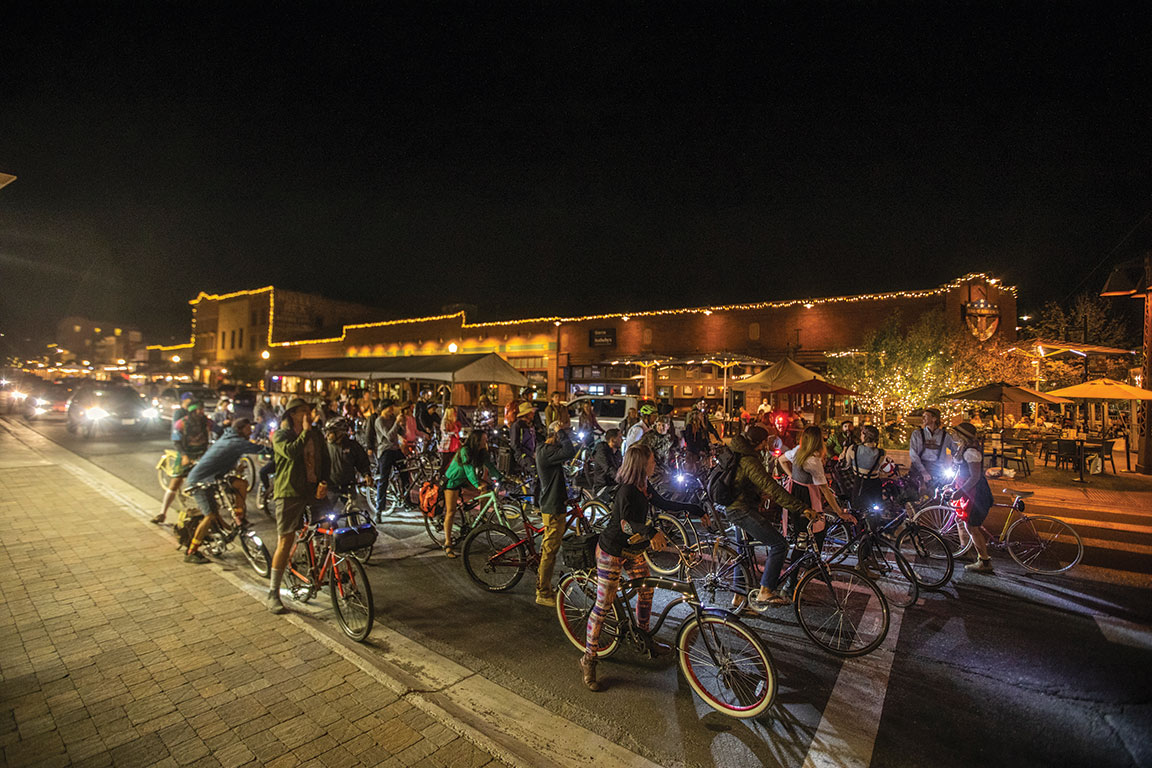 Revelers line up in downtown Truckee for the start of a festive Truckee Bike Night, held the first Thursday of every month during the warm season
23 Apr

The Ringmaster Behind a Stamina-Fueled Cycling Circus
Fred Stamm's group rides are both inclusive and exhausting—hallmarks of the 'Fredventures' that now populate the Truckee-Tahoe calendar
While leisurely walks in the neighborhood and a toned-down approach to life may suit some during the pandemic, for someone as athletically and socially inclined as Fred Stamm, that's just not going to work.
Stamm is active. Between his outdoor pursuits and a desire to engage the community he loves, the Truckee resident always has something on his radar. It often involves riding a bike, whether he's powering up Donner Pass to stay in shape, leading a festive group of friends through the wilds of the Northern Sierra Nevada or scouting new terrain for his next big adventure.
In fact, Stamm's affection for riding bikes and surrounding himself with good company has taken on a life of its own over the past few years, as the energetic cyclist with the ear-to-ear, mustached smile has carved out a niche organizing what have fondly become known as "Fredventures."
Involving anywhere from a select few to dozens of his acquaintances, these ambitious events are best defined as a hybrid form of long-distance riding on pavement, dirt and gravel. They are designed to be grueling, technical endeavors, but also jovial, all-inclusive missions, sometimes ending with a backcountry campout.
"Fred is like that older brother who is always down to do something amazing," says friend Rachel Dobronyi. "He ingrained in me the mantra, 'Always bring more snacks than you think you need and always bring a headlamp, even if you start riding at 8 in the morning."
In addition to his long-distance rides, Stamm also founded the monthly Truckee Bike Night in 2018—bringing friends and strangers together for an evening of lighthearted pedaling through Old Downtown—and has even expanded his recreational offerings to include ski touring and, most recently, an elaborate build of a snow fortress.
"For me, the most fun part in all this is the recon—building the snow fort, looking at maps to figure out the most fun and safe way to connect a huge area of technical terrain," says Stamm. "Seeing everyone coming together and developing friendships while discovering new places in their big backyard is why I do this."
Born to Bike
Stamm grew up in San Mateo, where he spent much of his childhood racing road bikes. He went on to compete collegiately at Cal Poly San Luis Obispo before joining the USA Cycling National Team, which allowed him to rub shoulders with professional riders from across the country.
One of the cyclists he met along the way was writer and trail advocate Kurt Gensheimer, who recalls witnessing Stamm's talents for the first time as a promising 17-year-old. The two were neck-in-neck in a breakaway group at the 2004 Santa Cruz Criterium.
"I thought my race partner and I were going to beat him easily," says Gensheimer, who was in his late 20s at the time, "but he beat us both."
With skill and stamina embedded in his riding, Stamm transitioned from road cycling to enduro mountain bike racing when the sport gained traction in the U.S. around 2009.
"I naturally fell into racing enduro based on my endurance and increased time on my mountain bike, but I never took it as seriously as I did when I was road racing," says Stamm. "After I retired from competitive racing, I discovered there is way more to life than riding bikes all the time."
A civil engineering job with Placer County brought Stamm to Tahoe City in 2013—the same year he orchestrated his first group bike ride.
Giro di StaMMina
Stamm was set to celebrate his 28th birthday when he organized a ride that would turn into an annual Tahoe endurance staple.
The idea for his ride, now called the Giro di StaMMina—aka the StaMMina Ride—was based on the Giro di SLO, which Stamm remembers from his college days at Cal Poly. The main difference: As opposed to an intense competitive event, Stamm intended for the ride to mix elements of fitness and fun, with everyone starting and finishing together.
"It started as my birthday ride that I wanted my friends to come on," says Stamm. "I framed it as an adventure into the unknown with a little more than the average rider might be comfortable with. My goal was for each rider to persevere and come out on the other side with the story of an epic journey. I hoped that everyone would push past their comfort zone, emerging with a new tribe of friends."
The StaMMina Ride caught on like wildfire, growing by the year. Although the 2020 ride was smaller than usual due to the pandemic, the 2019 ride drew over 80 participants (Stamm is one of those people who seems to know everyone, so gathering a big crew from Tahoe, the Central Coast and even a few folks from Canada is no big deal).
In order to put on the best ride possible, Stamm spends hours on his computer searching for decommissioned trails that will make for ideal routes. From there, he gets in the saddle for long scouting missions that often involve bushwhacking and getting lost. His goal is to create a new and unique ride every year.
While some cyclists in Tahoe are critical of Stamm's methods, Gensheimer, who lives near the mountain biking mecca of Downieville, refers to the forgotten trails that Stamm seeks out as the low-hanging fruit of the biking world.
"These are trails that are already there and need to be rediscovered," says Gensheimer. "It's within your legal right to maintain a historic trail and ride a mountain bike on it."
Catering to his friends' various levels of ability, Stamm divides the ride into two halves. Most people do the first half, which averages around 30 miles of trail, dirt roads and hike-a-bike sections. The second half is designed for truly expert cross-country and downhill riders—the type who love to suffer. Past rides have culminated in celebratory campouts in the Tahoe backcountry.
Although a group camp was not possible in 2020 due to pandemic restrictions, the ride itself went off without a hitch. Stamm teamed up with local trail builders Doug Thayer and Brian Farrington to bring two decommissioned trails in Tahoe City and Squaw Valley into the mix. The result was a grueling 42-mile ride that gained 7,600 feet of elevation. 
On a cool October day, riders set off from Squaw Valley under cloudy skies and an air of excitement. Some breezed up the mountain with relative ease. Others gasped for air as questions about their decision-making quickly replaced their initial boost of adrenaline.
Nevertheless, even those who struggled settled in and found their pace.
"You really bond with people you are riding with," says first-time StaMMina rider Brandon Skinner. "Pedaling up that final climb into a ruthless headwind, I felt like I would be letting my partners down if I didn't finish. Like any endurance [ride], you channel your energy any way possible, regardless of how agonizing it is."
An Evolution in 'Fredventures'
Muddy faces, sweaty jerseys and bloody knees aside, Stamm eventually came to the realization that not all of his friends want to ride bikes all day. So, he took another event based in San Luis Obispo and adapted it to his home in Truckee, launching Truckee Bike Night in 2018.
On the first Thursday of every rideable month, Stamm and up to 100 others congregate in downtown Truckee and embark on a group joy ride for a couple of hours after dark. Costumes are donned and bike lights glow as revelers hoot and holler through the warm summer evenings. The vibe is festive, and each month's ride has a different theme.
"Fredventures" have now expanded beyond the biking world, as well.
In late February, Stamm took the idea of community adventure even further by organizing a jubilant conglomeration of guys and gals who met deep in Page Meadows to dig out a giant snow fortress. After moving an ungodly amount of snow, they constructed two rooms, a tunnel, slide and staircase.
Once the fortress—designed as an ode to the full moon—was complete, the crew set out for an afternoon ski tour, followed by a laid-back evening under the glow of the moon.
While group gatherings aren't for everyone these days, the event was another attempt by Stamm to make people feel whole again while enjoying life in the great outdoors. In doing so, he's carrying on a tradition of bringing folks together, while at the same time making them earn it—a work-hard-and-party-afterward scenario.
Getting to know Stamm is easy. Keeping up with him is a whole different story. Like Kevin Bacon, all human beings in the world are six or fewer social connections away from going on the next "Fredventure."
---
Tahoe-based photographer and writer Ryan Salm never misses a moment to step completely out of his comfort zone in an effort to keep up with athletes who are in way better shape than he is. After all, how else would he gather the photographs and stories to tell afterward?