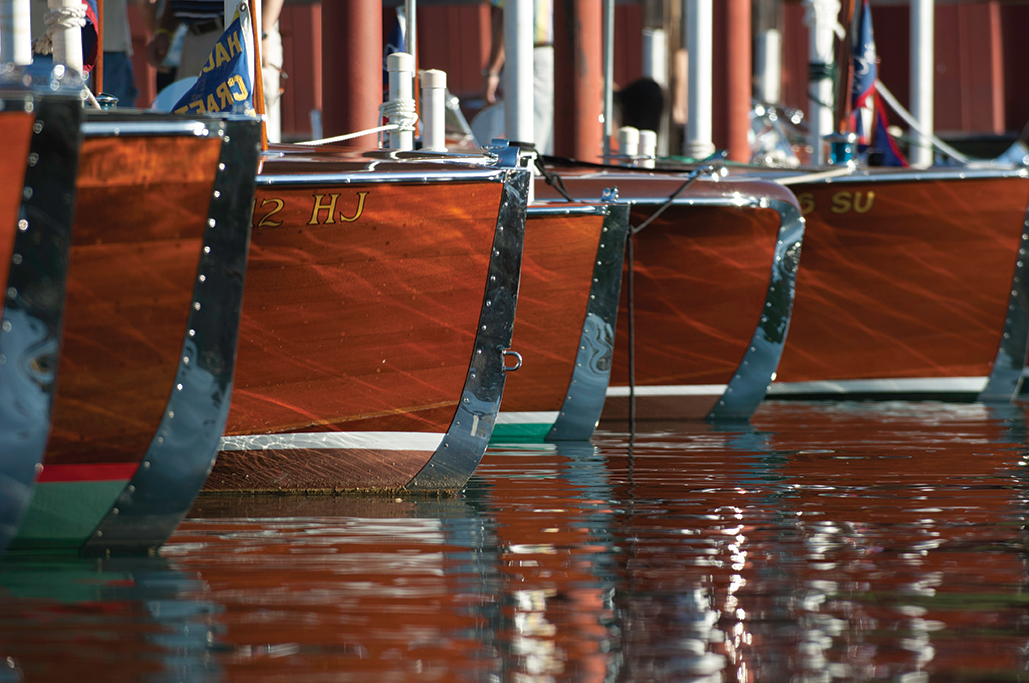 Each year, the Lake Tahoe Concours d'Elegance features more than 70 of the world's finest classic boats, photo by Court Leve
25 Apr

A Show of Excellence
The beloved Lake Tahoe Concours d'Elegance is returning after a two-year hiatus to fill Obexer's Boat Company marina with classic wooden craft
Decades-old photographs of childhood summers spent on Lake Tahoe may have faded over the years, but chances are good that the memories still shine in vivid color: impossibly blue skies rivaled only by the even more impossibly blue water below, glaring red nylon swim trunks, and the warm-honey to dark-chocolate to crisp-white hulls of the wooden boats skimming across the surface like stones skipped from the West Shore.
Wooden craft have a way of docking in the mind, capturing the imagination in a way that only a vessel built by hand to straddle two elements can. Ask just about anyone you meet at the Lake Tahoe Concours d'Elegance, an annual wooden boat show celebrating its 48th year in 2022.
Returning as an in-person event for the first time since the pandemic began (online-only incarnations in 2020 and 2021 featured photographs and "virtual boat rides"), the exhibition has drawn crowds eager to see selected specimens of yesteryear's most beautiful watercraft for half a century.
Steven Lapkin, a freelance photojournalist specializing in images of classic craft and sailing, is one person eager for its return. As co-founder of the Concours d'Elegance, he attributes the name to the late Owen Owens. The East Bay publisher and car collector loved Pebble Beach's Concours d'Elegance, a prestigious and internationally attended vintage auto show that has filled one of the world's most famous golf courses with McLarens and Alfa Romeos each year for seven decades and counting.
In addition to his land-based vehicles, Owens also built a collection of craft that called Lake Tahoe home. Eager to display his boats (along with other boats owned by members of the Tahoe Yacht Club), he borrowed the Concours d'Elegance title from the Monterey Peninsula's annual event and affixed it to a recurring celebration of Lake Tahoe's maritime history.
In the years since, the show has come under the auspices of the Tahoe Yacht Club Foundation—a separate entity—and now welcomes anyone with a wooden boat to apply for entry. Judges dole out awards for the finest vessels, attendees marvel at the loving and faithful maintenance and restorations, and owners enjoy lunches, cruises and other events organized throughout what's become known as "Boat Week" beyond the Concours itself.
"There isn't another wooden boat show in the United States that can hold a candle to what the Tahoe boat show became," Lapkin says.
The Beginning of a Boating Tradition
The Concours d'Elegance was born at Chambers Landing in 1972. The event pulled locals to Tahoe's oldest on-the-water tavern for a few years before moving to Tahoe Boat Company in Tahoe City in 1976—right around the time the esteemed Chambers Punch was being concocted in the original venue. (No causation should be inferred from that correlation.)
Per Lapkin, the Concours migrated because Owens wanted it to grow.
"The Chambers Landing property is cute," Lapkin says, "but you can only put so many boats at the docks."
Eventually, everyone motored over to Sierra Boat Company in Carnelian Bay, where the event was held from 1992 to 2014 before landing at the Obexer's Boat Company marina in Homewood, where it remains to this day.
Fifty years—minus the two virtual exhibitions—is a significant chunk of time, during which multiple changes to the event have pleased some boat lovers and peeved others. Perhaps that's not a surprise, given how fastidiously some owners revere history, preserving their craft so that the deck gleams like it did in the 1970s or '50s or even '20s. It may also have something to do with that nostalgic pull wooden boats have, dragging memories in their wake and serving as vessels that transport those whose formative years were tinged with the smell of varnish and glint of brass into a fondly recalled past.
"I grew up in wooden boats," Lapkin says, reminiscing about a childhood spent camping at D.L. Bliss State Park with his parents and brothers in the 1950s. They bought a cabin in the '60s, some property in Tahoe City and then a Chris-Craft from Herb Obexer.
Now in Newport Beach, Lapkin is still a Tahoe resident at heart, waxing encyclopedic (and often acerbic) on everything from Homewood's West Shore Cafe to Howard Hughes to visiting the Tahoe Keys to the lake's clarity 60 years ago.
He easily recounts the history of the Tahoe Maritime Museum, which he started in the late 1980s with Dick Clarke ("He individually is largely responsible for the number and eclectic nature of the wooden boats at Tahoe"), Alan Furth ("He had over 50 or 60 wooden boats"), Clyde "Buzz" R. Gibb and his wife Joan ("Recipients of the Thunderbird yacht"), and Eric Schmidt.
The museum's more recent operators reinvented it into a foundation in 2020, auctioning off its boats so that "very few have remained on Lake Tahoe, scattered to other great collectors and other great boating venues," Lapkin says. He excuses himself when he euphemistically describes many of his contemporaries as having "moved north" these days—indicating a celestial address as opposed to an earthly one.
"People have come and gone that made this event extra special," he says. "I sometimes get frustrated. I just turned 74. At my age, a lot of my wooden boat contemporaries are already looking down."
He admits to being something of a curmudgeon now. He cringes at the maritime museum's dissolution and resulting dispersion of its craft that had been rescued and restored from barns and fields all over the United States—although, he adds, "They now happen to be, in most cases, with worthy custodians." He also wasn't a fan of the attempts to create an online exhibition for the first two Concours of this decade. The last year he managed the show was 1996, and a lot has changed since then: "I'm not in charge anymore," he says.
Lapkin does relent a bit, however, saying that he began talking to current Tahoe Yacht Club Foundation President Ward Sproat in late 2021 and believes "the present hierarchy of the foundation will keep this event at its exquisite and unrivaled level."
Broadening the Draw
Perhaps the return of the flesh-and-blood Concours will prompt a similar return visit from some of Tahoe's wooden boat diaspora.
Sproat—a Truckee resident working through his first year as the Tahoe Yacht Club Foundation's president—says they're expecting more people this year than they have in the past. During the past two years of de facto down time, he decided he wanted to expand awareness of the Concours d'Elegance to hopefully create more of a national draw.
Historically, Sproat says, they could expect maybe one or two people to come from the Midwest. Most of the entrants were from California or other Western states.
The virtual Concours, however, pulled entrants from around the United States and a couple from Canada. Sproat's hope is that the push to promote pixels over in-person proceedings during the pandemic pays off by bringing in boats from longer distances now that folks are gathering again.
Another appealing element is the annual designation of a "marque class," which involves selecting a type or brand of boat to be celebrated and featured during the event. The 2022 marque class is Chris-Craft, a boat that began production in 1922, making this year the classic craft's centennial. 
The milestone was already grabbing the attention of potential attendees in early 2022 when Jeff Peterson, wealth management advisor at Northwestern Mutual, was formulating plans to bring his 1949, 22-foot Chris-Craft Sportsman—one of three boats he owns, alongside a 1929 Hacker-Craft and a 1969 Riva—from his home in Marin County to Tahoe for the event.
"When you start one of those up, the gurgle and the roar of that motor, it's just pretty cool," Peterson says.
Like so many others, the 59-year-old traces his nautical hobby to a formative childhood experience: When he was about 13 and living in Minnesota, his older sister dated a guy whose father was a large collector of wooden boats, paying as little as $100 for craft destined for the scrapyard or firewood. Todd Warner, who ran a restoration business outside of Minneapolis, took Peterson to a musty warehouse holding about 60 boats. The teen climbed around and explored, ultimately ending up on a Chris-Craft that had served as a rum runner for smuggling booze from Canada to Detroit via the Great Lakes. Peterson describes finding broken wood boxes still holding bottles in the boat's belly, as well as racks meant for tommy guns behind the seats.
"It was absolutely amazing," he says. "I thought, 'When I grow up, I'd really like to get one of these things.'"
Warner proceeded to teach Peterson how to ski behind a wooden boat one subsequent summer, and Peterson bought his first craft and had it restored in his late 20s. A couple had purchased the Chris-Craft brand new in 1949 as a 35th anniversary present, enjoying the boat on Trout Lake, Wisconsin, until they died in 1954, after which it sat in a boathouse until 1991. Warner restored it, and Peterson brought it to Lake Tahoe for the Concours.
"Our first show, we ended up getting first place in our class," he says. "We've just been enjoying it ever since. We've literally raised our kids every summer on these boats. … We've boated on other lakes, but mostly Tahoe."
Since his first Concours d'Elegance in 1992, Peterson has only missed the event due to COVID shutdowns.
"I'm absolutely thrilled that it's coming back," he says. "Talk about withdrawals."
Peterson explains that Chris-Craft started making the Sportsman model he owns in 1946, when post-war production began ramping up again. He says the company made 2,082 of them, all of which became increasingly desirable when the model starred alongside Henry Fonda and Katharine Hepburn in On Golden Pond.
He's probably not looking to have his own Chris-Craft judged again this year but would love to have her on display.
"She's a multiple award-winner. She's done really well," he says.
Execution of an Elite Showcase
Bringing a vessel to the Lake Tahoe Concours d'Elegance is not as simple as puttering into the marina on day one and choosing a spot along the docks. Sproat explains that there's a high bar boats must sail over to achieve entry. 
Applicants must provide a write-up on the history of their craft, including when it was built, the chain of ownership and whether it has been maintained, restored or rebuilt. The foundation requires a pedigree—as well as photographs—that the judges who arrive from around the country can review as part of a pre-show screening to determine whether the boat is worthy.
Sproat himself went through the process when he entered his 1960 Chris-Craft Capri in prior years, buying the classic wooden boat from Herb Hall at Sierra Boat Company after taking it for a spin about eight or nine years ago. Sproat joined the Yacht Club around the same time, then was asked to join the foundation board.
Now the former entrant is in charge of making the show happen. He began planning the current endeavor in January, working with Liquid Blue Events. The marketing and production firm identifies and recruits corporate sponsors for the event, which Sproat says provides "what I'll call the financial wherewithal to allow us to do the other things we do: renting space from Obexer's, renting tents, all the food, the bars …"
In addition to the workers, there are hundreds of volunteers "checking tickets, running will-call and making sure people don't fall off the dock" in four-hour shifts. Sproat says these helpers basically get a free two-day ticket into the event.
For its part, Obexer's has been prepping its marina in anticipation of playing host to 2,000 visitors a day, not to mention 60 to 80 boats and their skippers who need guidance in and out. Darren Kramer, the 40-year-old general manager at Obexer's Boat Company, hesitates to describe the scene as chaotic, opting instead to say it's "very intense, and very exciting."
"My crew is there to help as needed: launching boats … getting in slips, securing them, checking them daily throughout the show," he explains.
For the big event at the end—the "Roar Off"—a large portion of the boats move through the harbor in a sort of parade that involves each taking a brief spotlight for photos and admiration.
"Because we're a smaller marina than where the show was previously hosted, the noise of these old engines—the unique V12 engines, V8s, some small 6-cylinders—the sound is just incredible," Kramer says. "You really do create that 'roar off,' if you will."
Through it all, the Obexer's team tries to keep the boats moving as quickly as possible so there's minimal lag. Old wooden boats may look amazing, but they don't always maneuver very well. And for all that activity, Kramer says the majority of the work happens before and after the event.
"We shuffle everything around," he says. "After the show is over, we put everything back together for normal operations."
No surprise, but Kramer grew up in the boating world. He moved from Annapolis, Maryland, to Lake Tahoe to ski in his early 20s, getting his first summer job working the front desk at the Tahoe Yacht Club. That position eventually transitioned to general manager of the club, and he worked with the foundation to help put on the show for about 18 years, tapping into his passion for history in general and maritime history in particular.
Since settling in the Tahoe area, he's also developed a love for local history, something he's proud to share with the Obexers.
"We're now down to the fifth generation with Sarah's kids," he says. "In a world dominated by large corporations, we're still keeping what we feel is very unique and very special: We're keeping a family business going."
Commitment to that sort of legacy is a trait common to many wooden boat aficionados, who may pass their own craft down from parents to children—or at least carefully preserve the provenance of the vessel they care for. It's easier to see history, as well as your place in it, when the path from the past to the present is clearly delineated.
"You do not see boats like this made anymore," Kramer says. "You can't help but drop your jaw. Holy smokes. Then you see 50 or 60 of them all in one space? I don't care if you're a boat lover or not, you can't help but be blown away."
Supporting Tahoe's Venerable Queen
For as much as the Concours d'Elegance is a social event, it also serves an important philanthropic function. Sproat explains that net proceeds from the show support their charter to provide donations and funding to various nonprofits involved with preserving maritime history. One of the primary beneficiaries is the Tahoe Community Sailing association, which teaches children how to safely navigate the water each summer.
"The amount we donate every year depends on how much we clear from the show," Sproat says.
Among a few other recipients of that largesse is Thunderbird Lake Tahoe on the East Shore, dedicated to preserving the renowned Thunderbird Lodge and Thunderbird yacht—the venerable queen of Lake Tahoe that is displayed annually at the Concours d'Elegance.
Rolling out what he calls "the short version of a very long champagne bottle of a story," Bill Watson summarizes his involvement with what some people consider to be America's most famous wooden boat, starting with being tapped for a 90-day stint to photographically document Thunderbird Lodge "in preparation for what was almost certain demolition" in 2006.
Retired from the casino business and fresh from a stint in back-of-the-house politics, Watson fell in love with the spectacular lakefront property formerly owned by the eccentric tycoon George Whittell Jr. and found that he had six months to settle a $10 million note.
Joan Gibb—ex-wife of Tahoe Maritime Museum co-founder Buzz—owned Whittell's custom 55-foot Hacker-Craft built in 1939 and contemplated selling it, but Watson stepped in.
"I told her, 'How can you sell this boat? It's my biggest fundraiser,'" Watson recalls. "To go out on the boat is free. To come home takes writing a check."
Gibb said if he wanted it, he could buy it, so they put together a deal Watson termed "part purchase, part gift." If Watson could save the lodge, the yacht would remain with it in perpetuity. Suffice to say, he was able to save the lodge. That meant he kept the boat, too, but he likens his subsequent realization to a dog chasing a car: What do you do once you catch it? Gibb counseled that he should show it off, and thus Thunderbird became intertwined with the Lake Tahoe Concours d'Elegance.
Unfortunately, the pandemic's virtual exhibition meant the Thunderbird yacht missed her 80th birthday celebration, but Watson looks forward to bringing what he dubs a floating classroom and first-class ticket to the past to the 2022 show.
"Kings and queens and celebrities of all ilk have traveled aboard the Thunderbird yacht," he says, noting that it served as a getaway for everyone from Frank Sinatra to John Denver. "It's an opportunity to look into a window and see the Gilded Age of Lake Tahoe and all that went on here."
Whether or not schoolchildren appreciate that they're walking the same boards Sammy Davis Jr. trod when he needed a break from the crush of casinos, there's no denying that the beauty of the boat itself is a draw, no matter your age. As Kramer says, this sort of craftsmanship isn't often seen these days—which is a shame, certainly, but may also be a boon to the wooden craft that require caretakers to survive.
Concours co-founder Lapkin says he recently read about a resurgence in the wooden boat niche, seeing with his own eyes that more younger people seem to be attending boat shows around the country and are expressing interest in the classic vessels.
"They don't want fiberglass, they want wood," he says. "They don't want a Tesla, they want a vintage Mustang."
Embracing Both Past and Future
Speaking of fiberglass, Sproat says classic boats made of the lightweight material may soon be joining their wooden counterparts at the Concours for the first time.
"I'm inviting them to enter the show this year," he says, adding, "I know I'm going to get some blowback from the purists."
Sproat went into a proactive defense mode, citing national organizations that have allowed fiberglass boats in their own shows. The classic boat hobby group is moving this direction, he says, and part of keeping wooden boats alive—so to speak—is keeping the hobby alive in general. With that in mind, why not recognize the people who have invested in and taken care of vessels that may not be wood, but are well-preserved ambassadors of nautical life in the 1960s and early '70s?
After all, nostalgia doesn't care if the hull beneath your feet was Philippine mahogany or reinforced plastic. Finding the boat that captured your imagination for the first time is enough to transport you back to the days when the wind tousled your hair as you sped across the lake, squinting against the sun and knowing that anything was possible.
---
Ryan Miller is a writer who lives in the Sacramento area. Follow him on Twitter or Instagram, @jesteram.
---
If You Go
What: Lake Tahoe Concours d'Elegance
Where: Obexer's Boat Company, Homewood
When: August 12–13
Tickets: laketahoeconcours.com