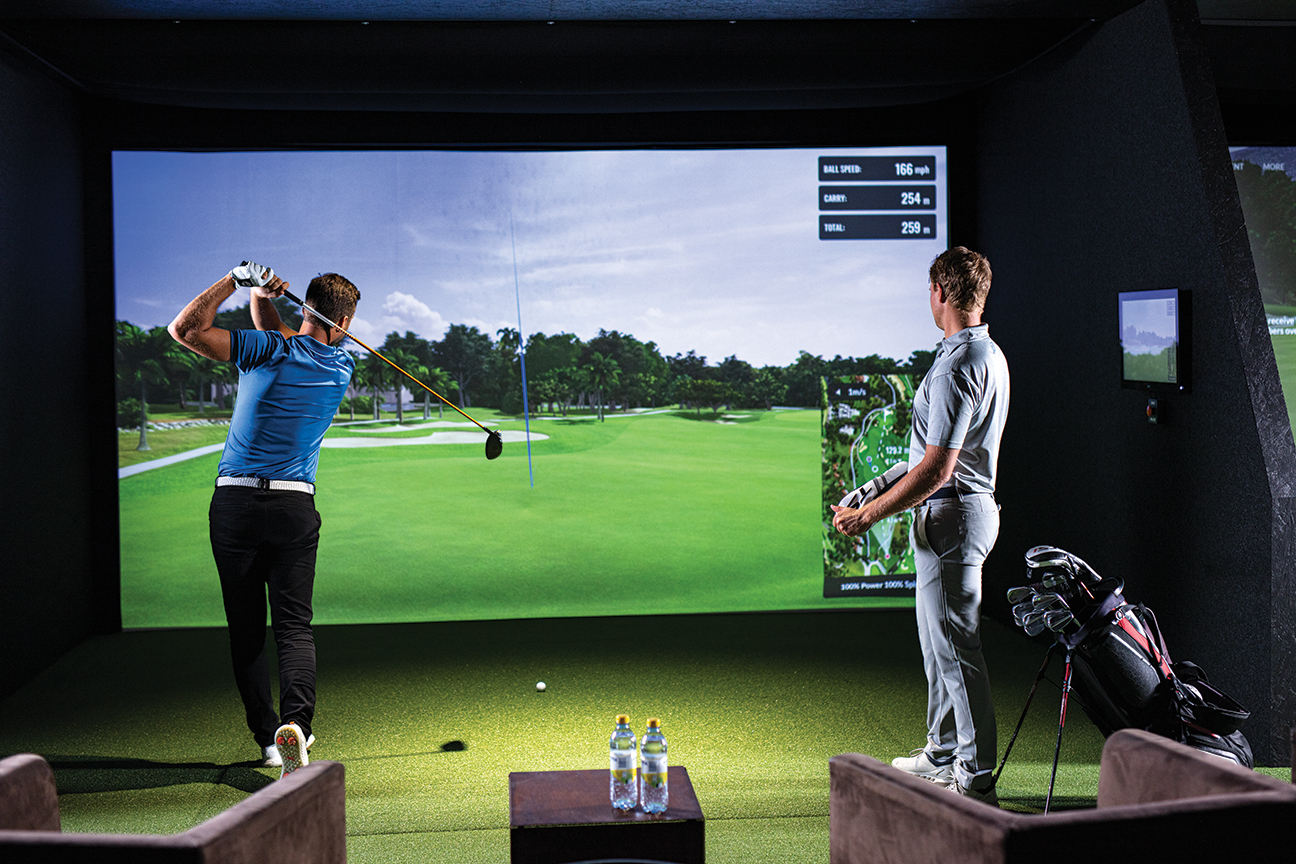 Golf simulators can replicate courses around the world in remarkable detail, photo courtesy TrackMan
25 Apr

Customization to a Tee
In-home golf simulators are a new high-end trend in the Tahoe area, giving players a chance to work on their swing—or simply enjoy a virtual back nine—even when local courses are buried under snow
Ryan Marsden, principal at Truckee-based Marsden Architects, first worked on a home that included a golf simulator about seven years ago. The next request came two years after that, indicating that interest in virtual indoor play existed, but was a functional rarity.
Now, a day at the digitized links is decidedly more popular. In fact, it's becoming something of a trend.
"I've seen a huge uptick in requests," Marsden says. "We have five homes in design or under construction in the last two years that have golf simulators."
There are several possible reasons for this relatively sudden surge: Technology has improved to make the experience more realistic and worthwhile, COVID lockdowns prompted housebound homeowners to reassess and improve their living spaces, and the pandemic's squashing of travel, dining out and other formerly common leisure activities built up reserves of disposable income.
Whatever the driving factor (or, more likely, combination of driving factors), the reality is that golf simulators are no longer something a friend of a friend might have in a basement. Like epoxy for finished garage floors and prominent wine cellars that proudly put quality vintages on display, golf-based luxury-home amenities are appearing more often in remodels and new construction—and they're increasingly taking center stage.
Mark Tanner of Truckee's Mark Tanner Construction says the last building show he attended before COVID featured three or four golf simulator companies. A year later, he started seeing architectural plans that included dedicated space to swing a 9 iron. He knows of five or six homes currently getting golf simulators in Clear Creek Tahoe and one in Martis Camp.
While some people may struggle to see the appeal of golf simulators—especially for residents in private golf course communities, who essentially have fairways for backyards—the allure is more apparent for anyone who has ever gazed at a snowy blanket of white and wished for access to the green beneath. The greater Tahoe area is home to multiple widely recognized and highly regarded courses, but tee times are reliably shut down each year when the weather turns cold. For homeowners drawn to communities built around ample access to golf, in-home simulators offer an opportunity to continue developing their abilities no matter the season—or at least to keep their driver from gathering dust.
Driving Space
There are several different types of golf simulators available from a range of manufacturers, but they all work the same basic way: A player swings a club to hit a golf ball into a large, soft screen. Strategically placed sensors feed the club path, launch angle, ball speed and other data into a computer. Some simulators use infrared light to read the club position, while others use radar or similar motion-detecting technologies.
The simulator uses the gathered information to extrapolate the ball's flight, translating the code into visuals projected onto the screen. Instead of seeing math-filled charts that dissect the details of their form, players can instead watch their drive sail 200-some yards toward the ninth hole at Pebble Beach. Users can choose from a library of courses rendered in faithful detail, some of which may come with the simulator and some of which require purchase or an annual subscription fee.
Manufacturers say that rigs like this can be set up in virtually any space. For practical reasons, Mark Tanner Construction Project Manager Casey Eberhardt says a roughly 20-by-20-foot room with a 10- or 11-foot ceiling is a good average. Tanner estimates needing about the same amount of space as a billiards room, adding, "We don't see many pool tables anymore."
Marsden says he's been doing more remodel work to include spaces that can accommodate a simulator, especially since the technology is changing so rapidly. Some clients are asking for sunken areas and tier-type seating, aiming to use the room as a home theater when it's not inviting foursomes to tee up. A rec room can relatively easily be adapted to the necessary specifications—and so can an extra-large garage, if ambience isn't a primary concern. Marsden says one client ended up with a large space under his house due to excavation work during construction. The architect suggested building out the area for a golf simulator, which the client agreed would be perfect.
"Some clients are asking for it. Some are falling into it because they have space," Marsden says. "What's really cool is there are a lot of options."
The range of options also means each project is unique, which is good for homeowners who want a truly customized setup, but presents challenges for architects and builders who are still on the early slope of the golf simulator learning curve.
Tanner explains that mats, screens and sensors often have to be positioned very specifically, which means that electrical wiring or HVAC ducts and vents sometimes have to be adjusted accordingly.
"If that's not thought out and planned ahead of time when framing, there could be repercussions," Eberhardt says.
One especially crucial element the Mark Tanner Construction team has come to learn about is lighting. LED fixtures interfere with some simulators' sensors, so they've had to swap in halogen bulbs instead.
Enjoying Your Investment
Todd Kaufman has had a golf simulator set up in his garage for about a year now, but is relocating it to an 1,800-square-foot building he's having constructed 20 feet from his house in Clear Creek Tahoe. The new structure will have a bedroom and bathroom where guests can stay when they visit—whether his octogenarian mom or adult kids—but Kaufman admits that the simulator "is kind of the reason for the casita."
His current TrackMan rig cost about $60,000 and consists of a "prefab sort of cage" with three soft walls and artificial turf underfoot. All the tech is mounted to the 15-by-15 cage itself, but the new layout will transfer the projector to the ceiling and the touch screen, keyboard and mouse to a wall. Kaufman figures he'll spend another $10,000 to hang everything up in the new space.
For Kaufman, the expense is worth it. He runs "a company that owns apartment buildings," so he says his job gives him a bit of free time and he's frequently able to enjoy his simulator, whether playing courses he's visited before or trying out Royal Troon in Scotland without having to cross the Atlantic.
"I would say I'm out there—during winter, when I can't golf—five days a week," he says.
Sometimes he'll work on his swing for about half an hour. Other times he'll have a few friends over to play a round of golf for a few hours. Given how often the simulator gets play, Kaufman is looking forward to moving it out of the space where he parks his vehicles.
"It's nice and finished," he says, "but it's still a garage."
Not only will the casita not smell like gas, but it will include a "full-on bar scene," so Kaufman can have a bunch of people over to hang out. He says the social element is a huge draw: "It's fun, you know? You're playing golf."
While offering drinks and a place to recount the highs and lows of a round approximates the clubhouse experience, there are some things a simulator can't replicate: chiefly, the reality of being there.
Earlier this year, Kaufman and six other guys from their club in Tahoe flew to Hawaii to golf at a private club there. To his knowledge, the course they played wasn't available on his simulator—making it something that could only be enjoyed in person.
Select Clientele
Golfers who don't have the space or money to install a simulator—and who aren't buddies with someone who does—aren't out of options if they want to try one out. Many courses now boast the technology, offering play and lessons in a virtual setting.
Doug Flynn, former head golf pro at the Links at Squaw Creek and Whitehawk Ranch Golf Club, says he put a simulator into a course he ran sometime around the turn of the millennium.
"I don't think the world was quite ready for those then," he says.
Now, however, they are more commonplace, though Flynn feels they still may be better suited for private homes—and even then, probably only if the homeowner truly wants one. As a real estate agent with Tahoe Mountain Realty, he's seen them enough to form an opinion of what they add to a home's resale appeal. Essentially, they're a niche feature that obviously only attracts fellow hardcore golfers.
"Would I put one into a 3,000-square-foot house? No way," he says. "There are just so many other things that are more important."
A 6,000- to 8,000-square-foot Clear Creek Tahoe home is a different story, especially since residents are likely already very golf-inclined.
Flynn admits that a golf simulator can be an enjoyable way to spend some time, adding that if it uses advanced technology like TrackMan, serious players can also use it to improve their game. He thinks the average 19-handicapper might not especially enjoy using the system as a training tool, but imagined this scenario: "It's Friday afternoon, raining, you've got a couple of buddies, maybe your wife likes to play, or your kids, whatever, a couple of beers—nine holes? Fun!"
For all that simulators offer, however, he says nothing beats the real thing.
"Being out there with the wind in your face, actually seeing the view, being here at this moment: It's just one of those feelings you're really not going to recreate."
---
Ryan Miller is a writer who lives in the Sacramento area. Follow him on Twitter or Instagram, @jesteram.