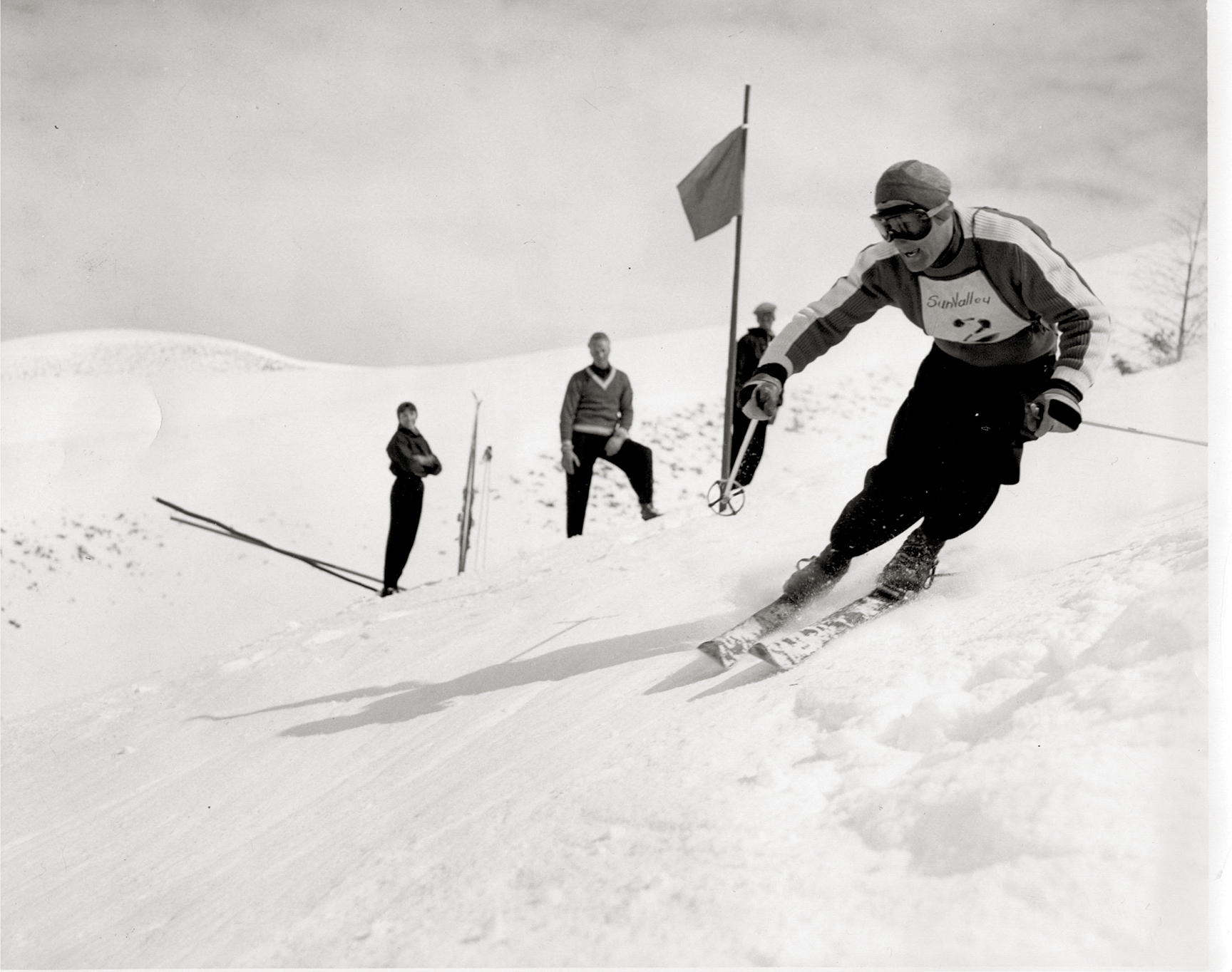 Dick Buek competes in an alpine ski race in Sun Valley, Idaho, photo courtesy SNOW Sports Museum
25 Apr

Dick Buek: Wild by Land, Air and Ski
Audacious and athletic, the 'Mad Dog of Donner Summit' may have gone down as one of the greatest American ski racers of all time had injuries—and an unfortunate accident—not cut him down in his prime
Lake Tahoe and Truckee tend to attract free spirits. Few have been freer than Richard "Dick" Buek.
Born in November 1929, the "Mad Dog of Donner Summit," as Buek was known, has left onlookers and historians in awe
for decades.
"Collecting Dick Buek stories is an exercise in the suppression of disbelief, anyway," wrote John Jerome and Jim Scott in a January 1970 profile of Buek in Skiing magazine. "How could he have done all that? What can you believe in all those crazy stories? Schussing (Sun Valley mogul run) Exhibition the first time he saw it. Winning a ski jump the first time—maybe the only time—he ever went down an in-run. Skydiving with a parachute he found in a scrap heap. Diving off the cliffs at Acapulco to win a bet for gas money home. Piloting a light plane on a slalom course around the lift towers at Squaw Valley, beneath the cables. And so on. The stories are legend."
A Legend in the Making
A product of both Oakland and Soda Springs—as well as alpine ski racing coach Hannes Schroll, founder of Sugar Bowl Resort—Buek learned to ski at age 17. He moved to Sun Valley, Idaho, three years later, in 1949, and went on to win the national downhill title in 1952 and 1954. He was also a member of the 1952 U.S. Olympic team.
Former Tahoe resident and hall of fame ski racer Dick Dorworth met Buek at the former White Hills Ski Area at Spooner Junction near Lake Tahoe around 1950, when Dorworth was 12 or 13. He grew to be friends with Buek and raced against him quite a bit during the latter part of Buek's career.
"He was just one wild-ass guy who liked to push the limits," says Dorworth—a bit of an authority on pushing limits himself, setting a world speed skiing record of 106 miles per hour in 1963. 
Buek drew inspiration from putting it all on the line and was so talented, with such incredible athletic ability, that he likely would be remembered as one of the greatest American ski racers in history had he not endured the severity of injuries he did, Dorworth says. 
"In downhill he had the ability to not back off at high speeds," says Dorworth, adding, "He was one of those people who was just born that way."
On skis Buek was calculating and bold, says Donner Summit historian Norm Sayler, and his racing titles and Olympic appearance attest to his elite ability. Yet, it's his unofficial accolades that set him apart from any other local legend.
"He did so many incredible things," says Sayler, who was Buek's close friend.
The longtime president and manager of Donner Ski Ranch recalls a time they flew to Reno in search of boat parts, and Buek threw his Piper Cub, and an unsuspecting Sayler, for a loop. Just getting started, Buek then discovered the vehicle left for them at the airport wouldn't operate in drive. Ever resourceful, he put it in reverse and proceeded to complete their errands—by driving backwards through the streets of Reno.
"He just had the fortitude to say, 'Yes, I can do it,'" Sayler says. "He just had a great attitude."
Buek could assess situations and, more often than not, summon the skills to do what was needed. He once used the bib of an injured racer at the Hahnenkamm in Kitzbühel, Austria, and not only completed the notoriously dangerous race, but finished in a respectable position, maybe even top 10, Sayler says.
One comical, if unsuccessful, stunt Sayler recalls was dragging an old Harley Davidson motorcycle, sans motor, out of a basement with Buek and pushing it down the mountain toward a ramp at the edge of Donner Lake, only for Buek to lose speed and keel over while going up the ramp—a classic failure to launch.
"That wasn't a very good thing, but we had a lot of fun," Sayler says with a laugh.
Olympic alpine ski racer Starr Walton Hurley looked up to Buek as a child on Donner Summit and remembers him tying his hands to his feet and successfully skiing down Donner Ski Ranch—just because. She also recalls Buek getting thrown around so much during a successful wrangling of her runaway horse that he "waved like a flag."
His passion for skiing and his caring nature are the remarkable traits that have stuck with Walton Hurley.
Played by actor Beau Bridges, Buek was memorialized in the 1975 movie The Other Side of the Mountain, which dramatizes the life of Jill Kinmont, a promising alpine racer who was paralyzed in a ski crash at Alta, Utah, in 1955. Kinmont and Buek were engaged at the time of Buek's death in 1957. The connection was worthy of the Hollywood treatment, Walton Hurley says.
"I think one of the great loves of his life was Jill Kinmont," she says. "I feel it was a true love thing with Jill. I really do."
Both Buek and Kinmont are enshrined in the U.S. Ski and Snowboard Hall of Fame. Kinmont, under her married name of Kinmont Boothe, was inducted in 1967; Buek in 1974.
Living the Fast Life
Like many hot dogs, Buek got his kicks from more than just skiing. He loved riding motorcycles fast and flying airplanes even faster. Injuries took their toll on his body.
In 1953, a year after winning the U.S. downhill title, Buek was struck on his motorcycle head-on by a car that drifted into his lane in foggy weather. Per the Skiing magazine profile, the impact was so violent that Buek's body peeled back a portion of the automobile's metal roof. Lying unconscious in the street, Buek was believed to be dead, and a sheet was placed over his body before a highway patrolman saw that he was alive and rushed him to the hospital.
Nearly every bone on the right side of Buek's body was broken, including his arm, wrist, ankle and pelvis, while his knee was badly shattered and his spleen ruptured. Doctors said he would never walk again.
Yet, Buek was back on skis less than a year later, training with only one leg as the other half of his body remained in a plaster cast. He would never regain full mobility in his right leg.
Despite the gruesome injury, Buek went on to compete in the 1954 U.S. National Championships at Aspen, Colorado, where he won the downhill title with a 2-inch metal pin in his reconstructed knee and two pins in his shoulder attached to a plate that held his arm in its socket—among other hardware that doctors used to hold his body together. 
In the years following the accident, Buek broke his back on two occasions, once while skiing and once while working as a telephone lineman. But he continued to push himself and his battered body to impressive limits.
"He was still an amazing athlete with one leg he could hardly bend," Dorworth says, remembering Buek ski training in Aspen in 1956, the same year he placed third in the downhill at U.S. nationals. "He did quite well, considering he could hardly walk."
Water skiing was also among Buek's interests, but naturally, he had his own spin on the pursuit. Sayler remembers Buek attempting to use his plane to tow Sayler on water skis across Donner Lake. They couldn't find a boat fast enough to keep up and allow Sayler to grab the rope. Buek eventually ran out of gas during the attempts and was forced to bring the plane down on the lake. He was unhurt that day and was able to salvage the plane and make a triumphant return.
"A few weeks later, here he comes, flying the thing back," Sayler says. 
Sadly, Buek's life was cut short by a subsequent crash into Donner Lake. Buek died November 3, 1957, at age 27 in a plane crash that also killed 30-year-old husband and father Richard Robarts. Accounts of the crash vary, with ice build-up, mechanical problems, a failed stall maneuver and/or a mix-up between Buek and Robarts reported to be among the factors.
"It was a big loss. I remember that," Dorworth says.
Buek left a legacy that any current or future Tahoe daredevils will be hard-pressed to top, both in feats of daring and the impressions he left on those around him.
"He was a hero in my eyes," Walton Hurley says. "He was a tremendous athlete and a tremendously caring person, and he loved to ski."
---
Adam Jensen is a freelance writer and former South Lake Tahoe resident who once did a loop in a glider, but has never driven in reverse through the streets of Reno.