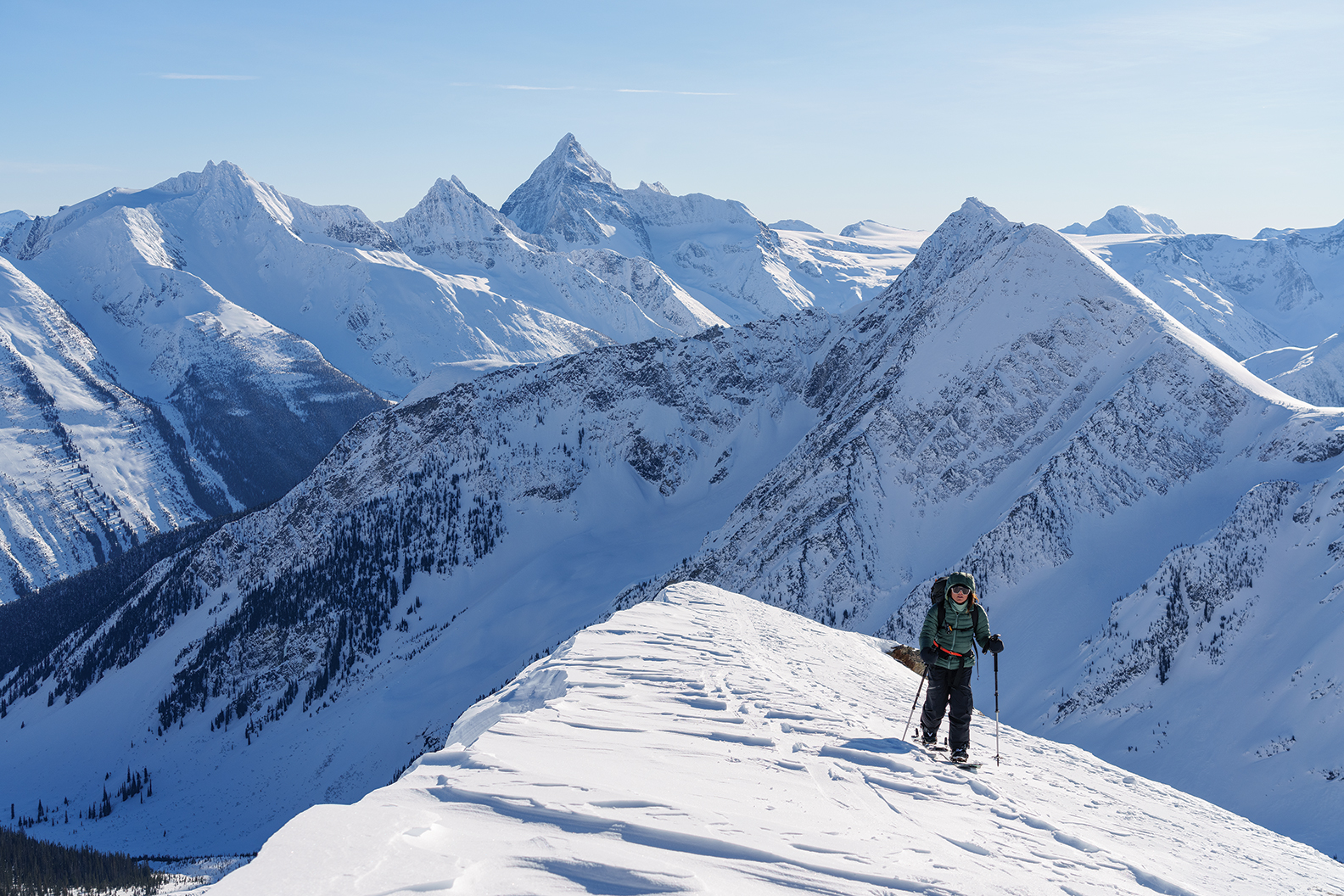 Elena Hight skins up Avalanche Crest on Rogers Pass in the Selkirk Mountains of British Columbia, photo by Fredrik Marmsater
25 Apr

Evolving to a New Hight
After closing the book on a successful 16-year career competing in halfpipe, South Lake Tahoe snowboarder Elena Hight has reinvented herself as a rising film star focused on big-mountain terrain
When Elena Hight speaks about optimizing her mindset, how activism and professional snowboarding have converged in her life or any other topic pertaining to her esteemed career, the 32-year-old South Lake Tahoe resident oozes both a casual tone and a depth of experience. With so much already accomplished, it's easy to forget that she is still in the thick of her snowboard journey.
And it's moving at quite the clip.
It's mid-February when she carves out time from her busy schedule for this interview, in the heart of a challenging winter for finding fresh snow in most of the world. Hight is in Montana, having traveled from filming in Canada for some life admin before returning north for more riding.
A couple of weeks before, the two-time Olympian and X Games gold medalist had topped the field in one of the most prestigious events in all of snowboarding—the Red Bull Natural Selection Tour—and a few weeks later she would debut a pro model board with Jones Snowboards, on top of planning more trips and competing in the remaining Natural Selection stops.
Managing such a full slate of obligations is nothing new for Hight. In fact, after maintaining a demanding professional career for more than a decade and a half, some of it may even be getting a little easier.
"The beautiful thing is that, as I've been primarily in the backcountry for four years now, the travel schedule is much more spontaneous, much more fluid, and based upon snow," says Hight. "I was really lucky to grow up in this industry, but I've had to learn to adjust, to prioritize keeping myself balanced energy-wise, as well as doing what's required of me for my career."
This balance epitomizes a career that has required Hight to stay limber and adjust accordingly with her progressive sport as she continues to push the boundaries of what is possible on a snowboard—both in the halfpipe contests that propelled her to fame and the relatively new realm of big-mountain riding.
"I feel she's always been able to roll with the environment that surrounds her. She's always been fierce, even as a kid," says Tricia Byrnes, a former professional snowboarder who met Hight when she was emerging onto the contest scene.
Early Ups
In the early 2000s, snowboarding enjoyed meteoric growth, buoyed by an Olympic presence, a thriving film industry and acceptance by a once-dismissive ski industry. It was in this pocket that Hight began to make her own space in snowboarding culture as a 5-foot-tall ripper from Hawaii.
After moving from Kauai to South Lake Tahoe at age 6, Hight quickly found her niche on the slopes of Heavenly, Kirkwood and Sierra-at-Tahoe. Halfpipe contests would soon enough become her specialty during a successful 16-year career, but not before falling in love with every facet of the sport.
"I really rode all of the mountain my whole career. My dad loved riding pow, and I was surrounded by a lot of older riders who were adamant about not riding just in the halfpipe or in the park," says Hight, who, in her formative years, was inspired by watching film segments of female riders such as Victoria Jealouse, Natasza Zurek, Annie Boulanger and Hana Beaman.
Hight began competing on the global stage at age 14, saying she was welcomed with "open arms" by the other riders, all of whom were at least four years older.
"When she first joined the circuit, she didn't seem quite like a grown-up, but she also didn't act like a little kid. She fully owned her space," says Byrnes, who became good friends with Hight while also serving as a mentor to the young talent, along with fellow competitors like Gretchen Bleiler, Kelly Clark, Danny Kass and others. "She was doing frontside 900s in the [Breckenridge] pipe in December when it was icy and gnarly and crazy. You have to have a level of confidence and commitment to be there."
For the next 15 years Hight dedicated her life to competing in an arduous schedule of halfpipe contests around the globe. She qualified for the 2006 and 2010 Olympic Games. She was the first female snowboarder to land a 900 in competition and the first person—yes, of either gender—to land a double backside alley-oop rodeo at the 2013 Winter X Games, a trick considered the feather in her cap of halfpipe riding. By 2017, with six X Games medals to her name, the 28-year-old beat out Kelly Clark and a 16-year-old Chloe Kim to earn her first gold medal at the X Games.
"Elena possesses an inner drive to just be the best she can be," says Hana Beaman, who was pivotal in introducing Hight to backcountry snowboarding. "She's curious, humble and OK with being uncomfortable, and realizes she can learn from her peers. I think that really helps her explore what she is capable of and not set limits to what she can accomplish."
Reinvigoration and Renewal
Fresh off her X Games gold, Hight planned to carry the momentum into the Winter Olympics in South Korea the following season. She did not qualify for the U.S. Olympic team, however. 
Hight has reflected extensively on that season in interviews, films and speaking events as a major learning point after failing to reach her goal.
"How many times can you fail so that you can succeed at the end of one of them?" Hight is quoted as saying on her official Olympics page. 
The halfpipe grind, and the 2018 letdown, took its toll on her psyche and redirected her career path.
"Over my career I had multiple dips of inspiration and love for what I was doing," says Hight. "I had a few times in my career where I questioned what I was doing and maybe felt less inspired. The last time this happened really coincided with not making the Olympics, and then having this opportunity to pursue something new."
That same winter, backcountry snowboarding legend and Truckee resident Jeremy Jones, who knew Hight and her acclaimed career, invited her on a 40-mile traverse across the Sierra Nevada's John Muir Wilderness to film for a project called Ode to Muir: The High Sierra. Hight accepted without hesitation, nor much experience in that realm.
In the film, Jones jokes about Hight's apparent ease of sliding into the grueling, multi-day slog: "My whole focus has been doing this stuff for 15 years, and Elena comes out here and has hardly been on a splitboard and never winter camped, and is like, 'This stuff's fun' … It's driving me nuts. It's supposed to be hard!"
Onward, Upward, Outward
Hight's evolution in the sport has a sublime and almost romantic narrative arc to it—scrapping it out for recognition and a paycheck in the salad days, rising to Olympic stardom and then leaving behind the podium for the soul-filling hinterlands of the raw mountains as a backcountry film star.
But while she seemingly pulled off the transition with ease, switching disciplines mid-career is an insanely difficult feat, requiring a rider to go from beginner to veteran back to beginner, and then maybe someday back to veteran. It also takes money, and longtime sponsors might not stick around to help fund the transition, which is what happened to Hight.
"A lot of people who compete think they're going to transition into the backcountry when they retire from contests, but a lot don't," says Byrnes. "She's actually been able to make it happen and brought the same level of commitment, dedication and passion to the backcountry as to the halfpipe."
In the four years since she hung up her pipe jersey, Hight has kept active. She anchored the backcountry-centric movie Blank Canvas with an elite cast of riders—Jones, Beaman, Travis Rice, Danny Davis, Sammy Luebke, Nick Russell and others. Among the highlights of the film, Hight rode Tahoe's infamous Grizzly Spines in Blackwood Canyon, achieving another first for a female rider. Nevertheless, she still labels herself a "rookie" in the backcountry, with her main focus to learn as much as possible about the mountains.
Tim Manning, a cinematographer who has worked with Hight for 15 years, recalls a trip to Alaska in 2019 with Hight and other standout riders like Jamie Anderson, also of South Lake Tahoe. While Hight had only recently moved on from halfpipe riding, Manning could already see the progression.
"To be able to ride up there, you have to know how to ride these big faces, and Hight makes an incredible turn," says Manning. "A lot of people make a big heelside hack, but she knows how to turn and ride that terrain."
The Nerve of Some People
Although she retired from halfpipe, she's not yet fully done competing. Hight got tapped to be a part of the top-notch roster of athletes in the Red Bull Natural Selection Tour. The three-stop specialty event morphs together an array of disciplines and tests athletes' powder-riding skills, backcountry prowess and freestyle trickery.
"It definitely brought the nerves back, being in a jersey," says Hight, who won the tour's first stop at Jackson Hole and placed second in the next event in British Columbia, setting her up for a solid shot at the overall crown after the final stop in Alaska.
The nerves she mentions are something Hight has been working on managing her entire career. As a teen, she worked with a sports psychologist who taught visualization, which evolved over the years into a practice that involves yoga, meditation, breathwork, recovery and more. She believes these skills apply to a range of snowboarding situations, even if the tangible dangers may be quite different within the icy walls of a halfpipe versus the big mountains of Alaska.
"When I stepped into the backcountry, the feelings I was getting were very similar, and my competitive background really helped me harness them, as I already had the tools to deal as best as I could," says Hight.
One of the main themes she's picked up from her backcountry partners is a heightened ability to recognize and follow her instincts.
"I think that's something that sets the backcountry world apart from contest riding, the way that instincts are such a big factor in success and safety in line choice and more, and that circles back to having a clear mental space," says Hight.
All these avenues for learning in the backcountry help her continue to mine her passion. She says Alaskan spine lines are the type of terrain most compelling to her at the moment, calling them "the golden nuggets" of snowboarding.
As Hight continues to reinvent her snowboarding career, her ambitious goals and eagerness to improve indicate no shortage of inspiration to keep strapping on the boots for the foreseeable future.
"One of the beautiful things about the backcountry is it's a lifetime of schooling and lesson-learning, and there is no mastering the mountains," says Hight. "No matter how much time you've spent back there, you are still a student of the mountains."
---
North Lake Tahoe writer and snowboarder Dave Zook continues to be amazed, inspired and motivated by riders like Elena Hight, who show there are no limits or labels to be put on what a snowboard career should like look.