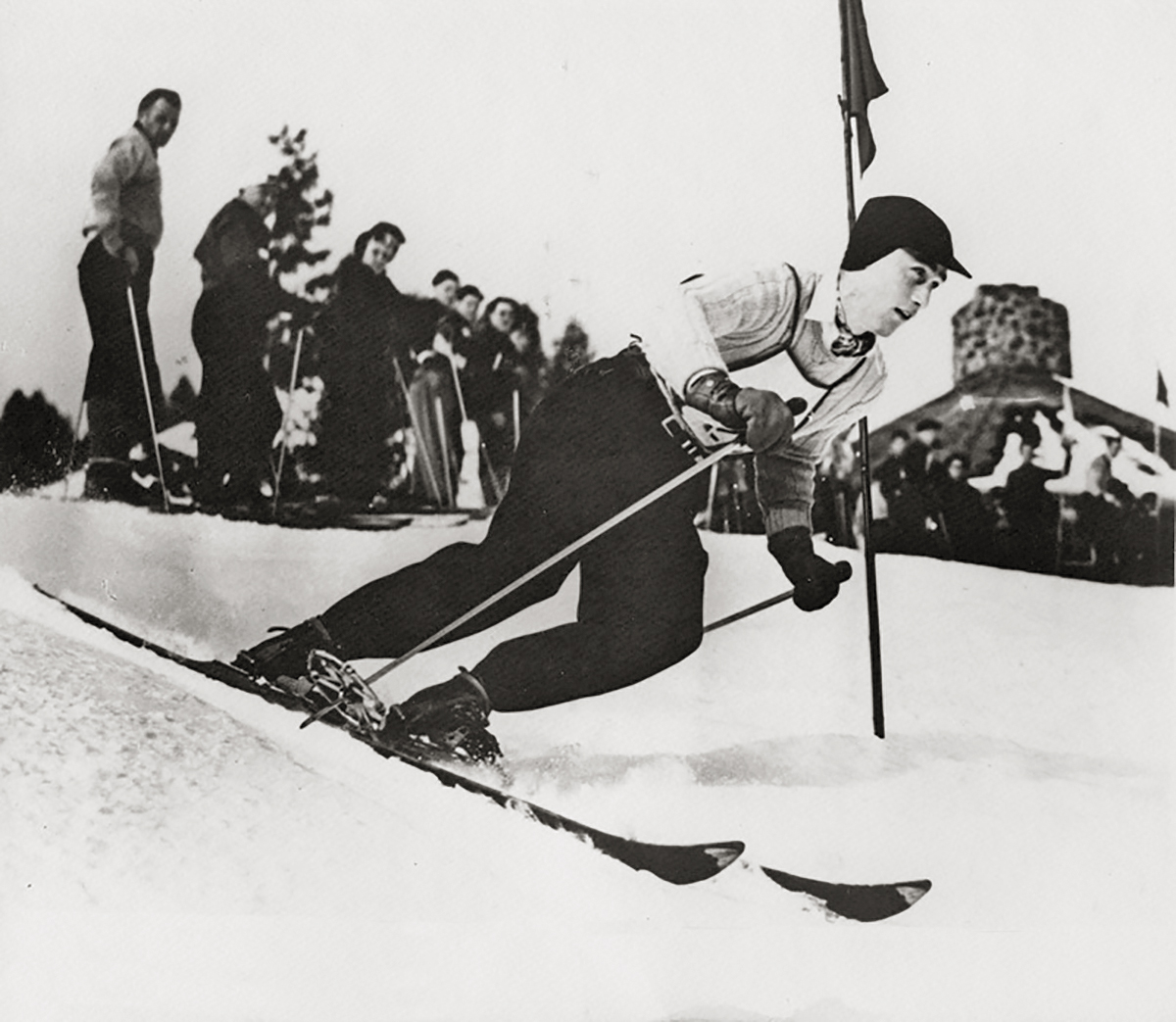 Carl Bechdolt Jr., aka The Hawk, was a standout ski racer and jumper in the 1930s, courtesy photo
25 Apr

Family Ties
2022 Olympian JC Schoonmaker comes from an athletic, ski-loving family who has called Tahoe home for five generations
Many an athlete has represented the Lake Tahoe region over the years on the grandest winter sports stage of all: the Olympic Winter Games. After the most recent iteration in Beijing, JC Schoonmaker can add his name to that lengthy list.
But while a significant portion of these Olympians were born elsewhere and moved to Tahoe to train, Schoonmaker is anything but a transplant. In fact, to say that the national champion cross-country skier has roots in the area would be an understatement.
Schoonmaker's family ties in Tahoe City date back to 1906, when his great-great-grandfather, Carl Bechdolt Sr.—better known as "Pop"—took up residence on Tahoe's North Shore. Five generations later, his descendants still live in this scenic corner of the lake.
In addition to his good fortune growing up in such a coveted location—where the skiing is plentiful and the beauty endless—Schoonmaker also reaped the benefits of his family's athletic genes.
Pop Bechdolt's eldest son, and Schoonmaker's great-grandfather, Carl Jr., was a standout skier across multiple disciplines and could well have been an Olympian had the 1940 Winter Games not been canceled. Carl's younger brother Bill was a competitive skier as well, with both Bechdolt boys learning the daring sport of ski jumping on the slopes of what is now Granlibakken, where Pop helped judge the contests. Meanwhile, Bill Bechdolt's daughter, Cheryl, became a member of the U.S. Ski Team and a national champion in the 1960s and '70s.
Schoonmaker never got the chance to meet his great-grandfather, Carl Bechdolt Jr.—who earned the nickname "The Hawk" during his long tenure as owner of the Tahoe City Golf Course—but he's aware of the legacy he left both as a promising young skier in the 1930s and an influential member of the community until his death in 1976.
Planting Tahoe Roots
Pop Bechdolt first came to the area as a summer fishing guide and worked as a meat cutter at the Tahoe Tavern before purchasing the Tahoe Inn—where Blue Agave is now located in the center of Tahoe City—in 1930. The inn burned to the ground in April 1934, but only three months later it was rebuilt in time for the Fourth of July. The Tahoe Inn housed Pop's Corner, which remained a popular watering hole into the 1960s.
Carl Bechdolt Jr. and his brother Bill, born in 1919 and 1922, respectively, grew up in what was then a small, close-knit hamlet that centered around skiing in the winter months.
"Snow play and skiing was a major part of our lives. You have to remember that in 1928, when I was 6 years old, there were only 12 families in Tahoe City," Bill Bechdolt once told Robert Frohlich, the well-known Tahoe author.
"There was no school in the wintertime. Our school closed in December and opened in March. So, all winter you had a lot of time. We learned to Nordic ski. All the kids played around on skis. That's how you got anywhere."
The Bechdolt boys learned to ski and jump at Olympic Hill (now Granlibakken), along with Grass Lake (now Sky Tavern), Auburn Ski Club (then located at Cisco Grove) and the Truckee ski jump (near what is now the Cottonwood Restaurant & Bar). Closer to home, Carl and Bill installed a rope tow up the hill from the Tahoe City Golf Course in the 1930s.
Skiing Success
By 1939, Carl Bechdolt Jr. had developed into a top-notch winter athlete. He was president of the Lake Tahoe Ski Club—which his father founded with Jack Starratt and Joe Henry during the 1928-29 winter—and starred on the University of Nevada, Reno ski team coached by Wayne Poulsen, who would go on to co-found what is now Palisades Tahoe. Back then most skiers, including Carl Bechdolt Jr., competed in all four disciplines: downhill, slalom, cross-country and ski jumping.
While ski racing was just beginning to grow in popularity in the United States, jumping was already a successful spectator event. In fact, a large ski jump was built on Treasure Island near San Francisco as part of the Golden Gate International Exposition, an elaborate World's Fair in 1939 and 1940.
"A lot of those Tahoe guys went down to jump at the exposition," says Eric Poulsen, Wayne's son. Included were Carl Bechdolt Jr. and Wayne Poulsen, who broke his ankle while jumping for the crowds.
In 1939, three years after Poulsen created the University of Nevada, Reno (UNR) ski program, the team finished the season undefeated. Carl Bechdolt Jr. was the team's most accomplished skier across the board.
"As a general all-around skier, he was the best," says Tahoe historian Mark McLaughlin, adding that Bechdolt was UNR's most likely skier to make the 1940 Winter Olympics.
A Promising Career Ends Too Soon
Bechdolt never got the opportunity, however, as both the 1940 and 1944 Olympics were canceled due to World War II. Additionally, Bechdolt contracted polio, although none of his descendants can pin down exactly when the disease took hold. 
"I think he might have had polio before college," says McLaughlin. "It really started to develop more seriously later. When he was at the top of his game at college, there were days he felt bad and went out and competed anyway. It was a race against the clock."
While Bechdolt continued to compete at a high level through at least 1939, his days as a skier were limited. The impact of polio on his body also left him unable to serve in the war, when numerous winter athletes from both UNR and the Tahoe area, including Bill Bechdolt, fought on skis as part of the 10th Mountain Division.
With his competitive ski career over, Carl Bechdolt Jr. settled down and started a family, having six children with his wife Elsie. Their daughter, Mindy Belding (Schoonmaker's great-aunt), says she and all her siblings grew up as avid skiers, including her brother Calvin, who followed in his father's footsteps by becoming a competitive ski jumper.
Meanwhile, Carl Bechdolt Jr., whose last hurrah in ski jumping came as a judge at the 1960 Winter Olympics, segued into a formidable golfer.
"He couldn't hit the golf ball far, but could hit it straight," says Belding, who remembers her father walking with a limp and sometimes using a cane.
Being able to golf was important because Carl and Elsie purchased the Tahoe City Golf Course—the oldest course in the Tahoe Basin—in 1948. They lived right on the sixth fairway, where, as legend has it, Carl would watch the course closely to make sure no kids were causing trouble by stealing golf carts, hence his moniker as The Hawk.
An Olympic Dream Comes Full Circle
Like his great-grandfather, Schoonmaker was born into a ski-loving family and community. His mother Marty—Carl Bechdolt Jr.'s granddaughter—is a strong Nordic skier herself who can often be found zipping around the trails at Tahoe Cross Country. She began teaching her son to ski when he could walk.
Schoonmaker grew up training with the best the Far West Nordic program has to offer, including the first-rate coaching at Auburn Ski Club and the Sugar Bowl Academy Elite Team. After graduating from North Tahoe High School in 2018, he joined the University of Alaska Anchorage ski team before becoming a member of the U.S. Ski Team in 2021.
In January 2022, Schoonmaker claimed the U.S. national title in the freestyle sprint event. A month later he represented both his country and his hometown at the 2022 Beijing Winter Olympics, where he placed 15th in the individual sprint race and 9th in the team sprint along with Ben Ogden.
The experience was a dream come true for Schoonmaker and his family.
"I'd never been to a race with so much excitement," says Schoonmaker, who was touched by the outpouring of support he received from his North Tahoe community. "It made me feel better and really set in what the Olympics was all about."
Schoonmaker returned the favor by helping coach the young members of the Tahoe XC Devo Team when he got back to town—passing on his expertise to yet another generation of Tahoe winter athletes.
The Hawk would be proud. 
---
Freelance writer Tim Hauserman is a nearly lifelong Tahoe resident who grew up surrounded by Bechdolts. He's proud to have coached a young JC Schoonmaker back when he was a member of Tahoe Cross Country's Strider Gliders program.