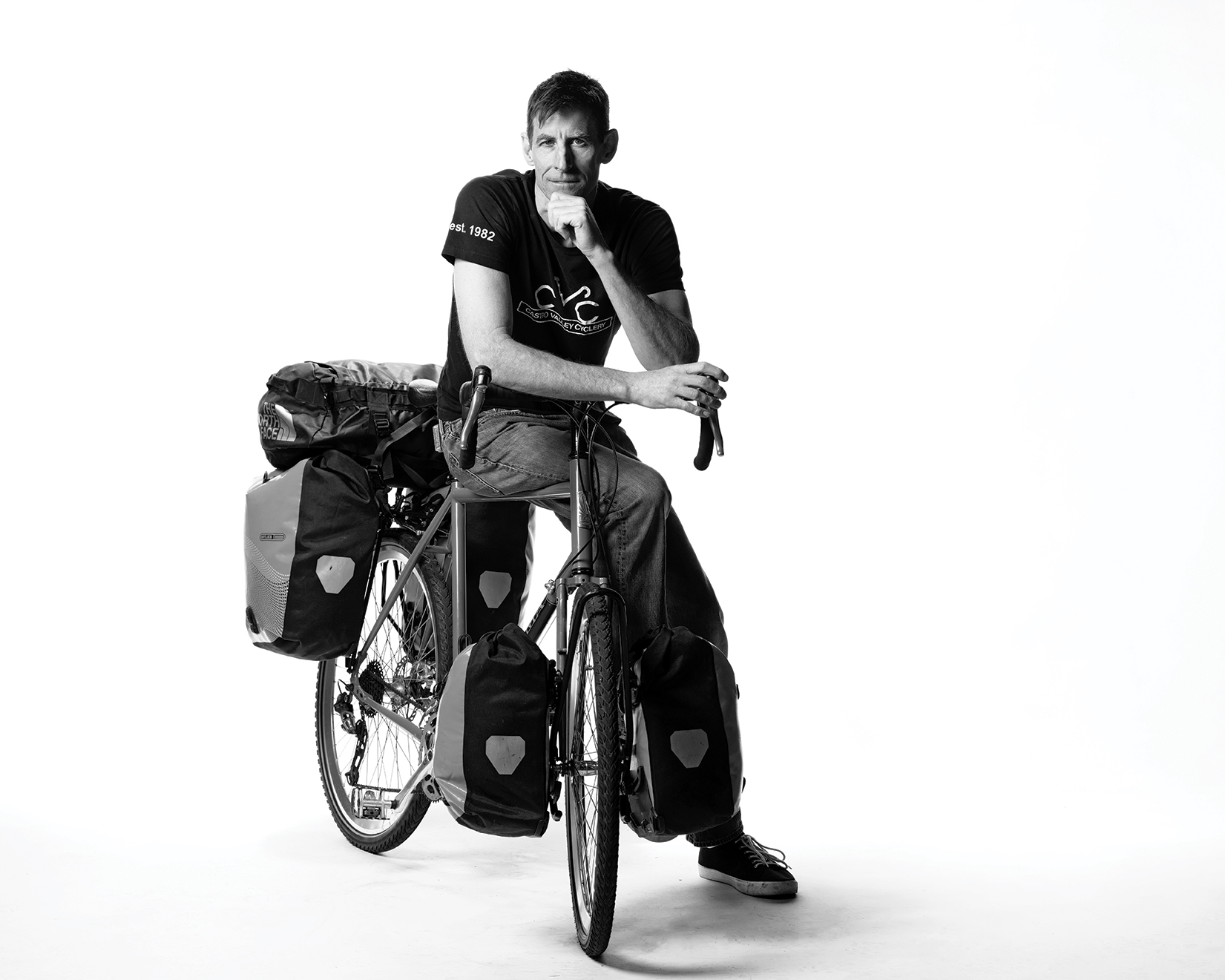 Longtime Tahoe resident Rick Gunn has ridden his bicycle more than 40,000 miles through 40 countries, photo by Matt Theilen
25 Apr

Who is Rick Gunn?
Tahoe renaissance man, outdoor dirtbag, dharma bum … pick two
It's a sunny, warm afternoon at Kirkwood Mountain Resort, but it's been so sunny and warm lately that the snow has turned to concrete. Nobody without obsidian edges is having much fun. Well, except one person.
Here I am, a snowboarder with a grimace chasing a 6-foot-6 telemark skier with a wide, beaming smile. The skier is 58-year-old Rick Gunn, who told me two hours before, "Don't get impatient with me. … I don't ski like I used to."
"This is not fun," I tell myself. "How is he smiling?"
I never catch him and have never caught him. Whether it's biking, skiing, swimming, cooking, nobody does.
Tracey Milne, who lives in Scotland and is one of Gunn's closest friends, describes him as adventurous, passionate and brave. Yet those descriptors overlook perhaps his most redeeming quality: humble.
"He is a really strong mountain biker but sometimes he downplays that because he doesn't care that much about it," says Matt Niswonger, editor of Adventure Sports Journal. "He downplays how good he is at a lot of things. Then I get out there on the bike with him and I'm like, 'How do I even come close at keeping up with this guy?'
"Outdoor recreation has a shallow side that is attracted to the person who skis that jump or that cliff. But those of us who are lifers, we are into this whole idea of a bigger meaning and being in the moment: How do we make a better world through climbing and bicycling? That's Rick."
'Soul Cycler'
Gunn is a veritable Lake Tahoe dharma bum, a South Lake Japhy Ryder who, in between stints working as a ski tuner or a carpenter, wanders the globe trying to connect with other humans. He's pedaled more than 40,000 miles through 40 countries. But instead of a life focused solely on jugs of wine and jazz, or of deep thought and marijuana cigarettes, none of which Gunn dismisses, his journey to enlightenment is carried out using the simplest form of modernity: a bicycle.
He earned the nickname "Soul Cycler" during his three-year bike trip around the world that started in 2006, when he ditched his career as a newspaper photographer and cashed out his retirement. He hasn't really had a full-time job since, but the smiles haven't stopped.
Whether it's skiing, cooking, bicycling, swimming, running, photography, Gunn's life has been in perpetual motion ever since he was given his first bike as a 5-year-old, a purple 1967 Schwinn Stingray.
"This is the life of someone with ADD," he jokes.
Gunn moved to Tahoe in 1988. His first job was as a dishwasher at a Mexican restaurant in South Lake Tahoe, where Whiskey Dick's bar is now located. Even as a dishwasher, "I was in heaven," says Gunn, who grew up in Castro Valley and landed in Tahoe after a stint in Maui.
"I couldn't stop pinching myself that I was lucky enough to be living in Tahoe. I still feel that way. I don't feel like what we do for work defines us as people. I know that's not how most people in this world think, but I don't live in their world."
Understated Talent
Here's another thing about Gunn: He's among the most talented photographers in an area that boasts some of the world's best photographers. Yet, his work is relatively unknown outside a cadre of friends and journalists fortunate enough to know him and his work.
"If he was a hustler and an entrepreneur with his photography, he would find a way into the top magazines and onto editors' Rolodexes because his talent is undeniable. He's that good," says Jim Scripps, head of the journalism department at Sierra Nevada University. "But he's not ambitious in that way. He's ambitious for something different than paychecks. He's ambitious for experiences, and he does shitty jobs that he hates so he can photograph what he likes and do what he wants, which is explore the world on his bicycle."
Tall, athletic and with the tanned, weathered skin of a man who's spent the majority of his life outdoors, Gunn is a renaissance man. He's also a connoisseur of wine and food. But don't be fooled. The mechanism to his life of adventure and enlightenment is his bicycle, and his photography documents those transcendent experiences.
"I'm not a commercial photographer, I'm not a wedding photographer, I'm not a newspaper photographer," Gunn says. "I like to ride my bicycle, take pictures of people and write stories about those people. There's not much of a market out there for a photographer like me. I guess that's why I'm broke and working as a ski tuner this winter. I probably could make more money shooting other things, but that's not who I am."
After leaving his initial job as a dishwasher, like most 20-somethings in Tahoe, he worked a litany of jobs. He landed his first photography job at the Tahoe Daily Tribune, where he photographed pets and houses for real estate advertisements. As a teenager, he took photography classes in middle school and high school. His father, an art teacher in the Bay Area, introduced Gunn to photography by enrolling him in a local recreation department's after-school program. 
In addition to working part-time at the local newspaper in the late 1980s and early '90s, Gunn worked as a ski resort photographer at Kirkwood. His job was simple: Snap photos and sell them to skiers. If nobody bought a photo, Gunn didn't get paid. His photography work took him to the now-defunct North Lake Tahoe Bonanza newspaper in Incline Village, and in 1992 he became a full-time photographer at the Nevada Appeal newspaper in Carson City. 
A Photographer's Touch
In December of 1990, Eric Jarvis moved to Tahoe and landed the same job as Gunn, shooting pictures of skiers at Kirkwood. Jarvis mentioned being homeless, to which Gunn replied, "Not anymore; you're staying with me."
"He pretty much adopted me at that point," says Jarvis. "What blew me away about Rick was the level of adventure and the boyish energy that he had. He would do something after work that was more adventurous than what most of us would do on a day off. He'd toss the backcountry skis into the back of the truck and go hike (Mount) Tallac at 3:30 in the afternoon."
Jarvis, a professional photographer who's joined Gunn on bicycle trips from Maui to India to Laos, recognized Gunn's unique gift during the first winter working together at Kirkwood. Jarvis didn't sell many photos at first, whereas Gunn did. When positioning skiers for posed photos, Gunn put his hand on someone's shoulder or tapped their elbows.
Gunn told Jarvis, "You didn't touch anybody. I touch everybody."
The next day, Jarvis started touching people on the shoulder and sold $100 in photographs.
"I knew more about photography at the time, but he gave me tips on how to connect with people," Jarvis says. "As a photographer, when it comes to the actual skills of the camera, he's gotten to be tremendously talented and skilled. He can deliver the shot under any circumstance you can throw at him … except for, like, a wedding, which makes his skin crawl.
"What makes him different from other photographers is the way he engages with the people he's photographing. He wants to get to know people, and then he thinks about taking pictures. People let him in more, and you get the sense that this person has opened up to the image because they've opened up to Rick."
Scripps, a former reporter and editor who met Gunn in 1999 when they worked at the Nevada Appeal, immediately connected with the photographer. According to Scripps, Gunn was the prototypical Tahoe guy: artistic, talented, visually creative, but not structured. He remembers Gunn's fleeces always covered in dog hair and that he was either coming from an exercise activity or going to one.
"It took a lot to work with Rick because he was a wild animal … you had to curate his work a bit," Scripps says. "He was an artistic photojournalist. If I was writing a story about a plane that crashed, I had to remind Rick to make sure he took a photo of the plane that crashed. There are only a few photographers that are as good as him. He was an A-plus-level photographer whose talents were being expressed in a community newspaper. That always struck me as funny.
"Beyond that, he was the person who introduced me to the Tahoe lifestyle, that lifestyle of the Lake Tahoe ski bum and outdoor dirtbag. He was always living hand to mouth. He has this uniquely saleable skill—he could be selling prints of Emerald Bay to tourists, for example—but it doesn't interest him. He's more interested in riding his bike and learning about the world."
COVID and Caldor
Before the COVID pandemic struck in 2020, Gunn suffered two debilitating injuries that, for the first time ever, slowed him down.
One day, working as a laborer, he fell 20 feet from scaffolding. Shortly thereafter, while working in a kitchen, he suffered a serious injury after spilling boiling water onto his lower extremities. For three weeks, he crawled from his bed to his car to visit the burn specialist. He had to keep his feet above his heart for six weeks while horizontal in bed.
"I had nearly fallen to my death off scaffolding, (then the burns), and wondered if I had done something to piss off the universe," Gunn says. "I don't have to say that, as soon as I was able to, I reached for that inanimate object that brought me back to myself … that two-wheeled machine that seems to right all that is wrong."
He has slowly regained his physical strength and confidence, and now is planning another international bicycle trip. Working at a kayak shop in the summer of 2021, he saved enough money and was on the brink of leaving before the winter of 2021-22. Then the Caldor Fire disrupted tourism by late August, and he was unemployed for several months.
"The two Cs really messed me up, COVID and Caldor," Gunn says. "COVID took away my ability to travel and interact with people, and Caldor depleted my savings because I lost my job and was broke. I am slowly getting it back, and hope to get back out there after working in a ski shop this winter."
Forging Ahead
Although Gunn's most beloved area of the world is southern France because it incorporates everything that interests him—swimming, cheese, wine, food, cycling, architecture, people—his future plans include cycling in Portugal or Afghanistan.
He'd also like to resurrect his Wheels of Peace project with Mohammed Tajeran, an Iranian cyclist Gunn befriended about 15 years ago. Tajeran and Gunn worked to unite American and Iranian children by having them exchange letters and artwork.
"He's so passionate about travel and the many causes he's not only instigated but fully participated in," says Tracey Milne, his friend from Scotland who regularly visited Gunn in Tahoe before COVID. "I mostly admire his bravery in living his life in the most authentic way he does. Rick will never be a rich man, but I know his experiences have enriched his life. I feel he is brave in that he has chosen the road less traveled."
To learn more about Rick Gunn and view his photographs, visit his website at www.rickgunn.org. 
---
Jeremy Evans is a South Lake Tahoe–based writer who has authored three books, his most recent being See You Tomorrow, which tells the story of snowboarder Marco Siffredi and his mysterious disappearance from Mount Everest in 2002.