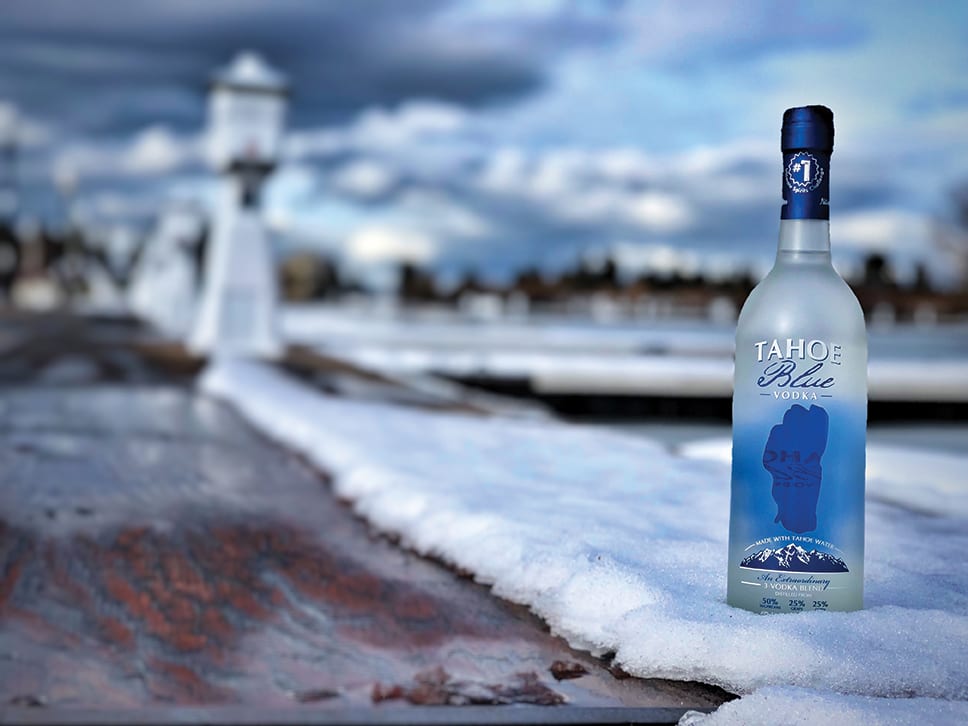 Tahoe Blue Vodka was founded in 2012, photo by Parker Alexander
27 Nov

A Clear Success
In an industry dominated by large brands, Tahoe Blue Vodka has quickly established itself as a legitimate contender
When Matt Levitt dreamt up Tahoe Blue Vodka in 2011, he never expected the brand would quickly become one of the best selling and fastest growing vodkas in Northern California. He never expected Tahoe Blue to be nationally and internationally recognized for great taste, to be a partner of the San Francisco 49ers and Giants, or to be featured on the Travel Channel.
Yet, eight years later, all of those boxes are checked.
"It's really a story about taking those business and product ideas we all have rattling around in our heads and overcoming the inertia of not doing anything about them," says Levitt. "Nine out of 10 American adults have had some sort of business idea at some point in their lives, but most of us—myself previously included—decide those ideas are too expensive, risky or difficult to pursue."
Levitt had business and product ideas since he was a kid, many of them long forgotten. But this one stuck.
The idea: A vodka that captures the essence of Lake Tahoe's clear, pure and smooth waters and embodies the Tahoe lifestyle, and everything that comes to mind when you hear those words together—sunsets and sailboats, skiing and golfing. If he could somehow package the idea of Tahoe into a vodka product that transports the consumer to the lake when pouring a cocktail, he knew the brand would be a home run.
Instead of building out a distillery and making the vodka himself, Levitt partnered with a master distiller who understood the importance of creating a unique and ultra-smooth vodka that helps capture that Tahoe vibe. The two worked together on a recipe that, unlike traditional vodkas that are distilled from grain, uses a combination of grapes, corn and sugarcane to achieve a more neutral finish without the burn inherent in grain vodkas. These ingredients are distilled separately, blended together and distilled again two more times, then proofed and bottled with world-class Tahoe water.
This unique process has created a smoother-than-average vodka finish that's been recognized over and over again in spirits competitions. From San Francisco to New York, Tahoe Blue has competed in nearly 15 such competitions and repeatedly returns with a trophy, including first place in the coveted Ultimate Spirits Challenge in New York, where Tahoe Blue publicly bested the likes of Chopin, Belvedere and many more.
Due to a combination of great taste, excellent branding and an effective marketing campaign, Tahoe Blue has quickly become one of the best-selling vodkas in Northern California and the fastest-growing brand statewide, up approximately 90 percent year over year. Tahoe Blue is in more than 1,500 retail locations and expects to sell more than 30,000 cases in 2019. Sales have doubled annually for four consecutive years.
It's important to point out that the liquor industry is not small-business friendly. It's an industry dominated by the likes of massive brands such as Absolut, Tito's and Smirnoff. So for a local and batch-made product to gain this sort of foothold in the marketplace is nothing short of extraordinary. A movement away from mass-produced brands toward regional products with more character is helping to fuel that growth, not unlike what happened in the beer industry over the past 30 years. Consumers are showing a preference for craft alternatives' improved quality and taste.
The company's mission statement includes striving to help preserve the Lake Tahoe environment, another area where it has succeeded. Tahoe Blue has donated a portion of proceeds since day one to a variety of nonprofits in the Lake Tahoe Basin, including the Tahoe Fund and League to Save Lake Tahoe.
Since inception, the company has donated nearly $100,000 to such causes and has paid for the replacement of the Taylor Creek overlook near Camp Richardson, as one example.
Levitt is often asked what's next for Tahoe Blue Vodka.
"More stores, more market share, more growth, more awards, more donating, more vodka," he says. "I expect to be a top five brand and household name across Northern California by 2021."
---
Tahoe Blue can be purchased at most Northern California grocery and liquor stores in 750-milliliter and 1.75-liter sizes.