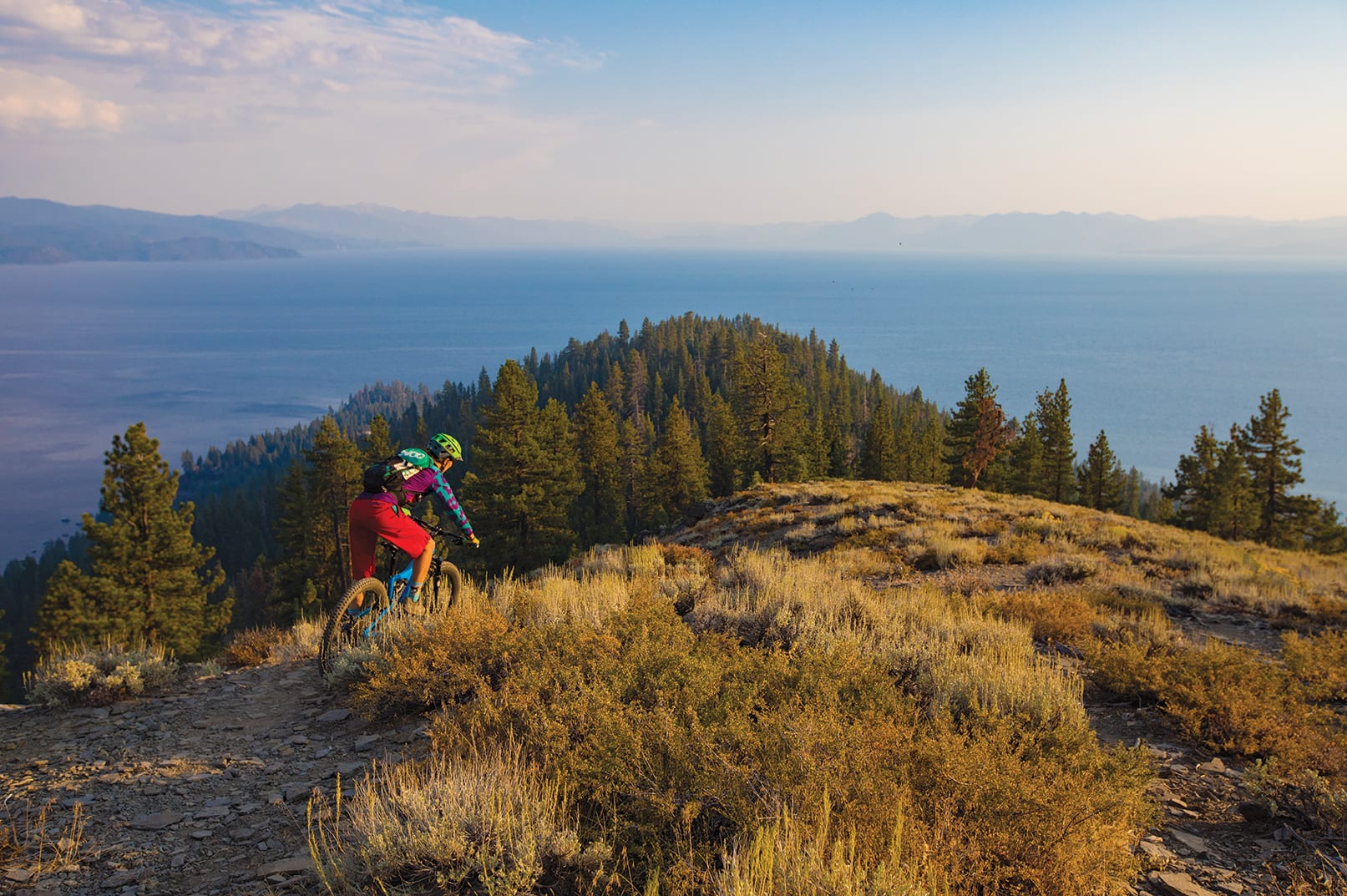 Robyn Embrey takes in the last light of day on a ride above Kings Beach, photo by Ryan Salm
27 Nov

Blending Business With Beauty
A younger breed of entrepreneurs are moving to the Lake Tahoe region, drawn by the famous scenery and quality of life
The outdoor playground that is Lake Tahoe is growing a more business-like profile alongside the skiing, tourism and crystal-clear water that make the lake world-renowned.
"There's a vibe here," says Phil Weidinger, principal at Stateline-based Weidinger Public Relations, which he has run for more than three decades. "Recreation is still a big draw, but a lot of business types are moving in who don't want to live in the big city. They're fed up with the crowds and congestion. They want to go where they can get up in the morning, look out their window and see the lake and mountains.
"They're tired of the B.S., quite frankly."
Against the backdrop of one of the prettiest places on earth, momentum is building to make the Tahoe region a place to do business—remotely—amid the pines.
Tahoe's lure pulled in then-Silicon Valley executive Bob Goff nearly a quarter-century ago when he realized he could operate what would become the Sierra Angels early-stage investment group from his home on the border of Crystal Bay and Incline Village.
"From my office, I look out over the lake through one window and I can see ski slopes from another," Goff says.
The typical business operators coming to Tahoe are not industry behemoths. More likely, they represent a sweet spot for opportunity: small, tech-centric entrepreneurs serving niche markets or tied, remotely, to major corporations via computer.
Novus Select, a South Lake Tahoe outdoor-focused video production company with 17 employees, has clients that include Patagonia, The North Face and Red Bull. For co-owner Corey Rich, who moved the company to Lake Tahoe from the East Coast a decade ago, it doesn't get any better than topping off an indoor workday with an outdoor workout.
"I have the biggest smile on my face when I work 10 hours and then go out and do a two-hour mountain bike ride," Rich says.
Businesses like Novus Select are the emerging industries designed not to replace but to coexist, sometimes invisibly, alongside the longstanding gaming and tourism sector seen at the ski resorts and on the Stateline hotel-casino skyline, says Carol Chaplin, president and chief executive officer of the Lake Tahoe Visitors Authority.
More important, they add a new dynamic to the mix: a younger, more laid-back mindset, from below-the-radar Silicon Valley expatriates working remotely from their homes to small storefront brick-and-mortar entities such as craft beer brewers.
"We're starting to see the next generation taking the reins of business opportunities, and they are much more relaxed," Chaplin says. "They will assert themselves in how they want to do business."
All of them, she says, come to Tahoe for equal parts quality of life and ability to work remotely via computer with a far-off entity, often in the Silicon Valley and the greater San Francisco Bay Area 150 miles to the west.
"You'd be surprised how many people work remotely here," Chaplin says. "There's even a fairly significant airline group that lives here and flies out of Reno."
For the ground-level entrepreneurs, the scope of their business, from physical footprint to number of employees, will remain limited given the Tahoe Basin's restrictive geography and regulated environmental landscape.
But some see opportunity with those challenges, as witnessed with Cowork Tahoe, a shared-space site in South Lake Tahoe where entrepreneurs can rent office space for doing business.
"It's a great amenity, a positive step in helping build jobs, and not just traditional tourism-type jobs," says Heidi Hill Drum, chief executive officer of the nonprofit Tahoe Prosperity Center in South Lake Tahoe.
All of which reflects a new, more twenty-first-century mindset about conducting business at Tahoe, Weidinger believes.
"Our entrepreneurs, our high-tech business, is not going to be the bigger stuff you see in Reno or bigger cities," he says. "But for a lot of people, Lake Tahoe is why they come here. There's a lot of maverick in them."