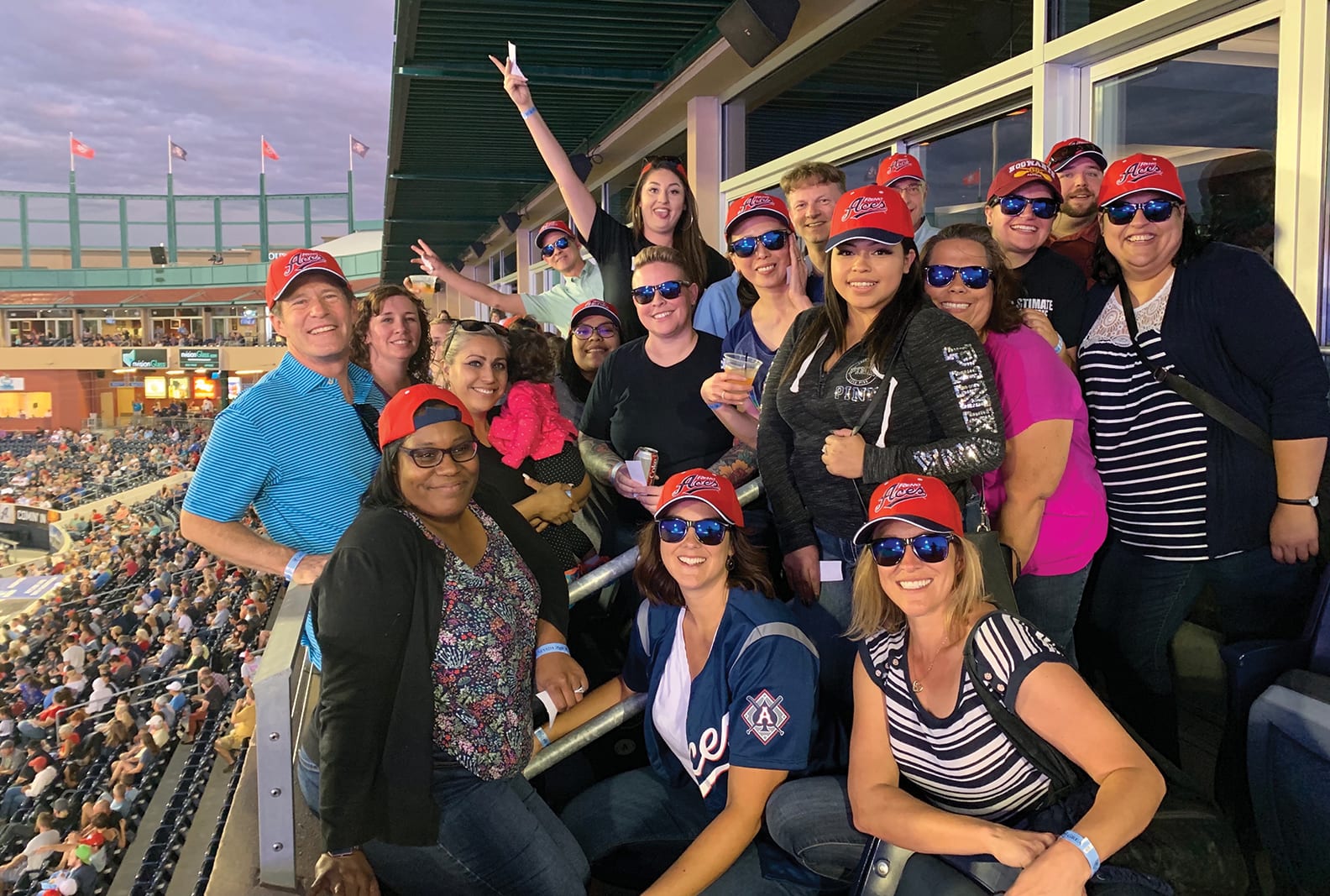 Uplift's Reno team enjoys an Aces game, courtesy photo
27 Nov

Funding Dreams
With a new office in south Reno, the quickly growing startup Uplift eases the burden on travelers by enabling monthly payment plans
Brian Barth was tired of retirement.
He realized this in the winter of 2011 when, of all places, he was riding a chairlift at a Lake Tahoe ski resort, enjoying the fruits of his (past) labor.
In 1999, Barth co-founded the Silicon Valley startup SideStep, which invented the travel meta-search engine, allowing users to find the best travel deals—in a field of more than 200 websites—with one mouse click.
"We were the first to deliver on the idea that you could search for travel across all of these different websites," Barth says. "It's the idea of really separating the store that you buy things from where you search for it."
The innovative technology was a game-changer for the travel industry. So much so that Kayak, SideStep's chief rival, bought Barth's startup for $200 million in 2007. (Six years later, in 2013, Kayak was acquired by Priceline for a $1.8 billion price tag.)
"We got to retire and I stayed in Tahoe and became this retired guy," Barth says.
When he wasn't hitting the slopes and spending time with his wife, Gina, and two sons, Nathan and Andrew, Barth stayed busy as an investor, joining the Sierra Angels investment group based in Incline Village. 
Four years into retirement, however, Barth got the itch to be more than just "the coach on the sidelines" for a startup company.
"I realized I wouldn't feel fulfilled if I didn't get back onto the field," he says. "I know I can advise, I can be a coach, but I missed playing."
In the winter of 2011, Barth was savoring another day at Diamond Peak Ski Resort. This day was different, though. Stu Kelly, who co-founded SideStep with Barth and also retired, was up visiting with his son.
What started as a relaxing day on the slopes turned into a day of soul-searching between former Silicon Valley executives. Specifically, while riding the Lodgepole lift, Kelly admitted that he was unfulfilled with his life as a retired-guy-turned-startup-advisor.
"He was literally telling the same story of what I was feeling," says Barth, who nodded in agreement as Kelly aired his grievances. "After the next 10 laps on the ski chair, we're like, 'What are we doing with our lives? We should do something again together.'"
After their serendipitous soul-search, Kelly and Barth needed to land on a scalable idea for a startup. Both were ensconced in the travel industry, so it made sense to stay in that lane, they decided. But what innovation could they bring to the sector?
To spur ideas, Barth looked at some of the startups he invested in that were growing especially fast. One in particular jumped off the page: LendingClub, a fintech company that brings borrowers and investors together to help people access credit. Now a public company, LendingClub is currently valued at $5.4 billion.
"We were seeing all of these really cool developments in the world of fintech," Barth says. "We decided, what if we sort of curate all of the best ideas out of fintech and bring it to the travel industry that we know so well?"
In a nutshell, they wanted to create a technology platform that enabled travel providers to offer flexible, pay-over-time options to customers, says Barth, adding: "Travel is a really important thing in peoples' lives, and a really big purchase."
In fact, according to the World Travel & Tourism Council (WTTC), the travel and tourism sector contributed a record $8.8 trillion to the global economy in 2018, a year in which it grew by 3.9 percent. Only manufacturing, at 4 percent, grew more.
Because travel is so expensive, not everyone who wants to travel gets to.
"Everybody has a dream trip they want to take; they have somebody they want to go visit, they want to attend a wedding… there are all of these situations where time can't wait," Barth says. "Sure, in an ideal world we'd all save up for it. But there are things that sometimes can't wait."
For Barth and Kelly, this was a problem they wanted to help solve. With that, Uplift was born. Founded in 2014, the company's mission, Barth says, is "to make travel more accessible, affordable and rewarding to everybody" by breaking trip prices into transparent monthly payments.
As an example of how Uplift works, its website shows an Orlando family vacation for a listed price of $2,642, broken down by flight ($976), hotel ($1,032), rental car ($184) and attraction tickets ($450). Based on a 15 percent APR, a traveler would make 12 monthly payments of $235.52, which is $184.24 more than paying in full. By booking early, Barth notes, travelers can often save much more than the financing cost.
"We can get access to capital at institutional rates, which everybody knows is ridiculously low," Barth explains. "And we can pass that along to consumers so that they actually get to take their trip."
It didn't take long for Uplift to catch on—or, rather, take off. Out of the gate, the company raised $8.2 million in 2014, according to Crunchbase. To date, Uplift, which announced a $123 million funding round in January 2019, has raised $450 million, Barth says. 
What's more, the biggest brands in travel—United Airlines, American Airlines, Southwest Airlines, Royal Caribbean Cruise Lines, Norwegian Cruise Lines, among others—have gotten on board with Uplift's platform.
"We're growing like crazy," Barth says. "We are already live on more than 60 different points-of-sale in travel. We're seeing on quite a few sites, a double-digit percentage of checkouts are with Uplift. When we built the business, we thought a couple percent of people would want this. So there's a demand for it."
Throughout its growth, Uplift has planted a handful of offices across country, including two in the Bay Area (Menlo Park and San Francisco), two on the East Coast (New York and Miami) and one in Canada (Toronto). Most recently, Uplift expanded to the Biggest Little City in the World, opening an office in south Reno in April 2019.
The company's first office was on Northwood Boulevard in Incline Village, tucked above High Altitude Fitness. It was originally incorporated as Great Basin Software before Barth acquired the uplift.com domain name for a pretty penny—"let's just say the guy who sold it to me is happy," Barth says with a laugh.
The Reno office is primarily made up of customer service representatives. Currently, around 30 people work out of the office, says Barth, adding that his goal is to eventually hire anywhere from 50 to 100 people, with an increased emphasis on marketing and tech positions.
"We really care about this area," Barth says. "Reno-Tahoe is this incredible hidden gem. There's a quality of life here that is better than a lot of other places. And it's such an easy trip with nonstop flights to the Bay Area and New York."
Inside Uplift's Reno office hang posters of some of the most iconic travel destinations on earth: Rome, Paris, London, Venice, Florence, Prague, the Taj Mahal. For Barth, it's symbolic of why Uplift was created.
"Notice, we don't have bank posters," says Barth, gesturing to the walls. "We have pictures up there of the greatest places of the world that you would probably want to see. You want to go see the Eiffel Tower with your friend, or is there some trip you've always wanted to take? A lot of times, I think people have it in the back of their mind, 'Oh, that's too much, I could never do that.'
"Well, you got 80 bucks? Go see the Eiffel Tower. We can actually help you."