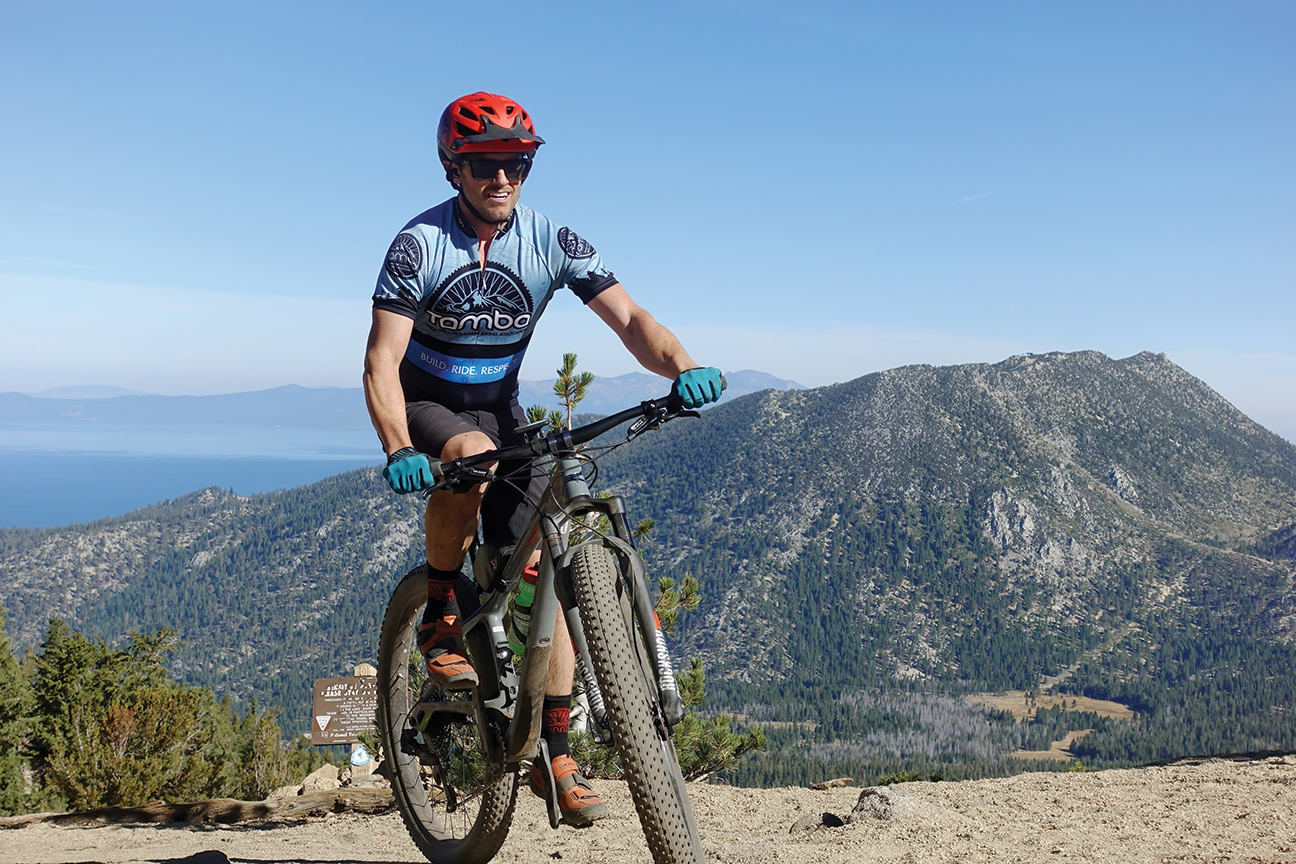 Chris McNamara in 2018, photo by Anthony Cupaiuolo / First Tracks Productions
06 Dec

The Daredevil Who Became Gear King
GearLab founder Chris McNamara shifted from a life of adventure to a successful career providing inquisitive buyers with thoroughly tested product reviews
Imagine this: You move to Yosemite at the age of 15 to climb big walls. You develop an appetite for bulk food and stale pizza and massive hits of adrenaline, the pure kind that placates but rarely satisfies.
After 10 obsessive years of climbing, or, more specifically, three percent of your entire life on the face of El Capitan, and earning a distinction by Outside Magazine as one of the world's finest aid climbers, you tire of the sport. The rush just isn't there anymore.
In your mid-20s, you watch someone fly off a cliff in a wingsuit and it's the most radical thing you've ever seen another human do. The way he dropped like a dead log, then opened his arms and caught the updraft with those beautiful wings.
You get a wingsuit of your own. You learn to fly. Climbing big walls was once enough; now you need to jump off them.
After three years of practicing the humanly impossible, and watching friends die in the attempt, you fold up your wings forever and look for the next adventure.
Where do you go from there?
For Chris McNamara—big wall climber, wingsuit BASE jumper and all-around outdoorsman—the choice was a deliberate departure from the radical: launch a product review company.
"I certainly wouldn't have predicted gear reviews 20 years ago," says McNamara, who is now 42. "But looking back, it's not so surprising. I realized the fire that got me into climbing could be mutated into all these other different fields. It's fun to think of what you can create, whether it's first ascents in climbing or new business ideas."
Living Your Best Business
In no business school curriculum will you find a course on climbing-bum survival, but that's exactly how McNamara developed his entrepreneurial spirit.
"I got lucky in that I went and lived in Yosemite when I was 15 and learned that you can basically live off no money," he says. "The climbing culture taught me that even if you have no money, you can still figure out a way to get by and create enough space to do what you really want to do. Over time, some of those passions might not pay any bills, but I trusted that a few passions would turn into something, and that's what happened."
The first passion to make a little money was a guidebook to climbing in Yosemite. He published it under the name SuperTopo, then developed a website of the same name to build out his portfolio of climbing guidebooks and online resources.
Over time, McNamara accumulated a following, a business partner, some editors and several more published titles. As a result, the SuperTopo website became a rock-climbing catchall: a repository of photos, a community forum, a resource bank for bouldering, traditional and big-wall climbing, and—significantly—a review guide for climbing gear. 
"I thought SuperTopo would be one guidebook to climbing El Cap," McNamara says. "Then I met my business partner, and he had a much broader vision of what it could become. We have been collaborating ever since."
That collaboration led to a wider net of possibility. To review only climbing gear was to settle for the manageable. Why not broaden the parameters to include outdoor gear in general? And why stop there?
"Climbing gear turned into backpacking, which turned into camping. And it just kept expanding," says McNamara, who moved to South Lake Tahoe in 2001.
Building the GearLab Brand
Today, McNamara operates OutdoorGearLab, TechGearLab and BabyGearLab, though he soon plans to bundle them all under one umbrella: GearLab. Scrolling through the review sites reveals little about the obsessive daredevil behind them, but McNamara insists that this business venture, while far tamer than leaping from a cliff in a wingsuit, is still the product of his passion and interest.
"Even though I was always the most passionate about rock climbing at the beginning, now I'm also pretty passionate about robot vacuums and yard tools," McNamara says with a self-deprecating chuckle. He can wax poetic about a 75-pitch girdle traverse of El Capitan, but he is no less eloquent about the troubles and triumphs of reviewing vacuum cleaners. So many surfaces! So much dog hair! 
"In general, if you're really excited about one thing, that excitement can then be easily steered toward other areas," McNamara says. "Today we have 800 categories. I won't say I'm super passionate about all of them, but I am about a lot of them, and it's a pretty diverse spread. We make sure that whoever is involved in those categories has a real expertise or interest to become an expert in it. That's a key part of who we are, just getting obsessed and passionate about every category we cover."
Because no human soul is large enough to contain 800 categories of product reviews, the GearLab business has necessarily expanded. What began with McNamara using and abusing outdoor gear by himself has grown to include a dozen employees and many freelancers who test products in-house at the South Lake Tahoe location or in the product's natural environment: an all-season tent in the High Sierra, a mountain bike in Downieville and—yes—a vacuum cleaner on every possible surface.
"It takes forever. It's super involved, but it's the only way we know to do an apples-to-apples comparison across multiple products over multiple years," McNamara says, in defense of his mission statement that GearLab works to create the world's best reviews. "SuperTopo was: How do you help people have a great climbing experience? GearLab is: How do you help people find the perfect gear?"
If the online traffic data is any indicator, 25 million people every year believe GearLab is helping them get the perfect gear—traffic that keeps the whole operation afloat. Engagement at that level attracts advertisers and generates revenue. Additionally, any time one of those 25 million people decides to buy a reviewed product through the provided retailer link, GearLab earns a small commission.
Perfecting the Process
The secret to the perfect review, according to McNamara, is side-by-side comparisons. What begins with an exhaustive search for the best-rated and top-selling products ends with as few as three and as many as 20-plus competitor items stacked up against each other for the rigorous in-house or in-field testing process.
Unlike many review sites, GearLab never accepts money or free products from manufacturers. Instead, the company buys the product out-of-pocket and test it without bias or influence. On any given workday, employees and freelancers—and even McNamara himself, on occasion—will, for the purpose of the perfect review, run, hike, swim, ski, paddle, cycle, climb, rappel, camp, inflate, deflate, hydrate, downward dog, photograph, shred (both paper and powder), steam mop, pressure wash, sweep, chop, sharpen, baby wipe, swaddle, soothe, feed and—yes—most definitely vacuum. 
What began with McNamara testing gear alone in a room or out in nature has grown to include many people reviewing nearly everything. He attributes that growth to the lessons he learned in Yosemite.
"We've always been inspired by the climber idea of frugality and bootstrapping our business. We definitely have not been a fan of the high-paced, raise-a-ton-of-money, grow-real-fast style," McNamara says. "We take it slow and nail it before we move to the next step."
Nailing it means doing more and better work than anyone else online is willing to do.
"If you search 'best [insert product name]' and look at the first five pages on Google, maybe 90 percent would be reviews where no one ever actually tested a product," McNamara says. "There are a lot of people who will claim, 'We read a whole bunch of other reviews,' but we think there's a giant difference between that and actually buying a product and testing it hands-on—and most importantly, comparing it side-by-side with other products. That's where we differ from most gear reviews. We buy it and we test it in the same way next to other products you are probably considering."
The result is a detailed and comprehensive assessment of any given product, across 800 categories, as it compares to other, similar products.
In the category of "Best Rain Jackets for Men of 2021," for example, there are 14 different rain jackets selected, ranked in order from highest overall score to lowest. The score represents the sum of several weighted rating categories, with more weight given to "water resistance" and "breathability and venting" and less weight given to "durability" and "packed size."
The final review is a nuanced and articulate assessment of the product itself, describing in detail each of the scored categories.
In the case of the top-rated rain jacket for men, the Arc'teryx Zeta SL, the review comes in at more than 3,000 words—or nearly twice the length of this article. 
And suddenly, the mission to provide the world's best gear reviews doesn't sound quite so hyperbolic.
Investing in the Community
McNamara is the first to admit that the activities of his 20s, while priceless, were ultimately unsustainable.
"When I started climbing, I thought, 'For the next 90 years this is all I'm going to do.' But then, after 10 years of exhausting the different creative outlets, I kind of started to peter out a little," he says. "When I saw BASE jumping, I thought, 'This is the coolest thing humans have ever done.' But after two or three years, not only did a lot of friends die, but it also started to become normal. I no longer had the same chemical reactions when I stood on the edge of the cliff."
Because BASE jumping represents the apotheosis of adrenaline and risk, McNamara had to look elsewhere for a fix. The answer, while not as radical as flying from a cliff, has proven more sustainable than any hobby of his young adult life.
"Climbing and BASE jumping were all about me," he adds. "But everything I'm involved with now is collaborative, which makes it infinitely more interesting because you are working with people."
This includes his professional life, but for McNamara, the professional and personal have never been too far apart. Whether he is reviewing gear, writing about big-wall routes, replacing bolts with the American Safe Climbing Association (which he founded), or hanging out in Tahoe building trails and community, McNamara has dedicated the rest of his post-BASE-jumping life to thinking beyond himself.   
"It's normal to be self-centered in your 20s," he says, "but as you age and go to the limits of following individual passion, you start to realize there are other things, like starting a family and getting involved with a community. It's not that you do them because you're supposed to do them; you do them because they're really rewarding."
These days, McNamara is just as likely to be found playing with his 2-year-old as he is cycling out his back door. If you can't find him doing either of those two activities, good luck. He could be reviewing a product or managing GearLab operations. He could be on a rock wall or a mountain bike. He could be on any one of the trails in Tahoe that he's given labor or money to help maintain. He could be at the future home of Ski Run Community Park in South Lake Tahoe, a once-ramshackle piece of land that he helped purchase from Safeway as a gift to the community.
"I realized that investing money in the community is way more fun than just buying expensive stuff," he says. "That's a lesson that keeps delivering again and again. I'd much rather spend money on a community project that is collaborative and affects people."
It's hard to say where you will find him, but it is almost certain that when you do, he will be working on his latest project or dreaming up the next one, like how to keep expanding his gear review business.
"There are a lot of popular categories we're not in today that we feel we could meet or exceed," he says. "We're definitely leaving the door open."
---
Michael Rohm is a humanitarian storyteller living outside of Washington, D.C. He is currently a sellout with a salary but is tiptoeing toward the entrepreneurial spirit embodied by people like Chris McNamara.