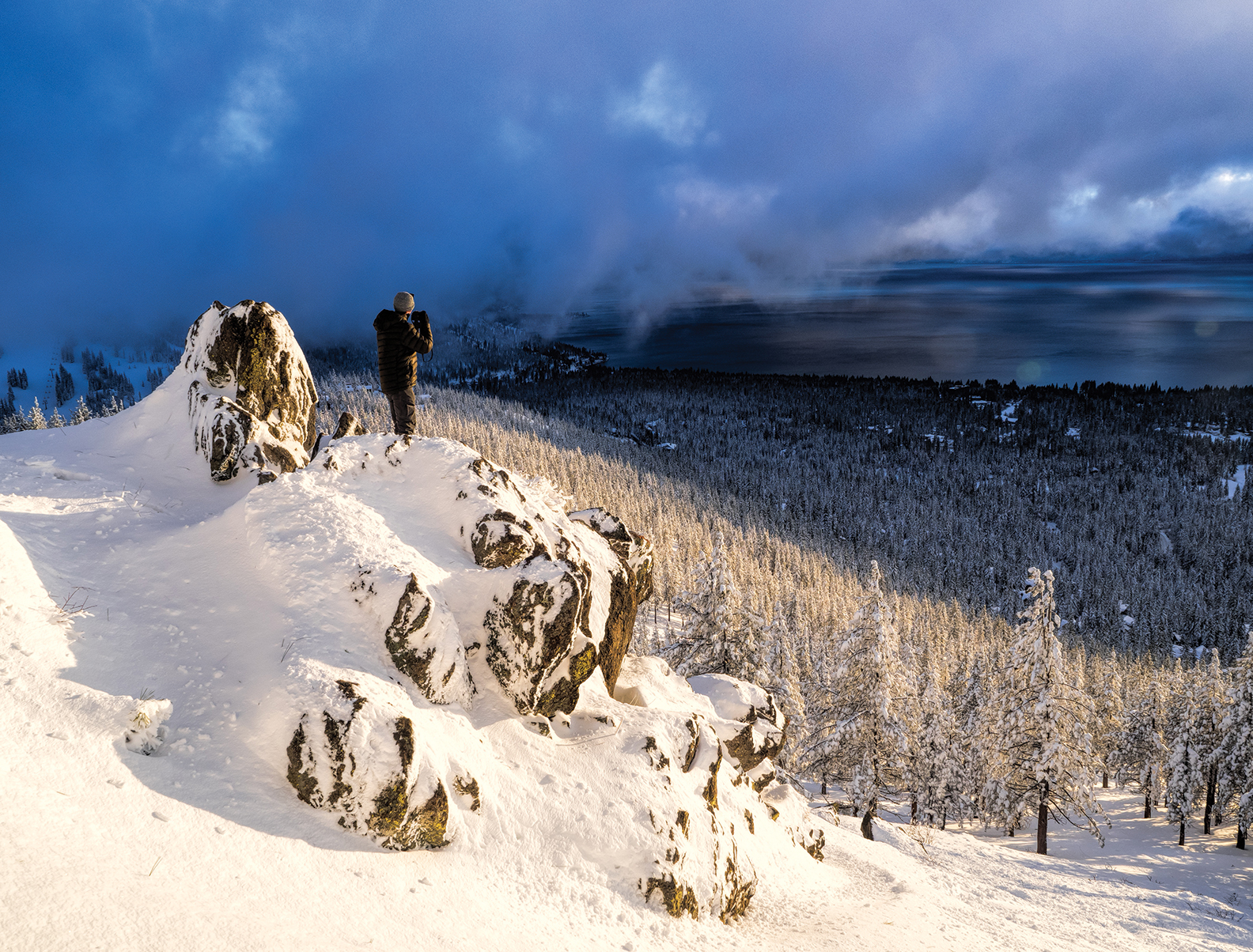 A Tahoe resident captures a stunning winter scene from a rocky overlook near Incline Village, photo by Martin Gollery
06 Dec

Connecting With Tahoe Through Nature
Local biologist offers advice for fellow residents: Embrace Tahoe's natural bounty to the fullest
Spend enough time in Tahoe, and you will undoubtedly encounter opinions about what it means to be a "local." This designation seems to carry a tremendous amount of weight, at least for some, and the necessary requirements to attain such status is a topic of endless debate.
I've witnessed disputes over minimum durations, variously sincere checklists that must be completed and even the hard line that anyone not born within certain boundaries is barred from consideration. While these pedantic exchanges can be entertaining, they also reveal a severe gate-keeping mentality that does not serve the community well.
Behind this localism, however, is something of actual value: The deep desire to protect this place we all connect to and love.
When you connect to a city, you might know the best lunch specials, develop an innate feel for the traffic patterns and fit in with customs of dress, language, culture and pace. You know to be vigilant when, where and how you need to be, but navigating mass transit is a breeze, and the bartender at your regular spot knows both your name and your drink. When you really connect to that city, you not only know how to survive, you know how to thrive.
The same sort of familiarities apply to Tahoe as well, but there is one important addition that makes this area different than cities: We live in the context of nature itself.  To truly connect to Tahoe, we must connect to the natural history that surrounds us. 
The Power of Familiarity
For many first-time visitors to Tahoe, it's love at first sight—immediate connection to its natural beauty and the recreational opportunities it affords. But any connection to Tahoe develops and strengthens over time, especially as familiarity deepens. 
This familiarity can come through sheer repetition or duration, but if you move through life's routines with your head down, it may never seep in. Decades could go by, and all you know is that you're tired of shoveling, the lift lines have gotten worse and you've still never seen a bald eagle. I believe firmly that you should lean into it, actively engage and ensure the best connection with the nature all around us.
Start by getting to know the neighborhood, so to speak—the lay of the land—and find your places—your favorite trails, lunch spots, vistas. Take a hike, and then return to that trail again and again. Our brains are hardwired to be comfortable in landscapes that are familiar.
While some people find immediate contentment in wild places, others find it somewhat uncomfortable, or even threatening. Familiarity and exposure reset those baselines, and in time mosquitoes and even bears are no longer a bother. For many, building memories by sharing nature with family or friends can help build a connection with those places more quickly. Quiet solitude makes it easier to engage the senses, however. Try both, as often as possible.
A Healthy Dose of Nature
If you've lived in Tahoe for decades already, find some new places, or maybe revisit somewhere you haven't been in years. Go a little further afield, or get off the beaten path, literally, and plot a cross-country adventure away from trails. Find the best spots to see the sunrise or sunset. Do you have favorites yet? How many have you tried? Tahoe is a big place, full of hidden nooks and crannies begging for exploration.
As you immerse yourself in Tahoe's landscape, you will be rewarded with myriad health benefits, as countless studies link nature exposure to lowered blood pressure and stress hormone levels, improved memory and cognitive function, enhanced immune system function, reduced anxiety and improved mood.
Some of the greatest benefits are achieved from sustained periods of "soft fascination," a technical term psychologists use to describe what happens to your brain in settings that are stimulating enough to gently engage the brain's attention, but without causing it to focus too much on any one thing for an extended time.
This is precisely the mindset that occurs on a casual hike in nature. When you're learning a new trail system, however, be attentive enough that you don't get lost in the woods. Zoning out on natural beauty is also a terrible practice if you're behind the wheel of a car—or gaping in the middle of a trail or ski run while others are trying to get by. 
But in time, you know when and where you can let your mind and eyes wander freely, the need for attentiveness relaxes and then soft fascination can take hold. Consider incorporating mindfulness exercises during a break in a hike. Try a five-minute "sit spot," actively engaging all the senses by trying to observe everything there is to see, hear, smell and feel. Mindfulness and soft fascination are two pathways toward restoring one's ability to pay attention in a world full of distractions—phones, computers, social media. Engaging with Tahoe's nature during a hike is perfect for both.
Get to Know Your Flora and Fauna
As you build familiarity with the neighborhood, it's time to start getting to know the neighbors, and this includes all the plants, animals and fungi. With Tahoe's biological diversity, this is a lifelong pursuit, so don't feel the need to learn everybody's name at once.
Over 320 species of birds have been recorded in the Tahoe Basin, while the Tahoe region is home to well over 1,500 plant species. Try learning the names of the tree species in your yard, neighborhood or along your favorite trail. Learn a couple of common birds. Try to see an eagle every winter. Maybe try to identify five new wildflowers per hike during peak season.
A great start is simply to pay enough attention that you can recognize and discriminate "this one" versus "that one." But in time, learning the actual names will grant you access to a great deal of information about each species—well-earned local knowledge.
To quote Maria Popova: "To name a thing is to acknowledge its existence as separate from everything else that has a name; to confer upon it the dignity of autonomy while at the same time affirming its belonging with the rest of the namable world; to transform its strangeness into familiarity, which is the root of empathy. To name is to pay attention; to name is to love."
Seasons of Change
Noticing and talking about the weather is something virtually all humans do, but in Tahoe, enthusiasm for outdoor activities keeps us attuned to it. This is especially true in the winter, when snow forecasts dominate conversations, and occasionally send us scurrying to load up on groceries, gas and shear pins for the snowblower.
Long stretches of high atmospheric pressure can lull us into complacency during summer months, but this can be shattered by the excitement of afternoon hailstorms and the promise of "brown pow" for the mountain bike crowd. Spend some time on the water, and quickly you will tune into the contrast of calm mornings and afternoon winds on our local lakes.
Tracking changes through the seasons is also something we all do innately, but it's worth paying closer attention. Revisiting favorite trails on a regular basis is the perfect way to notice the seasonal turnover in flowers and birds, leaf phenology of trees and shrubs, and whether or not a seasonal stream is flowing.
Make a point to see spring waterfalls at their peak. Find fall colors in aspen leaves and spawning kokanee. Step outside to listen to the near-complete silence of heavy snowfall on a still night.
Be sure to mix things up and experience weather and astronomical phenomena. Go hiking during that rainstorm. Sleep under the stars during the Perseid meteor shower in August. Spend at least a few hours each winter cross-country skiing or snowshoeing during the full moon.
Seasonal changes also connect Tahoe with the rest of the planet (through weather patterns and animal migrations), so it's good to recognize that we are all global citizens as well.
Never forget: Nature is why we are in Tahoe, and we are indivisible from our natural surroundings. The more time we spend in Tahoe, the more we absorb it, and the more it absorbs us. It is the context of our lives as Tahoe residents. I highly recommend getting to know the place intimately, connecting yourself to it, in all its natural glory.
---
Biologist Will Richardson is the executive director of the Tahoe Institute for Natural Science, www.tinsweb.org.