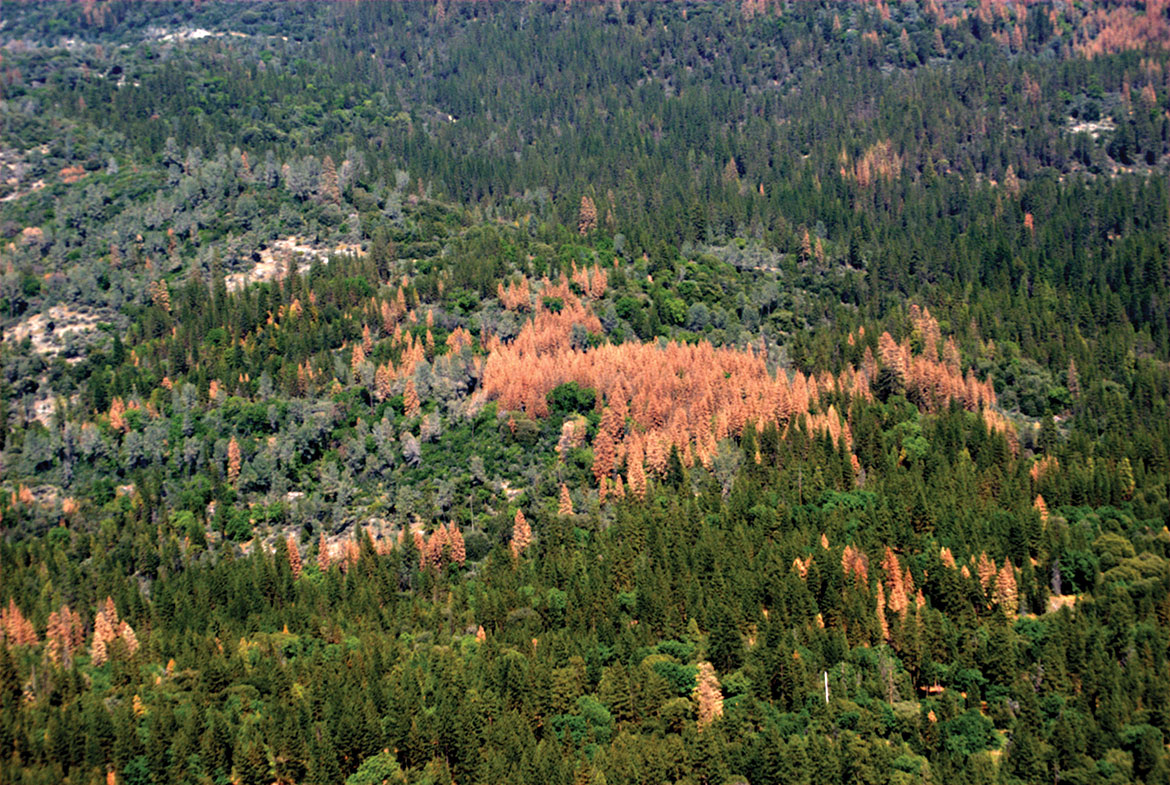 20 Aug

Sierra Nevada Forests in Dire Shape
Experts scramble for solutions to fix the region's overcrowded and unhealthy forests before catastrophic wildfires strike
When westbound settlers crossed California's dominant mountain range in the mid-nineteenth century, they were pleasantly surprised to report spacious, park-like forests through which they could ride their horses at a gallop.
They would not recognize the same forests today.
Millions of acres of trees blanketing the Sierra Nevada are overcrowded, stressed, thirsty and under attack. Weakened by severe drought and unable to fend off their insect enemies, large swaths of forest are succumbing to hardship and dying en masse, while catastrophic wildfires are ravaging the region with increasing intensity.
"There is a lot of forest land in the Sierra that is in poor health," says Jim Branham, executive officer of the Sierra Nevada Conservancy, which brought awareness to the issues with its State of the Sierra Nevada's Forests Report last fall.
While the report is eye-opening, painting a picture of a forest in rapid decline and in need of treatment, the U.S. Forest Service heightened the alert when it released its aerial Forest Health Protection Survey this spring. The study reveals an estimated 12 million dead trees in California's national forests.

An aerial view of a Lake Tahoe-area forest
"The results are pretty alarming," says Malcolm North, a research scientist with the Forest Service Pacific Southwest Research Station, based out of UC Davis. "I've been seeing these surveys done every year for the last 15 years or so, and with this one it certainly looks like the hammer is coming down as far as the drought and its effects on tree mortality."
Thanks to a number of factors—destination status, political support and funding, to name a few—the Lake Tahoe Basin and surrounding Tahoe National Forest are in better shape than most. But, Tahoe is far from immune, researchers warn.
"At this moment in time, the Tahoe National Forest is still in pretty good shape from a forest health standpoint. Having said that, we are deeply concerned," says Mark Brown, a forest silviculturist with the Tahoe National Forest. "The aerial surveys are showing some really radically increasing levels of mortality both south and north of Tahoe, especially in Southern California. We're hoping we're not just that green patch in the middle with a big target on it."
The declining health of Sierra Nevada forests is not expected to improve any time soon. After decades of fire suppression and limited forest-thinning operations, trees are choked with competition and starving to death, deprived of sufficient water and nutrients and impoverished by drought. Taking advantage of their vulnerability, bark beetles and other invasive insects move in for the kill—then repeat the process in neighboring trees.
Fuel-removal projects and controlled burns are needed to mitigate the issue, researchers say. But resources among cash-strapped local, state and national agencies are too scarce to even scratch the surface in most areas. Compounding the problem, the Sierra Nevada does not have the infrastructure—such as sawmills and biomass plants—to process a large amount of material.
"We don't have a good way of dealing with the issue," says North. "We certainly don't have enough money to go in and treat all the stands."
Forest History

View of Summit Camp, near Glenbrook, Lake Tahoe, Nevada (1880-1886), photo by C. E. Peterson, Carson, NV,
courtesy Special Collections Department, University of Nevada, Reno Library
What the California settlers discovered in the Sierra Nevada was a forest at optimum health as a result of the natural fire cycle, as well as a little help from the Native American tribes that inhabited the region, says Mark McLaughlin, a local historian and author.
"When the first settlers came through the Tahoe Basin, they said it reminded them of a Midwestern or East Coast park. There were these large, stately trees that were widely spaced with no understory, no brush," McLaughlin says.
"But that original Tahoe forest still had man's influence because, if lightning strikes didn't get the low-grade burns going—which are healthy for forests—the Indians would start fires, because it would negatively affect their hunting if they had all this stuff growing on the forest floor. That kind of just enhanced the natural burn cycle predicated on lightning strikes."
The landscape changed dramatically in the nineteenth century, particularly after the California Gold Rush in 1848 and the Comstock Lode silver discovery in Virginia City in 1859. The resulting booms in population and construction created a high demand for timber. Miners turned to the seemingly endless supply in the Sierra. They spared little of the healthy old-growth forest, which then grew back at a much higher density, McLaughlin says.
With an abundance of valuable timber and money to be made, major logging operations spread across the Sierra Nevada and thrived through much of the twentieth century. The logging industry has since slowed to a near halt in much of the range. Few active sawmills remain, with most located north of U.S. Highway 50.
Meanwhile, firefighting efforts over the years became more and more effective with technological advances. While the efforts undoubtedly saved mountain communities from burning to the ground, extinguishing fires had the unintended consequence of driving forests further from their natural state, which is created by low-intensity fires removing underbrush while leaving behind the more fire-resistant old growth.
Those spaced, old-growth forests are in large part gone, replaced by younger, more dense stands of trees and brush that, especially when weakened or killed during a prolonged drought period, are rife for high-intensity wildfires. The Rim Fire in 2013 was the largest in the Sierra Nevada's recorded history, charring 257,000 acres.
'Scary' View from Above

Tahoe forests are in better shape than most in the Sierra and are only showing small
die-offs at this point, but the area is not immune, photo courtesy U.S. Forest Service
The recent aerial survey by the U.S. Forest Service confirmed researchers' fears—that Sierra Nevada forests are in dire straits. It starts in the southern portion of the range, where photographs show large die-offs among all conifer species, as well as oaks.
"The tree mortality down there is scary," says Branham, whose Sierra Nevada Conservancy is based in Auburn. "The Sequoia and Sierra national forests are kind of ahead of the curve in terms of tree mortality. But I don't think anybody expects that it's not going to just keep coming north based on everything we're seeing. It's coming our way."
Conditions in the southern Sierra are as bad as he's seen, says Michael Price, a 40-year Forest Service veteran and timber management officer for the Sierra and Sequoia national forests. The only comparable die-off to the current event in terms of scale occurred in the late 1970s, after the Sierra Nevada endured back-to-back drought years in 1976 and '77 that rank among the driest on record, he says. Another relatively large-scale mortality event in the Sierra is tied to the dry period of the late 1980s into early '90s. That event had a significant impact on the Tahoe Basin.
"We're now experiencing mortality in all forest types and at all elevations," Price says of the Sierra and Sequoia national forests, located just south of Yosemite National Park. "Basically all the trees are suffering from the lengthening of the summer drought period."
The southern Sierra appears to be experiencing "a narrowing of the ponderosa belt," in which oak and chaparral are beginning to take over the lower elevations of the ponderosa pine and incense cedar, Price says.
"But we're also experiencing mortality below the ponderosa belt in the gray pines and the oaks. It's occurring across the board," he adds. "I think it's an adjustment not just to the drought, but to a little bit of a shift in climate toward a longer drought period."
Drought-stricken
While climate change remains a controversial topic, no one is denying the reality of California's current four-year drought, which prompted Governor Jerry Brown to declare a state of emergency. As a world-renowned ski destination, the Lake Tahoe area feels the brunt of the drought as its resorts struggle to keep the lifts spinning through record-low snow years.
Randall Osterhuber, a researcher at the U.C. Berkeley Central Sierra Snow Laboratory on Donner Summit, says the lab recorded just 3.27 meters of snow, about 129 inches, the entire 2014–15 winter.
"That's the least amount of snow our station has ever recorded for a year," Osterhuber says, adding that 1977 was actually drier than this past year in terms of total precipitation. "This station was built in 1946, so there have been some dry years, but a stretch like this, I think we're kind of in new territory. Winters '12, '13 and '14 were all progressively drier."
McLaughlin, who's also a weather expert and historian on the subject, says the recent dry winters could be the new norm. The last 150 years are thought by researchers to be the wettest of the past 4,000, he says.
"For us to be sliding into a drier pattern, into what would be considered more normal, does not surprise me," McLaughlin says. "The thing now is that we've built an infrastructure that expects a rather consistent above-average level of precipitation. The trees are going to reflect that, too. If you have above-normal moisture over a long period of time, you're going to get more growth. And then when things start sliding back to what they had been historically, there's going to be a price paid in the vegetation and water sources and everything else."
Branham of the Sierra Nevada Conservancy agrees.
"There's no reason to be optimistic that this drought is going away any time soon," he says. "And the longer it goes, the worse it becomes."
Tiny but Deadly

Beetle damage, courtesy photo
The dearth of rain and snow in the Sierra Nevada, combined with forest overcrowding and other factors, has stressed the trees and reduced their ability to fight off their tiny nemeses—bark beetles. The insects burrow into the bark and lay eggs in the weakened trees, which might otherwise withstand the attack by producing enough sap in defense.
Several different beetle species are responsible for the high rate of pine mortality in the Sierra, says Kings Beach resident Tricia Maloney, a plant pathology scientist at UC Davis. Once the insects have discovered a vulnerable pine, they release pheromones that attract others. After killing a tree, the beetles move on to the next and repeat the process.
Other common Sierra Nevada trees such as the white and red fir have their own predatory insect, known as the fir engraver beetle. That beetle does not send out pheromones, but can still cause large pockets of mortality in drought-stressed firs, Maloney says.
While Price notes that bug-related mortalities occur at all elevations, the lower range of the ponderosa belt in the southern Sierra has been hit particularly hard by the western pine beetle. In some locations—especially on steep, southwest-facing slopes where soil retains little water and nutrients—large portions of mountainsides of ponderosa pines are dead.
In the Tahoe National Forest, Brown says they find occasional half-acre-sized lots of pines that were killed by bark beetles. But, the issue is nowhere near as bad as other locations.
"So far we consider that a low-level problem with potential to become worse. And all we can do is just monitor at this point and be ready if something big does break out," Brown says, adding that the Tahoe National Forest has ongoing thinning programs aimed at reducing forest density. "I feel like we're doing a fair amount, but we need to do more. It's a challenge."
Lacking Resources, Infrastructure
The Lake Tahoe area is among the fortunate few locations in the Sierra in terms of funding, which is needed for most forest-thinning projects. Those projects are unlike traditional commercial logging operations, which profit by taking the largest, most valuable trees—if not every tree.
The Sierra die-off outbreak in the 1990s, which prompted a visit to Tahoe from then-President Bill Clinton and Vice President Al Gore, helped kick-start thinning programs around The Lake, says David Fournier of the Lake Tahoe Basin Management Unit. The 2007 Angora Fire in South Lake Tahoe also boosted fuel-removal efforts, Maloney says, making Tahoe's forests better-equipped to handle mortality events while limiting the probability of a catastrophic wildfire.
"Tahoe, for numerous reasons, is on people's radar. It's a destination, and it's one of those places that receives a lot of attention," Maloney says. "The area receives a lot of money compared to other places in the Sierra."
Price's turf in the Sierra and Sequoia national forests is among the less fortunate. In the Sierra National Forest, the plan this summer is to conduct salvage logging operations at the sites of two major wildfires that ripped through the region the past two years—the Aspen Fire in 2013 and the French Fire in 2014, Price says. There are scant resources to address the thousands of acres of dead and dying forest elsewhere.
"The population densities here are not sufficient politically to exert as much force as, say, in Southern California where they had the big die-back in the San Bernardinos. Tahoe also has national empathy and sensitivities going on for it. The southern Sierra doesn't have the same political sensitivities," Price says.
Adding to the cost and difficulties of forest-thinning operations is the fact that the Sierra Nevada has poorly distributed and limited infrastructure to process wood products. Most sawmills in the central and southern Sierra shut down in the 1980s and '90s as a result of environmental concerns and lawsuits. Two small mill operations remain near Sonora and one in Terra Bella, near Porterville.
"The mills, by and large, are all full and not accepting logs. They have a limited ability to accept more salvage," Price says. "And, the biomass market has been saturated with materials. So we don't really have the ability to treat much of the materials out there."
Taking Action
Although the challenges are many, forest health in the Sierra Nevada must be addressed in order to limit the amount of tree mortality and catastrophic wildfire moving forward, researchers say. They all agree on two primary methods to combat the issue—forest thinning and control burning.
North, the research scientist based out of UC Davis, has worked off and on for 20 years at the Teakettle Experimental Forest, located near Wishon Reservoir at about 7,000 feet elevation in the Sierra National Forest. There, researchers study the ecosystem to gain a better understanding of what makes a forest healthy.
"Really, in a word, it's fire—it's frequent, low-intensity fires," North says of their findings. "Any way we can get more of the right kind of fire back in the forest, it's definitely a win all the way around. It's just that people don't like the smoke and there's liability and safety concerns with it, and it's difficult to do in places. So that's a problem. But that's probably the best thing we could do overall in the Sierra."
The heightened state of alert given the severity of California's drought could force preventative action, Branham says.
"Most of the folks involved in these issues understand the challenge and how daunting it is, but there are a lot of folks trying to figure out how to get that work done," he says. "There's a lot of pieces to this, but clearly we've got to increase the pace and scale of the restoration efforts. The consequences are severe."
He adds, "There's a growing understanding of that, and there's good cooperation between a lot of different parties that haven't always gotten along very well, but are really seeing that the consequence of us not figuring this out together is going to be these huge, intense fires like the Rim Fire and King Fire."
A key component to nursing the Sierra Nevada forests back to health is beefing up the infrastructure. That means constructing new sawmills and biomass plants—or an innovative combination of the two—or restoring the dilapidated mills that have long been shut down. The ideal operation would be a site with the ability to process a variety of different wood material, Branham says.
"If we see any of that infrastructure return, it's going to look different than it did in terms of size and scale and technology. It's something we're working on, to see if there's some kind of a business model where when wood comes in its value is extracted in different ways—maybe smaller-scale lumber production such as post and poles and other sorts of niche products," Branham says. "There's clearly the opportunity for some more milling capacity, but also for these other types of products like biomass."
The bottom line, however, is that the operation has to be profitable. The state and federal government could play a role by providing incentives and covering some of the costs associated with opening a plant.
The old mill sites provide the best possible solution, Branham says.
North Fork, a mountain town in the Sierra National Forest—where Price lives—is the closest to making that vision a reality. The town is the site of a former sawmill operation that was shut down more than a decade ago. This spring, the North Fork mill received a grant from the California Energy Commission to construct one of the first biomass gasification plants. Once constructed, the plant will use forest biomass sourced from fuel-reduction programs in the area, which will then be converted to electricity, heat and biochar—a carbon byproduct used as a soil conditioner and filter media.
It's a small step toward salvaging the Sierra Nevada's forests, but it's progress.
"It's scary. The dead trees you see out there, you realize that most of them in that area are really stressed, even if they haven't shown signs yet. And that just makes them so vulnerable to fire. So it's a big problem, and we have a lot to do," Branham says. "But if we don't get started now, we're never going to get there."
---
Sylas Wright is a newspaper editor and writer based in Truckee.