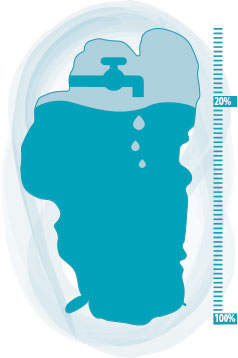 06 Jul

Lake Tahoe Utility Districts Begin Mandatory Conservation

Anyone visiting Lake Tahoe can see California's drought firsthand. Beaches, especially those on the north and south shores, have turned into acres of sand. Piers stand tall on dry pillars, completely out of the water. The Truckee River Dam at Tahoe City sits ineffective, unable to store the extra six feet of Tahoe water because the water just isn't there.

The Lake's drooping level, now well below its natural rim, is a reminder of the increasingly daunting conditions across the West. When winter of 2014–15 failed to deliver the Sierra snowpack California relies on for a third of its agricultural and residential water use, few residents questioned whether or not something had to be done.

Standing on dry ground in a normally snowy meadow near Sierra-at-Tahoe Ski Resort, Governor Jerry Brown announced mandatory state water cuts in April—the first in the Golden State's history.

"People should we realize we're in a new era," Brown said during the announcement. "The idea of your nice little green grass getting lots of water every day, that's going to be a thing of the past."

Like every other California water district, the agencies managing water use around Lake Tahoe are figuring out ways to promote water conservation and hit their targeted cuts. But it won't be easy. South Tahoe Public Utility District (STPUD) and North Tahoe Public Utility District (NTPUD) must save at least 28 percent over 2013 levels or face steep state fines. Tahoe City Public Utility District (TCPUD) must save a minimum of 20 percent.

"The way we've got it mapped out, it's attainable," says Kurt Althof, the grants and community information administrator for TCPUD. "However, it's going to completely depend on all our customers doing their part. If every household cuts back the amount we prescribe them, yes, it's attainable."

All three districts have implemented rules surrounding water use. Washing cars now requires the use of hose shutoff nozzles. Water at restaurants will no longer be served without a customer request. Watering lawns and landscapes is limited to three days a week. And, it's not just in Tahoe. These measures are being enforced all over the state.

"This is the drought of the century, with a greater impact than anything our parents or grandparents experienced, and we have to act accordingly," Felicia Marcus, chair of the State Water Resources Control Board, said in a press release announcing the mandatory conservation regulation.

The biggest challenge for Tahoe's districts is making customers understand how important conservation is, says Pam Emmerich, NTPUD technology and public information officer. Each district has set up a website dedicated to conservation, included information in their bills and informed their staff to spread the word.

"We are really doing this based on education," Emmerich says. "We know our customers are aware of this and that they're trying to do the right thing."

Tahoe City is taking the most targeted approach of the three districts. The TCPUD will send out customized conservation goals for each of its customers based on past usage. So far, TCPUD is confident it can meet the 20 percent state mandate, Althof says.

"To my knowledge, we've gotten no pushback so far," Althof says. "Everybody is more than understanding of the situation and willing to do their part. They just want to know what their part is."

The regulations get a little trickier in South Lake Tahoe, where not all water customers have meters to gauge usage. Tahoe City installed water meters for each of its nearly 5,000 customers around four years ago. North Tahoe customers have been metered since the 1980s.

"Because we're not 100 percent metered, we're not looking at giving people an exact figure," says STPUD water conservation specialist Donielle Morse. "We cannot say 'OK, you've got X amount of gallons per day.' We just can't do that with the way our system is currently."

Though the ground water supply in Lake Tahoe is stable compared to other parts of the state, South Lake Tahoe began major water conservation projects in 2007. STPUD restricted irrigation to three days a week and started a turf buyback program. Since 2007, it has lowered water use 27 percent, general manager Richard Solbrig says. This drop will make it even more difficult to save another 28 percent over 2013 levels, he adds.

This summer, STPUD expects to drop outdoor irrigation days to two and limit watering to 20 minutes per zone. It's also putting more money into its water-efficient appliances rebate program and its turf buyback program. STPUD hopes to negotiate with the state for a lower mandate based on past efforts and the reliability of the area's groundwater. If it's not successful, the district could be facing a problem.

If public utility districts do not meet their mandated cuts, penalties of up to $10,000 per day could be assessed, state officials announced.

With that in mind, employees of the three districts have taken water conservation to heart, especially in their own homes.

"We're doing everything we're asking our customers to do and more at every chance we get," says Cindy Gustafson, TCPUD general manager.