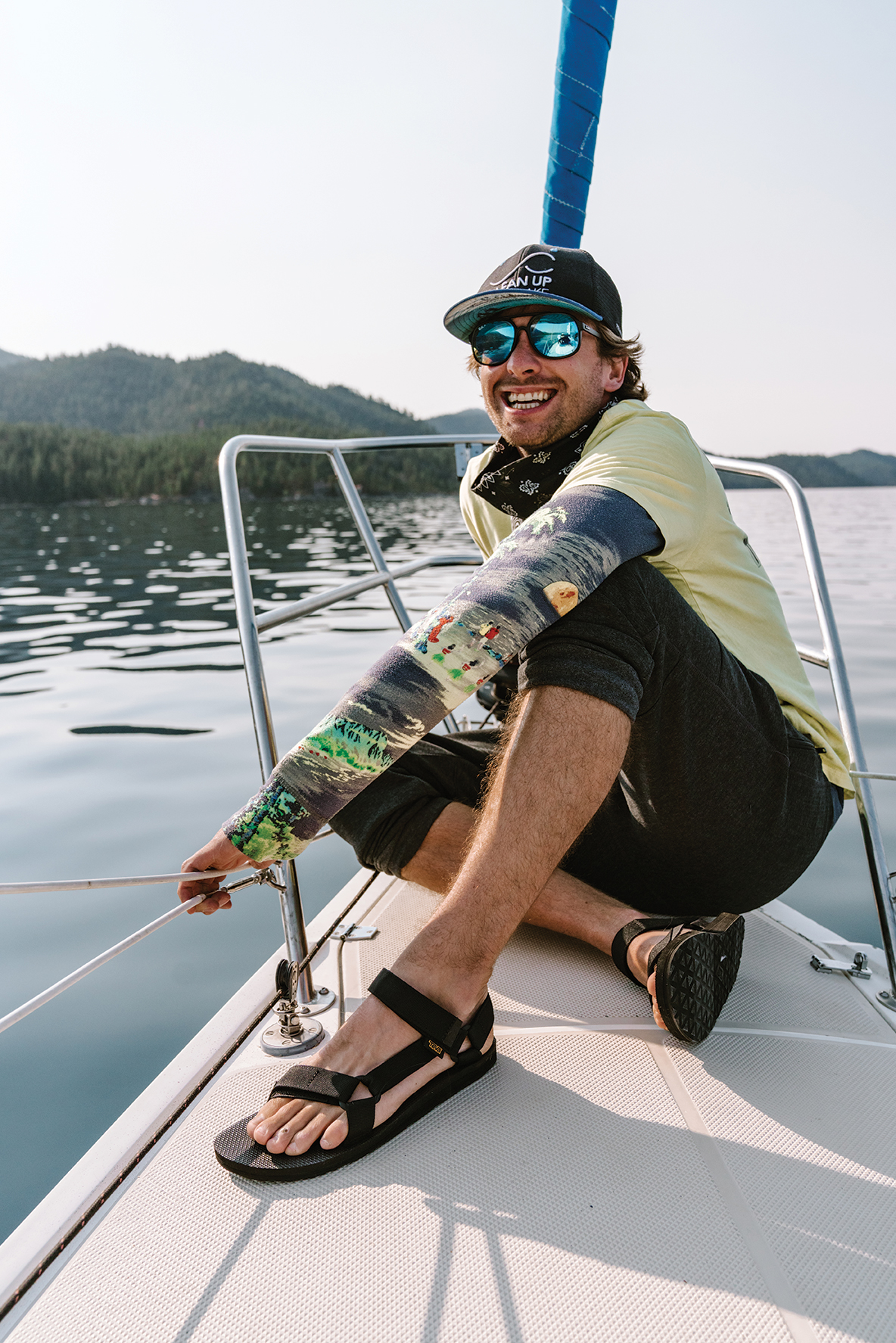 Colin West is spearheading the nonprofit Clean Up the Lake effort, which aims to pull trash from the entire 72-mile shoreline of the lake, photo by Laura-Visconti
25 Jun

Making a Deep Difference
Clean Up the Lake founder Colin West motivates hundreds of volunteers in Tahoe's largest underwater cleanup
On a sunny Friday morning in May, 11 scuba divers clad in trilaminate drysuits and thick rubber wetsuits walked to the water's edge near Edgewood Tahoe's 17th hole. The group was on a mission: scavenge the bottom for garbage and debris, and return it to the surface for proper disposal. They spent hours under the 50-degree water and pulled up old tires, discarded concrete, old beverage containers and other trash from the sand.
It was hard work, a dive that would wear out even those accustomed to physical challenges underwater. But for this group, it was just the beginning.
Led by South Shore resident Colin West, the nonprofit Clean Up the Lake and hundreds of volunteer divers are cleaning up Lake Tahoe's entire 72-mile shoreline, one bottle, can, tire, cinder block, plastic bag and crusty old pair of lost sunglasses at a time. The massive effort will take hundreds of dives, dozens of boats, kayaks and Waverunners, and precise organization. But the expected outcome is to remove tens of thousands of pounds of trash, much of which has drifted along underwater for decades.
"It could become one of the largest cleanups in Tahoe's history," West said during a TEDx talk he gave in South Lake Tahoe just after kicking off the cleanup in May. "But more than anything, I want it to be a stepping-stone for us to pay attention to what we're doing."
Lake Tahoe has had dozens if not hundreds of litter cleanups, often at various beaches after holidays or along the roads or trails of a specific area. But West's vision of tackling the whole perimeter of the lake is different. Perhaps because of its huge scale or because it has never been done before, the project has gained momentum.
Clean Up the Lake has garnered a tidal wave of volunteers and hundreds of thousands of dollars in support from major sponsors like Tahoe Blue Vodka, Tahoe Fund and Vail Resorts.
So how did West, a television and documentary producer who focuses on the wine industry, create a movement that could leave Lake Tahoe cleaner than it has been in decades? With a lot of help, he says. 
"I couldn't do it without our supporters, partners and sponsors," West says. "Without that, there wouldn't be anything to lead."
After working in production for nearly a decade and feeling a little burned out, West's inspiration for the cleanup stemmed from a trip to Belize, where he witnessed how much plastic had washed up along the region's beaches. He knew right away he wanted to make a difference.
Back in the U.S., he started a nonprofit, Clean Up the Cayes, to address the issue in Belize and began organizing volunteer cleanup trips. He brought the concept to his home in Lake Tahoe not long after, promoting topside litter removal.
During one of those events in 2018, his group removed 40 pounds of trash from the shore near Kings Beach. At about the same time, Lake Tahoe's first official underwater cleanup, organized by West's childhood friend Meagan Cassou, lifted over 600 pounds of bottles, cans, sheet metal and garbage from the boulder-strewn bottom around Bonsai Rock. West was impressed by the impact and the sheer amount of trash the divers found.
"I started doing beach cleanups here, but comparatively speaking, it was nowhere near as dirty as Belize," West says. "But you look under the surface, both figuratively and literally, and you see the trash management issues."
No stranger to action sports, West learned to scuba dive to start exploring the pollution issue more. The more he dove, the more trash he encountered, often decades-old pull-top cans and other litter that had been on the bottom for years. During his test dives, the trash weight totals started to pile up and more people began to take notice. The idea to clean the whole Tahoe shoreline crystalized, and West's infectious energy and enthusiasm—not to mention his marketing chops and persistent media messages—pulled in volunteers and sponsors.
"He was just so engaging and so inspiring," says Meghan Burk, chairman of Clean Up the Lake's board and a diver on the 72-mile cleanup. "Anyone who wanted to dive in, if you will—every pun intended—he was just like, 'Let's go for it.' That's one of his wonderful qualities is just instilling the passion and the goal in other people."
As West sees it, making a difference can be fun, even if it's tedious. When they're diving, the group tries to enjoy pulling algae-coated debris from the water. Burk remembers West trying to start an underwater game of Frisbee when they were doing a cleanup in Donner Lake and pretending to have an underwater sip of beer from an old can.
"Our team has so many laughs when it comes to garbage or the things we find underwater," Burk says. "It just becomes a comedy."
But West is the first to point out that Clean Up the Lake is far from a one-man show. He constantly credits others with the success of the project. He inspires people to take action on their own, Burk says.
"He wants this to be owned by others," she says. "A true leader doesn't just have followers. They encourage and engage others to lead themselves."
West's management style also speaks to his approach to the long-term goals of Clean Up the Lake. Rather than just pick up the trash and wrap up a successful cleanup, West studies the patterns of trash density and is working to identify problem areas to hopefully be able to tackle the issue at its root. The group records every piece of garbage that's collected and its location, using the United Nations litter classification system. Once the cleanup is complete, they plan on sharing the data.
"We need to understand the problem," West says. "We're working to see where the trash is coming from, so we can make a difference in the future."
---
Dylan Silver is a writer and photographer based near Lake Tahoe. He is the author of the underwater photography book Clarity: A Photographic Dive into Lake Tahoe's Remarkable Water.