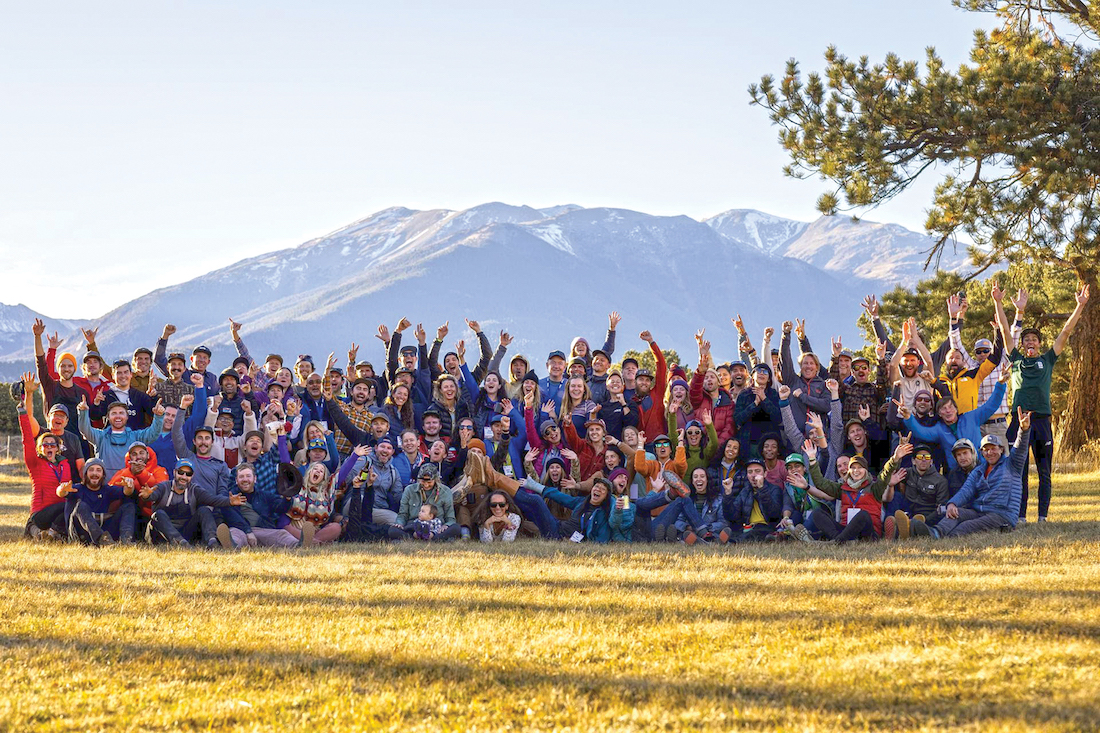 Members of the POW Alliance at the 2021 Leadership Summit, photo courtesy POW
30 Nov

Protect Our Winters Rallies the Outdoor State
Founded by professional Truckee-based snowboarder Jeremy Jones, POW has
grown from a humble grassroots organization into a global force
working to combat the effects of climate change
Our next meeting is in 15 minutes. Capitol Hill is a bit overwhelming. We all feel it, but everyone also seems to be riding the collective good energy of our mission. We are athletes and creatives from across the country, and we are meeting with members of Congress to lobby them to act on behalf of the climate.
The effort is large, but nowhere near the scope of the problem at hand.
The ambitious endeavor is part of what makes Protect Our Winters—commonly known as POW—so real and impactful. The mountain of issues related to climate change can seem insurmountable, but since POW's inception some 15 years ago, the organization has led by example to show how this climb, while imposing, is in fact possible.
"We can either lament about the way things used to be and bury our heads in the sand about the inevitable changes that our communities and livelihoods will face, or we can do something," said POW Athlete Alliance member Dani Reyes-Acosta, speaking at the group's annual leadership conference at Sky Tavern this past October.
Collective Effort
Professional snowboarder and Truckee resident Jeremy Jones founded Protect Our Winters in 2007. Having spent most of his life on snow as one of the world's elite big-mountain riders, Jones noticed changes that aligned with what scientists were telling leaders around the globe: Earth's climate is changing, and it's being propelled by anthropogenic activities—namely the continuous extraction and burning of fossil fuels.
Jones also recognized no one was stepping up enough in the outdoor sports world, so he decided to do something about it himself, founding POW first as a nonprofit and later with an advocacy arm, POW Action Fund, to directly work toward climate action.
"I started POW because I knew climate was the issue, the outdoor state is bigger than the extraction industry, and if we put together a collective effort, we are more powerful," says Jones.
While POW's creation was originally a simple act of a high-profile athlete doing something good for the environment, the group has grown vastly in its reach and significance over the past decade and a half. 
In 2021 alone, according to POW statistics, the organization reached 33 million people through nonpartisan voting campaigns and amassed 1.3 billion impressions for climate from 622 pieces of media coverage. Meanwhile, 7,500 people attended POW virtual events, while POW ambassadors met with 32 Republican and Democratic members of Congress.
POW chapters can now be found across the world as Jones and crew have brought climate consciousness to the forefront of the ski and snowboard community, and ultimately the greater outdoor sports world as well. With annual efforts to lobby Congress, vast amounts of energy employed to get voters activated around climate issues and campaigns like the "Outdoor State" that seek to reach as many nature lovers as possible, POW has become an undeniable group of influence.
"The ultimate swing state is the Outdoor State, which is 50 million people who consider the outdoors a strong part of their life," says Jones. "If we can get all of the Outdoor State to vote for the climate, we are doing the work that is necessary, especially if we can get the message across that caring for the climate is just like caring for the land that you hold so dear."
In Alliance With Climate Action
Part of the organization's formula has been to invite influential athletes to join scientists, creatives and even major brands into the POW Alliance, bringing together people from various walks of life who all share concern for the climate and want to make a difference.
Not surprisingly, numerous renowned athletes from the Tahoe area are members of the Athlete Alliance, all of whom play an outsized role because of their ability to reach a large audience. Elena Hight, a two-time Olympian, X Games gold medalist and snowboard hero to many, is a member of this group. The South Lake Tahoe athlete has seen the effects of climate change firsthand, both in her world travels and in her own backyard.
"Tahoe is such a special place and I believe because of its elevation, geography and influx of visitors is very much at the forefront of being affected by climate change," says Hight. "I believe that people who live and love Tahoe for all its wonder want to help protect and preserve this place. This is why POW is so important here. POW has a mission of turning enthusiastic outdoor people into advocates for the environment, and I feel like I can not only align with that mission, but hopefully use my voice to help encourage others to join the movement as well."
While Hight is joined in the Athlete Alliance by some of the biggest names in winter sports—Chloe Kim, Chris Davenport, Gretchen Bleiler, Jimmy Chin, Kikkan Randall—she also works alongside respected climate researchers who make up the POW Science Alliance, such as University of Nevada, Reno professor Anne Nolin.
"I love working with POW because they are solutions-oriented and, while they focus on the big picture of climate change, they provide so many opportunities for individuals to get involved and act," says Nolin, whose research focuses on snow and glaciers and how they melt in a changing climate. "The other reason I love working with POW is the respect that the athletes have for science. Having worked as a scientist my whole career, it's reassuring to see their commitment to learning and communicating about climate change. … I'm inspired and it gives me hope for a low-carbon future." 
Effecting Change
What makes POW distinctive is that it's not just scientists articulating the issue to the masses through the media. It is a wide range of people with expertise from years spent in the mountains working passionately together to help reduce greenhouse gas emissions on a large scale. And on Capitol Hill in Washington, D.C.—where POW often is—speaking directly to those who have the power to draft, edit and deny legislation related to the climate, using real-life experiences is more impactful than simply referencing the latest stats.
POW also makes a point of spotlighting the magnitude of the outdoor recreation economy, an industry that generates $646 billion annually and supports 6.1 million jobs, according to a study by the Outdoor Industry Association. Highlighting the economic impact of outdoor recreation undoubtedly played into the historic legislation that passed in August 2022 known as the Inflation Reduction Act (IRA).
Hailed as the most impactful climate legislation of our lifetime, the bill was celebrated as a major victory for POW and its supporters. 
"We are already seeing the positive benefits of the bill," says Jones. "Twenty-eight billion [dollars] for clean tech manufacturing was announced, which will employ thousands of people. The bill early on had estimates that might be around 360 billion [dollars] in clean tech, but now the financial sector is thinking that number is more like 1.7 trillion dollars over the next four years. That's huge! It creates a massive boom that even makes the tech boom look small in comparison." 
After the IRA passed, the White House invited several POW staff and Alliance members to celebrate in Washington.
Despite the progress that's been made, the fact that climate change remains a partisan issue makes POW's efforts that much harder. "We basically picked a fight with the biggest industry in the world who is outspending us 1,000 to one," says Jones. Nevertheless, POW remains steadfast in its mission to reach not only politicians on both sides of the aisle, but those who are part of the Outdoor State regardless of their party identity—the skiers, climbers and hunters who are all affected the same by a changing climate.
The reality is, if one person gets activated and registers to vote and does so with climate on their mind, if one politician shifts their stance to be more in favor of climate policies and legislation, the needle toward action—as opposed to apathy—moves positively for the organization.
"We know we're not wrong. The science and the mountains tell us so," Jones told the crowd at POW's recent leadership summit, where he referenced the organization's best-selling T-shirt, which reads: "Part of a vast conspiracy to bring you cleaner air, cleaner water and a healthier planet through fighting climate change."
"But hey," Jones continued, looking at the shirt, "if this is wrong, I'm OK with doing right by Mother Nature."
As the political force it has become, POW lives by example, showing the importance of protecting the outdoors we all love, and that finding common ground to combat climate change can be one of the biggest forces for change. As much as it may seem impossible to solve the climate crisis, ask Jones or any of the other Alliance members who have won gold medals or climbed the "impossible" peaks of the world: It's all possible, as long as you take that first step.
Like POW's founder and president says: "Doing nothing is certainly not the answer."
---
Brennan Lagasse is a backcountry skier, professor of sustainability and a proud member of the POW Alliance. Check out his writing, ski guiding, nonprofit educational work and more at stateofthebackcountry.com.