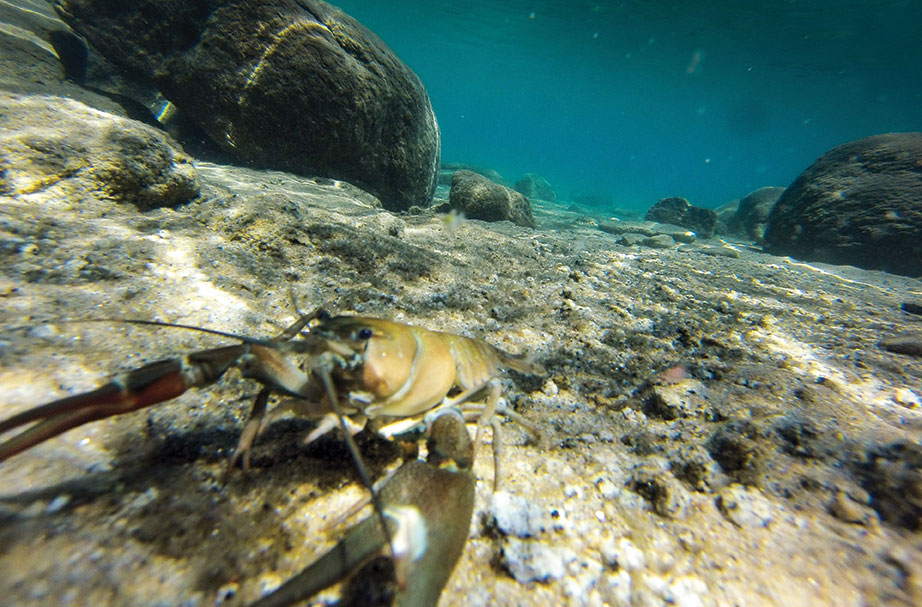 A crayfish in Lake Tahoe, photo by Chris Bartkowski
09 Dec

Tahoe Crayfish: Catch-and-Export

Fred Jackson opens the freezer door in his new Gardnerville warehouse and a billow of steam rolls out from the cold space. Other than a few bags of still-crawling crayfish, the walk-in is empty.

"We were supposed to have [crayfish] today, but the boat is stuck in the middle of The Lake in four-foot breakers," he says, peering into one of the buckets. "They're working their way back to Tahoe Keys. They've got a good seven miles to go, and it's slow going."

A mid-summer thunderstorm picked up and pushed one of Jackson's new captains and his catch far offshore. Jackson, owner of Tahoe Lobster Company, The Lake's largest commercial crayfish operation, hoped to have a few hundred pounds of fresh Lake Tahoe crayfish to sort and prepare for shipment to Europe. But the task will have to wait another day.

"There are a lot of guys who sit on a barstool and say, 'Man, we could make a million dollars pulling crawfish from Lake Tahoe," Jackson laughs. "It's not like that at all."
Growing the Business
Three years ago, Jackson started Tahoe Lobster Company. It was the first commercial fishing operation on Lake Tahoe since the stocks of Lahontan cutthroat trout were harvested to near-extinction from the crystal-clear waters some 80 years ago. Though there are millions of pounds of invasive crayfish inhabiting Lake Tahoe, business has been difficult and less than profitable. But it's about to get easier.
Jackson has revised his plan and found a new market for the invasive species. Europeans, apparently, cannot get enough of Tahoe's clawed crustaceans. With an overseas distribution partner, Tahoe Lobster Company is expecting to ship 2,000 pounds a week later this year—a big break for the weary fisherman and, hopefully, a boon for The Lake's ecosystem and clarity.
"Increasing the volume of crayfish we're taking out of here will, in turn, lessen their impact on the near-shore environment," Jackson says.
Scientists estimate there are more than 200 million crawdads in Lake Tahoe. Due to their excrement, the "mud bugs"—as they're known in the South—have been linked to declines in near-shore clarity and biodiversity as well as increases in algae blooms. They also taste delicious, hence Tahoe Lobster Company's motto, "Clarity by cuisine."
"It's a beautiful crawfish," says Scott Lee, retail manager of Sierra Gold Seafood, a seafood distributor based in Reno. "We get some out of the Sacramento Delta. This is a much cleaner taste because it comes out of the cold, clean waters of Lake Tahoe."
After quitting his job with a wildlife preserve near Yerington, Nevada, in 2011, Jackson began working toward legislation that would allow commercial fishing of crayfish on Lake Tahoe. The Nevada Wildlife Commission passed regulation later that same year. In 2012, after months of having his traps stolen and shelling out for operating costs, Tahoe Lobster Company totaled losses of more than $20,000.
"The first year was tough," Jackson says. "But you've got to have some sacrifices."
The 50-year-old Yerington resident persisted. Through the second year, he pulled traps by himself, selling the haul to Sierra Gold. Several restaurants served crayfish and Jackson held the inaugural Boil n' Fry Day, a crayfish-themed event at MontBleu Resort Casino in South Lake Tahoe. But as the buzz about a local seafood source began to wear off, selling his catch became more and more difficult.
Establishing the Market
The Lake of the Sky is hardly the only body of water that's dealing with destructive invasive species like crayfish. The Mississippi River has Asian carp. South Florida has lionfish. Both fish compete with native species for food and habitat. Residents of both areas are fighting back, though creating a thriving private industry around the pests has been difficult.
Despite the fish's poisonous spines, lionfish are served at dozens of restaurants across the Caribbean and East Coast. Regular competitions are held to see who can spear the most of the colorful invader. The reefs have begun to rebound, but very few people are making a living solely off harvesting lionfish.
In an effort to keep Asian carp out of the Great Lakes, millions of pounds are being exported to China, where the fish are eaten or ground into fishmeal. Fishermen are paid by the federal and local government to harvest in a coordinated way, targeting the fish where the population is most dense. Still, no clear evidence exists that catching and marketing is a solution that will work.
"Some people believe that commercial harvest has already had a small effect on Asian carp populations, but it is definitely debatable," says Duane Chapman, a fish biologist with the U.S. Geological Survey.
Subsidized commercial fishing closer to the Great Lakes in-water, electric barriers has shown to be effective and profitable, but that's only because of the government help, Chapman says. The problem, he adds, is there just aren't enough fishermen who will endure the backbreaking work and low wages of the budding market.
Lake Tahoe, therefore, is one of the only examples where a potentially profitable private market is being established for an invasive species.
"We've taken a very unique approach in the Tahoe Basin to try and encourage activities that don't require subsidies to help develop the market," says Sudeep Chandra, a researcher with the University of Nevada, Reno, who's helped Jackson study the impacts of crayfish in Lake Tahoe. "Having the market generation will be absolutely critical to removing concentrated crayfish populations here."
Finding a Hold

A Crayfish lands ashore at Incline Village's
Ski Beach, photo by Kyle Magin
Europe's noble crayfish is a big, thick crustacean that inhabits the rivers and lakes of much of the continent. Eaten by nobility, it is widely considered one of the tastiest varieties of crawdads.
A crayfish plague spread through Europe over the last 100 years and around 95 percent of the native population was lost, according to research by Sweden's National Board of Fisheries. The decimation left a vacuum of demand, particularly in Scandinavia, where crayfish festivals are held each August.
Though North American signal crayfish are now an invasive species in much of Europe, there is still demand for import. Prices range from $8 to $10 per pound wholesale—$2 to $5 above average American prices as of August—and even more at retail. The high prices have allowed Jackson to subcontract with fishermen, rather than pull the traps himself.
"Today was the first day [of subcontracting] I actually sat on somebody else's boat," Jackson says with a laugh from his warehouse. "I watched how they sweat."
Jackson has hired two boats so far and is looking for two more. He hopes to continue to grow and is looking toward China. But still only the Nevada side of The Lake has regulations in place to allow commercial fishing. California passed a law allowing the harvest, but has yet to develop a permitting process.
This is one of the holdups to filling that freezer and one of the reasons Jackson believes they haven't seen the environmental impact of their work.
"If you get enough fishermen out there and if California gets in the game, I think we could make a huge difference," he says.
---
Dylan Silver is a South Lake Tahoe–based writer and photographer.