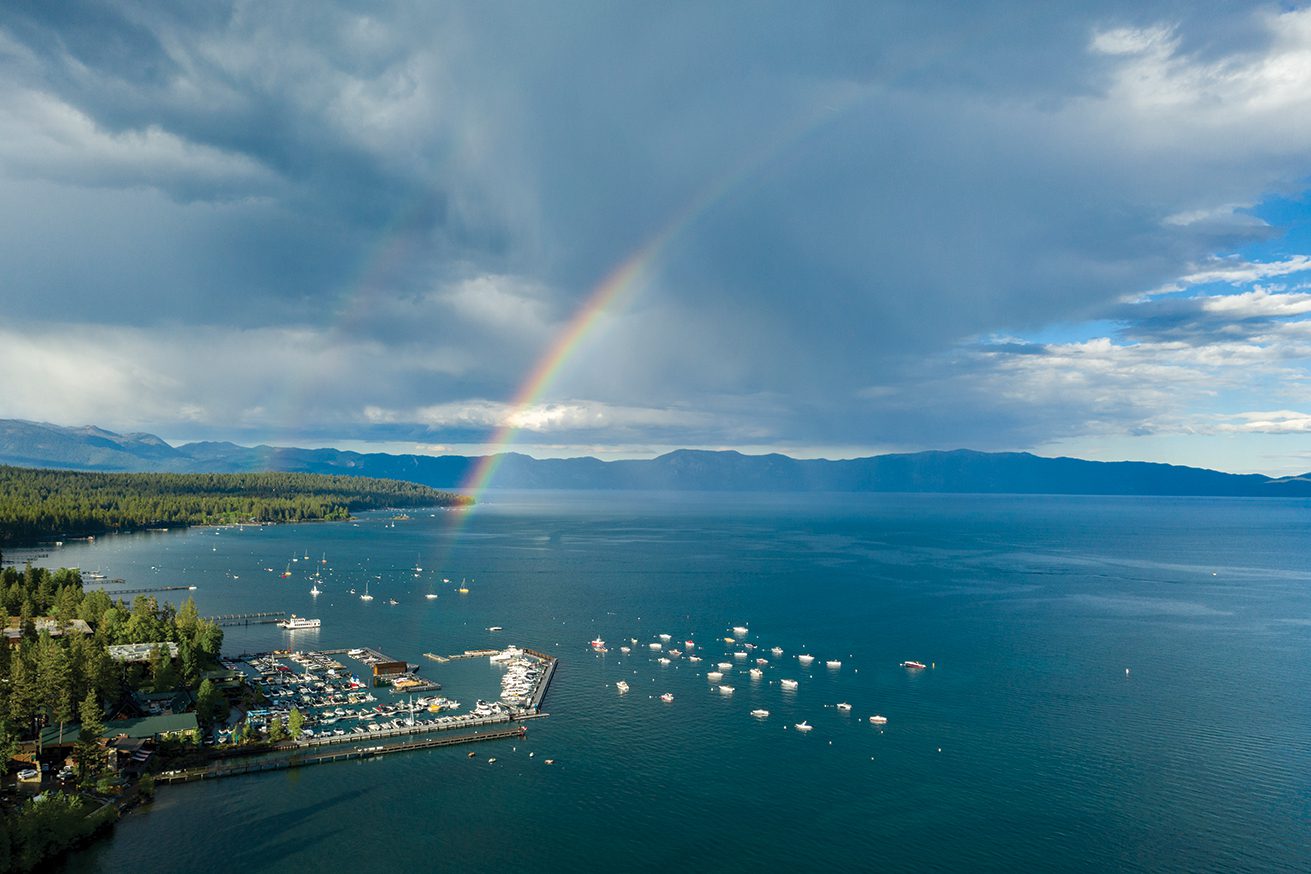 Tahoe City Marina, photo by Ming Poon
27 Jun

Tomorrow's Marinas
Lake Tahoe marinas are planning for lower water levels, higher temperatures, a shift to electric boats, increasingly crowded shores and more—all to continue
providing access for locals and visitors while protecting their shared natural resource
Most people come to Lake Tahoe and find a marina.
Mansoor "Elie" Alyeshmerni came to a marina and found Lake Tahoe.
Over the course of his life in academia, the linguist and former University of Minnesota professor also learned a bit about the real estate industry, so he decided to shift into that field when he retired and moved to California in 1998. Understanding the classic mantra "location, location, location," he sought quality properties, which eventually led him to Ski Run Marina on Tahoe's South Shore in 2003.
His initial foray to view the property was the first time he ever visited Lake Tahoe. The harbor was in bad shape, he remembers, but it was a superb location.
"The quality of the lake—the mountains and the pine trees and such—it was all so beautiful," he says.
Alyeshmerni decided to purchase the marina and commissioned a report that indicated it would take between $150,000 and $250,000 to fix it up. More than $2.5 million later, he says, he was glad to do it. He wanted to be sure that whatever was being done—securing permits, shifting dirt—would be good not just for the marina property, but for the lake itself in the long run.
Now, as president of the Lake Tahoe Marina Association, he coordinates the efforts to achieve those dual goals—protecting the future of the lake and its marinas—on a broader scale by serving as a guide, liaison and voice on everything from calling for standardized dredging depths to seeking permission to move buoys as part of a low-water response plan.
The association includes all 14 marinas on Lake Tahoe, united because—while each has a unique history, goal and character—none would be here if not for the 37 trillion-or-so gallons of water between them.
Like seemingly everything these days, however, that unifying point is changing. From lake levels throughout the season to clarity to the presence of invasive species, Lake Tahoe is not the same body of water it was in the 1960s or '80s or even early 2000s. With that in mind, marina operators are drawing on the past and planning for the future while they work together and with the complicated web of agencies that govern the area to protect the single blue body that connects them all.
Bringing the Lake to the People
"There are really two types of functions," Alyeshmerni says, explaining the role marinas play on the lake. "One is marinas that help store boats for private people and do repairs and maintenance. And another type is where there are no private boats on it—it's all through concessions. So they're for boat rentals, sports fishing rentals, sailboats, cruise boats and so on."
Tahoe City Marina has slips devoted to private owners and others available for rent, plus amenities like a restaurant, a yacht club, shops and even workforce housing. Phase one of an expansion in 2012 created more access, including improvements to the popular lakeside trail and opening the outer pier to the public.
"People are starting to fish out there again and all the things that I remember as a child having been able to do at the marina," says Jim Phelan, general manager at Tahoe City Marina since 1997.
In short, Alyeshmerni explains, "the function of the marina is to bring the lake to the community and to the visitors."
Those locals and guests, in turn, have impacted Lake Tahoe in myriad ways for decades, altering the waters with everything from the fuels that power their boats to the organisms that hitch rides on their craft from other bodies of water.
In a way, the various governing bodies that oversee Lake Tahoe are always walking a line in an effort to keep the lake open as a recreational resource while maintaining it as pristine a natural wonder as possible. Marinas help with that balancing act. In addition to providing lake access—serving as a bridge between the two worlds of land and water—marinas also serve as a bridge between the authorities who create and enforce regulations and the people who spend a weekend, the summer or their lives enjoying the lake.
"Essentially, we—along with the agencies—are interested in a clean lake," Alyeshmerni says. "The marina owners have much more of a stake that the lake be clean than anybody who works at any of the agencies, because this is our livelihood. If the lake were to be polluted and it led to a problem, we would be the first to notice it and the first to suffer from it."
After regulatory agencies banned carbureted two-stroke engines from the Lake Tahoe Basin in 1999 to reduce fuel getting into the lake, further pollution-focused regulations followed, including some aimed at marinas. In 2014, confused by some of what was being asked of them, the marinas organized into an association that Alyeshmerni says enjoyed a welcome reception. Since then, the association has continued to foster goodwill through cooperation.
"I'm always thanking and showing gratitude to marinas for their partnership," says Jeff Cowen, public information officer for the Tahoe Regional Planning Agency (TRPA), adding that managing a lake that touches two states, five counties and 44,000 private parcels takes willing partners.
Alyeshmerni notes that one of the association's most significant accomplishments came about three years ago: "We committed for every marina to become a certified Clean Marina." He says all but two of the 14 have achieved that certification—and the two outliers were going through leadership changes at the time the commitment was made, with current leadership aiming at the certification now.
"I think one of our great achievements is the fact that we have become part of the solution rather than being considered by some as part of the problem," he says.
Alyeshmerni points to the new shore zone changes that were 25 years in the making, noting that the TRPA's director had the foresight to invite all stakeholders—including marinas—to participate in the ultimately successful process.
Charging Forward
While the vast majority of craft are now powered by clean-emission engines, there's an even newer trend of electric boats, which don't dump fuel at all.
"We just got our permit from the TRPA to put in a fast charger for electric boats," says Phelan of the Tahoe City Marina, speaking in mid-spring 2022. "People that are in the know know that that's coming—and all of us marinas that have rental boat fleets, the TRPA has asked us to consider putting electric boats on the fleets and moving away from the internal combustion engines. …
"Homewood's doing the same thing. … I'm not sure about the rest of the marinas around the lake, but they all know we're doing it and they know it's kind of coming down the pike, so we're trying to do the best we can to be in front of everything and just make sure that we preserve our resources as best we can. Marinas are a good place to do that."
David Topol, marina director at Homewood High and Dry Marina, says they have partnerships with electric propulsion company Ingenity, boat-maker Nautique and boat dealer Superior Boat Repair and Sales, which together debuted the GS22e—a fully electric sport boat—in 2019 after some on-the-water testing with help from the marina.
"One of the things with electric boats is it's a different way of fueling them, so to speak. Instead of taking gas, they take electricity, so as a marina, that's where we could come in," Topol says. "You know, it takes a village, right? … As a marina, we're here to support in the fueling—aka charging—of the boats, and then getting the boats on the water and helping the customer to get out and enjoy Lake Tahoe."
He describes Homewood as "being kind of on the tip of the spear of this whole thing" since they installed a 25-kilowatt charger in 2020 to take a boat's battery from depleted to full in five hours. That was "phase one," which served as a proof of concept, even though it serviced just one e-boat the year it was installed. That led to phase two, involving the installation of two 100-kilowatt chargers in June 2022 that can "fill up" an e-boat in an hour.
"So the idea is you could go out, boat, come back, have lunch, charge while you're having lunch at the West Shore Cafe, and then you could go back out for another session on the boat," Topol says. "And then if you were really going for a full-on day, you could come back for dinner and charge while eating dinner and then go out for an evening cruise."
As far as Topol knows, Homewood was the first marina in North America to offer this Level 3 DC fast charging on the water, which allows for quicker "refueling" since the water itself keeps the system cool through the process.
"We hope we're the first of many," he says, "because ultimately, at the end of the day, a network of chargers around the lake would be ideal for people to feel supported from anywhere on the lake, just like we currently are with gas options."
Given that relatively few boaters have the craft to take advantage of this charging option thus far, is it worth it?
Topol says yes: "While we do see this as where the marine industry is headed, it also really aligns with us on our core values in being able to offer this other form of recreational boating that's more sustainable. … If someone has the interest to have a zero-emission boating experience on Lake Tahoe, we want to make that a reality for them."
Safety First
Cowen of the TRPA explains that the association has worked with marinas for years on everything from water quality to boating safety. Around Memorial Day 2022, the association held a boating safety clinic with the U.S. Coast Guard and others. The training also included marinas, who can encourage their guests to download the Tahoe Boating app—which uses GPS to indicate nearby marinas, no-wake zones, bathrooms and more (the group recently released a boating safety video as well).
Cowen attributes the TRPA's strong relationship with marinas to a few factors, but especially the Aquatic Invasive Species Program that launched in 2008. While there are many critters the program aims to keep from taking over the lake, the main focus falls on two unwanted plants: curly leaf pondweed and Eurasian watermilfoil. Cowen says both are a growing problem—though he admits he hates to use what sounds like a pun.
Drought conditions and increasing heat are significant drivers of the problem, giving weeds more opportunities to grow, strengthen and spread. Both plants can propagate from fragments that fall from a rudder or propeller, making them especially difficult to manage, especially as the lake becomes an increasingly inviting home with warmer temperatures and abundant shallows as water levels drop and stay down for longer periods.
To tackle this problem at its root, the TRPA has worked with marinas, all of which have dealt with an infestation at some point or another, Cowen says. Hand pulling, suction dredging and applying rubber mats that starve the plants of oxygen and sunlight are all strategies the groups have employed. They've also been testing weed-killing UV light beamed down from boats on the South Shore.
Then there's the potential problem of new creatures arriving. To keep, say, quagga mussels from hitching a ride into Lake Tahoe, all boats must pass an inspection before heading out. Craft that have touched waters elsewhere must be decontaminated. To accomplish this, there are three inspection sites around the Basin, each of which doles out wire seals and metal bands to indicate that a boat has passed and is safe to hit the lake. Cowen explains that workers at any marina around the lake will cut the band off before launching the boat, then attach a new one when a boat returns.
"Having those marinas as partners in the program is huge," Cowen says. "Otherwise, we'd have an inspector working every boat ramp and launch."
The Future of Tahoe?
None of these changes—boat charging stations, invasive species monitoring—would likely be necessary to the degree they are today if Lake Tahoe weren't so popular. Even as lake levels seem to drop more often, interest in recreation and life on the lake rises.
"If everybody were to empty out of the marina, we could fill it twice," Phelan says of his Tahoe City Marina, noting that their waitlist for a slip is maxed.
Whether the people on the lake are recent residents who took advantage of pandemic-driven "work from home" trends to finally buy Tahoe property or are weekend visitors seeking respite from an increasingly hectic life in the 2020s, everyone has to accept that plenty of people want time on the water.
For his part, the 41-year-old Topol hopes that his children get to enjoy the lake as much as he did during his first several decades of life. 
"That's a key, coming back full circle to, 'Why would we invest all this money into this electric boat-charging infrastructure and spend time when there's only a couple people doing it?'" he says. "We're doing the part that we can towards creating that sustainable future. Can we do it all ourselves? Probably not. Is it going to take other people to get involved? Yes. But if we lead by example, and we put our money where our mouth is, and we walk the walk and not just talk the talk, then that starts to really give that sustainable future a chance."
---
Ryan Miller is a writer who lives in the Sacramento area. Follow him on Twitter or Instagram, @jesteram.