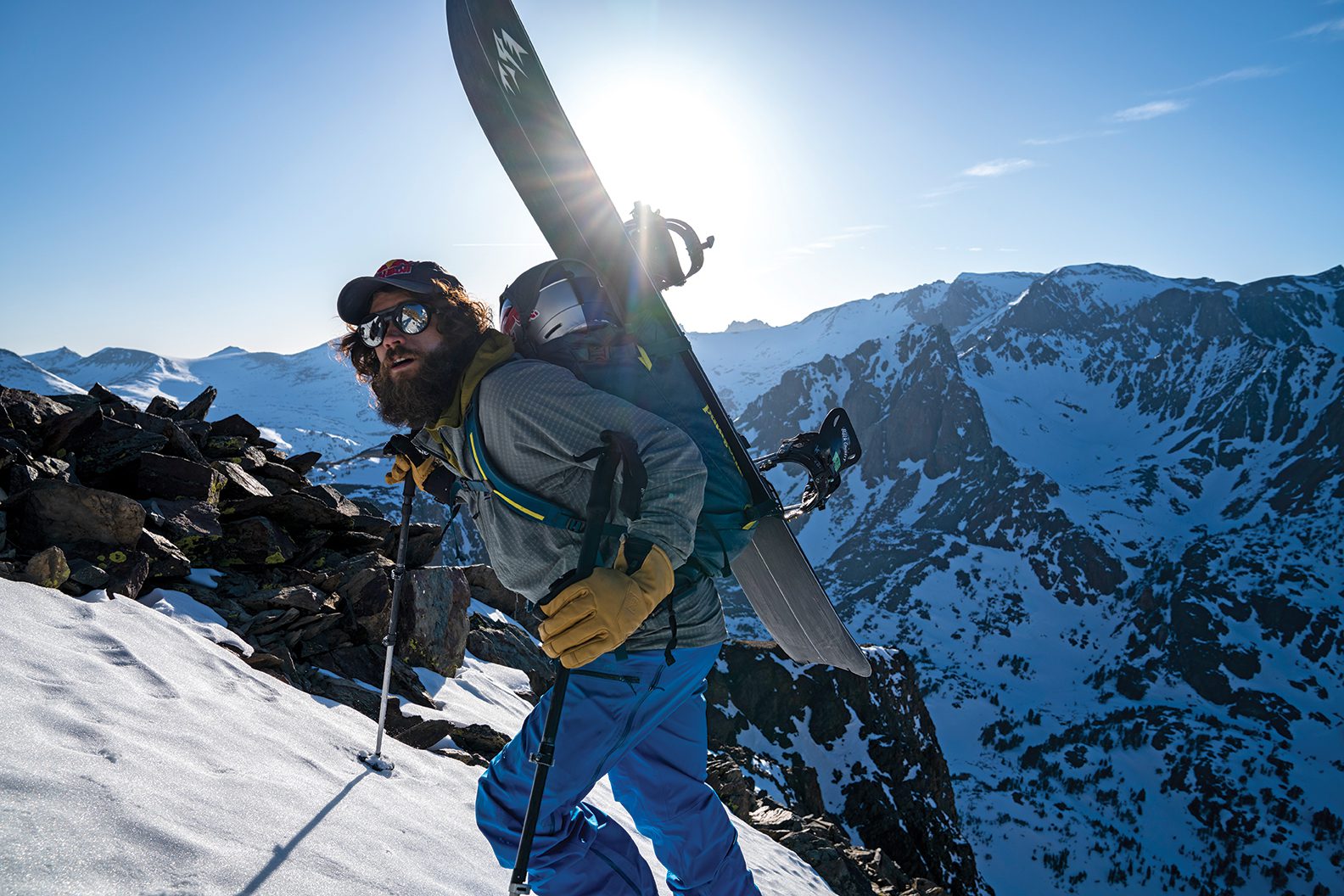 Nick Russell climbs a peak for a sunset lap during a three-day camping trip in the High Sierra, photo by Ming Poon
27 Sep

A Roundabout Route to Stardom
Nick Russell has taken the slow path to the rarified state of professional splitboarding
Nick Russell is a dude of paradoxes. He's youthful in appearance and athletically slim, but rocks a grizzled old man's beard. He could be labeled a stalwart Backcountry Bob, but has core pipe and park credentials. He globe-trots to far-flung mountain ranges, but is most content when at home in the Tahoe backcountry. And he can stay on brand with snowboarding talk all day, but is well-versed on social and environmental issues.
Perhaps it's this diversity of life's spices that has helped the 34-year-old Truckee resident arrive comfortably—though still ravenously hungry—in his current space as one of the most progressive, hardest-working yet easy-going splitboarders in the world.
"He's a 'yes' guy; he's open to it all. He may not even look that much into a mission; he's just down to go," says professional Tahoe skier Cody Townsend, who met Russell on a photo shoot in 2015. "He has that stoke and exuberance of a 23-year-old who needs to be out there every day."
Career Evolution
Like many snowboarders before him, Russell was reared on the East Coast. His dad was a volunteer ski patroller at Woodbury ski area in Connecticut, and he and his brother rode there for free. Inspired by video parts of his favorite riders—including Tahoe-based film stars Kevin Jones and Jim Rippey—he became enamored with freestyle trickery and competing long before he ever considered slogging for turns.
Russell's early riding buddies were not like most, however, as they included young upstarts who would go on to dominate the freestyle world of snowboarding—Kevin Pearce, Danny Davis, Louie Vito and the Mitrani brothers, all of whom were high school classmates of Russell's at Stratton Mountain School in Vermont. This crew helped curate Russell's deep passion for snow-sliding culture as he gradually shifted his priorities from competing in freestyle contests to using the power of his body to ascend mountains in the backcountry.
"I take inspiration from people like Danny Davis, who operate in a different venue within snowboarding than me, but inspire me to do what I do," says Russell. "The people you surround yourself with are the difference between perceived success and failure."
After graduating from high school in 2006, he pushed west to Utah, filming DIY movies with scant sponsors and grinding away at various jobs in the offseason. This period in his career beget the transition to splitboarding, and then to bigger objectives in the mountaineering realm as Russell's path began to clarify in front of him. 
To further mine this vein of interest, in 2014 he moved in with Davis, who serendipitously lived down the street from legendary snowboarder Jeremy Jones in Truckee. He and Jones—whose human-powered snowboarding feats helped lay the tracks for Russell—became friends and trusted riding partners, and Russell soon found himself on the Jones Snowboards team. With the backing of his big-name sponsor, he continued to hone his skills while fostering a network of fellow pro riders, photographers, educators and more.
Russell then signed with industry titan Red Bull in 2020, solidifying more freedom to focus on riding, staying fit, increasing his backcountry knowledge and pursuing interests like environmentalism and social justice.
Interestingly, Russell may be the first to "make it" as a solely human-powered splitboarder. Other professional snowboarders renowned for their backcountry prowess—Jones, Ryland Bell and Xavier De Le Rue, to name a few—were aided by helicopters and snowmobiles for much of their careers. 
"He probably has one-tenth of the downhill experience in the backcountry as I do, and that's an amazing example to set with the way he rides," says Townsend, who enjoyed a long, machine-aided film career before moving primarily toward touring.
Perhaps because of this rarified place he is in, Russell stays vigilant of the deadly conditions that commonly surround him.
"He's on the tip of the spear of progressive big-mountain snowboarding, but also recognizes the balance between go-time and restraint," says Ming Poon, a professional photographer based in Tahoe City.   
In fact, Russell finds the pace of foot-powered snowboarding crucial to his omnipresent goal of safety.
"Mechanized access can be a little too fast-paced for me," he says. "The older I get, I learn I just don't operate as well in that rapid environment. I like to take my time and assess the conditions slowly. You might overlook some signs from the mountains that you would see if you were walking at 3 miles per hour." 
Russell traveled more than he had his entire life during the 2021-22 winter—to the Selkirks in British Columbia, the Tetons in Wyoming, the Tordrillos in Alaska. Ironically, now that he has the sponsorships to support travel, he'd still rather explore Tahoe and the Eastern Sierra, but the anemic winter spurred him to take to the road.
"The beauty of life is you don't know what's around the next corner," says Russell. "You take what comes at you and you adapt accordingly."
Pain and Passion Collide
Russell's path to snowboarding stardom has not been without its challenges. He's battled through multiple knee surgeries, back issues and a host of injuries that have kept him off the mountain at times.
In 2015 he pushed through perhaps his biggest health-related hurdle of all. Fired up at the start of the winter, he found himself fatigued by simple tasks like walking. A CAT scan revealed a grapefruit-sized abscess in his liver, forcing him to take a medivac jet to Salt Lake City from Victor, Idaho. He endured a few weeks of hellish hospital tests and procedures, during which a nurse asked if he had a living will. But the treatments worked, and despite losing 20 pounds on an already compact frame, he recovered. 
"As quickly as the whole nightmare began, I seemed to regain my strength equally as fast," says Russell. "I was on a gradual but solid regimen of eating organic, Bikram yoga and the gym."
By April of that same winter, well ahead of the doctor's schedule, he was back to riding pow, and planning for more.
Emerging from his experiences stronger than ever—including a close call with an avalanche involving his good friend Wyatt Stasinos, which prompted Russell to become more mountain-educated—he is motivated to become as great a backcountry partner, and snowboarder, as possible.
"He's as chill as they come, and suffers through the worst shit with a smile. He does it for the soul," says Poon, who met Russell at a Wilderness First Responder course in 2017.
Well familiar with Russell's positive energy and skill set, Townsend brought him along for a few of the more challenging objectives as part of his "Fifty Project" (Townsend's mission to ski all 50 classic ski descents in North America).
To start the 2021 season, they ticked off Mount Stimson in Montana, which involved dozens of icy river crossings on a 10-mile approach that Townsend claimed to be "the worst approach I have ever done in my entire life." Then in May 2021, they went for a whale: Alaska's rarely summited (or even visited) 18,008-foot Mount Saint Elias. They got denied from the summit—or, rather, wisely decided to turn around—before descending to sea level to wait for a plane to pick them up, which couldn't fly in due to weather, leaving the team to endure seven days of cold, hunger and boredom.
But Russell hasn't forgotten that he's worked many years to voluntarily feel that much discomfort.
"You have to remind yourself that you are putting yourself into these situations. You want to be there," he says. "You can internally be freaking out that you're super tired, but if you embrace that, and take a look around, you'll have more fun."
New (and Similar) Frontiers
As things looked about as stable as they could be in a pro snowboarder's life, Russell decided to shake it up. While he enjoyed riding for Jones Snowboards, he switched to Utah-based WNDR Alpine in October 2021 at the urging of ski legend Pep Fujas.   
"It was a blind leap of faith as they didn't even have a snowboard built when I joined the team," he says. 
The move was in line with Russell's environmental motivations, as the company uses algae in place of petroleum products in its ski and snowboard construction. The technology is a potential harbinger for the industry, something that is paramount to Russell.
Striving to stay outside the comfortable snow bubble that can envelop mountain culture, he also keeps a foot in activism and promoting the benefits of fresh air. 
This puts him in a bit more of a public arena, and there's a history of criticism when athletes speak up about issues outside of their respective sports. But Russell doesn't see what the fuss is all about. 
"I think it's a simple thing, to be able to share your concerns in regard to climate, or racial justice, or basic human rights, and as an athlete with somewhat of a platform, I feel like it's your duty," says Russell.
Thus, he promotes a more three-dimensional approach to the life he lives. He's involved with Protect Our Winters (the environmental nonprofit founded by Jones), has raised money for the Black Lives Matter movement and attends rallies that vibe with his beliefs. When the Tahoe Backcountry Alliance began planning a program for the 2023 winter to bring young members of the Washoe community into the backcountry, Russell (who is on the alliance's advisory board) was quick to volunteer to be out there on snow with the kids. Overall, he leverages his social media platform, including a growing base of 35,000 Instagram followers, to spread information about causes, as well as to share tales of close calls and personal insights into safety in the mountains.
But he also has a whole lot more riding to do. He sees a hotbed of progression in the deeper reaches of the Eastern Sierra, and finds riding a new line, peak or mountain range as an evergreen way to scratch the itch (he's particularly motivated to ply his trade on Alaska spines). 
Despite the fact that snowboarding is the main pursuit in his life, he knows it won't be his sole focus forever. He mentions nonprofits that help get more people on the slopes and environmental activism as aspects of life he wants to increasingly weave into his world.
For now, however, he continues to embrace the life he's worked hard to achieve while striving to share his ever-growing passion with others, as he knows as much as anyone the magic that is held in the mountains.
"How can I get more people involved and show them this world that we operate in? It's a really special thing and we are so fortunate," he says. "The ultimate goal is, 'How do you give back?'"
---
Dave Zook was happy to have called Lake Tahoe his home for 10 years, shared with the amazing culture of riders exemplified by folks like Nick Russell. He now lives in Santa Cruz.