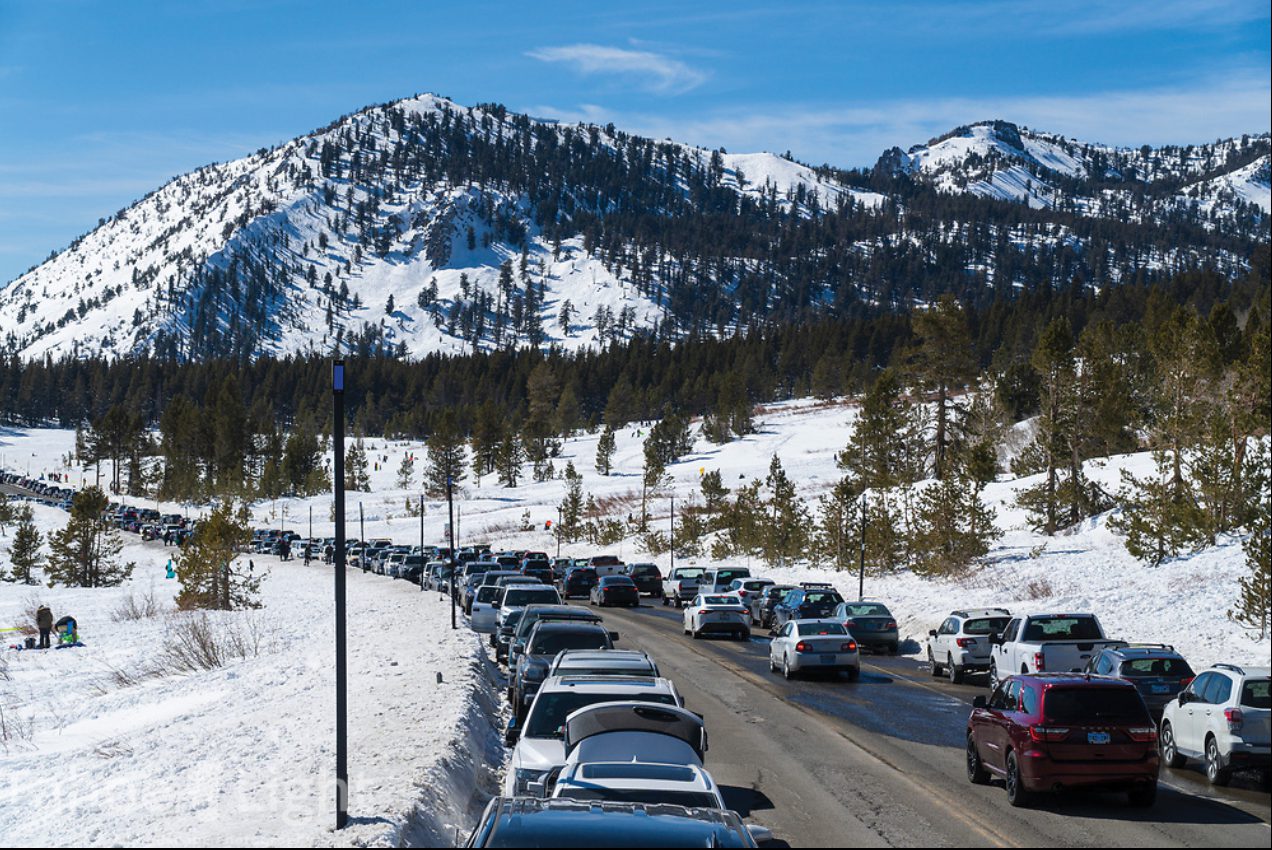 Cars line both sides of the road through Tahoe Meadows during a busy winter day in 2021, photo by Scott Sady
27 Sep

A United Front
Lake Tahoe Destination Stewardship Plan aims to combat the challenges of overtourism
For Lake Tahoe locals, there has always been a love-hate relationship between the need for tourists to support businesses and the negative impacts visitors have on the environment.
That relationship reached new levels of frustration during the COVID-19 pandemic thanks to an influx in visitors seeking solace from a shut-down economy, leading to well-documented levels of overtourism.
Dense traffic has clogged highways and parking lots at Tahoe's most popular beaches and trailheads. Favorite trails once lightly traveled are now seeing 10 times as many visitors as a decade ago, and the amount of litter on beaches has skyrocketed. Graffiti, which until a few years ago was unseen in many places around the lake, also is becoming more common.
The resulting attitude among locals toward visiting Tahoe's most congested places is perhaps best summed up by a quote attributed to the late baseball great Yogi Berra: "No one goes there nowadays, it's too crowded."
In response, leaders in the tourism, public land management, government and nonprofit sectors in Nevada and California are partnering on the Lake Tahoe Destination Stewardship Plan, designed to develop a regional framework to better manage outdoor recreation and visitation.
Its main focus is to transition from marketing the region as a destination to a somewhat Herculean task of managing the numbers and actions of the people who visit, all while keeping the economy healthy.
"It's an unprecedented collaboration of agencies to figure out destination management and stewardship" for Lake Tahoe, says Tara Hetz, community engagement facilitator for the plan. "It's exciting, but also challenging."
A Coordinated Effort
Hetz works for The Center for Responsible Travel (CREST), a Washington, D.C.–based nonprofit that provides evidence-based research and analysis focused on responsible global tourism. The Tahoe stewardship team hired CREST, along with the Travel Foundation, a global tourism organization based in the United Kingdom, and other consultants to help develop the plan.
Locals are fully on board with the shift. According to a survey of community members unveiled at public workshops this past spring, the core team found that what residents most desire regarding tourism are visitors who care about the lake and surrounding natural areas.
"In the past, the public wanted visitors who spent money and benefited the economy," says Hetz.
The nonprofit Tahoe Fund, one of the core team's 14 members, was founded in 2010 with the goal of becoming a key source of funding for environmental projects around the Tahoe Basin, with an emphasis on forest health, lake clarity, sustainable recreation, transportation and stewardship.
Tahoe Fund CEO Amy Berry says she is "really optimistic about the effort" to balance the long-term preservation of the environment and economy, referring to the overtourism situation as a crisis that's been building for years and has been enabled by a lack of resources to combat it.
This new coordinated effort, she says, represents an opportunity for change. It officially kicked off in February with meetings from members of the core team, followed by multiple methods of gathering input from community stakeholders from public and private organizations this past spring and summer.
Telling a Better Story
A key member of the core team is the Lake Tahoe Visitors Authority, which for years focused on marketing South Lake Tahoe as a destination for tourists to spend money so locals could afford to live here. That changed a few years ago when the organization "made a management versus marketing shift," says President and CEO Carol Chaplin.
"We wanted to balance visitation to find a sweet spot to offer a good experience and protect our assets," she says, adding that everyone unilaterally agrees Lake Tahoe itself is the most important asset in the region. "The hope is that visitors come here, love it and want to help us preserve it. We need to tell a better story of why it is important for us to preserve Tahoe."
That story might include recommendations for remote workers to visit the region mid-week instead of the weekend, in addition to "environmental messaging to help visitors understand what the correct behavior is," among other solutions, Chaplin says.
Another important team member is the U.S. Forest Service, which manages roughly 78 percent of the land around Lake Tahoe, including more than 154,000 acres of beaches, hiking and biking trails, wilderness, historic estates and developed recreation areas such as campgrounds and riding stables.
Daniel Kressy, public services officer for the Forest Service's Lake Tahoe Basin Management Unit, says the stewardship plan must encourage visitors to embrace the concept of leaving this place cleaner than they found it, while making smart decisions about how and when they visit.
"I want to shift the culture of recreation and tourism from consumer-based to a participatory activity," says Kressy. "Recreation is a chance to transform people's lives and how they see themselves in the environment in general. We have an opportunity to influence the behavior of a lot of people.
"We need a quantum leap about how we think and implement our management. I'm excited about the plan; it really brings public land and recreational tourism together. It can influence how we experience Tahoe."
Learn More
The Lake Tahoe Destination Stewardship Plan's core team will host a second round of workshops to gather community input on October 25-26, during which an initial draft of the plan is expected to be unveiled. For more information, visit stewardshiptahoe.org.