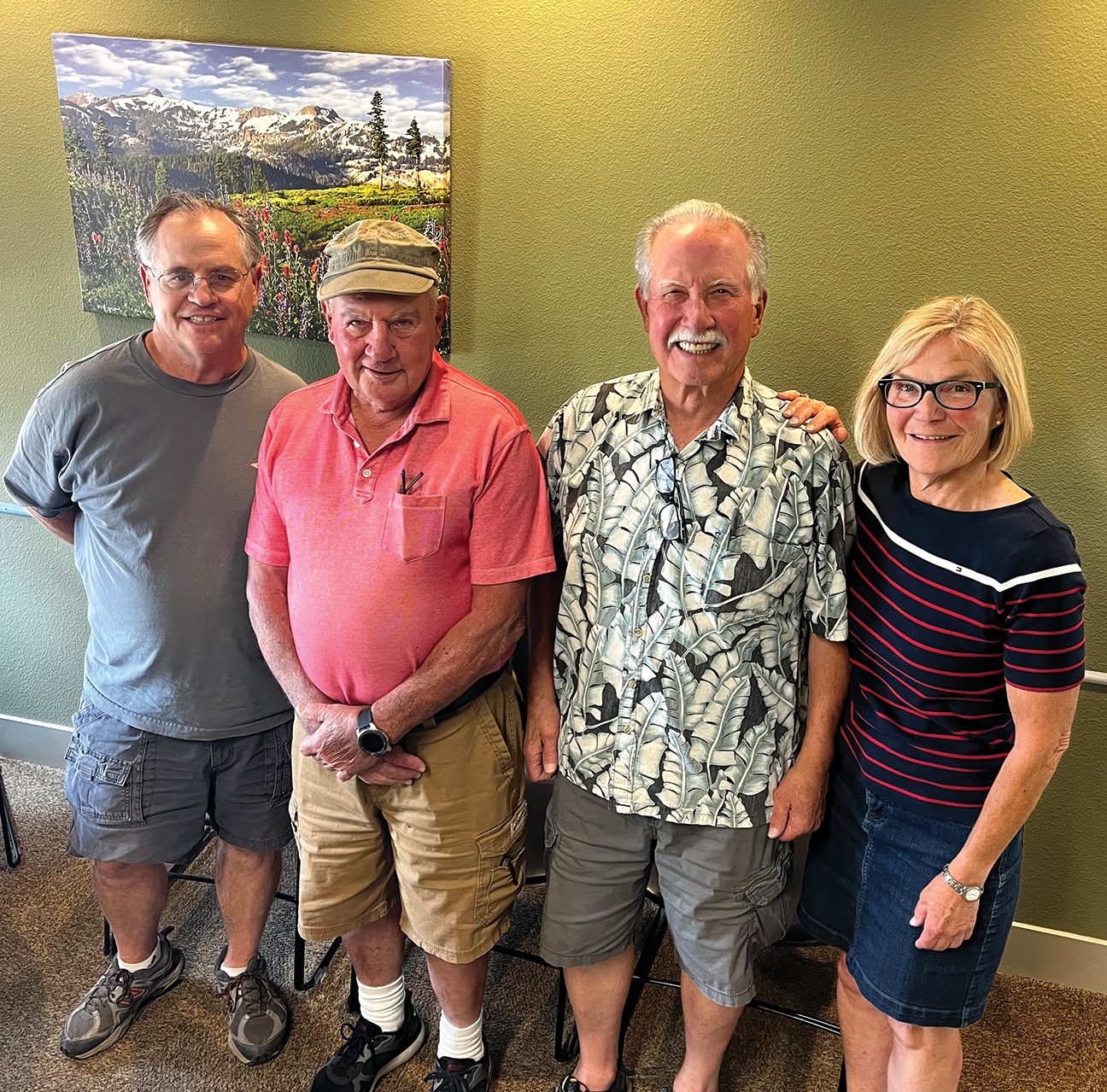 27 Sep

Optimal Conditions
Fifty years later, the Truckee Optimist Club is still going strong thanks to its dedicated volunteers
Sitting inside a brightly lit real estate office on a sweltering summer afternoon in early August, Norm Nicholls is searching for the right words.
It's a seemingly simple enough question: Is there any one project or person you've helped that you're especially proud of? For Nicholls, a man known in Truckee for his tendency to shine a spotlight on anyone but himself, the answer is anything but easy.
After a few seconds, he speaks in his trademark soft-spoken and measured tone, recalling a story from 35 years ago about a local student who dedicated time outside of class volunteering with Habitat for Humanity.
"This kid worked hard for several summers, saved all his money, signed up to (travel abroad), and the week before he was supposed to leave, he got a notice that he needed to pay for his airfare," Nicholls, 75, recalls while sitting with a trio of longtime locals inside the conference room at Dickson Realty in Truckee. "Here's this individual who had worked so hard to achieve his dream, and all the sudden, he was short of money.
"So we ended up springing for that and paying the airfare. And I really felt good about that."
It's one small example among the countless feel-good stories Nicholls can highlight when discussing his time with the Truckee Optimist Club, the nonprofit organization that's wrapping up its 50th year of service this fall.
Serving Truckee's Youth
Nicholls, a U.S. Navy veteran who became a Realtor in 1984 and has worked with Dickson Realty since 2004, hasn't quite been there from the beginning. He moved to Truckee in 1979; two years later, he joined the club and remains a dedicated volunteer more than 40 years later.
Likewise, you'd be hard-pressed to be in Truckee long and not hear Norm Justesen's name floated about town as one of its most dedicated do-gooders. Justesen, a Navy veteran who's lived in Truckee since 1978, joined the club in 1982.
Fast-forward four decades, the 82-year-old Justesen is as vibrant as ever. Seated next to Nicholls in the Dickson office, he emphasizes the club's main goal is to help all Truckee youth—especially those less fortunate.
"With the scholarship selections we typically make, the philosophy is to not just try to pick out that 4.0 student," notes Justesen, who retired in 2000 after a 30-year career as a commercial pilot. "We try to look for the kid you've got to bootstrap up, and we say, 'Let's bet on this kid.' Not all our scholarships are like that, but we try to go in that direction. Sure, sometimes we get burned, and he goes to college for a week and then comes back.
"But that's the chance you take—you're betting on the come a little bit."
Justesen, a quick-witted talker who rarely passes on an opportunity to bring humor to the table, shares a personal tale to underscore his craps-table analogy.
"I grew up kind of as a near juvenile delinquent. In high school, I never took a book home. That was my claim to fame," he jokes. "But I got into college based on good SATs, and I got a $200 scholarship from the local merchants that paid for one semester of engineering school."
Evolving Membership and Growth
The Truckee Optimist Club was officially chartered by Optimist International—which now features roughly 3,000 clubs in more than 20 countries—on November 30, 1971.
While membership has ebbed and flowed over the past five decades, 70 Truckee locals are part of the club as of July—40 men and 30 women. That's a notable split, considering the club featured only men until 1989.
"That was the year I was president, and when I went to the Optimist convention in Sacramento, that was the year Elk Grove had a whole club full of women," says Nicholls, describing the experience as an eye-opening impetus to expand his recruiting efforts; Bertha Haddock, whose husband Dwayne became a member in 1973, became the first female member in 1989.
At the beginning, however, roughly 15 Truckee residents served as founders of the club, all men mostly in the building and equipment trades—"blue-collar workers," Nicholls recalls, adding that most were involved in fundraising and coaching youth, including their own children, in Little League, football and other sports.
One of the founding members, Bill Churchman, moved to Truckee in 1969 and soon became an avid fan of the Truckee High School football program, leading to him announcing home games for the Wolverines for more than 30 years into the 2010s.
Fifty years later, Churchman is still a member of the club, say Nicholls and Justesen, who also mention another founding member, Mickey Kumle. He played football for Truckee from 1960–1963; like so many locals, Kumle remains a diehard Wolverine fan to this day.
"He still goes to every single game," Nicholls says. "He's got his own spot for each game."
As the years have churned, and especially over the past decade, the club has seen an increase in members who are teaching or recently retired from the local school district—people whose students have directly benefited from scholarships and donations.
"They're turning around and saying, 'I want to keep giving back,' and that's brought in some really dynamite members," Nicholls adds.
Millions of Dollars Raised
Those members have been responsible for raising "well over $2 million" for local youth over the past half century, says Dan O'Gorman, who's lived in Truckee since 1984. He joined the club in 1987, not long after accepting the role of recreation superintendent with the Truckee-Donner Recreation and Park District, a position he held for 31 years before retiring in 2017.
O'Gorman worked tirelessly as a volunteer throughout that tenure, highlighted by coaching local youth through the Optimist Club–backed Buddy Werner ski program and coordinating myriad adult and youth sports. Five years after retirement, his heart remains firmly entrenched in giving back, and the club continues to provide the perfect outlet for his passions.
"One of my favorite programs we've done is helping pay for eighth-graders to do college visits, and to see a lot of those kids become first-generation college students. It's just one of my favorites," says O'Gorman, 68. "I remember when I was in eighth grade and when my brother went to college, taking him down to college, just seeing college as a place I never thought I wanted to go—it inspired me."
As membership increased over the years, so has the amount of money distributed for local youth. In the 1970s and '80s, members doled out roughly $20,000 a year, a figure that's ballooned over the past decade to $75,000 annually.
Had it not been for the pandemic, it's not far-fetched to assume that number could have reached $100,000—the club donated $86,955 during the 2018–19 fiscal year, compared to just $38,700 for 2019–20 and $66,400 for 2020–21.
While those numbers suggest the club struggled financially, like so many businesses and nonprofits during the pandemic, that wasn't the case, Justesen says.
"The interesting thing about the pandemic for us … since most of the sports had been canceled, there wasn't the typical need for all the stuff we sponsor," he says. "And scholarships were the same; we didn't have as much of a need … and we had plenty of money in the bank."
Though funding requests dipped dramatically, "We never turned anyone down," Nicholls says.
Key Fundraisers
Donations typically are divided into three buckets: scholarships for local high school graduates; athletics support for all ages, sports and grade levels; and arts and academics assistance via funding field trips, paying for musical instruments and financing other endeavors.
Money primarily is raised through three fundraisers: the Truckee Tahoe Air Show & Family Festival, the Christmas Tree Lot and Truckee Brewfest.
The brewfest celebrated an anniversary of its own this summer; the 15th rendition on July 2 saw hundreds of people enjoying more than 30 beers from a bevy of local breweries over the course of four hours at Truckee River Regional Park. After a two-year pandemic hiatus, this year's event raised more than $35,000, the best one-year total ever.
Three weeks later, the club participated as one of three major nonprofit sponsors, along with the Experimental Aircraft Association Truckee Chapter 1073 and KidZone Museum, at the July 23 air show at Truckee Tahoe Airport.
Also coming back from a two-year break, this year's festival celebrated the 75th anniversary of the U.S. Air Force and featured a special sit-down with Colonel Clarence E. "Bud" Anderson, the last living World War II triple ace fighter pilot, who turned 100 years old in January. Roughly $29,000 was raised for the club this year.
A Long-Standing Tradition
But it's the Christmas Tree Lot that's endured decades of change and evolved into a new era, in part thanks to the pandemic. Each year, club members and volunteers stock the lot on Deerfield Drive at Highway 89 with noble and red fir trees grown in Oregon and locally—the latter cut with permits from the Tahoe National Forest near Jackson Meadow Reservoir.
Despite the 2020 and 2021 cancelations of the air festival and brewfest, tree sales were strong the past two years, though the event featured updated formats to ensure safety and social distancing was practiced.
"We ran it as a drive-through. It was very cool," says Anna Grahn-Nilsson, who works with Nicholls at Dickson Realty as a real estate agent and property manager. She also serves as second vice president of the board and membership chair of the Truckee Optimists, having joined a few years ago.
"I was working with Norm … and he said, 'We really need help schlepping Christmas trees. Can you join and help?" recalls Grahn-Nilsson, 64, who's lived in Truckee since 1998. "And I said, 'Of course.' And that's really how it all started."
While Grahn-Nilsson is a relative newcomer to the club, tree sales have occurred each year since 1979, nowadays accounting for roughly $30,000 in annual donations. This year marks the 43rd year for the lot; it's scheduled for November 26 to December 22, or until trees run out.
"Our following is strong," Nicholls says. "We've had people who've bought a tree from us ever since their dad first bought a tree. It's fun for everyone."
Locals-First Mentality
Across the country, towns rely on service groups like Rotary, Lions and Kiwanis to foster citizen involvement, raise funds for worthy projects and donate time and resources for the betterment of the community.
While many of those values are present with Optimist International, there are a few things that set it—and the Truckee group in particular—apart.
"All the money we make goes to the kids from Truckee, 100 percent local youth," Justesen says. "We're narrowly focused on that."
"That's our niche," O'Gorman adds. "For instance, someone came to us one time who did a great project to help feed children in Africa. Everybody in the club said it was a great project, but we said, 'Hey, it's not a local program.' And so we stayed in our lane."
Ultimately, the club centers on promoting Truckee as an ideal place for families to raise children—both now and for generations to come.
"There are very few children in Truckee who have not been touched by Optimists; I'd say 99.9 percent of the kids in this community have," Nicholls says. "We've helped out with sports activities, we've helped the library, we've helped with vehicle trips, we've helped with teams when they make the state championship—it's hard not to be touched by the Optimist Club."
Perhaps nowhere is that more evident than the Christmas Tree Lot, which after 40-plus years of existence has seen the community's children become adults along the way.
"If you think about the events that we do … the events are to make happy children. The Christmas trees are to make a happy home for happy children, and the air show is to have happy children," says Grahn-Nilsson. "That really goes back. Now, when we do the Christmas trees, local high school kids come and help out … we involve them, and I think they probably feel like they get some kind of a reward for being helpful."
'Words to Live By'
Among other benefits of being a Truckee Optimist, membership is only $80 a year, and the time requirement is minimal compared to other service groups that often require weekly meetings and other financial commitments, O'Gorman says.
Then there's The Optimist Creed, a 10-pledge statement that, historical records show, was developed by Christian D. Larson and adopted as the organization's official creed in 1922.
A century after its adoption, and 50 years since the Truckee club launched, Justesen says members do their best to adhere to the creed, which is recited at the end of each board meeting.
"It's words to live by," he says. "You might not measure up to every word, but you try, and it's kind of the reason we're here. When recruiting people to join the club, you look at that creed as something you want to be a part of."
To that end, one of the club's major goals is to recruit more members, and, ideally, younger ones.
Why? "Because Christmas trees are heavy," quips O'Gorman, who refers to both Norms as mentors—and perhaps learned from Justesen's knack for one-liners.
After a bout of laughter, Grahn-Nilsson offers a more measured explanation.
"With these three guys, if it weren't for them, it would be very hard to get anything going," she says, gesturing to O'Gorman, Nicholls and Justesen. "However, it's also very hard for them to let things go, which is why it is important for younger members. This last brewfest was a good example; it was the first time we said people can actually buy tickets on their phone.
"That was just a small nugget of all the things that the new generation can bring to the club … and one of the big reasons why it's important to have newer and younger blood."
As for the Norms? Despite their age, they don't plan to stop being Optimists anytime soon.
"I might let go of some responsibilities, but I'll never leave the club," Nicholls says.
"I think I'm just going to hang around and be here till I drop," Justesen says with a laugh, before concluding: "A bunch of people going out in the woods in the middle of winter, snow up to your thighs, cutting Christmas trees and dragging them down … and mostly having a hell of a lot of fun doing it? It's a lot of work, but it's fun. It's joyful work."
---
Go to truckeeoptimist.com to learn more about the Truckee Optimist Club, and email truckeeoptimistclub@yahoo.com for membership details.
---
Kevin MacMillan is a journalist, writer and former editor of the Sierra Sun newspaper in Truckee. He lives in Reno with his wife, Emily, and their two cats, Henry Jones and Indiana Jones.