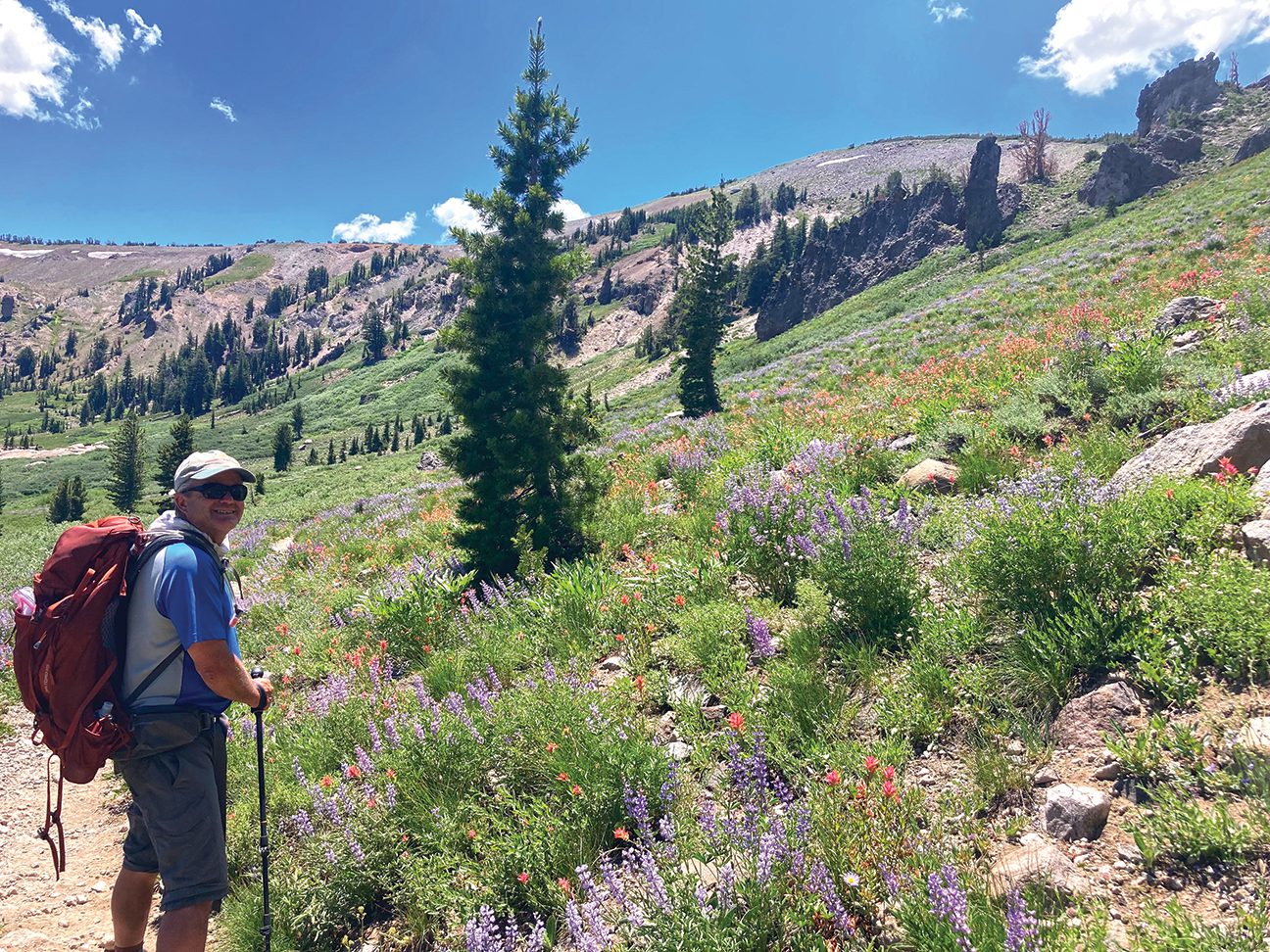 Author Tim Hauserman enjoys the fresh air and wildflowers near Showers Lake, one of his favorite stretches of the Tahoe Rim Trail, courtesy photo
27 Sep

Words From the Trail
Longtime Tahoe resident Tim Hauserman's latest book reveals what he learned—about both nature and himself—while backpacking solo
Ask Tahoe author Tim Hauserman how many books he's written, and he'll say it depends on how you count. "The [Tahoe] Rim Trail guidebook, there's been four editions," he says.
Rounding up to include all four renditions of his guidebook (necessitated by changes to the scenic route over the years), the answer is eight, including Gertrude's Tahoe Adventures in Time (2014); Cross-Country Skiing in the Sierra Nevada (2007); Monsters in the Woods: Backpacking with Children (2007); and, hot off the press, Going It Alone: Ramblings and Reflections From the Trail (2022). Each focuses on a beloved pastime of his, because as a writer, you get to write about the things you love doing.
Hauserman's latest book, released in August, is an intimate chronicle that takes readers across rugged mountain paths while musing candidly about solitude versus loneliness in the wild. There are dad jokes, too.
"Because it's so personal, it's really a story, a memoir about my life," says Hauserman.
A familiar face on local trails and at social events, Hauserman, 64, is a nearly lifelong Tahoe resident, living on the lake's North Shore and West Shore since the age of 2. With an educational background in planning followed by a career shift to real estate (a family business) for 20 years, writing was always a side gig for Hauserman until he served on the Tahoe Rim Trail board from 1998 to 2007 and volunteered to write a guidebook.
The success of Tahoe Rim Trail: The Official Guide for Hikers, Mountain Bikers and Equestrians inspired Hauserman to write for local and national media outlets—Tahoe Quarterly, Moonshine Ink, Tahoe Weekly, Backpacker Magazine and the Sierra Nevada Ally, to name a few—while embarking on other book projects. 
"It's always fun to be a local writer, just because people say they like your stories, whereas if you worked in a big city, you would never run into anybody who would know your writing," he says.
In Going It Alone, Hauserman provides a play-by-play of his days spent traversing the John Muir and Tahoe Rim trails in his home range, along with Minnesota's Superior Hiking Trail, back in the mid to late 2000s. He draws from diary entries penned when he was particularly introspective.
"Usually when I backpack, I carry a journal," he says. "There is something therapeutic about writing when I'm out there by myself."
Hauserman masterfully navigates describing the nature around him without using the same words each time—a skill, he says, gained from writing the Tahoe Rim Trail guidebook ("How many words for beautiful are there?" he jokes. "Beautiful, magnificent, stupendous …"). He details "wind-swept whitebark pines and rock slabs butting against azure lakeshores," then compares wind roaring through trees with a "complicated symphony, rising and falling in volume with each gust."
After backpacking the three trails detailed in Going It Alone, Hauserman admits he let the experiences—and what he'd typed about them—languish on his computer: "It was just sitting there on the back burner."
When the COVID-19 pandemic reared its head in early 2020, Hauserman found himself with a lot of time on his hands due to a stall in freelance writing opportunities. The creation of a friend's Cabin Fever Writers group, made up of writers looking into having their works critiqued, pushed Hauserman further into author mode. As he shared drafts of his story, he says group members suggested focusing more on the loneliness aspect of backpacking solo, particularly relevant at the time given the isolation COVID ushered in.
"I don't know if I could have written this book 10 years ago because my philosophies have changed," he says. "… I was writing it right when we were on total lockdown for the first couple months. [I did] my major revisions in early 2020, and it was like, 'OK, [let's talk] loneliness.'"
Going It Alone is, in part, a look in the mirror for Hauserman—what he faced internally when he ventured into the wilderness. He wrote in the introduction, "I faced a continual battle between the forces in my brain that cried out for companionship and the part of me that was elated by the power of nature's grandeur to light up my solo soul."
Compared to previous endeavors, he says Going It Alone was harder to write than the Tahoe Rim Trail guidebook because it focused on his thoughts rather than physical descriptions.
Whether or not he dabbles in more hiking-focused books in the future, Hauserman isn't sure. "I like this process of the memoir stuff," he says. "I like that writing because I get to be funny. But I don't know what else I could talk about." In the meantime, he's been working on a fictional story for about five years now, which may someday see the light of day.
Hauserman's current state is one of semi-retirement. "I'm writing all the time, but I'm not writing all the time," he says. "I'll go for a bike ride for a couple hours and then I'll talk about a story and then I'll go do something else."
Of course, venturing into the wild always remains at the top of his to-do list—five backpacking trips so far in 2022.
---
Going It Alone is available for purchase through Amazon, the University of Nevada Press and local bookstores.