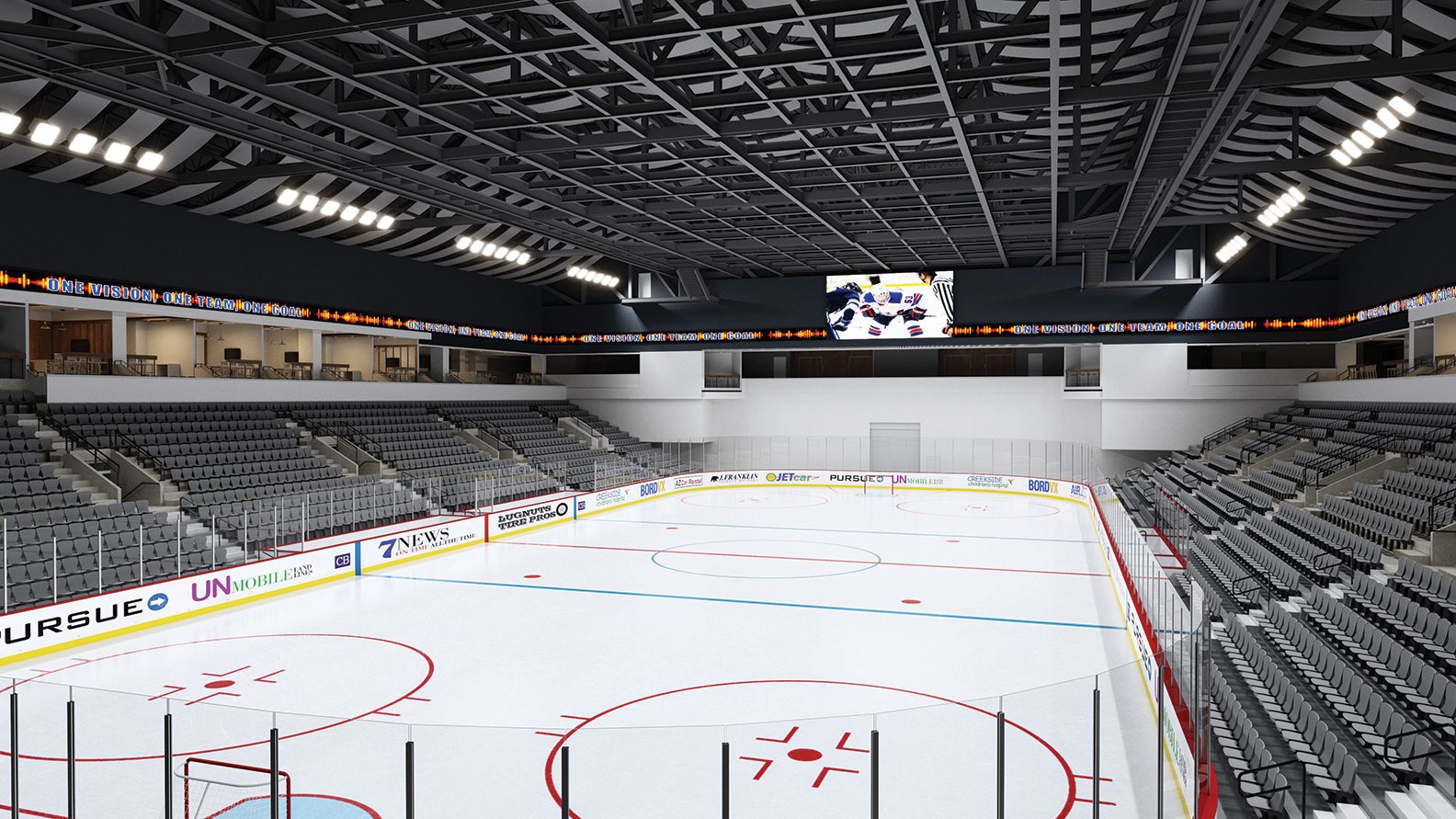 The new $80 million Tahoe Blue Event Center in Stateline boasts a seating capacity of 4,200 for hockey games, rendering courtesy Perkins & Will
25 Sep

High Altitude Hockey
Tahoe's flirted with ice hockey in the past. Now, it's set to become home to a professional expansion team
Editor's note: On November 30, the Lake Tahoe Pro Hockey team announced its name as the Tahoe Knight Monsters.
Lake Tahoe is a winter sports epicenter. Some of the best snowboarders, skiers and mountaineers in the world train and compete along the lake's scenic shores.
In 2024, ice hockey players hoping for a shot at NHL glory will join them in calling Lake Tahoe home.
That's when a yet-to-be-named ECHL team will drop the puck at the brand-new Tahoe Blue Event Center in Stateline on the South Shore.
The minor league, which serves as North America's entry-level professional stop, awarded the franchise to an ownership group in early July. It'll start play in October 2024.
"I'm so excited about the ECHL coming here," says Chad Olson, head coach and general manager of the Lake Tahoe Lakers, an amateur development club based in South Lake Tahoe. "I'm really looking forward to them showing people here the sport at an elite level."
The Lake Tahoe Pro Hockey team, as it's called ahead of the November result of a naming contest, set off a buzz in the hockey world at a July media event announcing the team in Stateline.
That's in part because Tim Tebow, a former Heisman Trophy-winning quarterback and television personality, is part of the Florida-based ownership group bringing hockey to Tahoe. The announcement also raised eyebrows around the sport because Nevada, home to the NHL's wildly popular Vegas Golden Knights, and the American Hockey League's well-attended Henderson Silver Knights, has recently proven fertile ground for hockey fans.
"I thought it was awesome for hockey out West," says Zach Pochiro, an ECHL veteran. Pochiro grew up in Las Vegas and played parts of nine seasons in the ECHL in addition to the American Hockey League (AHL) and European leagues. "Once people come out to a game, they'll see that the ECHL is good old-fashioned hockey—the league still allows fighting, you maybe get a fight a night—and they'll be hooked."
Young and Hungry
ECHL players, Pochiro is quick to point out, love the game but don't necessarily want to be in the ECHL.
The 28-team league serves as a professional jumping-off point for many amateur players who come out of junior leagues in the U.S. and Canada or the American collegiate system. A player who is successful in the ECHL can earn a promotion to the AHL, and from there is one step away from the NHL.
"Look, the goal is to play in the AHL," Pochiro says. "You're young and you're hungry."
NHL teams affiliate with AHL and ECHL teams as farm clubs, using the leagues to give experience to young players in their organizations.
The Tahoe team's players will generally be in their mid-20s, with players as young as 20 and veterans who may be in their 30s.
"The player has changed over the existence of the ECHL," says Baron Bedesky, director of hockey operations for the Professional Hockey Players' Association, an Ontario, Canada-based union representing more than 1,800 minor league hockey players across the ECHL and AHL. "It's come a long way. It was very much a renegade league, known for a lot of fighting. It was a tough, gritty league with some lifers in it—think Slap Shot (the 1977 Paul Newman comedy), but not as colorful.
"The league has grown substantially since then. It's trying to position itself as a development league for feeding players to the AHL and eventually the NHL or European leagues. The quality of play has really improved. Players are now bigger, stronger and faster than they used to be."
The league is "turning into a powerhouse," says Tommy George, president and managing partner of the Sports Advisory Group (SAG), a sports mergers and acquisitions firm based in Maryland. In addition to advising ownership groups on buying teams, George worked as a referee in the ECHL previously and now refs games in collegiate and AHL hockey.   
"The ECHL is very stable," he says. "It's been around for 35 years and it's consistent. If you're a sponsor, you don't have to worry that they're just going to up and fold."
Teams carry 20 players with a minimum salary of $530 a week for the six-month, 72-game season. Some veterans and standout players can command salaries up to $1,300 weekly. Trying to find housing in South Tahoe on that sort of salary—where rents average about $1,800 for one-bedroom units—won't be a worry for the team's players. In the ECHL, owners pick up the housing tab.
"Rising housing costs are always a concern for us," says Ryan Crelin, the ECHL's commissioner. He notes the team may consider options near Reno for a practice rink in addition to Tahoe. "We may then consider housing near the practice facility. It's still up in the air."
Most players hold down second jobs in the offseason coaching younger players or working at hockey camps to supplement their income, Pochiro says.
"The team gives you what you need; they help take care of food and equipment for you," says Pochiro. "If you're on that rookie contract, one night going out might blow your budget, but they're not starving or anything."
In addition to the off-the-ice support, the Tahoe team's players can look forward to their on-ice surroundings, too.
Barn With a View
In hockey, arenas—particularly smaller minor league venues—are referred to by fans, lovingly, as "barns."
As far as barns go, you'd be hard-pressed to find one with a better view than Tahoe Blue Event Center. It's situated on the Nevada side of Tahoe's South Shore, just across Highway 50 from the Hard Rock Hotel and Casino. The vista from the parking lot takes in the surrounding mountains.
The Tahoe Douglas Visitors Authority (TDVA) financed the more than $80 million arena, which was completed in August. Edgewood Companies, which owns the Edgewood Tahoe golf resort, donated the land for the building. Construction funding came through a combination of Stateline redevelopment taxes and lodging taxes on hotels and vacation rentals.
"We didn't know that we'd attract a tenant team when we were building the arena," says Carol Chaplin, TDVA's longtime president and CEO. "We're a little off the beaten path for hockey. We thought maybe we would host some tournaments, Disney on Ice, that sort of thing. But after we hosted the NHL's outdoor game during COVID, we saw how passionate our Northern Nevada and California community was about hockey."
In 2022, Kevin Boryczki, general manager of Tahoe Blue Event Center, broached the idea of trying to land a professional hockey team with Chaplin. Boryczki's employer, the Oak View Group (OVG), which is contracted to manage the arena, has contacts throughout the hockey industry, and manages four other ECHL venues.
"I said, 'How would you all feel about a hockey team?' It was right after we did the naming rights announcement and there was some interest in Tahoe," says Boryczki. The rights deal, which belongs to the Tahoe Blue Vodka brand, is worth about $3 million for the arena's first 10 years of operation. "What we're finding is the whole idea of coming to Lake Tahoe for events is pretty compelling. You have people coming up here anyway for the natural surroundings, and while you're here, we've got some games coming up."
Matchmaking
Around that time, in November 2022, the ECHL was looking to expand, hoping to increase its 28-team footprint to 32 to mirror its partner leagues in the NHL and AHL. Crelin had a willing owner in David Hodges, a Jacksonville, Florida-based businessman who already had a stake in ECHL teams in Jacksonville and Savannah, Georgia.
"We've had a focus on western expansion, with our teams in Boise and Salt Lake out there," Crelin says. "So we were talking about some different venues that might work with the guys at OVG and this came up. After that, it all moved pretty quickly."
Hodges, who is heading up the ownership group alongside his friend Tebow, was interested.
"When the chance of a South Tahoe deal came up, it was just head and shoulders above any of the other options," Hodges says. "You start with Tahoe Blue. It's an amazing arena and is going to be a special place to watch a hockey game."
Between winter 2022 and spring 2023, the ownership group bought the new franchise and signed a four-year lease with TDVA for the Tahoe Blue Event Center, with an option for an additional five years. It'll host 36 home games a year during the regular season, with more potentially on tap if the team makes the ECHL's Kelly Cup playoffs.
Can Tahoe Support Hockey?
The teams vying for the Kelly Cup each year come from every sort of North American community.
There are the Guardians in Atlanta, the Cyclones in Cincinnati and the Solar Bears in Orlando. All three cities host major league sports franchises and have metro populations stretching into the millions. The ECHL is also home to the Adirondack Thunder of Glen Falls, New York, with a population of about 15,000. Mid-sized towns like Kalamazoo, Michigan (75,000), and Trois-Riviéres, Quebec (136,000), span the difference.
With a population of roughly 22,000, South Tahoe will be the league's second-smallest market.
Seating 4,200 people for hockey, a sellout at Tahoe Blue would put the Lake Tahoe team in about the middle of the ECHL's 2022-23 attendance figures. The market will probably support about 3,000 people nightly, Boryczki says, while Hodges says he's aiming to sell out the building every game.
The team hasn't announced ticket prices, but 600-plus people have put down $100 deposits for season ticket packages, says Bob Ohrablo, the president of Zawyer Sports, which will manage the team. Season ticket packages in the ECHL run from $119 in Tulsa, Oklahoma, to $1,960 in Orlando and everywhere in between.
With its market size and economics, can Tahoe sustain the team?
"The economics definitely work," says George, the sports investment advisor. "You look at some of the bigger markets and they play in big arenas they can't sell out because there's so much competition for the entertainment dollar, so it doesn't create demand for tickets. But you take a Savannah, or a Lake Tahoe, for instance, if there's only 4,000 tickets a night, you'd better get your hands on them or else they'll sell out.
"That creates demand, and it creates opportunities for people to want to see what's going on with the team. That's something the team can take to their sponsors and say, 'Look, we sold out every game this year, we consistently have the highest attendance per capita,' etcetera."
Crelin looks to the other smallest club in the league, in Glen Falls, as the blueprint for the Tahoe team's success.
"That team is the best comparable," Crelin says of the Thunder, who sold about 3,700 tickets per game last year in a 4,700-seat arena. "They're not trying to fill 8,000 seats a night, they're trying to fit in the market. They embrace the community. They make it a fun place for people to take their kids to a game."
Hodges points to the 12-14 million annual visitors to Tahoe's South Shore as a market the team could tap into as well, something most industry insiders agree with.
But depending on visitors can be risky, says Larry Grimes, chairman of Sports Advisory Group.
"It's possible they'll draw some vacationers," says Grimes. "But the reality is that most of the time vacationers are not going to your market to go to a game. They're going to ski. In baseball, as an example, there are minor league teams in big beach markets like Myrtle (Beach, South Carolina). Vacationers don't tend to go to sporting events there."
The team must also invest in the community to draw fan and sponsor interest, industry sources agree.
"It all depends on how they market it," says Olson, the Lake Tahoe Lakers coach. "If they have banners up across town, if they work with the local hockey community and kids, they'll kill it. If they half-ass it, they'll get out what they put into it."
Tahoe's new team has every intention of integrating with the community, Ohrablo says.
"We want to work with the community and especially the local hockey community," Ohrablo says. "We'll be able to use our expertise to help them grow the sport. We know how local youth sports programs should be built. The more kids that skate, the better."
Hodges also points to youth involvement as a lynchpin of the club's local strategy.
"We're gonna jump in with both feet," he says. "Youth hockey is something we'll focus on. The community is something we're gonna focus on. We like to leave a place better than we found it. (Tebow)'s foundation is active all over the world in supporting kids with special needs, and I think that's something he'll look to continue here. We're gonna find schools where we can impact kids, where we can support children with education. Those are opportunities we're gonna look for."
Twelve Months Until Puck Drop
The question of which NHL team might partner with Tahoe has been the subject of speculation, with some fans wishing for a union with Vegas and Henderson, even joking that the team could be called the "Bronze Knights" to complete the Olympic medal color trifecta.
Those conversations with the NHL will begin in earnest early next year, Ohrablo says. It's too early to say what NHL team Tahoe might align with, and both Hodges and Ohrablo shy away from naming Vegas outright, as the team is already affiliated with the Savannah Ghost Pirates in the ECHL.
In the meantime, the team will focus on its naming competition, ticketing, sponsorships and merchandise sales, Ohrablo says. Hiring hockey and arena operations staff will take place at about the same time. 
A coaching search will likely occur in late winter 2024 as the 2023-24 season wraps up and the organization has an idea of what sort of talent is available. Shortly thereafter, the club will start signing players. If all goes according to plan, the team will debut that October.
Tahoe residents should be excited for that moment, Crelin says.
"You'll never have a better live sporting experience than a hockey game," he says. "In that building, especially, it'll be such an intimate atmosphere, it'll feel like you're in the game."
---
Lake Tahoe's Hockey History
'The Forgotten Miracle' and a picturesque flub
Competitive ice hockey and Lake Tahoe go back more than six decades. From a U.S. men's Olympic gold medal to a botched NHL visit, the sport's forays around the lake are memorable.
When Palisades Tahoe hosted the 1960 Winter Olympics, the sport took center stage at Blyth Arena in what is today the resort's parking lot.
In a scenario that would play out much more famously 20 years later in Lake Placid, New York, the U.S. men's hockey team—made up of amateurs and college players—took out a vaunted Soviet Union (USSR) squad on its way to the gold medal.
Dubbed "The Forgotten Miracle," the U.S. beat an older, stronger, more experienced USSR team 3-2 in the semifinal, coming back from an early 2-1 deficit to qualify for the gold medal game.
The next day, Team USA poured it on in a celebratory 9-4 rout of Czechoslovakia to win the country's first ice hockey gold.
Big-time hockey stayed away from the lake for more than 60 years before returning in February 2021. That winter, the NHL scheduled two outdoor games on a temporary rink built on the grounds of Edgewood Tahoe in Stateline. Given COVID-19 health concerns, the games were held without spectators.
The first showdown—televised nationally on NBC—pitted the Vegas Golden Knights against the Colorado Avalanche. NBC cameras captured beautiful shots of Lake Tahoe and the surrounding Sierra Nevada before the game's 12:12 p.m. start.
Unfortunately, the region's famously sunny skies quickly turned the ice to slush in the first period, causing a nine-hour delay while operators waited out the sun to repair and resurface the rink. The game finished on the considerably less watched NBCSN late that evening, with Colorado winning 3-2.
Learning their lesson, league officials shifted the start time of the next day's matchup between the Philadelphia Flyers and Boston Bruins from 11 a.m. to about 5 p.m. to wait out the sun's intensity. The delay also pushed the game from NBC to NBCSN, and the Bruins won 7-3.
---
The Knights Effect
Nevada's hockey culture grows at a furious pace
When Zach Pochiro, an ECHL veteran, was growing up in Las Vegas, few of his friends or extended family followed hockey. Nevada, a desert state, is far from the sport's cradle in Canada and its strongholds in the Great Lakes and Northeast.
"All my friends from high school just knew me as Zach. They didn't really get hockey," he says. When he turned pro in the mid-2000s, it took them by surprise. "They were like, 'Wait … we didn't know it was this big!'"
Then the Vegas Golden Knights started play in the NHL in 2017 and the sport grew to a whole new level. The Knights routinely sell out every game.
"The town loves it," Pochiro says of Vegas. "I have an uncle who wasn't too big into hockey when I was growing up, and now he's like a super fan."
The Knights were followed by their AHL farm team, the Henderson Silver Knights, in 2021. The team plays in the Vegas suburb and draws about 4,700 fans nightly to its 5,700-seat arena.
So when the possibility of an ECHL team first started making the rounds, it drew the attention of Baron Bedesky, an official with the Ontario, Canada-based union representing more than 1,800 minor league hockey players across the ECHL and AHL.
"I sort of raised my eyebrows," Bedesky says. "Those (Nevada) franchises have done very well in a market a lot of critics said would never work, without a real fan base. But they've gotten locals and tourists to support the teams, and they've been more successful than a lot of other teams in the league."
Whether Northern Nevada supports the Tahoe team with the same zeal remains to be seen. But the groundwork in the state's southern reaches bodes well.
"I feel like the town has grown so much closer going to games together," Pochiro says. "We never had a pro sports team before. We love the fact that we have a team to call our own."
---
Kyle Magin is a writer and editor based in Austin, Texas. TQ's former editor-in-chief, he grew up celebrating his birthdays at Kalamazoo Wings hockey games in Michigan.