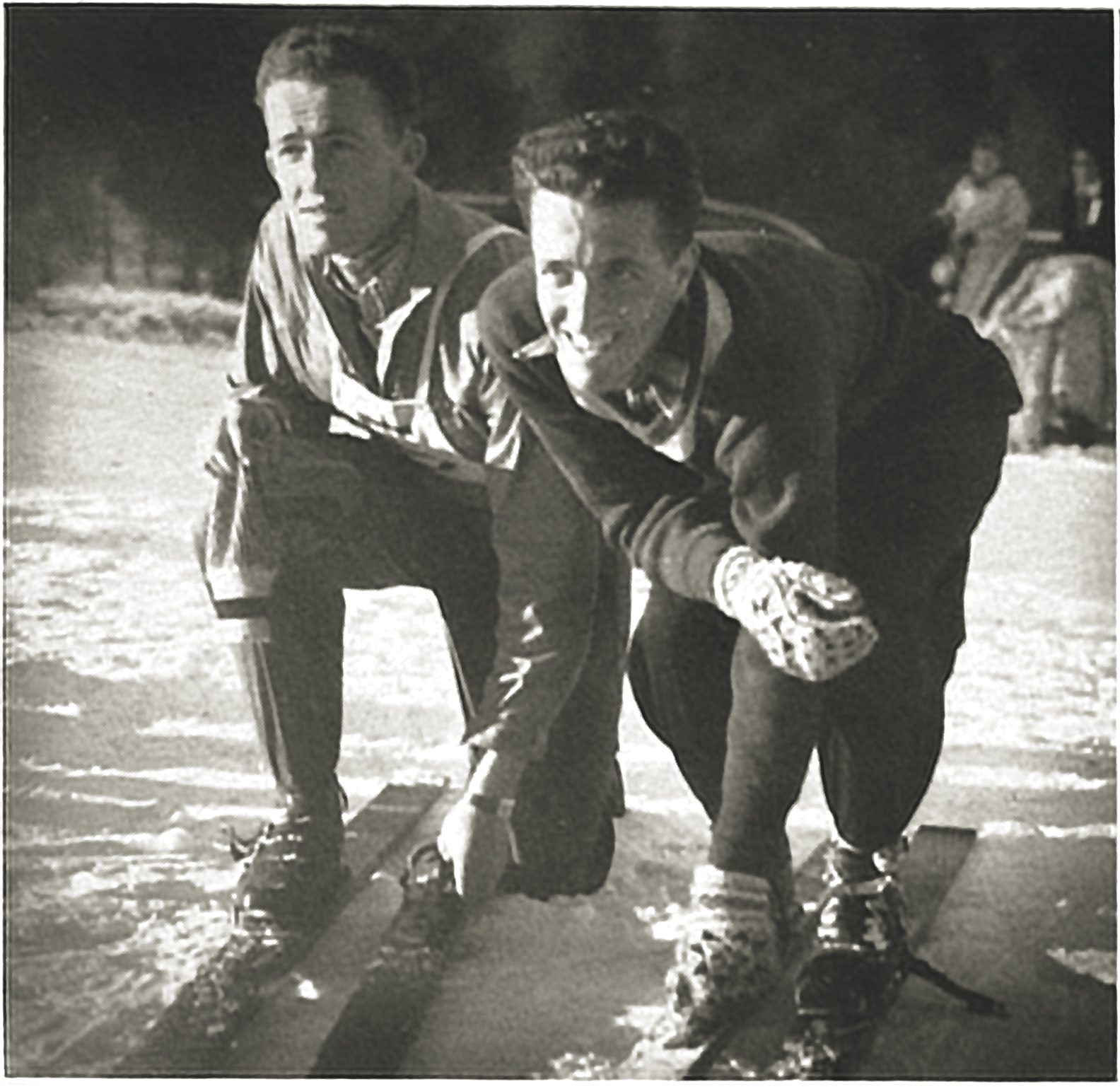 University of Nevada, Reno, ski team members Marti Arrouge, left, and Earl Edmunds, photo courtesy Special Collections and University Archives Department, UNR
25 Sep

Martin Arrouge: The Sheepherder Who Unlocked World-Class Ski Terrain
From spending summers in Olympic Valley with his Basque parents to marrying one of Hollywood's most famous actresses, Arrouge led a life that—in a circuitous way—introduced the world to Palisades Tahoe
The story of how Wayne Poulsen developed Olympic Valley in company with—and then without—Alex Cushing is well documented. There is no need to repeat it here. What is far less known—even among ski historians—is the embryonic influence of Martin Arrouge, the man responsible for introducing Poulsen to the scenic alpine valley and setting in motion a ripple effect that would transform the Lake Tahoe Basin along with skiing history.
But this story is not about Poulsen. It's about one of his best friends from his youth, who rose from a humble upbringing as the son of Basque sheepherders to become an accomplished skier and husband to the Meryl Streep of his time—Norma Shearer.
I feel fortunate to say that Arrouge and Shearer were wonderful friends of mine, particularly when I was ski racing and living the dirtbag lifestyle in Sun Valley, Idaho, in the 1960s. Despite the couple's illustrious social status, they treated me with a level of respect and warm-heartedness that I've never forgotten.
Tahoe Ties and Ski Racing Prowess
Martin Arrouge—better known as Marti—was born in San Francisco in 1914 and raised in Reno, which allowed him the opportunity to spend his summers in Olympic Valley as his family tended flocks of sheep.
Arrouge and Poulsen became close friends in high school, when they established reputations as the finest young competitive skiers in the Tahoe region. When not skiing, Poulsen would visit Arrouge and his sheepherding family in Olympic Valley during the summer months. That's when Poulsen first saw the potential for a ski resort in the mountains above the valley, which would later result in his purchase of 640 acres from the Southern Pacific Railroad in 1943.
Before then, however, Arrouge and Poulsen helped lead the University of Nevada, Reno, ski team—Arrouge as one of the team's most talented racers and Poulsen as its founder and coach. The team went on to achieve much success, highlighted by a memorable victory over the perennial Pacific Coast champion Washington Huskies in 1939.
As documented in the 1939 University of Nevada, Reno, yearbook, in the final meet of the season held at Badger Pass in Yosemite, the Nevada team mounted an unlikely comeback that cemented their legacy. Arrouge played a vital role on the second day of the event, when he helped the Wolf Pack claw back from an early deficit after a poor performance in the opening cross-country event. 
A top contender in the downhill, Arrouge was struck with bad luck on his run when he crashed into a tree stump as he swerved to avoid spectators who had wandered onto the course. Despite being injured badly enough to require hospital care after the race, Arrouge got to his feet and powered through the remainder of his run, finishing in time to help his team win the event and close the gap on the Huskies' lead over the field.
Competing without Arrouge and several other injured teammates on the final day, including ski jumping standout Carl Bechdolt of Tahoe City, four Nevada skiers finished in the top 10 in the jumping event to lift the Wolf Pack to victory.
Although the Nevada skiers never got the chance to go head-to-head against Dartmouth College—considered by many to be the top ski program in the nation—the performance solidified their standing as one of the great college teams of the era. 
Serendipity in Sun Valley
Remaining close friends after graduating from Nevada, Arrouge and Poulsen moved to Sun Valley, Idaho, together to teach skiing. During the 1941-42 winter, a series of serendipitous events led to chance meetings with their future wives.
Kathleen Harriman, wife of Averell Harriman—who built Sun Valley in 1936 as the first destination ski area in the U.S.—had convinced her close friend from New York City, a debutante named Sandy Kunau, to take a trip to Sun Valley to ski.
Meanwhile on the other side of the continent in Santa Monica, California, Norma Shearer, the most successful and famous actress of her era, retired from acting and embarked on her own ski vacation to Sun Valley. 
The two women from the most elite circles of American society wound up taking ski lessons from Arrouge and Poulsen, both young Nevada country boys from entirely different social and cultural circles. 
Nevertheless, within a year after their meeting, Poulsen began a marriage with Sandy that produced eight children and endured until he died in 1995, while Arrouge and Shearer married in 1942 and remained together until Shearer's death in 1983.
In the winter of 1962-63, while living and training out of Sun Valley, I worked as a bartender and pizza chef in what was then called the Boiler Room, where the resort wanted its employees to drink and party so they would not hang out where the paying customers socialized. I ate at the employee cafeteria, but after meeting Arrouge and Shearer, the couple frequently invited me to join them for dinner at the Sun Valley Lodge dining room, which was likely the best dining in Idaho at the time. We also met up from time to time and skied together when my training schedule allowed.
Despite Shearer's wealth and fame—she was left with $4.5 million when her first husband, the successful film director Irving Thalberg, died in 1936—she treated me with nothing but down-to-earth kindness. The same was true of Arrouge, who was somewhat of a celebrity figure to me as a young skier growing up in Tahoe and Reno. After all, he was known as one of the best Reno-based skiers of his time, which, to a boy in love with skiing, meant a lot.
Leaving a Legacy
After serving as a Navy pilot in the Pacific during World War II, Arrouge became a real estate developer and entrepreneur, commenting that he had always supported himself and had married Shearer because he loved her for who she was, not for her money.
Arrouge, who died in 1999 at age 85, is remembered as a fine skier with a style as elegant and graceful as his social presence. He was handsome, dignified, humble and had a mischievous sense of humor that was easy to like. 
It has been said that Poulsen had three great loves in his life—skiing, flying and Sandy—and Marti Arrouge introduced him to all three.
While admittedly pure speculation, it is conceivable that without Arrouge as his childhood friend, Poulsen might not have discovered Olympic Valley in time to buy land there before World War II. And if Poulsen had not owned that land when the war ended, the resort now known as Palisades Tahoe would not have hosted the 1960 Winter Olympics, which changed the world of skiing.
Thanks, Marti.
---
After growing up in Tahoe and Reno, Dick Dorworth went on to a successful skiing and writing career, setting a world speed skiing record of 106 miles per hour, publishing seven books and writing for dozens of publications. Now a resident of Bozeman, Montana, he was inducted into the U.S. Ski and Snowboard Hall of Fame in 2011. Find more of his work at dickdorworth.com.