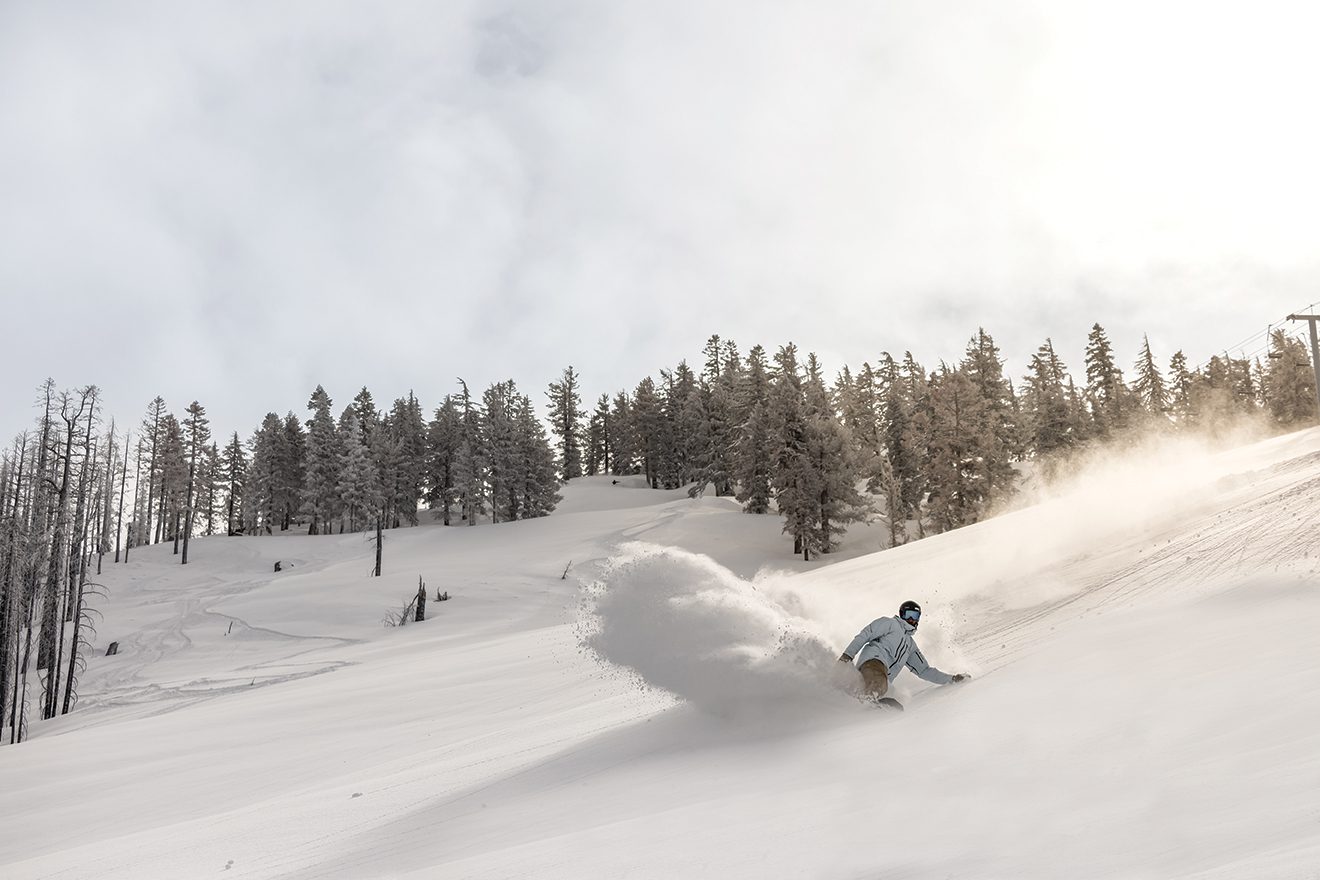 Nate Riffle rips turns through a burn zone near Sierra-at-Tahoe's Grandview Express chair
25 Sep

Rediscovering Sierra-at-Tahoe
Shuttered for more than a year as it recovered from the 2021 Caldor Fire, the popular ski resort on Echo Summit reopened last season to the delight of skiers and riders, who are adjusting to a mountain transformed by flames
The last sweeping left-hand turn on Sierra-at-Tahoe Road as the ski resort comes into view is often where the impacts of the Caldor Fire hit home for visitors.
Where West Bowl's green pines and firs once marked the edges of neatly cut ski runs and invited tree-skiing enthusiasts to discover their secrets, last season's open expanse of white across the bowl reminded guests of the flames that forever changed skiing and riding at the beloved Lake Tahoe resort.
Looking east toward Grandview Express, the glade-filled slopes are more familiar, but singed stands and conspicuous sections of empty space sometimes attempt to paste over the memories of tree-run glory for skiers and riders.
"It's just so stark," says longtime Sierra-at-Tahoe rider Dylan Silver of the change since the fire, noting how the resort's "perfectly spaced" trees accented the contours of the mountain and created a playground unique unto itself. "It's so different. It's hard to put into words. To see it so empty, it really does feel like a totally different mountain—even a totally different location."
Returning to a transformed landscape has caused some sorrow at the loss of intimate terrain knowledge earned only with years of experience, but coming back has also created plenty of excitement about experiencing a familiar place from a fresh perspective.
"We have to adapt," says John Rice, general manager of Sierra-at-Tahoe for the past 30 years. "We have a whole new landscape."
Maintaining the treasured vibe at the resort has been among the critical considerations of both resort staff and visitors who don't hesitate to call the resort "home."
'How Will They Ever Come Back From This?'
The new landscape at Sierra is just one consequence of the Caldor Fire, which started on August 14, 2021, on the west slope of the Sierra Nevada near Grizzly Flats in El Dorado County. The fire, believed to be caused by a weapon used by target shooters in the area, ran for 68 days, burned 221,835 acres and destroyed more than 1,000 structures. The fire reached the resort's boundaries on August 29 and went on to threaten the South Shore of Lake Tahoe.
"The 3,000-degree fire ripped through our beloved trees crawling through the canopies and the forest floor affecting 1,600 of our 2,000 acres, damaging lift towers, haul ropes, disintegrating terrain park features and four brand new snowcats and practically melted the Upper Shop—a maintenance building which housed many of our crews' tools and personal belongings, some that had been passed down through generations," Sierra-at-Tahoe stated after assessing the full extent of the damage.
Many skiers and riders talked about the sinking feeling of knowing the fire was burning through a favorite playground and hoping the resort would survive.
"How will they ever come back from this?" longtime Sierra snowskater Jeff Nokkeo wondered.
The road back has been filled with change. More than 14,000 fire-damaged trees were removed as part of the first phase of the resort's recovery efforts prior to the start of the 2022-23 ski season.
"While the upper east side fared better and took less of a direct hit from the Caldor Fire compared to West Bowl, the fire crawled south across the lower east side affecting areas such as lower Jack's Bowl and Preacher's Passion," according to the resort.
With little precedent available, flexibility has been required from everyone involved in Sierra's rebirth. Even for those who understood the resort's countless nuances, navigating what was once familiar terrain can be disorienting. Rice says he's had some vertigo-like moments on the mountain as once well-known terrain turns uncanny.
Fresh Perspective
At a resort that was renowned for its tree skiing, many skiers and riders have embraced the post-fire mountain and the now wide-open West Bowl.
Angela Oyervides says she rode one of the first chairs when Sierra reopened—it remained closed the 2021-22 season—on December 3, 2022, and is excited about rediscovering a place that now has distinct sections unlike any resort in the Tahoe region or beyond.
"This is amazing," Oyervides says of her reaction on that first day back. "This is a whole new resort to explore. … I miss the West Bowl trees, but I love the new open powder field."
Longtime Sierra photographer and videographer Brian Walker expresses a similar enthusiasm for the new West Bowl. On powder days, the area of the resort becomes a choose-your-own-adventure of perfect turns and slashes.
"We're getting the chance to create and experience Sierra in a new light," Walker says. "Honestly, my favorite part was that it became this wide-open canvas."
Like just about any skiable landscape, West Bowl benefits from a fresh coating of snow, which came in multitudes during the memorably wet 2022-23 season.
"That, by far, is the most fun because you can just go everywhere," says Sierra rider Jen Ostrode about catching West Bowl on a powder day.
The lack of reference points, however, can make the once storm-rider-friendly zone harder to navigate when visibility diminishes. And without trees, West Bowl is more exposed to wind and sun in the days following a storm.
"One of the biggest things is the stashes are gone," Nokkeo says, adding that the previously tree-lined halfpipe is also more of a public affair, and less of a tucked-away haven for the vertically inclined, than before.
Some regular skiers and riders have paid more attention to how the sun moves across the mountain to ensure they're in the right place at the right time for the best snow, Rice says.
Even as guests adjust to the new terrain, all have been thrilled to have a resort to come back to, with gratitude expressed toward firefighters, Sierra staff and everyone who has helped protect and restore the mountain, Rice says.
"All I hear from people is 'thank you' for not giving up on our mountain, and we're coming back," Rice says, noting strong initial season pass sales heading into the 2023-24 season.
Let the Good Vibes Roll
The 2022-23 season was a learning experience for Sierra, and the seasons ahead will continue to require a new understanding of how the resort responds to different weather and snow conditions.
"Where will the snow drift and stack? How do our guests ski the mountain differently? What areas should we widen or create access to?" the resort said in a statement. "These questions and more are being thought through and hashed out by our operations crew daily."
Blowing snow from West Bowl repeatedly filling in a surface lift on Broadway is one example of the unanticipated results of the changed terrain, Rice says.
Improving the management of lines at Grandview Express is also among the guest feedback Sierra has received, and Rice asks for patience as the resort continues to build understanding around the new conditions wrought from the Caldor Fire.
"It's going to be a continuous learning process for our team," Rice says.
"There are whole new possibilities with natural terrain and terrain parks," Rice adds, mentioning the potential for pop-up terrain parks and new grooming paths through West Bowl.
Skiers and riders can expect another round of changes heading into the 2023-24 season, with the second phase of fire mitigation taking place in areas like Avalanche Bowl, Lower Main, Chute, Tahoe King, Preacher's Passion and Castle. Gladed areas that were closed in 2022-23 due to the hazards posed by burned trees are expected to open, with new paths through them, this season.
"I have no doubt that it'll be a wonderful mountain," Silver says. "To see them maintain the high-quality experience they've always had through this monumental challenge … it makes me proud to be a patron there."
One aspect of the resort that staff and dedicated fans are striving to keep alive is the relaxed, family-friendly vibe that's part of the draw for many customers. Rice says some of that feeling is generated from hiring the right people and keeping a focus on welcoming fun in a world filled with stress. Some of it just happens.
"There's a good feeling here," Rice says. "We can't control that. It sort of develops organically."
Walker, who has been skiing the mountain since he was little, agrees.
"It is a place that has the best vibe, the best people. You can go there by yourself and almost guarantee you'll run into other people you know," Walker says.
While there's always been something special about Sierra, staying positive through such a distressing experience reveals some of the reasons behind the cherished atmosphere at the resort, Rice says.
"You can come here and feel like you're connected to something special. It's just a neat feeling that we're trying to hang onto a little bit."
"It's a different mountain," Ostrode says, "but it's still awesome."
---
Adam Jensen is a freelance writer who is looking forward to the bottom of Jack's Bowl feeling like home again.