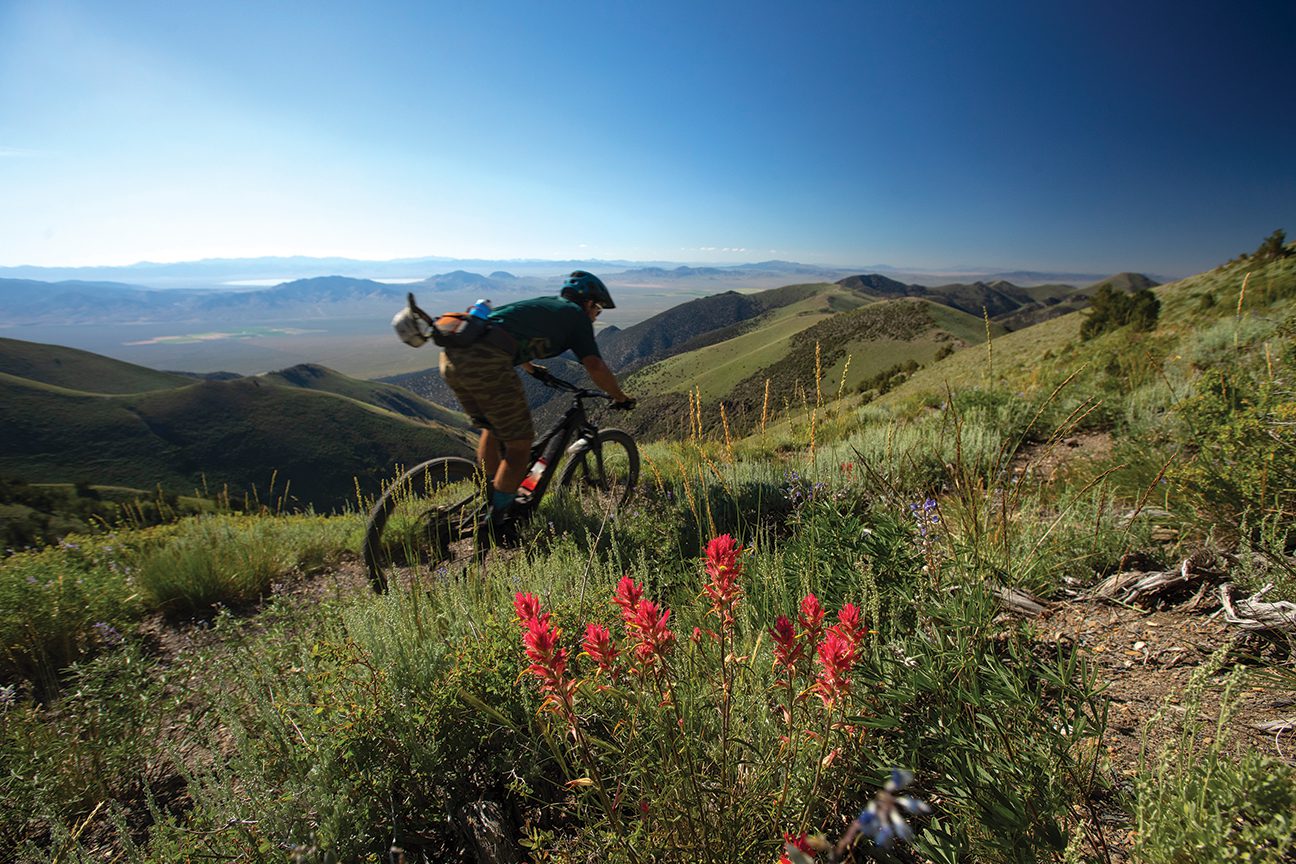 With wildflowers peaking along a trail that seems to go on forever, Kurt Gensheimer is in his happy place in the Toiyabe
25 Sep

Reviving the Toiyabe Crest Trail
An outdoor enthusiast spearheads an ambitious effort to bring a historic trail back to life
Nothing makes you feeler smaller than standing on top of a mountain at 10,500 feet in elevation in the dead center of Nevada, looking out hundreds of miles in every direction and seeing nothing but endless basins and ranges. No cities, no lights and no humans. Nothing but utter remoteness, a welcome loneliness and a very real sense of being completely insignificant in the scale of the Great Basin.
You can spend a week in Nevada's Toiyabe Range and not see another soul, except for maybe the Peruvian sheepherder who lives high in the rugged range all summer with his flock.
As one of the longest mountain ranges in the state at 130 miles—with the most peaks of 10,000 feet or higher—the Toiyabe delivers a level of humbling solitude unlike anywhere I've been. The closest town is Austin about 30 miles away, but considering barely 150 people live there, the wildlife greatly outnumbers human inhabitants. The next closest town of reasonable size is Fallon, more than 100 miles to the west. The night sky in the Toiyabe is stunning. If you look at a night-sky map of the lower 48 states, the darkest place in the country is a bullseye right over the center of Nevada.
The range also claims the longest trail in Nevada, the Toiyabe Crest Trail. At approximately 70 miles in length, the Toiyabe Crest Trail (TCT) is a National Recreation Trail constructed by the Civilian Conservation Corps, started in the late 1930s and completed in the 1960s. The southern half of the TCT is within Arc Dome Wilderness, while the northern half is outside the wilderness boundary, legal for mountain bike use.
Despite its congressionally designated status, the TCT has not seen a trail crew since the late 1980s, when the federal government lost funding for trail maintenance. Nowadays, the most frequented trail users are free-range bovine and the range's lone sheepherder.
I was first introduced to the TCT in 2016 after receiving a story assignment to ride mountain bikes with a couple of friends from the wilderness boundary at Ophir Pass some 32 miles north to where the trail ends in Kingston Canyon, just above the one-horse hamlet of Kingston. The trail was non-existent in many spots, forcing our crew to dig deep into our navigational toolbox and fight our way through walls of sagebrush, wild rose, willows, mahogany and stands of aspen.
Thirteen hours later we reached Kingston in darkness, weary and looking like the losing end of a wildcat wrestling match, but triumphant nonetheless. 
In the afterglow of that adventure, all I could think was how incredible it would be if the TCT was maintained and navigable. It would be one of Nevada's crown jewel backcountry experiences for hiking and mountain biking.
Reviving an Iconic Trail
The next summer I returned with my mountain bike, loppers, a Makita reciprocating saw and a handful of batteries and started mowing sagebrush with my friend Chris Brown. I had no idea exactly what we were jumping into beyond a bull-headed determination to see this trail return to its former glory. After two arm-numbing days of work and only a half-mile of cleared trail to show for it, crushing reality set in. We needed help.
I shared the story with a fellow mountain biking friend, Janice Keillor, the deputy administrator of Nevada State Parks. Keillor told me about the Recreational Trails Program, a federal grant she administers, and recommended I apply, which I did with help from the Great Basin Institute in Reno and support from Humboldt-Toiyabe National Forest – Austin Ranger District.
The Recreational Trails Program (RTP) is a program funded through the Federal Highway Administration, focused on motorized, non-motorized and educational recreational trail projects for state and local governments. The RTP is also specifically designed to fund work on National Recreation Trails like the TCT, one of more than 1,300 such routes in the country.
By January 2019 we were funded. And after two years of work, including multiple deployments of the Nevada Conservation Corps—a division of AmeriCorps—and 350 hours of volunteer labor I coordinated through a couple dozen friends, 25 miles of the TCT have been cleared from Kingston Canyon south to Tierney Creek canyon, including the feeder trails of Washington Creek and South San Juan Creek.
In December 2022 we were funded by the RTP for a second round of work to complete the final 15 miles from Tierney Creek to Ophir Pass, including the feeder trails of Marysville Canyon and Mohawk Canyon. The Nevada Division of Outdoor Recreation recently provided funding through the Nevada Outdoor Recreation Infrastructure grant for all new signage, as the existing signage is either nonexistent or faded beyond legibility. Further helping with this grassroots effort, Tahoe Truckee Lumber donated 50 pressure-treated 4-by-4 posts and all the signage hardware for mounting.
Fruits of Labor
Every time I pack my 4×4 Toyota RV and head east on U.S. Highway 50 to the Toiyabe, there is an overwhelming sense of adventurous escapism, a return to a wild yet welcoming place.
I've spent a week alone in the Toiyabe, head down with saw in hand, cutting day after day, falling into a rhythm, becoming a sagebrush-busting machine. I return to the RV each evening exhausted yet invigorated, sleep like a stone, then get up the next day to do it all over again. In 2020 when the world was very strange and teetering on the edge of sanity, being in the Toiyabe with no cell service was the ultimate remote work environment, free of any Zoom calls.
The TCT project has been both a selfish and selfless endeavor. Selfish in that I want to personally experience the TCT in its optimal state as a maintained trail, but selfless in that I want to share the experience with others. 
The diversity of wildlife, ecology and terrain in the Toiyabe surprises even the most traveled adventurer, as many simply write off Nevada as desert, despite it being the most mountainous state in the U.S. next to Alaska. Wildflowers, grasses, aspen groves, juniper and mahogany—even pinyon and limber pines—all flourish in the Toiyabe, with year-round running water and springs plentiful for drinking along the TCT route, as the trail runs between 7,000 and 11,000 feet in elevation.
What has been most humbling and gratifying about the quest to resurrect the TCT is all the new friends I've met who heard about the project and made the trip to come help and experience the trail. A four-hour drive from Lake Tahoe, the Toiyabe isn't all that far, yet feels far enough away to be on another continent.
Even more gratifying is when those friends return for a second time, as that's the true test of place. You know you've found something special when folks make the time to come back. My friends are well traveled and know a unique place when they see it, and they are always asking when I'm headed back out to the Toiyabe, fueling my resolve to see this project through.
Tackling the Toiyabe Crest
The best way to get a taste of the TCT without a huge commitment is approaching from the west side of the range, riding up South San Juan Trail to the TCT, making a left and heading north on the TCT approximately 11 miles until reaching Washington Creek—then descending back to the mouth of Washington Creek, where it meets San Juan Canyon. Approximately 22 miles in length with 3,500 feet of climbing, this triangular loop gives riders, runners and hikers a great option with free dispersed camping in Washington, Cottonwood and San Juan canyons. 
As an "extra credit," continue north on the TCT from the Washington Creek junction. From there, climb an extra 1,000 vertical feet in 1.5 miles to Carseley Saddle, then turn around for a full 3,000-vertical-foot singletrack descent on the TCT and Washington Creek, which makes the loop closer to 25 miles and 4,500 feet of climbing. For a point-to-point, continue north on the TCT another 8 miles, finishing with a 3,000-vertical-foot singletrack descent into Kingston Canyon.
The TCT from Tierney Creek south to the Wilderness boundary at Ophir Pass is not yet completed, so navigation is more difficult, and the trail is very overgrown but passable with good map-reading skills. For those who plan to ride or hike point-to-point, the recommended direction is south to north from Ophir Pass to Kingston Canyon.
Trail Support
There are thousands of trails across the country suffering from lack of maintenance, which results in their lack of use and eventual disappearance. The TCT was constructed at great cost to American taxpayers and the hardy pioneers who built the iconic trail nearly a century ago. It is up to us outdoor enthusiasts to find a trail in need, adopt it and be its champion in resurrection.
The TCT project has changed my life. It has given me a special sense of purpose and an opportunity to leave a legacy for future generations. It's also helped bring attention to a special part of Nevada in need of more supporters—folks I call "Friends of the Toiyabe."
---
Known as @trail_whisperer, Kurt Gensheimer has been a freelance writer and storyteller for the last two decades, focused on adventures by bike and the importance of trails. His most recent project is a podcast called @mindthetrack celebrating skintracks in winter, singletracks in summer, profiling the "core lords" of sport and fostering the culture of mountain life.