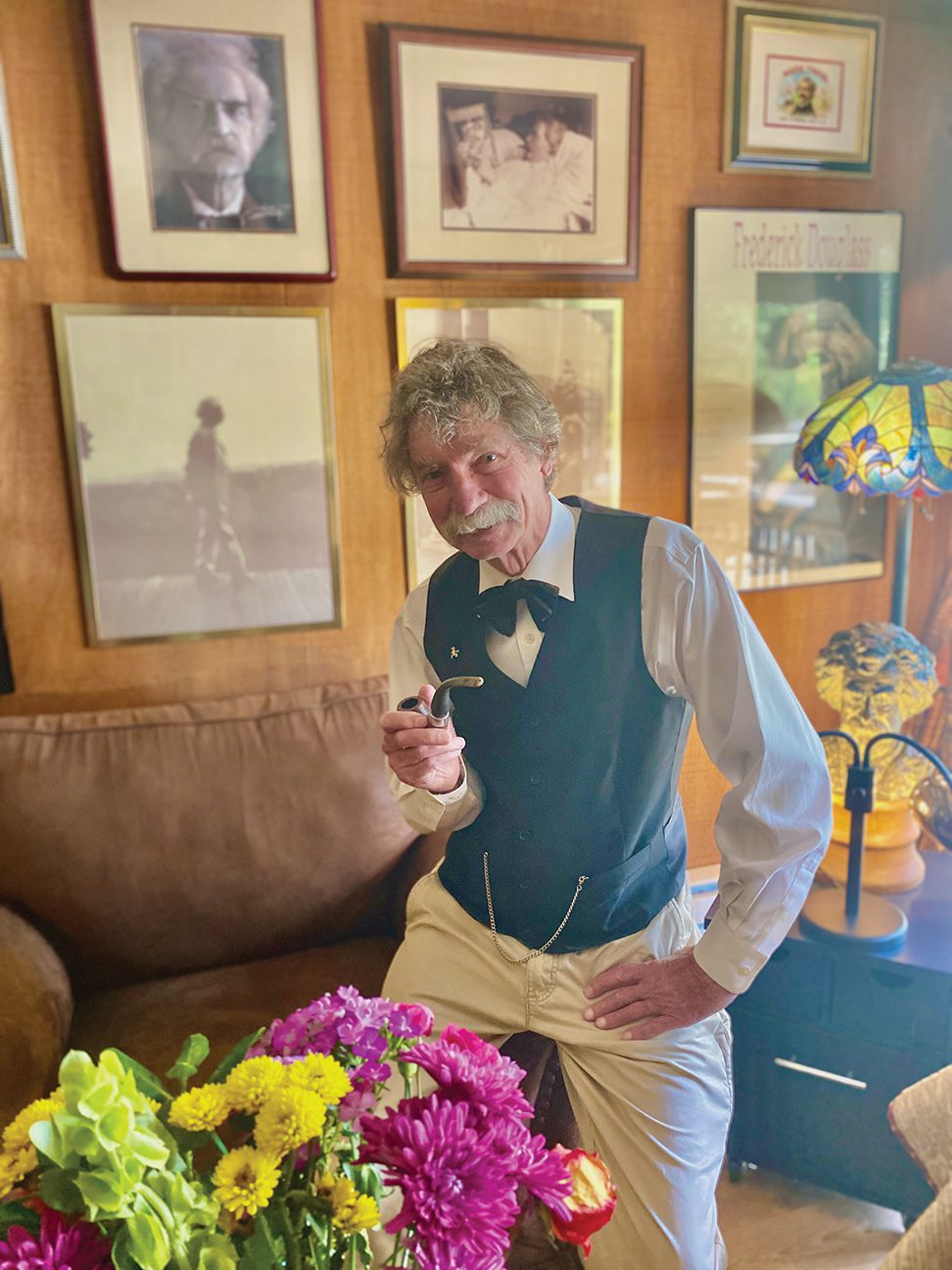 McAvoy Layne inside his "Twain Haven" at Lake Tahoe in August 2023, photo by Chaco Mohler
25 Sep

Twilight of Tahoe's Mark Twain
Longtime Incline Village resident McAvoy Layne is gracefully stepping away from
the spotlight after an enjoyable 'second life' impersonating an American icon
Summer 2023 marked the end of a long run for a beloved member of our region's cultural fabric. McAvoy Layne appeared in his final Chautauquan performances as Mark Twain in venues where he's entertained thousands over the decades, retiring from the stage on September 30 at Piper's Opera House in Virginia City, the town where he, like Twain, got his start.
"I expect I'll shed a tear," Layne says.
It's been 36 years since he first performed at Piper's. On September 18, his 80th birthday, Layne performed for the final time at the Taylor Creek Visitor Center Lake of the Sky Amphitheater, where he has reincarnated Twain for over 35 years.
"They paid me handsomely the first year, then 10 years after asked if I wanted a raise," Layne recalls. "I said, 'No thanks. You paid me well to start, so as long as you pay me that amount, I'll come back every year for as long as you'll have me.' I've been paid the same for 35 years, and I've regretted saying that to them for at least the last 20."
In truth, Layne has donated considerable amounts of his time to local charities and causes throughout his career. His last performance at Piper's will raise money for the nonprofit Comstock Fund.
"I believe pro-bono work is a big part of the performing arts," he says, "while keeping the lights on at the same time."
Demand for Layne's appearances has kept his lights bright, including two-a-day summer performances on Zephyr Cove's Tahoe Queen and M.S. Dixie cruise ships.
"I figure I've circled Emerald Bay's Fannette Island over a thousand times in a white suit."
Layne is also a thoughtful, prolific writer, his weekly "Pine Nuts" column published regionally for 23 years and counting, appearing first in the Bonanza newspaper, now the Sierra Sun, plus Carson Now, Calaveras Enterprise in Angels Camp and Comstock Chronicle in Virginia City.
A publisher's dream, Layne accepts no money for the columns, "and I've never missed a deadline," he says.
Layne's reputation stretches well beyond his local appearances. He's performed as "The Ghost of Mark Twain" in venues on the Mississippi River, U.S. Military schools in Europe and Russia's Leningrad State University, and portrayed Twain on Discovery Channel's television series Adventures of Huckleberry Finn.
Audiences detected no lack of energy from Layne this past summer but the same humor and sparkle that are hallmarks of his performances. So why retire?
"A very smart lady once told me, 'McAvoy, better to retire two years too early than two minutes too late.' I'm lucky that my memory is still holding up. But I don't know how much longer it will."
'Living Twice'
The Chautauquan trade is certainly one of the most challenging and complex of the performance arts, combining the skills of a scholar, actor and comedian, plus a thorough knowledge of contemporary issues and events. The latter is needed due to an interesting aspect of most Chautauquan shows, when the performer answers audience questions on what the historic figure would have to say on modern topics.
"I do a Q and O as opposed to a Q and A," Layne says, quoting Twain: "If I don't have an answer, at least I'll have an opinion.
"I have so many of his quotes memorized by topic that you can ask me about almost any subject and I can come up with an appropriate Twain quote. He had something to say about just about everything!"
Layne's success at recreating Twain 100 years later seems largely based in his deep love for the seminal American author and humorist, and Layne's ability to make audiences feel that love. It has also made him a fervent promoter of the Chautauquan art, a subject addressed in his recently published digital book, Living Twice—How Chautauqua Can Give You Another Life.
"I've been thinking about writing this book ever since I was invited to my first Chautauqua," he says. "I encourage people who are contemplating retirement to start thinking about someone they admire, who they could bring back to life. It involves a lot of research, reading and memorizing. But once you've got it down and you walk into a classroom or onto a stage, it gives you a second life."
It helps if, like Layne, you also bear a remarkable resemblance to the historical figure you portray. Those who know Layne best suspect his connection to Twain goes well beyond his curly hair and full mustache, however, stretching to beyond the "here and now."
"I've had many people tell me that they feel a spiritual connection between myself and Twain," he says. "I'm starting to buy a little stock in it myself."
The evidence? Layne and Twain seem to rhyme in multiple dimensions. Certainly, Layne's life shares several like-experiences with the author born Samuel Clemens.
"He walked over the mountains to Lake Tahoe in 1861. I moved here exactly 100 summers later in 1961," says Layne. Both men had life-changing experiences in the Hawaiian Islands at crucial times. Both spoke in Russia to enthusiastic crowds and gained lasting lessons from it.
Surf Bum to Ski Bum
Layne was not born on the Mississippi River, however, but next to a different river in Benicia, California. Interestingly, his father had experience on steamships, playing the violin in orchestras on steamboat cruises in the 1930s. In his youth, Layne's family spent summer vacations at Tahoe, leading to a first job here as a lifeguard in 1961.
As a young adult, Layne displayed Clemens' talent for telling tall tales and general scallywag-ism, getting himself hired to teach at a St. Joseph's College in Hong Kong without a teaching credential, recalling in his recent book what he told the headmaster during his job interview: "I would send for it. He'd be the oldest man in the world before he ever got it, but what is the Latin saying? Carpe Dooda …"
To distract the headmaster, Layne organized a popular intramural basketball league, then timed his departure to coincide with his "discharge."
Next stop: serving in the Marine Corp in Vietnam. "Twain wrote The War Prayer," Layne says, "a satire on the whole notion of war. When I got back from Vietnam, I felt the same way."
Discharged and looking for a reset, Layne, like Twain, found himself at the "end of the road" in Hawaii. His natural talent wouldn't keep him hidden for long, however, and Layne landed the first of a series of radio DJ jobs that would continue through his time in the islands, becoming a minor celebrity in the process. He was ironically known as "The Riddle King" for his inability to solve riddles posed by school children on air every morning. And he managed to interview most every celebrity who visited the islands, eliciting "thank you" notes from the likes of Playboy founder Hugh Hefner (who wrote, "Thanks for the use of your house") and golfing legend Arnold Palmer (who wrote, "Thanks for the use of your putter.")
Twain's experience in the then-Sandwich Islands was pivotal for the author, says Layne. "Sam did some of his best writing in the islands and was deeply affected by the Hawaiian people. He said of Hawaii, 'The Sandwich Islands are one long, slumbering Sabbath. The good that die there experience no change, for they fall asleep in one heaven and wake up in another.'
"Like Twain, I learned from the Hawaiians that, whenever possible, think with the heart first. That's been helpful to me over the years."
He was living the "life of Riley" on Maui, but Layne sorely missed skiing. As it would turn out, two ski trips to Tahoe changed his life forever. On the first trip in 1976, he was planning to stay with a TWA flight attendant in Tahoma, but she was called away last minute on a multi-day assignment. So, Layne found himself alone in her small cabin. A storm immediately dropped so much snow that the roads couldn't be plowed for days. First, he played darts, then he discovered a book that would start his second life.
"I thought it was a really bad stroke of luck to be trapped in the cabin, but it turned out to be a blessing." When Layne opened The Complete Essays of Mark Twain and started reading, "away I went," he says.
By the time the stewardess returned, Layne had committed a few of Twain's passages to memory, reciting them, no doubt, with elan. She was so impressed that she gave him the book, writing inside with prescience: "To McAvoy Twain."
Then in 1983, a ski trip to Tahoe changed Layne's life. Riding up a chairlift at Ski Incline (now Diamond Peak), he was seated next to a woman who asked him what he did for a living. "'I do the morning show on a Maui radio station,'" Layne recalls, "and she said, 'How would you like to do the morning show here? I'm starting a new radio station.'
"I went from being a surf bum to a ski bum in two weeks," he says, then quoting Twain, "Providence don't fire no blank cartridges."
How Layne Became Twain
Between his DJ gig and enjoying Tahoe's outdoors, Layne became increasingly immersed in the world of Twain and his times. His new book quotes one outstanding figure after another heaping praise on the author, from Theodore Roosevelt to Thomas Edison to novelist Ernest Hemingway, who said, "All modern literature comes from one book … Huckleberry Finn. … There was nothing before. There has been nothing so good since."
"Twain writes in the rhythm of the American folk song," Layne says, "so once you get into that rhythm, it's easier to memorize. I started reading every one of the 18,000 pages he left us. It took me 10 years to read them all."
In 1985 ("with no little trepidation") Layne got the courage to have a white suit made and start visiting classrooms. "I had coached different sports, so I knew how to talk to kids. Once I got into the classroom as Mark Twain, I was on fire!"
He soon had invitations to perform for small groups, relying to begin with, he says, on Twain's humor to break the ice: "I am as unlettered as the backside of a tombstone. But I've gained worlds of knowledge at second hand; none of it is correct. No, all you need for success in this life is ignorance and confidence, then success is sure."
In 1987, Layne surprised his father at his 75th birthday party by portraying Twain in the white suit with white hairspray on eyebrows and mustache too. His father's astonished reaction spoke deeply to his son. It was exactly the response he needed to fully commit to a "second life" as Twain.
1988 was an important year for Layne, with the birth of his son, McAvoy Layne 3rd, and an offer from the great-granddaughter of the founder of Piper's Opera House in Virginia City to do two performances a day, six days a week, throughout the summer.
"At Piper's, I was able to try out material to see what worked with modern audiences, 12 times a week, and by the end of the first summer, I was ready to go on the road."
His talent proven, corporations and large public entities began booking Layne. The Nevada Department of Education hired him to perform in classrooms throughout the state, with Layne visiting up to 10 schools a week.
Beginning in 1990, the U.S. State Department sent Layne to Europe to perform in classrooms for U.S. military dependents in Germany. On his third tour for the State Department to Germany, he was invited to appear at Leningrad State University in St. Petersburg, and then additional Russian schools, finding Twain received as "an elder statesman."
"It was one of the warmest receptions I've ever had," says Layne. "I wish we could do that now."
Interesting, Layne's early-stage career overlapped locally with that of another internationally recognized Chautauquan, Clay Jenkinson, renowned for his portrayal and discussion of Thomas Jefferson for PBS. Jenkinson was a professor at the University of Nevada, Reno, and the two became fast friends, even performing together once, "with Twain dragging Jefferson into the nineteenth century," says Layne.
"I went to his birthday party and gave the toast, 'If Clay Jenkinson ever decides to portray Mark Twain, I will gracefully retire.'" Jenkinson currently produces Listening to America online, with 20 years of the PBS's The Thomas Jefferson Hour available by subscription.
Despite Layne's retirement from the stage, the Chautauquan art form lives on regionally in the performances of Kim Harris, Debby Lynn Smith, Dr. Mike Fisher and Steve Hale, all of whom portray several interesting historical figures. For now, Layne plans to continue hosting small groups (six maximum) for a performance and discussion in his home, its wall festooned in Twain and Layne photos and memorabilia.
Blessed and at Peace
Recognition of Twain and his contribution to this area continues, of course, with events like Mark Twain Days in Carson City in April. Layne suggests while you're there, pick up a recently minted Twain coin at the Nevada State Museum gift shop. And if you'd like to explore more of Twain's writing, he points to The Diaries of Adam and Eve. Or you can call his home phone, where he frequently changes the outgoing message to a quote from the author.
"People call in just to hear the quote, then hang up," he says. "Twain had so many wonderful little quips that you could go through a year and never repeat."
Asked what Twain would have to say about the Tahoe of today, Layne answers, "If Sam were to come back today, I think he'd struggle where to live, either here in Tahoe or the Hawaiian Islands."
As for Layne, he's staying put in Incline Village, home base for over 40 years. In addition to visits from his son (a grant writer for nonprofits and a percussionist), Layne gets twice-daily visits from a Steller's jay he saved as a hatchling, named Huckleberry, who lands on his deck railing, doing a dance or ringing a bell when asked.
It's a moment that somehow fits the man, now eight decades into his journey, seemingly both blessed and at peace, having experienced a full "second life."
"I've become a better person thanks to Mark Twain," he says, broad smile below a thick white moustache. "I've been more charitable, cheerful and more helpful. He broadened my horizons."
---
Chaco Mohler is the former publisher of Tahoe Quarterly and the magazine's first editor-in-chief.