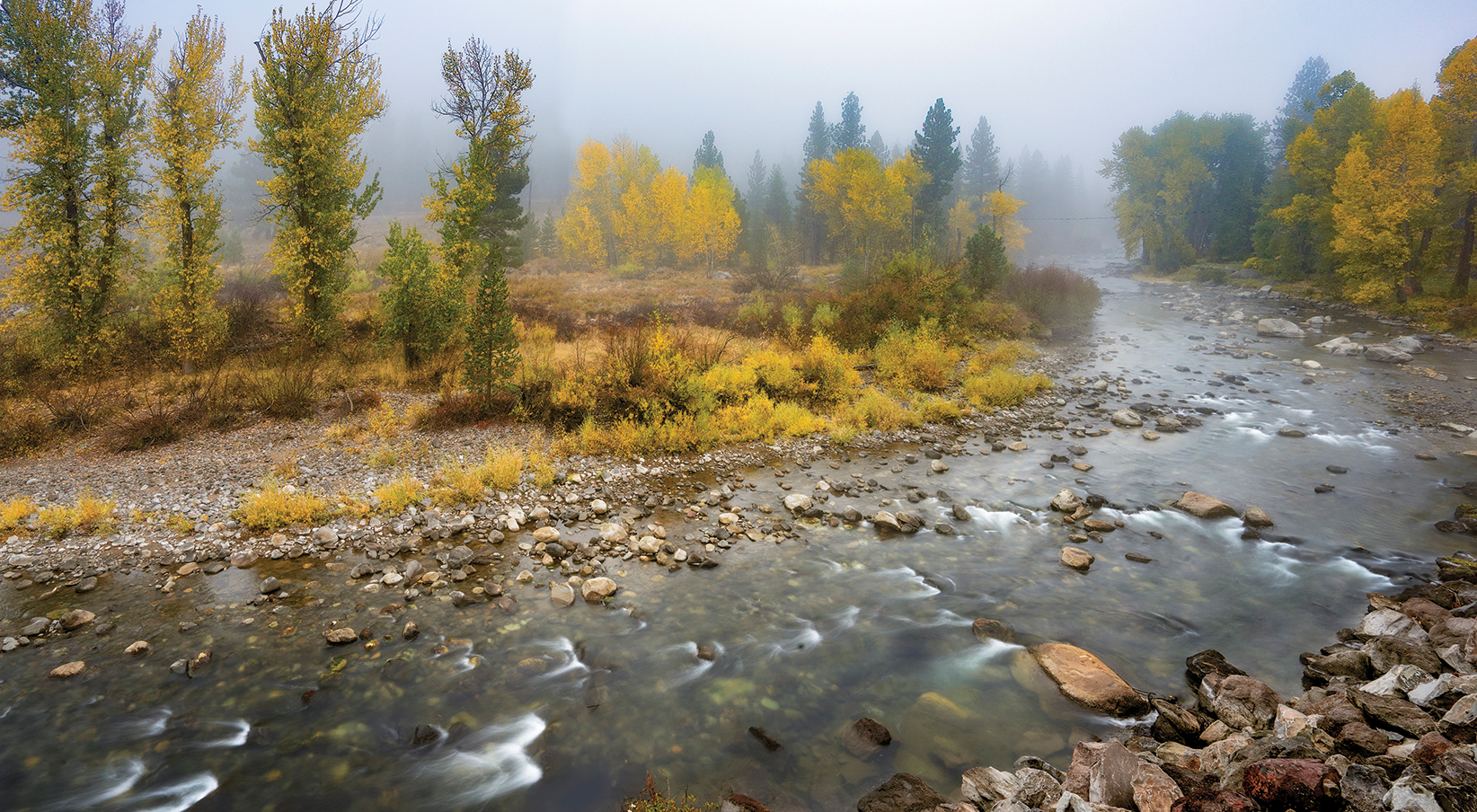 Looking across the Truckee River at the Truckee Springs property in autumn, photo by Bill Stevenson, courtesy Truckee Donner Land Trust
25 Jun

A River Runs Through It
Overlooked for more than a century, the Truckee River through historic downtown is set to become an integral part of the community's future with the purchase of Truckee Springs
The Truckee River runs like a phantom through downtown Truckee. Walled off by warehouses, shops and riverside homes, it is only occasionally glimpsed as it spills over boulders and ripples around bends, always just out of reach.
From where it flows out of Lake Tahoe, the river gushes north, but as it hits Truckee it turns east. One bank is lined with buildings; the other bank sits unreachable, but tantalizingly untouched. The two sides of the river, only separated by feet of rushing water, are two vastly different worlds. Urban and wild. Busy and quiet. Commercial and natural.
For decades, these two banks have been detached. Connecting them has been a fantasy that land planners, conservationists and trail advocates have steadily worked toward for years.
Now, that distant dream is a clear and tangible opportunity.
Truckee Springs, as the project led by the Truckee Donner Land Trust is called, is a prime opportunity to bolster conservation, recreation and community character in the heart of Truckee. The 26 acres of undeveloped land—which the land trust is under contract to purchase at a $6 million price tag—would unlock trail connections and river access, preserve wildlife habitat and transform the future feel of Truckee's downtown. Another $4 million would finance improvements, including a 220-foot pedestrian bridge between downtown Truckee and Truckee Springs.
"It will finally connect Truckee to the river," says Perry Norris, executive director of the Truckee Donner Land Trust. "It is really going to make the river the trophy to Truckee that it should be."
A River Revitalization Years in the Making
Downtown Truckee's detachment from the river has long been seen as one of the town's largest unrealized opportunities. But unlocking river access has been a slow and halting process.
Tony Lashbrook, who served as the Town of Truckee's community development director and town manager for 23 years before retiring, says the river's connection to downtown was always seen as a key component of Truckee's future and a major goal.
"When I came at it as a planner I said, 'Look at this resource, and we have all these industrial uses stuck next to the river. What a missed opportunity,'" says Lashbrook.
But despite years of planning and incremental progress, the river and the town still stood detached when Lashbrook announced his retirement in 2017. Nonetheless, the table was set for an opportunity like Truckee Springs. Planning processes had identified river revitalization as a priority. The Pioneer Commerce Center industrial and commercial development had incentivized many warehouse and industrial businesses to move away from the riverbanks. The Town of Truckee had purchased riverfront land on West River Street that could serve as a public park connection to the other side of the river. And the 26 acres of private land on the other side of the river still stood undeveloped.
Now, Truckee Springs is the linchpin that could finally make it all come together.
"It is an opportunity that cannot be missed," Lashbrook says of the Truckee Springs project. "You go from zero miles of accessible river frontage on the south side of the river west of Bridge Street to a full mile of river access. You can't really overstate how important it is."
Integrating the Truckee River into the heart of downtown, offering a wild, natural escape only feet away from shops and restaurants, suddenly gives Truckee an opportunity to capitalize on this stunning natural resource the way other communities like Reno and Bend, Oregon, have integrated the river into the heart of their towns.
A Transformative Trail Acquisition
In many ways, Truckee Springs is the critical missing puzzle piece in a network of Truckee and North Tahoe trails that continues to expand each year.
"It is the keystone property to really make a lot of things happen," says Levi Leipheimer, a Truckee Donner Land Trust board member and retired professional cyclist.
Leipheimer notes that the trail connections—from the Truckee River Legacy Trail to the bike path that runs to Tahoe City to mountain bike trails like Sawtooth and Big Chief—will all be connected by Truckee Springs.
"It is going to be a portal from Truckee into the other surrounding areas," says Leipheimer.
The key to that portal is two pedestrian bridge connections. One will connect Truckee Springs to the Town of Truckee park on West River Street. Another will cross the Truckee River closer to Highway 89 South, allowing the Truckee River Legacy Trail to continue to Donner Lake while tying into the bike path that runs south to Tahoe City.
For cyclists like Leipheimer, who are familiar with the economic vitality that trails bring to a community, having trail connections into downtown Truckee is a clear win for local businesses.
"People start and finish their rides there," says Leipheimer. "I think Truckee Springs will support many businesses in Truckee."
For Dan Wilkins, the Town of Truckee's longtime director of public works, Truckee Springs will connect the dots on a trail network that has consumed trail planners for years.
"[The trails] contour into the landscape and the land very well and they look like they've always been there, but the amount of effort to get them constructed, honoring archeological and flood plain resources—it is a very complex effort," says Wilkins.
That steady effort to link trail systems together will take a quantum leap forward with Truckee Springs. In combination with other efforts in progress, bike path connections to Kings Beach, Tahoe City and virtually every corner of Truckee—including Donner Lake via a new section of the Legacy Trail—will now soon be linked to downtown Truckee.
Riverfront History
While Truckee Springs might represent the future of much of downtown Truckee's identity, it also holds a rich record of Truckee's past. The area hosted winter carnivals founded by one of Truckee's most notable citizens, kicking off an era that saw Truckee grow into a snow sports destination.
Charles McGlashan documented the original Donner Party history, published the Truckee newspaper and practiced law in town. But it was his idea for an ice palace that captivated the country's imagination.
After some late-1800s versions of the ice palace that McGlashan built in downtown Truckee, the grandest version was constructed on the Truckee Springs property.
"On December 11, 1913, the new ice palace was completed. Diverting water into the building from a natural stream flooded the ice skating rink. As a final touch, the exterior walls were lighted up in brilliant colors and the interior was decorated with hundreds of fresh roses," wrote Truckee historian Guy Coates in an article published on the Truckee-Donner Historical Society website.
This was no simple curiosity. With the full force of the chamber of commerce behind the effort, toboggan lifts took eager thrill-seekers to the top of Hilltop. A Hawaiian singing troupe serenaded the crowd on opening night. Horse-drawn sleighs took revelers on snow-covered roads all the way to Donner Lake and back. During the second year of the ice palace's existence at Truckee Springs, famed writer Jack London attended the festivities, according to Coates.
The ice palace's tenure at Truckee Springs was incandescent, but short. In the summer of 1915, the structure was engulfed in flames. Despite promises to bring back the festival in future years, it was never rebuilt, and the winter carnivals became a memory. The ice skating pond, once the floor of the palace, continued to be used for years. Today, water still pools where ice skaters once glided along the shores of the Truckee River, held back by the stone foundation of the ice palace that once hosted shimmering celebrations of winter.
While the ice palace is perhaps the most celebrated portion of Truckee Springs' past, other historical remnants remind visitors of the earlier history of the property.
Washoe tribes used the property frequently, and grinding stones and a medicine rock, where red ants were ground into a medicinal paste, are the preserved proof of this past. The location of the medicine rock, directly across the river from another sacred Washoe stone feature, gives the rock even more significance, says Chaun Mortier, a Truckee-Donner Historical Society board member.
"If they are doing a medicinal rite, they are right there staring at the Rocking Stone," says Mortier, referring to the large glacial boulder positioned atop a slab of granite at Truckee's Vets Hall, which in the past tipped back and forth with the touch of a finger.
One other notable sign of Truckee's more recent past at Truckee Springs is a portion of the "river of nails" that still threads through parts of Truckee. The nails are from a period of time when the Truckee Lumber Company occupied Truckee Springs and a long wooden flume, cobbled together with nails, ran from the property downriver. When a fire burned the flume to the ground, it rained down a swath of nails in a path that can still be followed in places today.
The Truckee-Donner Historical Society is working with the Truckee Donner Land Trust to highlight the historical uses of the property, and tell the story of the ice palaces that were once the center of vibrant winter festivals before the First World War.
The historical society plans a walking trail, sitting area and historical signs on the former ice palace land that the nonprofit will own within the property.
"The ice palaces were the beginning of our tourism," says Mortier. "It is one of the last few sites that is so significant to Truckee's growth."
A Downtown Reshaped
Big changes are coming to Truckee's downtown. After more than a century of relative stasis, the core of town is growing, morphing and transforming. Truckee Springs will be a part of that. But so will the Truckee Railyard—a large commercial and residential downtown project east of Commercial Row—and a planned co-housing project on West River Street.
Jan Holan, a member of the Truckee Co-Housing project planned for a plot of land on West River Street, hopes that the missed opportunities of the past can become the fulfilled promise of the future.
"I think the future of our town and the relationship with the river—there are some huge opportunities," says Holan. "It is pretty surprising that we have not done more with it so far. I think what we are doing now is capitalizing on a great opportunity."
But Holan knows firsthand that it won't be simple. The West River Street co-housing property he and his fellow future homeowners hope to break ground on in 2021 was once a mill and then host to heavy machinery and mechanic shops. It is both an exciting and challenging location to turn into a vibrant community of 37 households.
"It was very attractive to convert a brownfield, not take some forested plot of land and cut all the trees down and create a subdivision," says Holan.
But much of the river corridor is still years away from realizing some of its most obvious potential, says Holan.
"Hopefully there will be a center for gravity where the downtown is becoming more vibrant and more of an attractive place to live and launch adventures from," says Holan.
Truckee Springs is one big piece of the river corridor puzzle. As other pieces like the co-housing project and the Truckee Railyard fall into place, Truckee's centuries-long history of predominantly treating the Truckee River as an afterthought or, worse yet, a resource to be abused or neglected, can come to a close so a new era of celebrating this precious natural resource can commence.
"I think there are lots of examples of mountain towns that have really leveraged their river," says Holan, "and I think we are only scratching the surface of that here."
---
David Bunker is a Truckee-based writer and editor.