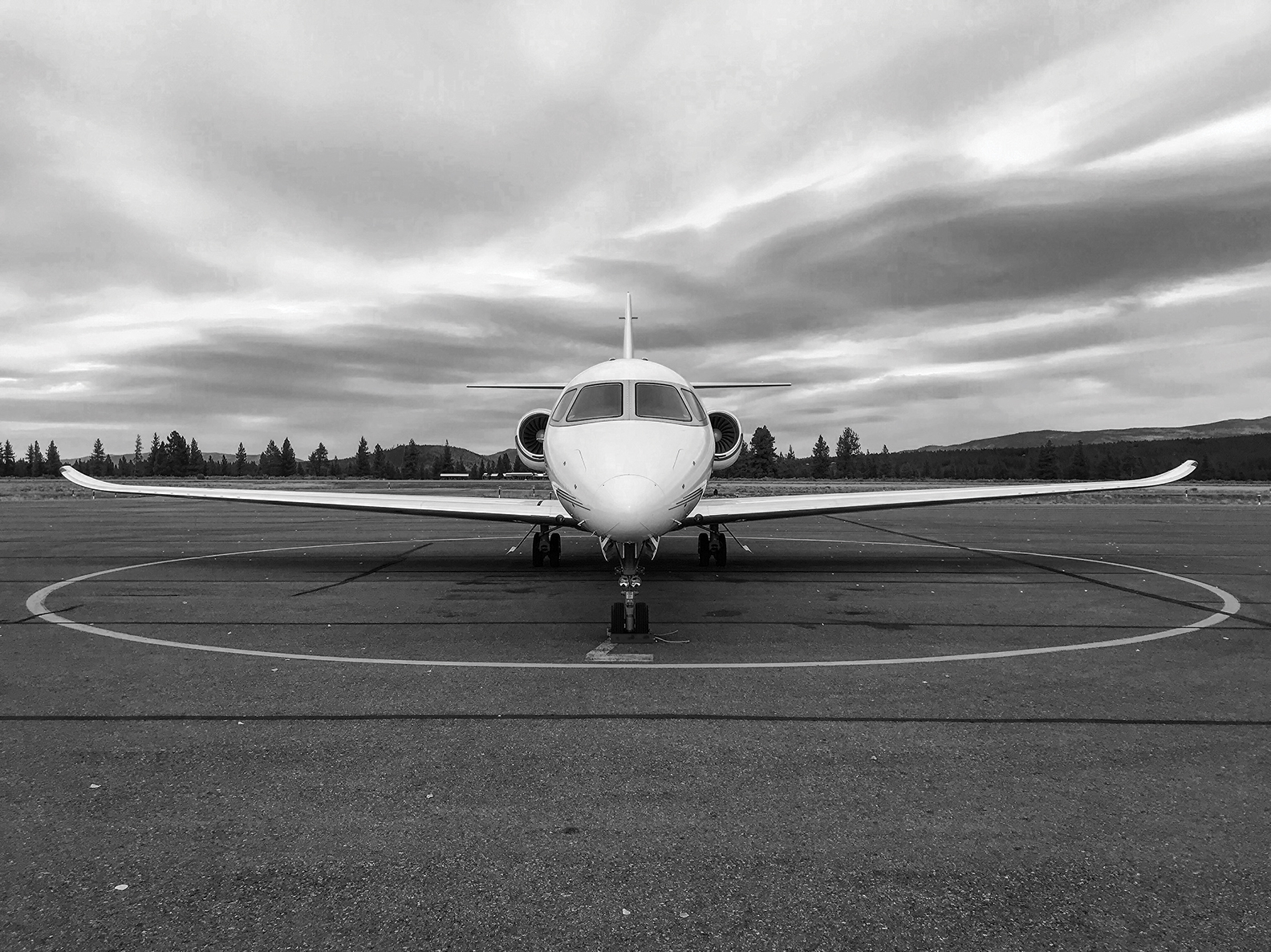 A Cessna 680A Citation Latitude at the Truckee Tahoe Airport, photo by Michael Kennedy
06 Dec

Aviation Climbs to New Heights
As the population continues to grow in the Truckee-Tahoe region, so too does the amount of air traffic—a trend that brings both benefits and concerns from local residents
From the window of an airplane, towering Sierra Nevada pines shrink to spiky green mats. Expanses of granite peaks that can take hours to hike rush past. Ephemeral connections between clear mountain lakes trace their paths. Engines whir and those in flight gain a grand angle on the Range of Light.
More and more, people are seeking this bird's-eye experience. Whether for business, pleasure or both, interest in private aviation is increasing on national and regional scales.
This growth means additional air traffic in the Sierra Nevada and questions for Lake Tahoe communities about how to manage existing and future air travel. South Shore's Lake Tahoe Airport plotted a course forward in 2017 with approval of an airport master plan. Truckee Tahoe Airport is set to undertake a renewed master plan process to help guide its future.
Airports and air travel can provide economic and community benefits, but more flights and more planes overhead also bring concerns about neighborhood safety and aircraft noise eroding the coveted peace of mountain life.
Crashes Rattle Truckee
Concerns about the safety of planes flying over Truckee were renewed this summer, when six people died in a crash of a Bombardier Challenger 605 on July 26 near Reynold Way. The jet crashed on approach to the airport en route from Coeur D'Alene, Idaho.
"The final crash site and flight track data appear to show the aircraft overshot the runway centerline to the south," according to an August update on the crash from the airport. "The aircraft descended rapidly and struck a treed area inside the Martis Estates neighborhood between the street and the fairway of Ponderosa Golf Course. Video of the aircraft shows it was low, struck trees and was engulfed in fire immediately."
The crash left families without loved ones, emotionally scarred witnesses and left people thankful the crash was not even worse. The jet impacted within 100 feet of children riding in a school bus. Bus driver Derek Bosserman is credited with taking the evasive action needed to avoid a collision with the jet.
"It was pretty miraculous no houses were hit and no one on the ground was hurt," says Truckee resident Collin Butcher, expressing condolences for the victims and their families. "Having a jet aircraft crash was really significant."
The crash followed a June 15 incident in which a single-engine Cirrus SR20 crashed southwest of the airport near Martis Camp following takeoff, killing a flight instructor and seriously injuring a student pilot.
"The airplane appeared to make a shallow right turn, consistent with a right crosswind and downwind turns," according to a preliminary report from the National Transportation Safety Board (NTSB). "About the time the witness expected the wings to level, the airplane abruptly banked 90 degrees to the right and pitched down in a nose low attitude. The witness said that simultaneously a parachute was deployed from the airplane and it descended below the tree line out of visual sight. That was followed by the sound of impact with terrain."
Causes of both crashes are under investigation. Final reports from the NTSB often take 12 to 18 months to complete.
Truckee airport officials have implemented several major safety-minded projects in recent years and have committed to continually looking at improvements. They have also acknowledged residents' concerns about the air traffic overhead.
"We totally honor that fear," says Hardy Bullock, director of aviation and community services for the Truckee Tahoe Airport District (TTAD). "We understand that that's creating fear and anxiety in people."
Addressing the issue, Bullock says the airport has implemented a couple of major safety measures, including installing a traffic control tower for increased communication between the airport and pilots, as well as an Automatic Dependent Surveillance-Broadcast system to better sequence aircraft and increase pilot awareness of other planes in the air. Updated flight procedures to diversify arrival and departure options are also underway.
"Although the FAA controls all aircraft activity in the air, the airport has developed the case for these new flight paths to encourage the (Federal Aviation Administration) to adopt them," according to the August update from the airport. "The proposed procedures would have pilots spend less time over populated neighborhoods and more time over open space."
Elevated Risks
Mountain aviation can include unique challenges, and making sure pilots understand these challenges is another part of TTAD's safety work, which includes a pilot safety program to address aspects of using a mountain airport.
"The program includes hosting regional safety seminars, conducting out-of-area road shows designed to educate pilots before they visit, posting signage around the airport, and hosting the 'Ask a Local' program where local pilots staff the UNICOM Operations Center," according to the airport.
TTAD's Fly Aware program encourages pilots to be mindful of weight and balance, the appropriate fuel mixture for high-elevation performance, wind shear from terrain, wildlife, other aircraft and density altitude. High density altitude occurs during warm weather at high elevation and translates to reduced air density and lower airplane performance. Density altitude is often among the considerations mentioned in accident reports from crashes in the region.
"At airports in higher elevations, such as those in the Western United States, high temperatures sometimes have such an effect on density altitude that safe operations are impossible," according to the FAA. "In such conditions, operations between midmorning and midafternoon can become extremely hazardous. Even at lower elevations, aircraft performance can become marginal and it may be necessary to reduce aircraft gross weight for safe operations."
The FAA notes it's critical for pilots to determine the density altitude and check the appropriate aircraft performance charts during takeoff and landings.
"The higher the density altitude goes, the less performance you get out of your aircraft all around," says Richard McSpadden, senior vice president of the Aircraft Owners and Pilots Association (AOPA) Air Safety Institute. "It really is a stealthy killer because it sneaks up on you."
The AOPA has a variety of resources available for pilots to better understand mountain flying. Truckee Tahoe Airport also recently created the Truckee Tahoe Pilots Group to maintain and improve pilot proficiency in the area.
"Mountain flying is not inherently more dangerous," says TTAD Board Vice President David Diamond. "Pilots have to be more prepared and know what to expect."
The pilots group is for those who regularly use Truckee Tahoe Airport and was created to educate aviators about airport considerations, offer training incentives and reduce community impact through pilot agreements to adhere to noise abatement procedures.
Flights on the Rise
Although the Truckee airport traces its origins as far back as the 1930s as an emergency landing runway for Boeing's Trans-Sierra airmail route, the airport's modern history dates back to the mid-1950s, when business owners began to form the TTAD to bring additional visitors to town.
The airport has grown substantially in the decades since, with 2020 budgeted revenue of about $19 million (including approximately $6 million from property taxes, about $6 million in aviation revenue and about $5 million in federal grants). The airport views itself as a regional asset that provides benefits to non-flyers, including improved wildfire response, open space and forest health programs, and financial resources for local nonprofits and schools.
Its economic benefits are also substantial, according to a 2017 economic impact report.
"Total impacts are defined as the operations of the airport itself and spending from revenue passengers," according to the report. "In 2017, this totaled more than $73 million but does not include the $1.6 billion in taxable residential property valuation attributable to second homeownership of those revenue passengers."
Collin Butcher has seen changes to the airport from his home on Martis Drive. He is among those who have expressed concerns that Truckee taxpayers are subsidizing a small percentage of airport users through their property tax dollars while bearing the brunt of the impacts from flights in the area.
"At the time, we were well aware that we were purchasing in the flight path," Butcher says of buying his home 10 years ago. "My understanding of the airport at that time was a local community airport, which it was … but the number of flights has changed dramatically."
Planes flying over can cause regular conversation-stopping disturbances, Butcher says. (During a phone interview in October, the hum of a plane could be heard in the background.)
Truckee airport operations increased from 23,835 in 2010 to 39,392 in 2020, according to information from the airport. Operations most recently peaked in 2019 at 42,250. Jets weighing 12,500 pounds and over have outpaced the overall growth, rising from 3,432 in 2019 to 4,246 in 2020.
"The repetitive flight volume over Truckee neighborhoods, from the flight schools, from the glider school, activity from small prop planes, large jet planes, it's ever-increasing, and it's projected to grow significantly over the next 10 years—and I'd like the airport board to address that growth and how future growth is going to be mitigated, how flight patterns will be changed and how risk will be mitigated," Truckee resident Paul Schectman told the TTAD board this summer.
To help alleviate noise impacts, the airport encourages pilots to abide by noise abatement procedures, heed a voluntary curfew and follow flight procedures that lessen the impact to neighborhoods. It is pilots who ultimately determine flights based on airport parameters and weather conditions.
The San Francisco Bay Area economy is especially impactful to the Truckee airport, according to a 2015 demand drivers study commissioned by the TTAD. The airport is located close to pilots' and passengers' first and secondary homes, as well as Lake Tahoe and its ski resorts, and is likely to continue to attract additional users. In the demand drivers study, nearby Martis Camp—a 2,177-acre private luxury community—indicated 40 percent of its constituency sometimes uses the airport to travel to the area and 25 percent "almost always" uses the airport.
Those interested in private aviation also have more options than ever when it comes to taking to the air. Among the regional options are Mountain Lion Aviation, which offers charter air service; Surf Air, a membership program that started in 2013 and offers business and leisure travel flights around the West, and NetJets, which sells fractional ownership shares in private business jets.
"Overall, operations continue to rise," according to a June 2020 noise and mitigation handbook from the TTAD. "While the fleet mix has seen an increase of turboprop and jet aircraft over the last 10 years, there has also been a steady increase of small single-engine piston aircraft at the field. An additional change at the airport is the industry's focus on shared use, or fractional business aircraft for use in personal travel."
Nationally, general aviation aircraft hours flown are forecast to increase at an average annual rate of 1.4 percent through 2034. The Truckee airport is in line with the national trend, according to the demand study: "The airport is not an anomaly in the aviation industry, and is subject to the same periods of growth and decline as surrounding airports and the national airspace system as a whole."
On Tahoe's South Shore, annual operations have increased more gradually than Truckee—20 percent since 2003, to 23,540 annual operations, according to the 2017 master plan. General aviation jet traffic increased 213 percent from 2011-2021.
With aviation growth expected to continue, Diamond says it's the TTAD board's responsibility to manage air traffic so it's not negatively impacting people's lives.
"We have to ask ourselves as a board and as a community, 'Do we have any reason to believe that people will stop wanting to come to Lake Tahoe and Truckee?'" Diamond says.
Truckee mayor Anna Klovstad encourages those who are working toward increased safety and reduced noise to be open-minded as they work toward solutions for the community. There likely isn't going to be one answer for everything, she says.
"Nobody has the answer," Klovstad adds. "This is a complex issue."
New Runway on the Horizon?
One major project that could add safety and help reduce noise impacts to Truckee neighborhoods has received renewed attention in the wake of the July crash.
A proposed 6,300-foot-long, 100-foot-wide runway would run approximately north and south and provide another option to direct air traffic away from neighborhoods and potentially ease impacts to residents.
In September, the airport board unanimously directed staff to outline the approval and construction process for a new runway and bring it back to the board for further discussion.
"It should be noted this runway is not on the current Airport Layout Plan and still needs to be included in the Master Plan, (Airport Layout Plan), receive environmental review, airspace review and FAA approval," the airport's general manager, Kevin Smith, wrote in a staff report on the subject.
The new runway could take eight to 10 years to complete and cost in the ballpark of $25 million. Discussion of the runway concept and details is expected to be a part of upcoming master planning for the airport.
"It's our job to make the hard decisions, right?" TTAD Board President Teresa O'Dette asked board members in September. "I think the hard decision is routing it straight out, away from homes—for safety, for noise and annoyance, for all those reasons."
---
Remembering the Tragedy of
Paradise Airlines Flight 901A
Almost 60 years have passed since the deadliest plane crash in Lake Tahoe's history, and the reverberations are still being felt today.
Navigating through heavy snowfall on March 1, 1964, the Lockheed Constellation L-049 crashed near Genoa Peak on the east side of the Lake Tahoe Basin, killing all 85 people aboard.
The tragic accident forever changed the trajectory of Incline Village resident Tim Lampe's life. The youngest of six children, Lampe, who was 5 at the time, lost both parents in the crash. His then-22-year-old brother took the lead on helping raise the family.
Lampe has guided about 40 people affected by the accident to the site, which continues to bear the marks of the crash—an impact zone slowly returning to nature, some sun-beaten plane parts and, still, some small personal items from those who were on board.
People have come from all over the country—San Francisco, New York, Kansas—to see where the plane went down and remember those who lost their lives. The site is now marked by large crosses placed in memory of the passengers and crew members.
Visiting the site has helped some people through the grieving process of an incomprehensible loss, Lampe says.
"The common denominator is closure," Lampe says. "That was the motivation to help these people along."
Lampe recalls emotional conversations he's had with first responders to the scene, as well as distraught relatives of the flight crew.
"It's really that closure significance for so many people," Lampe says. "For me, it's shocking how many people walked around with that pain for so many years."
Los Angeles resident Cynthia Lim was 7 years old when she lost her father and grandfather in the crash. She detailed the impact the event had on her family, as well as how she approached her grief, in an essay entitled After the Crash. She's working on a book about her father's life.
"Lives were lost that can never come back," Lim says. "Entire families have lived a lifetime with this tragedy."
While Lim says she hoped her extensive research would help her better understand the tragedy, she ultimately reached a limit on how much knowledge could help process the pain of losing loved ones. Knowing every detail didn't necessarily lead to a better understanding of "why," Lim says.
"It was such a huge tragedy for my family. … Our whole community was impacted and no one ever talked about it," she says.
Mysterious Disappearance
Paradise Airlines Flight 901A was traveling from San Jose to South Lake Tahoe's Tahoe Valley Airport, now known as Lake Tahoe Airport, on the morning of March 1. The Civil Aeronautics Board acknowledged numerous contributing factors to the crash, including pilot error, inaccurate and falsified weather reporting, improper maintenance and potentially faulty equipment.
"The aircraft made an unsuccessful approach to the Tahoe Valley Airport and was last seen proceeding in a northerly direction out over Lake Tahoe where it disappeared in a snowstorm," according to the Civil Aeronautics Board Aircraft Accident Report.
The plane impacted the Genoa Peak ridgeline at about 8,900 feet in elevation. The difference between tragedy and landing safely was slim.
"Had the flight been 300 feet higher, or 300 yards farther south, they would have cleared the existing terrain and proceeded into (Visual Flight Rules) conditions," according to the accident report. "The last factor that could have affected the situation was that the crew could not accurately determine the position relative to the pass when they took up the final heading. They were in a heavy snow shower over the lake and would have had to depend on some visual observation of the east shoreline to determine their position."
In its report, the board said it was not sure why the plane did not fly to an alternate airport to land.
"The possibility exists that there was a heading error, an altimeter error, and a tail wind that had an effect on the flight which was not detected by the crew," according to the report. "The fact remains, however, once having decided to depart the Tahoe Airport area on an easterly heading, the accident would have been avoided had the crew climbed to an altitude of 2,000 feet above the terrain along their intended flightpath."
A Grim Discovery
First thing the next morning when the snow had stopped, a massive search involving more than 50 planes, 16 helicopters and hundreds of men on foot ensued. An Air Force pilot spotted the wreckage from his helicopter at 7:36 a.m.
According to Lim's research, the plane had clipped the tops of trees before crashing into the mountainside, leaving a trail of wreckage over 200 feet wide and 1,000 feet long. The front wheel had been flung over the top of the ridge. The largest piece of the plane, the three-ruddered tail section, was found stuck upright in 3 feet of snow.
The team that arrived on the scene also found snowshoe tracks from looters who had reached the site first. Wallets and other belongings had been taken from the victims, while several of the bodies had severed fingers where rings had been removed. As a result, two deputies camped out that night to guard the site.
"The only thing that was returned was an empty wallet and [my father's] license," Lampe says. "All my mom's jewelry was gone—never returned. That's kind of the dark side of this."
The FAA suspended Paradise Airlines' license to operate following the crash and the airline ceased operation. The legacy of the flight and those lost should not be forgotten, Lampe says.
"It's part of Tahoe history that's etched into the mountainside," Lampe says. "It's part of aviation history."
Read Lim's full essay, After the Crash, here.
---
Adam Jensen is a freelance writer and former resident of the Lake Tahoe Basin. When asked what he misses most about Tahoe, he always says, "The people."