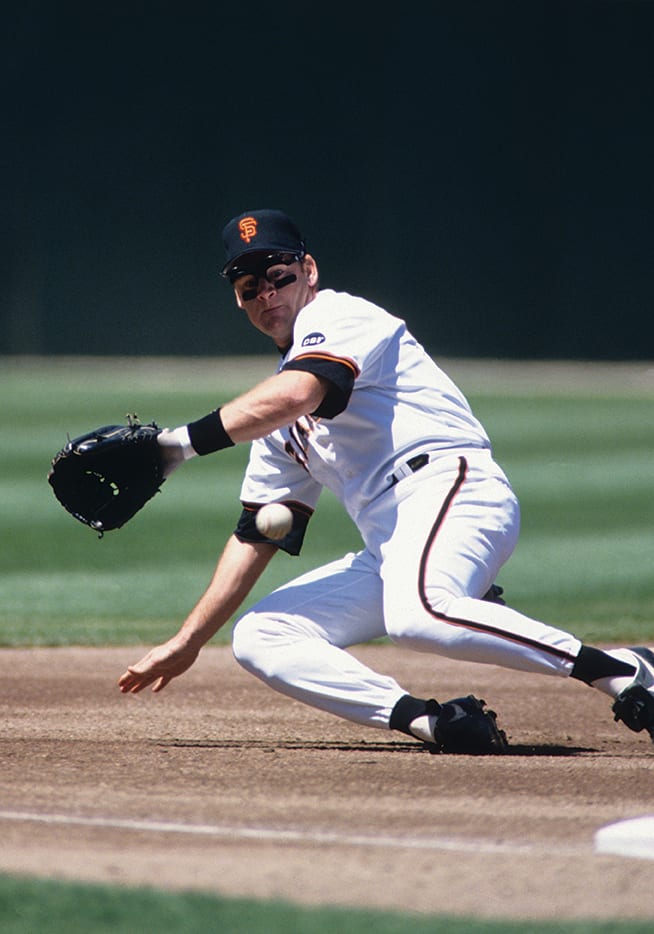 Carson City native Matt Williams was a fan favorite in San Francisco, where he played his first 10 seasons and made four all-star teams, photo courtesy ©2018 S.F. Giants
25 Jun

Back in His Domain
After a 17-year playing career and stints as a manager and TV analyst, Williams is back on the field, now as a third base coach for the Oakland A's, photo by Michael Zagaris, courtesy Oakland A's
Former Carson High and San Francisco Giants star Matt Williams returns to the infield—this time as a coach for the Oakland A's
Pre-game Matt Williams evaporates at some point between his last fungo and the first pitch.
That Williams, the trim teacher of baseball with the slight hitch in his giddyup, who moves slowly on a 52-year-old's joints, is suddenly replaced when the lights go up in Angel Stadium on an early April evening.
In his place is a coach who, when viewed from a distance in his No. 4 gray jersey, would be hard to distinguish from the other Matts on the field—A's third baseman Matt Chapman and first baseman Matt Olson—if one had to pinpoint the elder of the three from the upper deck.
Come game time, Williams treats the painted confines of the third base coaching box as a suggestion, gliding up and down and side-to-side freely as the situation dictates. There's no physical indication that he spent some 17 years bent at the knees awaiting ground balls and avoiding baserunners as a major league infielder.
Up 5-3 the eighth inning, he deftly dances back to the box to avoid a line drive smoked off A's catcher Bruce Maxwell's bat. The "Carson Crusher," as he was affectionately known in his youth, is in his element, moving right back to within feet of the bag. He waves Chapman home from third and directs the baserunner behind him as Maxwell's stroke is declared fair. The rout is on for the A's, who will go on to win 7-3.
This Matt Williams—the big, skilled competitor contributing to a victory from a baseball infield—is familiar to fans who have followed him since his schoolboy days in Carson City, even if they remember him as a player rather than a coach.
There, on the baseball fields at Carson High School, is where Williams honed the skills that would lead him to a successful career in the game.


Williams talks with A's third baseman Matt Chapman during a home game this season, photo by Michael Zagaris, courtesy Oakland A's
Staying After
Ron McNutt is a Nevada coaching legend. The now-retired 70-year-old led Carson and Galena high schools to 781 wins, including two state titles at Carson. He mentored Williams from 1980–1983 as head coach for both the Carson High Senators and the Carson Capitols, an American Legion summer travel team. McNutt sent five players to the major leagues, and countless others to the minors and college programs.
From Williams' freshman year, he could tell the lanky youth had the work ethic to become a special player.
"You could see it in high school. You knew he was going to go on to further and better things," McNutt says. "He was always one to stay afterward to take more ground balls and then would pick up the bats at the end of the day, where other guys might just walk past them. He was a very unique individual. He got a lot of that work ethic from his brothers, his dad and mom."
Williams, in turn, credits his prep coach with exposing him to much more of the game than a kid from a midsized, basically rural high school in Northern Nevada would expect to see. Through McNutt's Capitols program, teens from the region had the ability to travel to games and tournaments all summer long. From Canada to Hawaii to Minnesota, the Capitols went everywhere.
"Coach McNutt really gave us a good sense of competition," Williams says from the visiting dugout at Angel Stadium, where he has carved out time for a pregame interview. "He allowed us to venture out beyond the walls of Carson City, Reno and Nevada and see what else was out there as far as players and teams. We got to measure ourselves against them."
"The biggest thing he gave me was confidence and opportunity. The opportunity to play 60 games in a summer allowed me to get better at my craft."
That craft caught the eyes of college recruiters and big league scouts alike. The New York Mets drafted Williams out of high school in 1983. Powerhouse college programs like USC and Oklahoma State offered scholarships. But, Williams was drawn a little closer to home.
Well, almost as close as you get in Nevada, where locals sometimes measure distances in hours, and at least one mountain range separates every city.


Matt Williams, photo courtesy ©2018 S.F. Giants
Running with the Rebels
Las Vegas is about a seven-hour drive from Carson City, but then-coach Fred Dallimore kept his University of Nevada Las Vegas (UNLV) Rebels baseball program close to McNutt's operation up north. Annually, the Rebels coaches would don chest protectors and masks and umpire a Carson City tournament featuring the Capitols. During those trips, Dallimore and his infield assistant, Rod Soesbe, would pitch Williams on the benefits of playing in Vegas.
"One day during the summer [after his junior season in high school] I was still mulling my opportunties and thinking about where I wanted to go," Williams says. "USC and Oklahoma State both offered me scholarships, but couldn't promise me any playing time… [Soesbe] said, 'Hey, I want you to come to Vegas and play every day as a freshman.' To me, school was important, but I really wanted to play, too. That's why I decided to go to Vegas."
At UNLV, Williams was dumped into a baseball laboratory of sorts. The coaches decided to start him as a shortstop as a freshman, agreeing to deal with the attendant errors and goofs an 18-year-old is going to make.
"It was unique because they wanted to win, but they also wanted to teach," Williams says. "You look around at college baseball today, and oftentimes it's predicated by victories. But the coaches at Las Vegas were so entrenched with that team [Dallimore coached there for 23 years and Soesbe went on to coach the team for five seasons after he retired] that they could put a freshman at shortstop every day, and let me learn while causing some runs to be scored against us."
Additionally, the coaches pushed their infielders to succeed with a particularly challenging but effective drill. Players were forced to field grounders with a ping-pong paddle velcroed to the inside of their mitts.
"When you have the ping pong paddle on your hand, you can't get away with bad mechanics," Williams says. "You have to be in the proper position to field a baseball, which means you have to work with your feet to get in the right position. You have to have soft hands and use both hands to field the ball. Once you put on your regular glove, it feels pretty good."
Williams left UNLV after his junior season, drafted third overall by the San Francisco Giants. After a 72-game stint in the minors in 1986, he went to big league spring training in 1987.

Williams made his Giants debut on April 11, 1987
, photo courtesy ©2018 S.F. Giants
Giant Tradition
"So I walk into the clubhouse and there's Willie Mays, Willie McCovey, Juan Marichal and Jim Ray Hart," Williams says of his first spring training with the big club. "I went, 'Oh my God, this is where I want to be.' At 21 years old I was completely overmatched; the tradition of the Giants was so large. You walk in on day one and there's Willie Mays holding court. It was fantastic. It was unbelievable."
Giants manager Roger Craig liked Williams as a player, and let him man third base for most of spring camp. After heading down to Triple-A to start the season, Williams returned to the Giants for their second game of the year. It was against the Los Angeles Dodgers. On April 11, 1987, Williams started at shortstop for the team, collecting a hit in three at-bats.
His handy glove work—both at short and third—kept Williams in the mix for playing time with San Francisco his first three seasons.
He frequently shuttled between the team's Arizona-based minor league affiliate and Candlestick Park through 1989 because his bat was lacking. He hit .188, .205 and .202, respectively, between 1987 and '89. He played in the team's 1989 playoff run, swatting two home runs against the Chicago Cubs and another in a World Series loss to the A's.
In 1990, Williams finally made his mark offensively, blasting 33 home runs and finishing with a league-high 122 RBI. He made his first all-star team that season and never spent significant time in the minors again.
His successes are well-documented from that point. He won his first of four Gold Gloves for outstanding fielding in 1991. He led the majors with 43 home runs in 1994—and was on pace to match Roger Maris' then single-season home run record when a player strike ended the season prematurely. He participated in another heartbreaking World Series loss with Cleveland in 1997. And he helped launch the Arizona Diamondbacks franchise in 1998 as an original member of the expansion team.


Williams blasted 43 home runs in the strike-shortened 1994 season, photo courtesy ©2018 S.F. Giants
Memorably, Williams played for Arizona in the 2001 World Series, facing off against the mighty New York Yankees dynasty just seven weeks after the 9/11 attacks.
"Part of our requirements for the team was that when we were in New York on our off day, we went to see the rescue workers at Ground Zero," Williams says. "A lot of them were going on seven weeks without sleep. It was the most humbling experience of my life. Powerful."
Williams pounded a home run off Andy Pettitte in Game 2 of the series to help seal a 4-0 victory for his club. Just days later, he won his first World Series championship.
During his time in the big leagues, Williams' commitment to reaching out to his fans struck his high school coach.
"He's such a class act. No matter how long the line for autographs after a game was, Matt wasn't one of those guys to rush into the dugout," McNutt says. "He'd stay there and sign every single one of them, going above and beyond what he probably should have been doing."
Williams retired in 2003 with 338 career home runs and 1,218 RBI. Since then, he's managed and coached in various positions throughout the Diamondbacks organization, notably from 2010–2013 with the big league club. In 2014, he began a two-year stint as the manager of the Washington Nationals. That season he won the National League's Manager of the Year award on the strength of 97 victories and a trip to the playoffs. In 2015, Washington's management summarily fired him after the team went 83-79 and missed the playoffs.


Williams is back in his element on the field as a coach for the A's, photo by Michael Zagaris, courtesy Oakland A's
Safe at Home Again
Now, as a coach with the Oakland A's, Williams enjoys helping the organization develop its promising young Matts—Olson, 24, and Chapman, 25. The two are viewed by many in baseball as a potential dynamic duo. And, something about Chapman's close-cropped hair and abilities at third base remind some of Williams.
He got back into coaching this season because he loves the teaching aspect of the job, and after a stop as a coach with Arizona in 2016 and as a Giants TV analyst in 2017, he was ready to work with Oakland's talented twosome.
"The thing that impresses me is that for younger players who are really new to the big leagues, their sense and feel for the game is beyond measure for that young age," Williams says. "Neither of them are wondering about anything defensively; whoever taught them as they came up is a fantastic coach."
With the Matts, Williams' focus is to give them the tools they need to succeed.
"The gratification we all receive as coaches is when we can implement something that helps," Williams says. "I take a little of Coach McNutt, a little of my parents, and a little of Soesby and all the coaches I've had into what I do today."
He has also taken care to give back. Before McNutt folded up the Capitols program in 2001, Williams headlined a fundraiser dinner and golf tournament for the team annually. At one such event, Williams—"a real prankster," McNutt says—presented a Carson City mayor with street signs he'd pilfered from various locations around town since his youth.
Even today, decades after leaving Northern Nevada, Williams recalls the community support of his hometown fondly.
"You can't ask for a better place to have the experience of playing as a young kid," Williams says. "We [Capitols players] of course loved the game and would play without anybody watching.
"But, at the same time, when your community comes out and supports you like Carson did at the Capital Classic Tournament… they would come out in droves to watch the Caps play. That makes it more special for everybody who experienced it. What a special place to grow up."
---
Kyle Magin is a San Diego–based writer and editor. He once led the Tahoe City men's softball league in strikeouts.
---

Williams became a World Series champion with the Arizona Diamondbacks, photo by Barry Gossage, courtesy Arizona Diamondbacks
The 'Carson Crusher'
Name: Matt Williams
Hometown: Carson City, Nevada
Position: Third base coach, Oakland Athletics
Teams:
San Francisco Giants (1987–1996)
Cleveland Indians (1997)
Arizona Diamondbacks (1998–2003)
Accolades:
17-year MLB infielder
5-time All Star
4-time Gold Glove award recipient
4-time Silver Slugger award recipient
2001 World Series Champion
2014 NL Manager of the Year